Best MKV Player – 10 Recommended Free MKV Video Players for Windows and Mac
MKV is an open source video format, which is frequently used for videos with high quality. It contains video, audio, photos, subtitles and more other files within one single. How to play MKV media files on Windows and Mac? What are the recommended free MKV file players?
There are some media players support MKV video, which have no the function to support any popular media file like the best MKV media player software. The article shares 10 free best MKV player is able to play MKV file (matroska video), MKA file (matroska video), MKS (subtitles), MK3D (stereoscopic/3D video), 4K MKV and MKV videos at any resolution. Just check out more about the recommended programs and choose a desired one accordingly.

Part 1. Top 5 MKV Player for Windows and Mac
Top 1. Play MKV Video with Free Blu-Ray Player
When you want to play MKV files on Windows 10, you should make sure the media player support high quality video codecs, Free Blu-Ray Player is the recommended MKV media player that you can play videos, HD videos, DVDs and Blu-ray discs and keep 100% image quality on your computer.
1. Capable to play most of video formats, including MKV, MP4, AVI, TS, etc.
2. Watch the latest Blu-Ray discs/folders/ISO files and DVDs with ease.
3. Multiple screen modes with full, half, normal, double to enjoy the movies.
4. Capture the favorite snapshot while you watch the MKV video files.
How to Play MKV video with Free Blu-ray Player
Step 1
Add MKV video into MKV player
Once you download and install the MKV media player, you can launch the program and click the "Open File" button to select the MKV video. You can also click the "File" item at the top of the toolbar to open the drop-down list and then select the "Open File…" option to add MKV file to the program.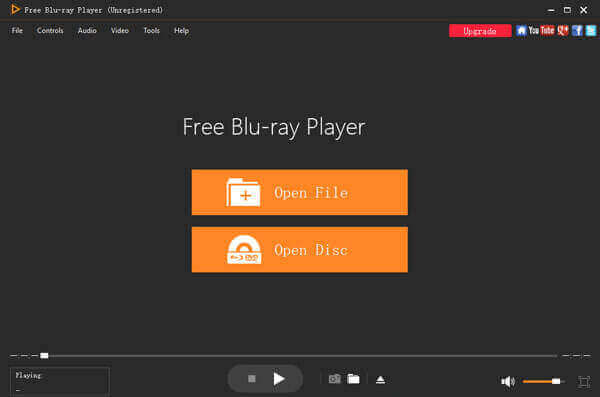 Step 2
Play MKV files and take snapshot
After you add the MKV video into the program, the MKV video player will start to play the MKV videos automatically. You can adjust the playback mode and other tools to enjoy the MKV video. When watching the MKV video, you can capture the favorite video image through the "Snapshot" function.
Step 3
Adjust the video effect to be perfect
You can adjust the video and audio effect to get the perfect audiovisual effect. Just adjust the audio track, channel and device by opening the "Audio" drop-down button, and adjust the video track and screen size by opening the "Video" drop-down button. All the settings are shown on top of the toolbar.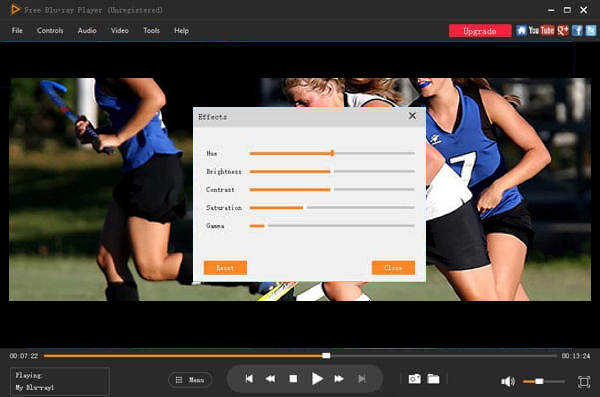 Top 2. Play MKV Video with VLC Media Player
VLC Media Player is a popular MKV player on Windows, Mac, Android and iOS devices. If you are not satisfied with the user interface of the program, you can customize the player skins and other additions with ease. Moreover, the MKV media player also provides lots of advanced features; such as enhance the video and audio quality.
Pros:
1. Built-in audio that delivers high quality audio from audio stations.
2. Multiple editing features to crop, geometry, colors, auto-light and more.
3. Convert the MKV to other video formats for Android, iPhone and others.
Cons:
Difficult to adjust the playing modes and the position of the loaded MKV files.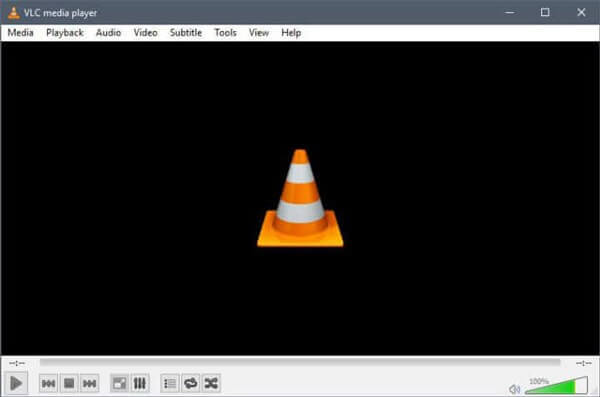 Top 3. Play MKV Video with KMPlayer
When you have some 3D MKV or 4K MKV files, KMPlayer is a recommended MKV player to enjoy the videos on computer. In additional to playing large MKV files, you can also adjust the video screen and audio with advanced image processing functions, such as noise reduction and super high-speed mode during the MKV playback process.
Pros:
1. Support matrix function and normalizer function for internal sound codec.
2. Play all the MKV files, such as 4K, 8K, 60FPS and other HQ contents.
3. Optimized for the low end PC through hardware acceleration function.
Cons:
1. Complicated context menu that is difficult to master for the beginners.
2. Advertisements and slow playback speed of the free MKV player.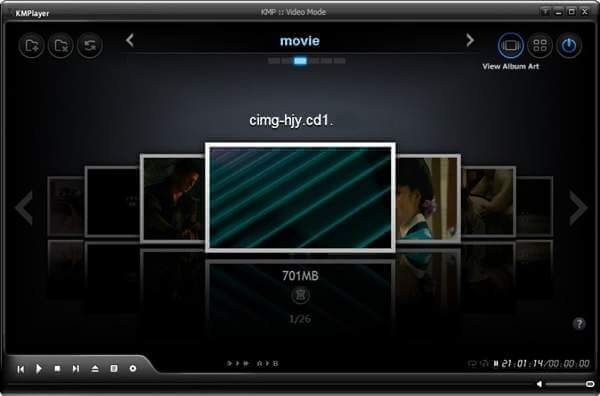 Top 4. Play MKV Video with GOMPlayer
Whether you need to play back videos shot by yourself, or enjoy MKV videos from YouTube and other online streaming sites. GOMPlayer is one of the most mass appealed MKV media players. It is able to capture screenshots, repeat custom segments of any media file, control the playback speed and add video effects.
Pros:
1. Use the search facility to track and download the desired video files.
2. Support most of the video formats as well as 360-degree VR videos.
3. GOM Remote that control the desktop software from the application.
Cons:
1. It does not work with MKV file subtitle and any audio file that is missing.
2. Videos played on a network will lag and be choppy with the free MKV player.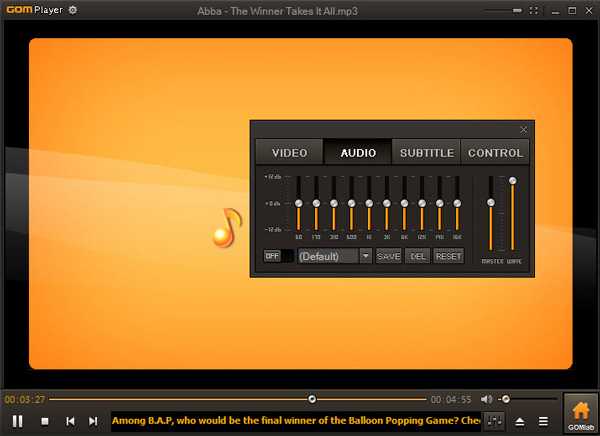 Top 5. Play MKV Video with DivX Plus Player
DivX Plus Player, as its name shows, is the DivX player. Besides, it is another free MKV video player that you can enjoy MKV and AVI videos on the browser. It has MKV features such as subtitles, multiple audio tracks and 5.1-channel AAC audio. Moreover, it provides an array of options to customize the videos according to special requirements with a high quality.
Pros:
1. Watch HD MKV videos in full screen without any change in the quality.
2. Convert any video file to either MKV or DivX file formats for your device.
3. Support multiple subtitles, audio tracks, smooth FF/RW and more others.
Cons:
1. Associated with video formats without asking for permission beforehand.
2. The MKV media player supports MKV, DivX and limited video formats.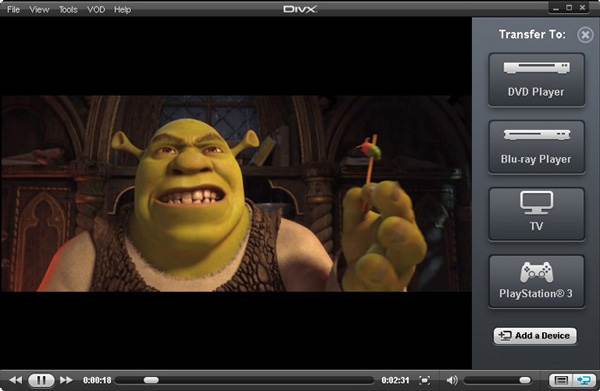 Part 2. Play MKV Video with MKV Player for iOS
Top 6. Play MKV Video with MCPlayer for iOS
MCPlayer is a wireless streaming video app for iPhone and iPad. It is an advanced streaming HD video player app that lets you watch your favorite movies, music videos and video files easily. It supports playing a wide range of videos, including AVI, MP4, MKV, TS, M2TS, WMV, VOB, FLV, MOV, M4V, etc. Meanwhile, you can also create your own personal "Watch Later List" with one simple click.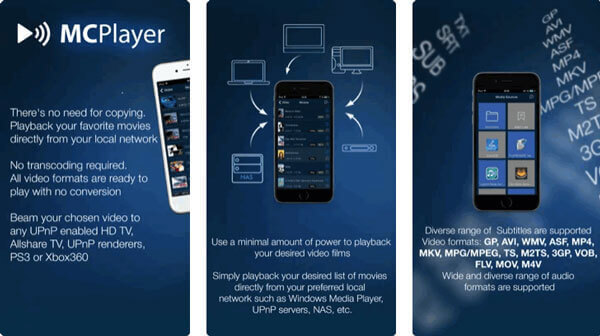 Pros
1. Easily play, watch and manage videos with Documents section.
2. It provides a wide range of subtitles for the video file.
3. Compatible with iPTV, Samsung Allshare TV and XBMC.
Cons
1. There are a lot of limitations to start with.
Top 7. Play MKV Video with Infuse for iOS
Infuse is an elegant video player which provides a beautiful way to watch any videos on your iPhone, iPad and Apple TV. As a powerful video player, you can play standard MP4, M4V, MOV, AVI, MKV, WMV, FLV, MTS, ISO, TS, 3GP and more. Besides, it lets you create playlists of your favorite movies, TV shows and home videos at once.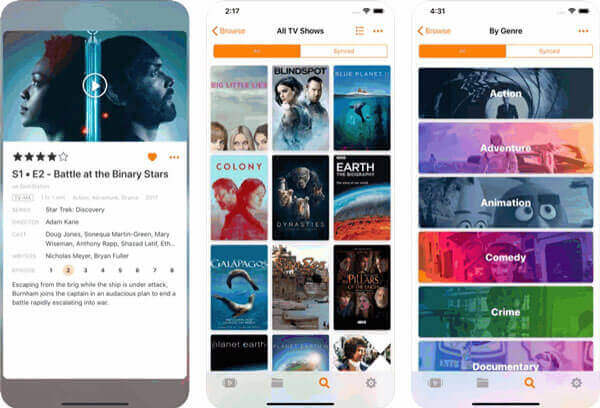 Pros
1. Play 4K HDR video with efficient hardware decoding of h.264 and h.265.
2. Transfer videos via AirDrop, iTunes, FTP or a plain of web browser.
3. Smooth playback with Dolby Digital Plus, DTS and DTS-HD audio.
Cons
1. Need the in-app subscription for Pro features.
2. Cannot edit metadata, thumbnails for home videos.
Part 3. Watch MKV Video with MKV Player for Android
Top 8. Play MKV Video on Android with MX Player
MX Player is a powerful MKV player for Android with Advanced hardware acceleration and support. With MX File Transfer, you can share videos, photos, music and apps instantly. It is the first Android video player that supports multi-core decoding.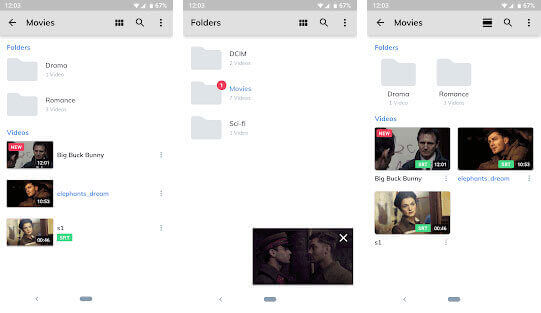 Pros
1. It provides smooth and high-resolution video playback.
2. Easily zoom in and out by pinching or swiping across screen.
3. The Kids Lock avoid kids making calls or touching other apps.
Cons
1. It doesn't support playing AC3 files.
2. There are different ads in MX Player app for Android.
Top 9. Play MKV Video on Android with Mobo Player
Mobo Player is a powerful MKV player for Android that lets you watch any video on your Android device. There are various of subtitle formats, including but not limited to the classic SRT format. Mobo Player lets you create playlists and play the entire folder. So you can watch the entire seasons of TV shows on your Android device.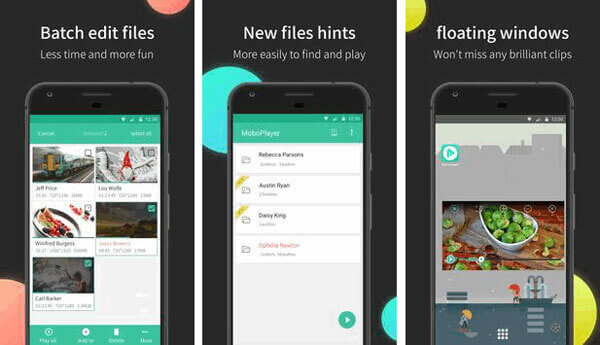 Pros
1. It supports popular subtitle formats such as SRT, ASS and SAA.
2. MoboPlayer supports playing HD videos on your Android.
3. Users can control brightness, volume and playback position.
Cons
1. It provides a bad translation.
2. Sometimes the app may get crashed.
Top 10. Play MKV Video on Android with Rock Player
Rock Player 2 is a multimedia player for Android & iOS that you can play all the videos on your mobile device. It supports for a huge variety of formats like AVI, MP4, MOV, WMV, WAV, WMA, MP3, OGG, SWF and more. With the RockShare feature, you can easily share your videos to friends.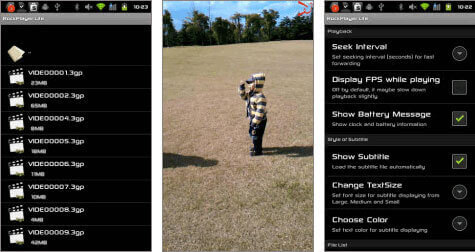 Pros
1. The interface is clean and well-designed.
2. It can play 720p, 1080p HD, 2K/4K UltraHD videos.
3. Easy playback with the Gesture Control feature.
Cons
1. Sometimes it crashes and never loads video.
Part 4. FAQs of Playing MKV Video on Computer
1. What is MKV File Format?
MKV is not a compressed format, but a media file of Matroska, which encapsulate a variety of different encoded videos and more than 16 different formats of audio and different language subtitle streams into a Matroska media file. The greatest feature of MKV is able to contain a variety of different types of encoded videos, audio and subtitle streams. MKV is different from DivX and XviD, as well as audio formats such as MP3, OGG. The MKV is only "combination" and "package" of these audio and video formats. In other words, MKV is a container format, which common to AVl, VOB, MPEG, and RM format. But they are not open enough and have obsolete structure, which make the birth of the new multimedia package format - MKV. In order to enjoy the MKV files with a high quality, you should choose some MKV media players with excellent quality instead.
2. Can Blu-ray Player play MKV file?
Free Blu-ray Player let you enjoy MKV files with excellent quality. Also, it supports playing MP4, AVI, TS, Blu-ray/DVD discs, folders or ISO files.
3. Can VLC play MKV videos?
VLC Media Player is a popular MKV player on Windows, Mac, iPhone and Android devices. It can recognize almost all video formats, including MKV. Also, you can convert them to popular video formats like MP4.
4. Does MX player play MKV files?
MX Player is a popular MKV player for Android. If you have installed MX player on your Android device, you can play MKV movies without conversion on Android.
Conclusion
When you want to enjoy the MKV files for free, you can try the recommended best MKV media players from the article. Most of the programs support MKV subtitles, MKV audios as well as high quality MKV files. Moreover, you can also find some versatile MKV players that play DVDs and Blu-Ray discs with ease, Free Blu-ray Player is one of the best choices you have to take into consideration. Just feel free to share more information about the your favorite MKV players in the comments.