How to Fix Amazon Prime Video Error Code 1060 and Get Offline Playback
Amazon Prime subscribers can watch unlimited streaming movies and TV shows on phones, computers and TVs. But there are many Amazon video not playing problems. The most representative question is Amazon error code 1060. The display goes black. You cannot stream video content, but only see the Amazon error code 1060 notification. It appears with Retry and Cancel buttons. However, both two options are useless. If you want to fix error code 1060 during Amazon Prime video streaming, you can do as the following paragraphs show.

Part 1: How to Fix Amazon Error Code 1060
Amazon error code 1060 appears with "Ensure your device is connected to the Internet and then select Retry. If the connection works, but you are still seeing this message, restart the app or connect Amazon Customer Service at www.amazon.com/contact-us. Error Code: 1060". To start with, make sure the Internet speed is fast enough for streaming video.
You can open a YouTube video to have a try. The insufficient bandwidth is the main reason for Amazon instant video streaming problems. Though Amazon Prime requires 900 Kbps for streaming only, it works for mobile phone and desktop users. If you stream Amazon Prime video from a smart TV, the minimum bandwidth requires 3.5 Mbps.
Later, you can fix the Amazon error code 1060 error message with other solutions.
Way 1: Reboot and Reset Your Router or Modem
Press the On/Off button to power off the router. Later, press it again to power it on after several minutes. If the problem Amazon Prime video not playing still exist, you can reset it to have a try. Use a toothpick, needle or any other sharp object to press the reset button. You can find it on the back of your router. Don't release until all of the front LEDs start flashing.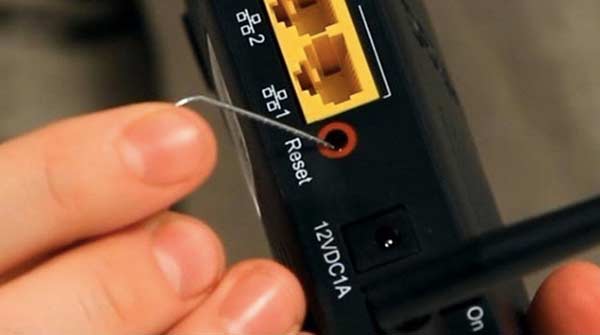 Way 2: Use an Ethernet or Cabled Connection
If the bandwidth is too low for Amazon Prime, you need to switch to an Ethernet or cabled connection. Or you can use a Wi-Fi expander to get HD playback as well.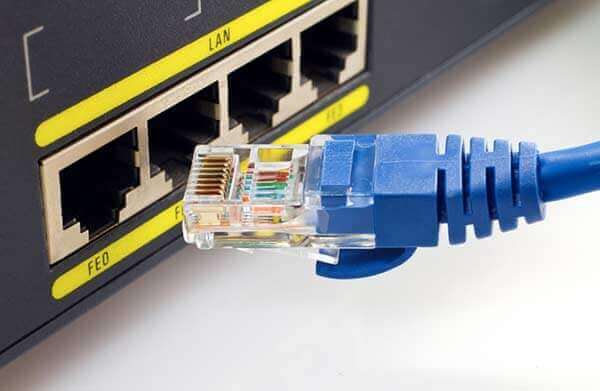 Way 3: Disable VPN and Proxy Clients
Amazon Prime stops VPN and Proxy users from streaming videos by default. To fix Amazon Prime video error code 1060, you can remove VPN content or disable proxy server on your computer.
To disable Proxy, press Windows and R keys to get the Run window. Type "ms-settings:network-proxy" and then press the Enter key. Scroll down to find Manual Proxy. Now uncheck before Use a proxy server for your LAN (These settings will not apply to dial-up or VPN connections). Save changes and reboot your computer to fix Amazon Prime video not playing error.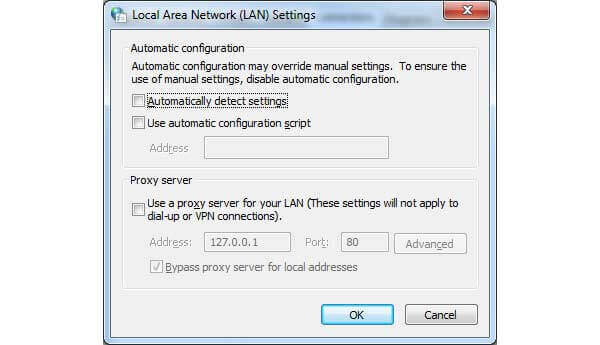 As for removing VPN client, you can type "appwiz.cpl" and press Enter in the Windows Run window. In the Programs and Features window, find your VPN client. Choose Uninstall from the right-click menu. Later, restart your computer to fix Amazon Prime 1060 error code.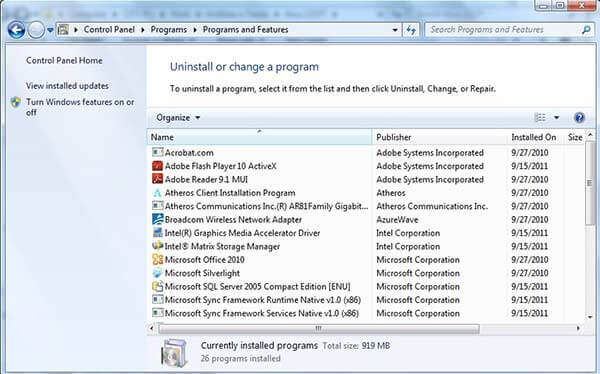 Part 2: Record and Download Amazon Prime Video
Once your Amazon Prime subscription expires, all your downloaded videos are not available. To permanently watch those Amazon Prime videos, you can use a screen recorder to record screen video while playing.
If you just want to record video from Amazon Prime, you can use Blu-ray Master Free Online Screen Recorder. It is a free screen recorder that can record Amazon Prime streaming video without time limit. The recorded video will be saved as WMV format up to 24 fps.
To unlock more advanced features, you can upgrade to Blu-ray Master Screen Recorder. Thus, you can add annotation, commentary, webcam and more into your Amazon Prime video recording. If it takes hours to record video from Amazon Prime, you can set a scheduled task with custom recording length, date and time. Later, the program will start recording on the streaming Amazon Prime video automatically.
1. Record Amazon Prime video with audio without quality loss.
2. Schedule recording tasks to auto start and stop recording Amazon Prime streaming videos.
3. Adjust the output video and audio recording quality from low to lossless.
4. Set hotkeys to start/stop recording, pause/resume recording, open/close webcam and show/hide float panel.
5. Lightweight and intuitive interface.
Step 1
Free download, install and launch Blu-ray Master Screen Recorder. Choose Video Recorder in the main interface.
Step 2
Head to the Amazon Prime video you want to record. Set the screen capture area of full screen or specific window. Turn on System Sound to record Amazon video with audio.

Step 3
Click REC to start recording. You can pause and resume recording to skip unwanted video clip. When you stop Amazon video recording, you will be in the Preview window. Preview and trim the recording video. At last, click Save to download Amazon Prime video to your computer.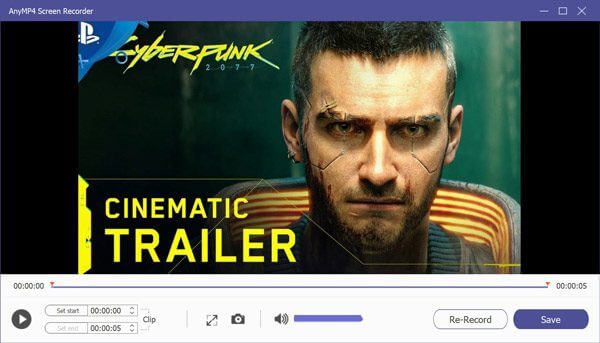 Check how to record WMV video on WMV media player
Part 3: FAQs of Amazon Prime Video Not Playing
How to fix Amazon Prime error 7031?
When the error 7031 appears, it means this Amazon Prime video is down. You can switch to a new browser to have a try, such as Chrome, Firefox, Safari and more. Or you can open an incognito window or restart your computer to fix Amazon video error code 7031.
Why the downloaded Amazon videos disappear?
Firstly, make sure you have an available Amazon Prime subscription. Later, you can re-download it. Because the Amazon Prime video downloads can expire. The downloaded Amazon videos are temporary. You can find Amazon Prime movies disappear within 30 days after downloading, or even 48 hours after watching.
What to do when Amazon video is stuttering or lagging?
If you cannot play Amazon Prime videos on your phone, computer or TV, you can reboot your device first. Later, you can check the Internet connection and clear caches. Or you can reinstall the Prime Video app to fix Amazon instant video streaming problems.
That's all to fix Amazon error code 1060 and other not playing issues. You can record Amazon streaming video to MP4 and other formats here as well. Thus, you can watch Amazon Prime videos offline permanently.