How to Download and Save Non Copyrighted Music
Most music and songs are copyrighted the company or owned by the artist. How to find royalty-free background music for inclusion in your YouTube videos and short films? Through this post, you can find and download non copyrighted music, songs and sound effects for free. Then you can insert the non-copyrighted music to your creation.

Part 1. Top 5 Free Sites to Find Non Copyrighted Music
1. Free Stock Music
Site: https://www.free-stock-music.com/
Free Stock Music is a free music website that offers non copyrighted music for your YouTube videos or projects like blog, podcast and social network. Here you will get free music with all categories, all moods, all tempos, all lengths and all licenses. You can listen to the non copyrighted music and free download it for non-commercial use, or purchase the high quality audio track.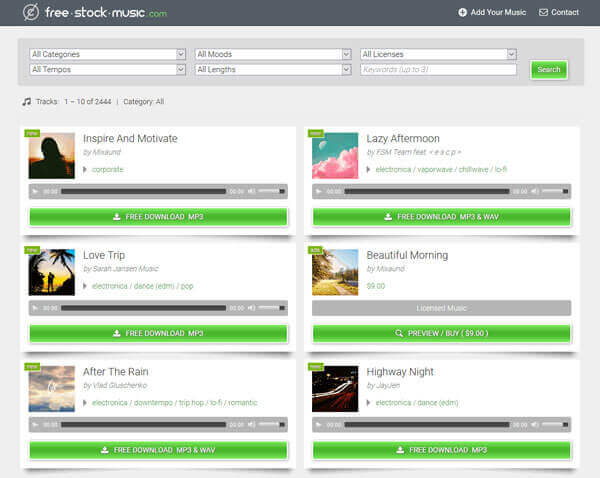 2. Besound
Site: https://www.bensound.com/royalty-free-music
Besound is a music site which collects all royalty-free music. You can free download non-copyrighted music of different types like folk, cinematic, pop, electronica, urban, Jazz, Rock, World music and more. You can click the Download button to save the music for free and add to your multimedia project like YouTube, Facebook, animation or websites, etc.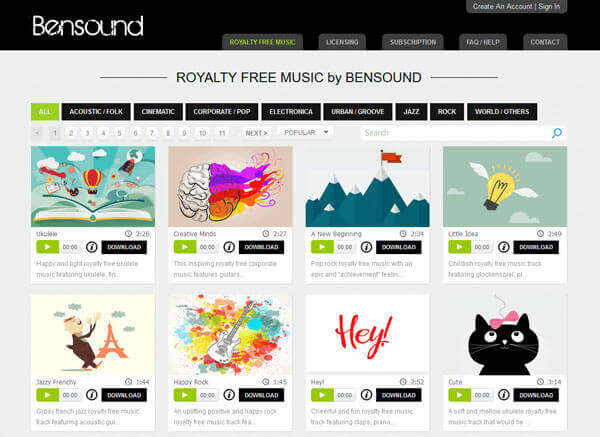 3. Snapmuse
Site: https://snapmuse.com/search
Snapmuse is an online music platform where you can find most popular non-copyrighted and royalty free music for free. You are free to browse your favorite background music, genres and sound effects, and download the perfect music for YouTube, Twitch or Instagram videos. Snapmuse enables users to filter music by genres, usage areas and moods. You can free download the music as long as you log in or sign up a account.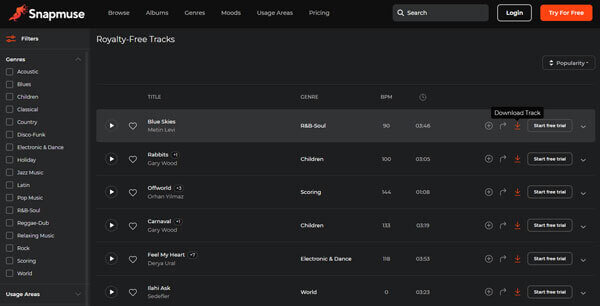 4. SoundCloud
Site: https://soundcloud.com/royaltyfreemusic-nocopyrightmusic
SoundCloud is a large music platform where you can explore the largest community of artist, podcasters, bands and creators of music & audio. SoundCloud offers a lot of no copyright music that you can download for free, but you need to support the artist to unlock the free download feature. (Find SoundCloud to MP3 Converter here)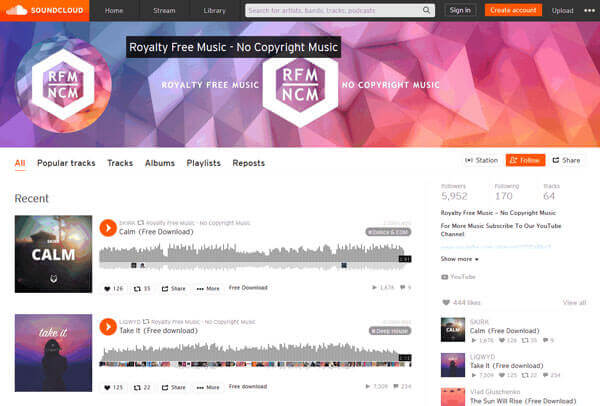 5. Free Music Archive
Site: https://freemusicarchive.org/
Free Music Archive is an online repository of non copyrighted music and royalty free music. It allows musicians to add free music and premium content. These non copyrighted music are divided into different genres, including Blues, Classical, Country, Electronic, Experimental, Folk, Hip-Hop, Instrumental, International, Jazz, Rock, Pop and more.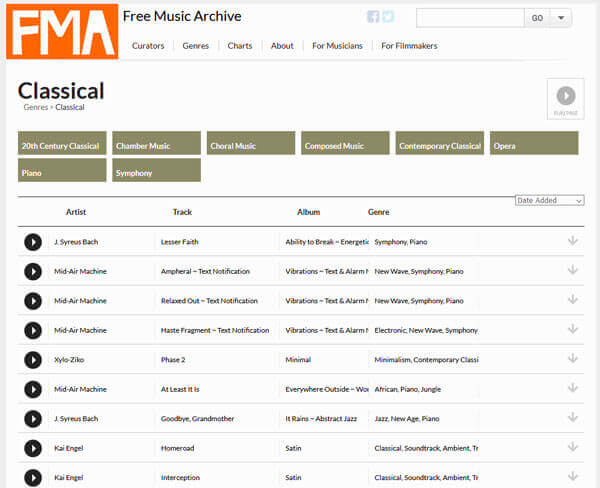 Sometimes the downloading may be failed caused by internet errors or extra charges. To download the non copyrighted music for free, you should find an audio recording tool instead.
Part 2. Best Way to Download No Copyrighted Background Music
Blu-ray Master Screen Recorder is a professional video and audio recorder for Windows and Mac that can record any activities on your computer screen, capture online videos and streaming music. You can use this audio recorder to record and save non copyrighted background music in high quality from these sites we mentioned above.
1. Download non copyrighted music from free music sites like SoundCloud.
2. Capture and save all audio from YouTube, Pandora, Spotify, iTunes Radio.
3. Record gameplay, conference, training tutorial, streaming music and video.
4. Record royal-free music with your own voice via microphone clearly.
Step 1Run Blu-ray Master Screen Recorder after installation. Choose Audio Recorder in the main interface.

Step 2To capture the non copyrighted music without outside noise, you need to turn on the System Sound option and turn off Microphone option
Step 3Go back to the music site and play the royal-free music you want to download. Then click REC button to start recording the music.
Step 4When the music has finished playing, you can click the Stop button to pre-listen and download the non copyrighted music on your computer.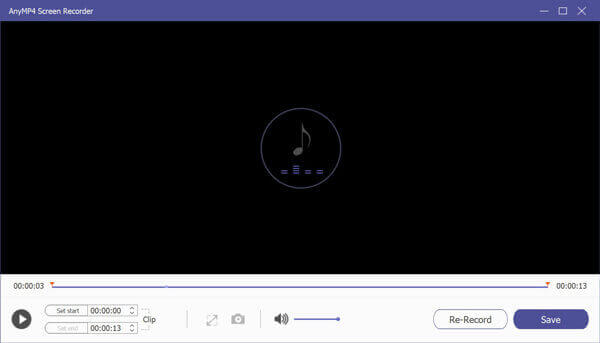 Find more free music players to play the downloaded non copyrighted music for free.
Part 3. FAQs of Downloading Non Copyrighted Music
1. Is it illegal to download non copyrighted music?
Actually, there is no copyright-free music. All audio recordings in U.S. have copyright protection. If the music is non copyrighted and the site offers free downloading, then it should be legal to download the music. But if the music you want to download is protected, it is illegal to download it.
2. How long can I play a song without copyright?
Well, a copyright provision lets you use 10, 15 or 30 seconds of music without copyright obligation.
3. Do I need to copyright my music before putting it on YouTube?
No. All original musical, artistic or literary works are automatically granted copyright protection in U.S. If you've recorded your music into a video, then it is copyrighted. If you still want to copyright the music, you can register with the Copyright Office at Copyright.gov or with a third party agency.
Conclusion
From this post, you can find the most popular royalty free music websites and the effective method to download the non copyrighted music for free. If you still want to record streaming videos from websites, Blu-ray Master Screen Recorder is the best choice to capture online videos on computer.