How to Record Facebook Video Calls on Windows, Mac, iPhone and Android
This guide will tell you how to record Facebook videos on computer and mobile devices including video calls. Though Facebook is a mature social media, the developer keeps introducing new features. According to a recent survey, video call has become a major feature in Facebook and majority users rely on it to keep in touch with friends and families. The best way to save important chats is to record it in real time. That is what you can learn from this concrete guide.

Part 1: Record Facebook Video on PC/Mac
Though users prefer to chat via Facebook video on mobile devices, the small screen is not convenient to record. Fortunately, you can use both Facebook live stream videos and video calls from web browser as well. Blu-ray Master Screen Recorder is the best way to capture Facebook videos.
Key Features of the Best Facebook Video Recorder
1. Record Facebook live videos and video calls easily.
2. Offer a wide range of custom options.
3. Generate high quality outputs using advanced technology.
Needless to say, it is the best way to record Facebook videos with a computer.
How to Record Facebook Video on PC/Mac
Step 1
Get the best Facebook video recorder
The video recorder offers two version, one for PCs and the other for Mac. You can download and install the right version on your machine. Then launch it and choose Video Recorder to enter the main interface. If you want to change output format, hotkeys and other custom options, click on the Settings icon and set them on the popup dialog.

Step 2
Record Facebook video
Open a web browser, visit Facebook website, sign in your account, and find the live video you want to record or enter the video call page. Turn to the video recorder program, enable Display, choose Custom and set the recording region according to your condition. Plus, enable the System Sound option and adjust the volume to proper level. If you need to add your face and voice to the video recording, enable Webcam and Microphone; otherwise, disable them.
Click on the REC button as long as the Facebook video or video call starts. Now, you will get a toolbar. To edit the video recording, click the Edit icon and you will get several tools to add text and paintings. At important moments, click the Camera icon to take screenshots while recording.
Step 3
Preview and save recording
When the Facebook video is done, click on the Stop button. Then you will be presented the preview window. Check the video recording and click the Save button if you are satisfied. The Facebook video will be exported according to your setting. The Clip feature is used to cut unwanted frames from the recording.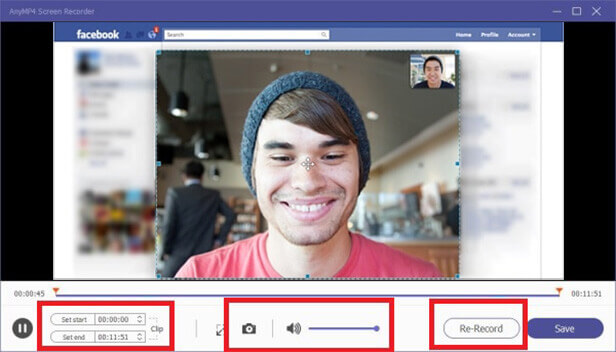 Note: The Facebook video recorder also provides an automatic record model. Click Take Schedule in the main interface and set the options based on your need. Then it will begin recording Facebook video automatically.
Apart from recording Facebook videos, you can also use this screen recorder to download Amazon Prime music, capture Viki videos, and more.
Part 2: How to Record Facebook Video on iPhone/Android
When it comes to mobile-first, the easiest way to record Facebook video call is the built-in feature and third-party screen recorder apps.
How to Record Facebook Video on iPhone
The built-in screen recording feature is the easiest way to record Facebook video on iPhone, but you need to enable it first.
Step 1
Open the Settings app from your home screen, tap on your name, go to Control Center and tap Customize Controls or similar option.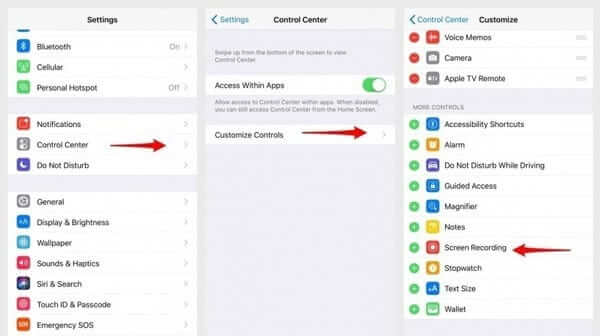 Step 2
Scroll down and find Screen Recording under More Controls. Tap the icon next to the option to add it to your Control Center.
Step 3
Go to the Facebook app, and create a video chat or find the live stream you want to record. Then swipe upward from the bottom of any screen to enter the Control Center. Tap the Screen Recording icon and press Microphone icon to enable it.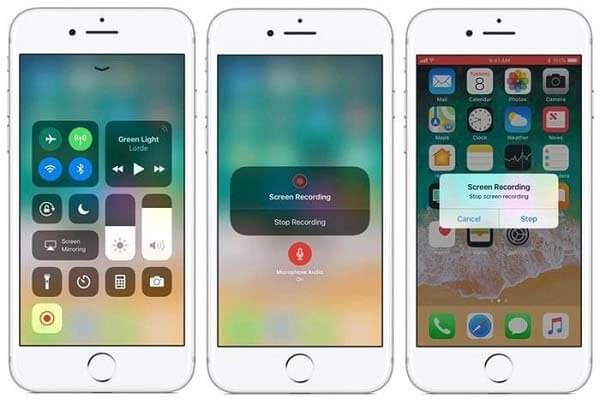 Step 4
Tap Start Recording to initiate recording Facebook video chat immediately.
Step 5
To save the recording, go to Control Center, tap Screen Recording icon, and hit Stop Recording. Then you can find the Facebook video recording in your Photos app.
How to Record Facebook Video Call on Android
For Android 10, there is also a built-in screen recorder feature on Samsung and LG. Here are the steps to record Facebook video calls.
Step 1
When you want to record Facebook video, swipe down from the top of your screen, and tap Screen recorder.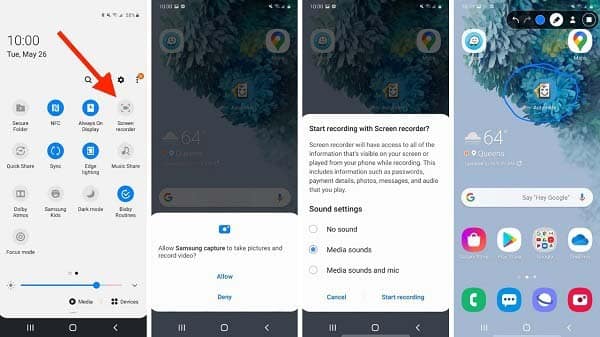 Step 2
When prompted, tap Allow or similar option to permit the feature to record your screen. Then decide the Sound settings, like No sound, Media sounds, or Media sounds and mic. For live stream, select Media sounds. Media sounds and mic is available for video call recording.
Step 3
Then the recording will start. You can stop Facebook video recording from the top notification bar.
Note: For old systems, you have to use a third-party screen recorder app.
Part 3: FAQs about Recording Facebook Video
How do I record a part of a Facebook video?
There are two ways to record a clip of Facebook video. You can use a video recorder to only record a part or trim the video after recording using a video editor.
Is it legal to record Facebook video call?
There is no rule about Facebook video recording, but you'd better get the permission from other members before recording calls.
Does Facebook record my live stream?
Facebook will publish the live stream to the Page or profile, so that fans and friends who missed it can watch at a later time. The broadcaster can only remove the recording.
Conclusion
This guide has shared three ways to record Facebook video calls or live stream on computer and mobile devices. Though you can use the built-in features and screen recorder apps to save your favorite Facebook streams and video calls, we suggest you to do it with a computer. Blu-ray Master Screen Recorder is not only easy to use, but also able to record any videos on Facebook and capture any videos on YouTube. More problems? Please leave a message below.