3 Ways to Download and Record Twitch Streams to Your Computer
Twitch is a worldwide live streaming platform for all gamers. You can watch online streaming games on Twitch TV. Almost all games can be found here. Moreover, you can post some of your past gameplay recordings on Twitch to earn money as well. No matter you want to share your own gameplay video, or you want to download someone else's Twitch VOD, you can get the detailed steps here. This article will show you online and offline ways to record twitch streams. Thus, you can save Twitch broadcasts, VODs and other clips to get offline playback.

Part 1: How to Permanently Download Twitch Videos with No Limits
Since Twitch allows registered users to download live stream videos, why you still need a Twitch video downloader? Because all your downloaded Twitch streams will be deleted after a period of time automatically. If you want to save Twitch videos forever, you need to run Blu-ray Master Screen Recorder.
It is a gameplay recorder for both novices and professionals. You can record and broadcast/watch/play games on Twitch with no lag. Both internal game sound and your voice can be recorded. Moreover, you can add your facecam into Twitch streams as well.
1. Download and record a Twitch stream up to 60fps without expiration time. (from yourself or someone else)
2. No maximum time limit. You can record Twitch streams for hours or even days. (Make sure there is enough storage space and power.)
3. Screen record on Twitch with internal and external audio sources.
4. Trim Twitch game recording video with custom start and stop time.
5. Add mouse effects, annotation, shape and more drawing tools while recording on Twitch.
6. Use hotkeys to record and screenshot while streaming on Twitch.
7. Save Twitch streams as MP4, MOV, M4V, WMV or GIF format.
8. Share Twitch videos to YouTube, Facebook, Twitter and other platforms directly.
Step 1 Free download, install and launch Blu-ray Master Screen Recorder. Choose Video Recorder to record a Twitch stream on your computer.
Step 2 Click the gear icon to change recording settings. In Hotkeys, you can select custom hotkeys to start and stop Twitch recording. If you want to change video format and settings, you can navigate to the Output section. Click OK to save changes and close the window.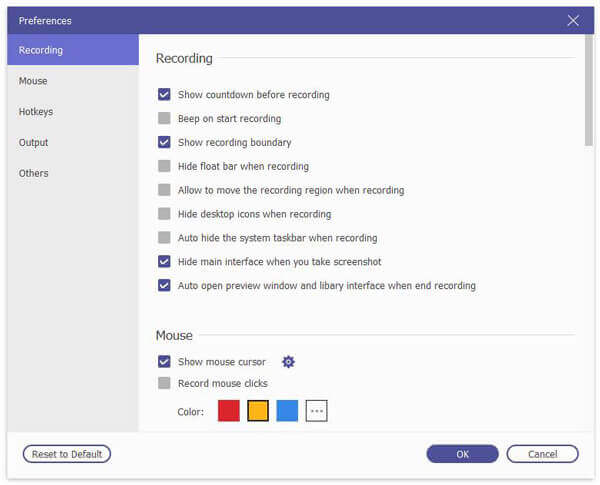 Step 3 Set the screen capture area as full screen, fixed region, selected window or custom. To record live Twitch stream with audio, enable System Sound and Microphone. If you want to add an overlay of your face, you can enable Webcam as well.

Step 4 Go to the Twitch video. Click REC to start recording on Twitch. Click Screenshot to take a screenshot on Twitch stream. In addition, you can click Edit to add drawing effects to your Twitch recording video as well.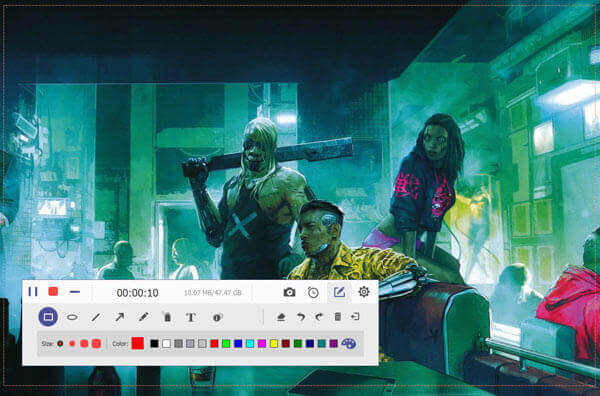 Step 5 When you stop recording, you will be in the Preview window. Click Play to see your Twitch game stream. The built-in video trimmer is on the lower left corner. Or you can move draggers to trim Twitch video. Alter all customizations, click Save to download Twitch streams to local drive. Thus, you can download and record a live Twitch stream successfully.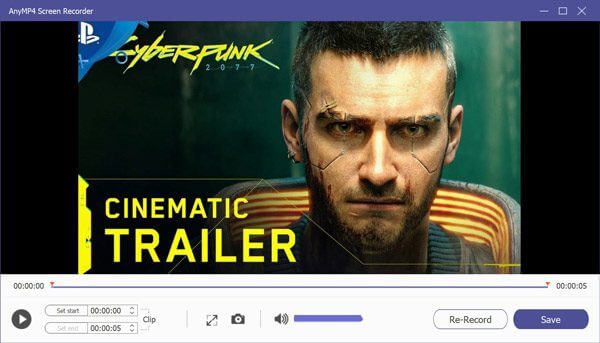 With this powerful screen recorder, you can also record Instagram stories on Windows and Mac.
Part 2: How to Record Twitch Streams Online for Free
If you are looking for a free Twitch recorder, Blu-ray Master Free Online Screen Recorder can also be your good choice. You can capture streaming video on Twitch with audio for free. The picture-in-picture effect is supported. Your recorded Twitch stream will be saved as WMV up to 24 fps. If you want to download Twitch streams on your computer, you can do as the followings show.
Step 1 Click Start Recording and install its launcher first. The online game recorder will be activated quickly.
Step 2 Select the screen capture area. Choose which audio source to record from System Sound and Microphone.
Step 3 Click REC to start recording Twitch stream. You can click Stop to stop recording on Twitch whenever you want.
Step 4 Save your Twitch stream recording video.
Part 3: How to Download Your Twitch Broadcast (Limited)
You can download your own broadcast streams on Twitch. Twitch allows users to download previous broadcasts. Moreover, you can adjust Twitch settings to download Twitch streams automatically as well.
Step 1 Visit Twitch website. Select Settings from the drop-down menu on the top right corner.
Step 2 Choose Channel & Videos and then select Channel Settings. Mark before Automatically archive my broadcasts. Then all your further Twitch broadcasts will be saved into profile by default.
Step 3 Select Video Manager from the main drop-down list. You can see all your saved Twitch streams.
Step 4 Choose Download to download videos from Twitch.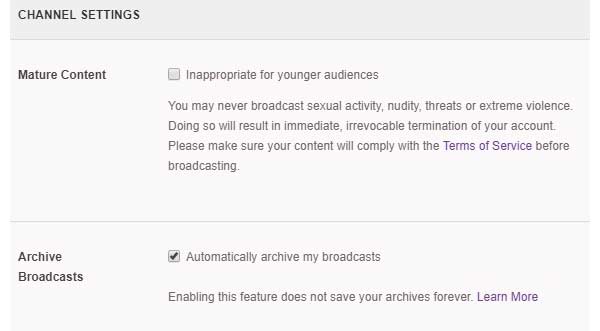 Part 4: FAQs of Recording Twitch Stream
Why do Twitch videos expire?
Twitch will remove recorded videos due to storage limitations. If you are a basic Twitch member without buying any service, your Twitch streams will be deleted after 14 days. As for other Twitch Partners, Prime and Turbo members, you can download Twitch broadcasts up to 60 days.
How to download Twitch videos to iPhone?
To download Twitch video clips on iPhone, you need to install Shortcuts app first. It is available in App Store. Tap the Share button. Choose the Share to option. Then select Shortcuts among other apps. Choose Save Twitch Clips and select the video quality. Later, Shortcuts will download Twitch stream on your phone immediately.
What is Twitch Leecher and how to use?
Twitch Leecher is a third-party app that allows users to download old Twitch streams from others. This is not an official program released by Twitch. But its well-designed interface and regular updates are attractive.
You can download Twitch Leecher in GitHub. Run the latest Twitch Leecher. Click Search on the top toolbar. Search for the video by Channel, URL or IDs. Then click Download to download someone else's Twitch VOD.
How to record your Twitch stream on Xbox One?
If you stream Xbox One games to Twitch, you can get one more way to record Twitch streams. Actually, Xbox One allows users to broadcast and record game videos without other apps. You can download Twitch videos to watch offline. By the way, you can use the Xbox app to record Twitch streams on Windows 10 as well.
All in all, you can download and record Twitch streams with the above 3 tools. Blu-ray Master Screen Recorder and Free Online Screen Recorder can help you record live stream game videos on Twitch with original quality. You can save or share Twitch recording videos freely. As for using Twitch archive broadcasts, you can automatically save your broadcasts. Though Twitch will remove all your saved files after 14 or 60 days.
So if you want to save Twitch streams forever, it is suggested to free download Blu-ray Master Screen Recorder to try its free trial. You can use this Twitch video downloader to download any video with no limits. Or you can start with its free online screen recorder to record streams on Twitch as well.