8 Best Video Recorder Applications for YouTube on PC/Mac/iPhone/Android
YouTube recorders make it easy to save your favorite videos from the social media platform in any format of your choice. In order to protect copyright, YouTube does not provide the download option for most video contents. However, the new problem is that finding a good YouTube recorder is always a challenge. This guide will identify and share top 8 best video recorder apps available to record YouTube on Windows, Mac, iPhone and Android easily.

Part 1: Top 3 YouTube Recorders for PC/Mac
Top 1: Blu-ray Master Screen Recorder
If video quality is important to you, Blu-ray Master Screen Recorder is the best YouTube recorder choice. It is able to deliver pro-level features in the way that everyone can learn quickly. Plus, it has built in the advanced technology to enhance the video output quality.
Main Features of the Best YouTube Recorder
1. Record YouTube videos along with audio.
2. Produce the best video and audio quality.
3. Offer extensive custom options and bonus tools.
How to Record a YouTube Video on Desktop
Step 1
Install YouTube recorder
Run the best video recorder for YouTube once you install it on your PC. There is a specific version for Mac. Then choose Video Recorder from the home interface. The Audio Recorder option is used to record YouTube in audio files.
Step 2
Record a YouTube video
Keep the Display option enabled and set the recording region based on the YouTube video. Turn on the System Sound option and adjust the volume. Turn off the Webcam and Microphone options unless you want to add your face and voice to the video recording. Find the desired YouTube video, click the REC button and play the video to begin recording it.
Step 3
Preview and save YouTube video
When YouTube video recording is done, click the Stop button to enter the preview window. View the video recording and click the Save button if you are satisfied. If it contains unwanted frames, cut them with the Clip feature.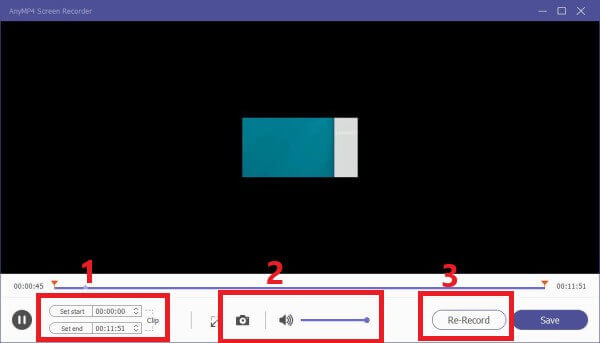 Top 2: OBS Studio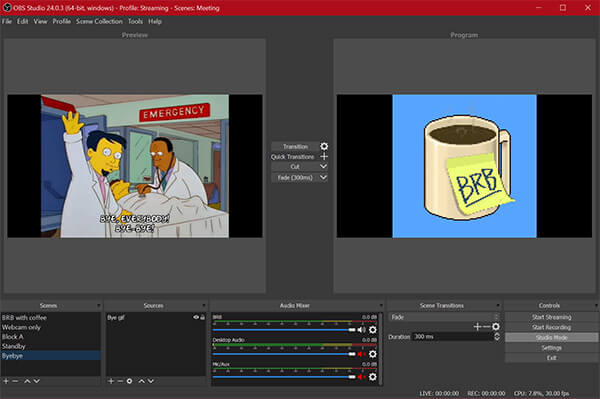 As an open-source YouTube recorder, OBS Studio is free to use on PC, Mac and Linux. That may be why so many vloggers and gamers use it to record videos and gameplay. By default, it will save YouTube videos in FLV files.
Pros
1. Record YouTube videos for free.
2. Live stream screen to YouTube or Twitch.
3. Include plentiful custom options.
4. Support multiple recording sources.
Cons
1. It cannot edit YouTube videos.
2. OBS only supports two output formats FLV and MP4.
Top 3: Windows 10's Game Bar

At first, Game DVR is the game recorder on Xbox One. Now, Microsoft has migrated this feature into Windows 10. Therefore, you can record YouTube videos on PC without any extra software.
Pros
1. Capture YouTube videos without installing.
2. Record online videos in full screen.
3. Save online videos in MP4 files.
4. Easy to use.
Cons
1. This YouTube recorder cannot record custom region.
2. The output format is limit.
3. It is only available to Windows 10.
Part 2: 3 Best YouTube Recorders Online
Top 1: Blu-ray Master Free Online Screen Recorder
Web apps are the convenient way to perform various tasks. However, they usually have some downsides, like watermark or file size limit. Blu-ray Master Free Online Screen Recorder is a YouTube recorder without any restrictions.
Pros
1. Totally free of charge.
2. Record YouTube videos online.
3. No watermark or length limit.
Cons
1. It lacks video editor.
How to Record a YouTube Video Online
Step 1
When you need to record a YouTube video, visit https://www.bluraycopys.com/free-online-screen-recorder/ in your browser.

Step 2
Hi the Launch Free Recorder button to download the launcher. Then turn on or off each option, including Recording Area, Camera, Speaker, and Microphone, on the launcher.

Step 3
Click the REC button to initiate recording YouTube video. When it is done, press the Stop button and download the recording.
Top 2: Screencast-O-Matic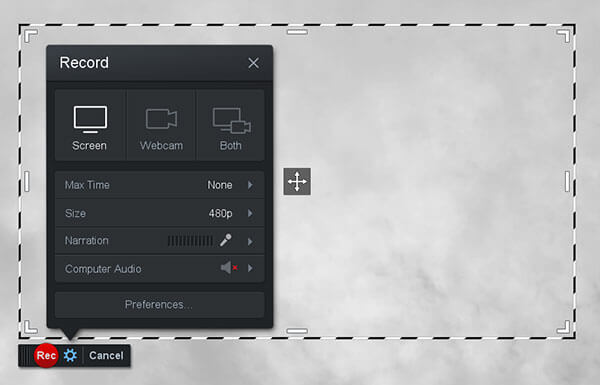 Pros
1. Record YouTube videos without paying a penny.
2. Work online without installing.
3. Let you decide the output quality.
4. Add your voice to video recording.
Cons
1. The maximum recording time is 15 minutes.
2. The video quality is not very good.
Top 3: Screen Capture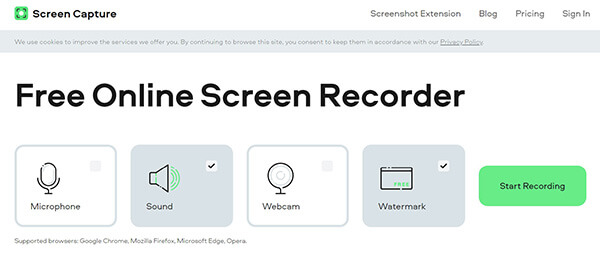 Though Screen Capture is a new YouTube recorder online, It has the capacity to record your favorite videos on YouTube within browser directly. If you do not mind the watermark, it is free to use.
Pros
1. Record online videos in browsers.
2. Offer several plans including a free one.
3. Support webcam and microphone capture.
4. No limit on recording length.
Cons
1. The free version will be watermarked.
2. It slows down if you record long videos on YouTube.
Part 3: Top 2 YouTube Recorder Apps for iOS and Android
Top 1: iOS Screen Recording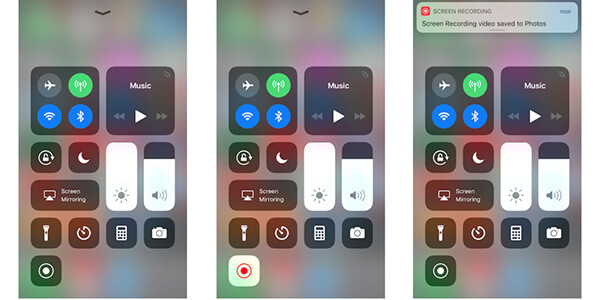 Since iOS 11, Apple has introduced a screen recording feature into iPhone and iPad. It can help you record YouTube videos on iOS devices. Once you enable the feature in Settings app, it will appear in Control Center.
Pros
1. Capture YouTube videos on iPhone.
2. Trim unwanted frames.
3. Free to use without restrictions.
Cons
1. You cannot decide the output format.
2. It is only available to iOS 11 and later.
3. The YouTube recorder does not support all videos.
Related: How to Fix iOS Screen Recording Not Working on iPhone or iPad (iOS 14 Included)
Top 2: AZ Screen Recorder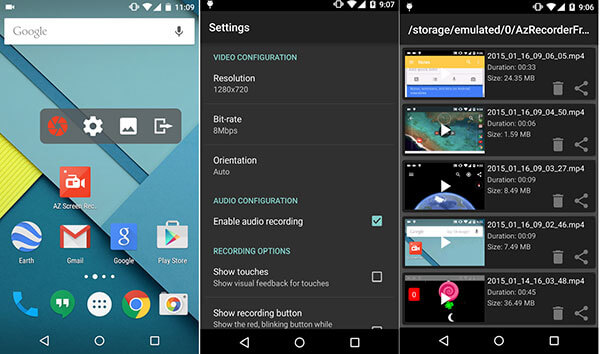 AZ Screen Recorder is a third-party YouTube recorder app compatible with both iOS and Android. It has the capacity to capture everything on your screen including YouTube videos and more.
Pros
1. Free to download in Play Store and App Store.
2. Record YouTube videos with high quality.
3. Stream screen to YouTube or Facebook.
4. Edit video recordings directly.
Cons
1. Some features require payment.
2. It is only available to the latest mobile devices.
Part 4: FAQs of YouTube Recorder
Is screen recording YouTube illegal?
If you just watch the video recordings personally, it is okay. For commercial purposes, you'd better get the permission from the publisher or author; otherwise, you may face some troubles.
What recorder do YouTubers use?
It depends on the situations. If you have enough budget, for example, a professional recorder can produce better result. For beginners, free screen recorders are enough, such as OBS.
What equipment do I need to become a YouTuber?
In fact, YouTubers do not need any extra equipment. You can take videos using your mobile devices at any time and edit them on computer. Then upload it to your YouTube channel directly. Sometimes, you even do not need too much edit.
Conclusion
This review has shared top 8 best YouTube recorder apps for PC, Mac, iPhone and Android users. Some of them are free to use, like Blu-ray Master Free Online Screen Recorder, others are affordable. Blu-ray Master Screen Recorder is the most cost-effective solution to capture your favorite YouTube videos with high quality. Moreover, it is easy to learn even if you do not have any technical skills. More questions? Please feel free to leave a message below.