8 Best Free WAV Players for Android, iPhone, Windows and Mac
WAV (WAVE) is short for Waveform Audio File Format, which is an uncompressed audio format developed by Microsoft and IBM for storing an audio bitstream on PCs. It is a lossless format. Thus, the file size will be larger than common audio lossy files.
You may fail to play WAV files with Windows Media Player and other old media players. Because you need to download codec packs for WAV playback on Windows 10 and other operating systems.
If you want to play WAV audio files directly, you had better choose a good WAV file player to solve incompatible issues. Then what programs can play WAV files? You can get your best WAV player from the following reviews.

Part 1: Top 5 Free WAV Player Software for PC and Mac
Blu-ray Master Free Blu-ray Player is an ultimate media player that can play almost all discs and media files on PC and Mac. You can play all WAV files with HD audio quality. Moreover, the WAV file player freeware supports Dolby 5.1, DTS and the newest playing technology. You can play WAV music files with selectable audio track, audio channel and audio device. Of course, you can also play any DVD/Blu-ray disc and movie with 100% video quality for free.
Key Features:
1. Besides playing WAV files losslessly, it is also the best free MP3 player.
2. Support over 200 video/audio formats with excellent video effects.
3. Enjoy Blu-ray/DVD movies with high visual-audio quality.
4. Adjust audio channel for WAV playback, including stereo, reverse stereo, left and right.
Top 2: Final Media Player
Final Media Player supports over 80 types of video and audio files, including WAV, WMA, WV, XA, XWMA, etc. The WAV player for Windows freeware require not codecs. You can play WAV files on Windows 10 and earlier versions for free.
Download link: https://www.finalmediaplayer.com/index.html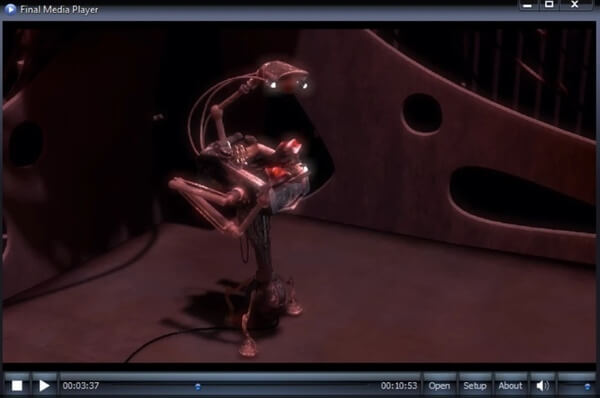 Top 3: MusicBee
MusicBee is a good audio player and manager for WAV and other audio formats. You can get gapless playback with this portable WAV player for Windows. The built-in equalizer and sound effects are also powerful. In addition, you can sync WAV music collection with devices.
Download link: https://getmusicbee.com/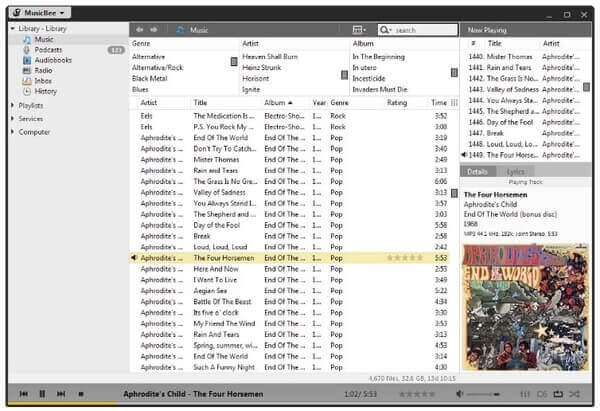 Top 4: Elmedia Player
Elmedia Player is a WAV file player for Mac with free trial. You can get a wide range of audio and video formats, like WAV, FLV, MKV, FLAC, M4V and more. The Mac WAV player also provides the native volume control and language selection.
Download link: https://mac.eltima.com/media-player.html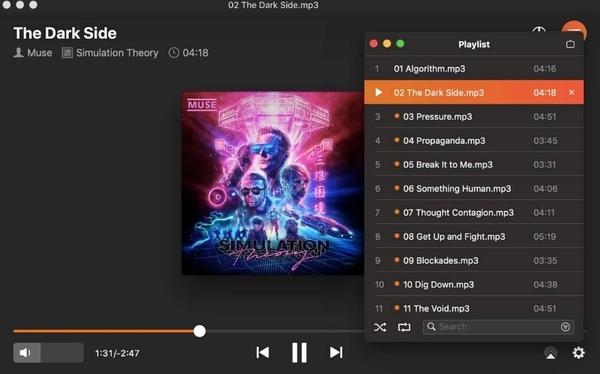 Top 5: Winamp
Winamp is a free audio player that can play WAV audio tracks on Windows and Mac computers. You can adjust music visualization, playlists and plugins within the WAV file player free. Now you can download the revised Winamp 5.8 version from its official site directly.
Download link: http://www.winamp.com/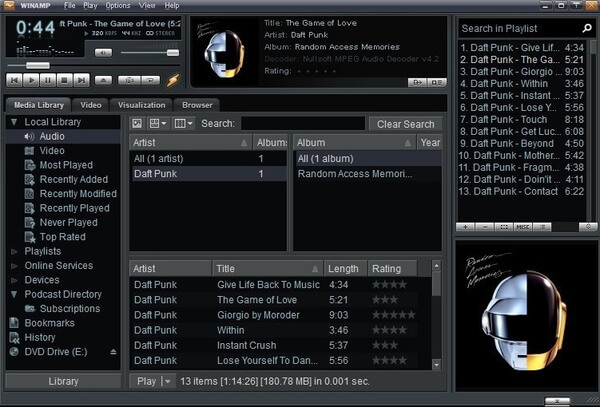 Part 2: Top 3 Free WAV Player Apps for Android and iPhone
Not all WAV files can be played on Android. Some Android devices support specific .wav files only. Therefore, you need to install a WAV player for Android app to play .wav files on Android.
There are many Android media player applications that support WAV and other media formats. This section will show you 3 alternatives designed for WAV playback mainly.
Top 1: VLC
VLC is a free and open source media player for Android, iOS, Mac, Windows and Linux. You can play WAV files with VLC apk on Android for free, as well as other portable devices. VLC player for Android is a free Android WAV player with no ads, in-app purchases or spying tools.
Download link:
https://play.google.com/store/apps/details?id=org.videolan.vlc&hl=en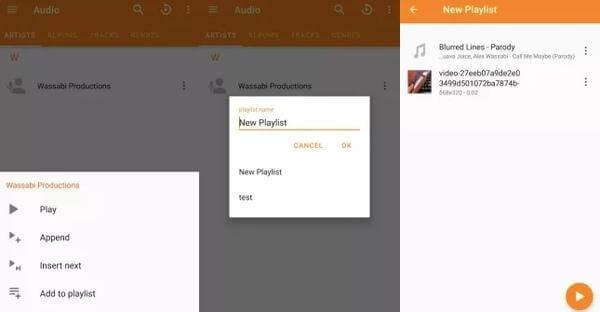 Top 2: Remote Wave Free
Remove Wave Free can play WAV/GSM/AU voicemail attachment on Android. This is not a standalone WAV file player apk. You need to access "Remote Wave" from the "Open with" menu of other programs. However, some users complain that it is hard to set up or manage with Remote Wave Free.
Download link:
https://play.google.com/store/apps/details?id=com.toremote.audio.freeplayer&hl=en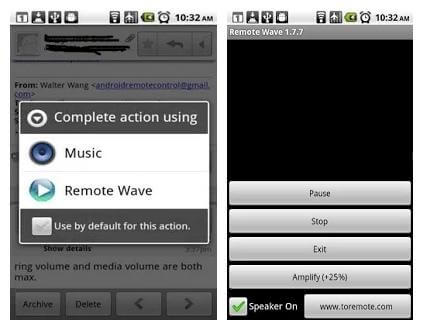 Top 3: WAV Player
Just as its name shows, you can play WAV audio files with this application. There is no advanced audio editing or managing features. You can play, pause, resume, forward and backward WAV files only. Sadly, WAV Player apk stops playing when the screen is locked.
Download link:
https://play.google.com/store/apps/details?id=grant.wav.player&hl=en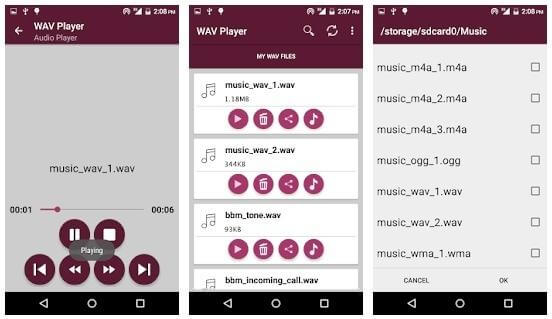 Part 3: How to Play WAV Files with the Best WAV Player
Step 1
Download and install free wav player on the PC. When you launch the program, click "Open File" to browse and select WAV music.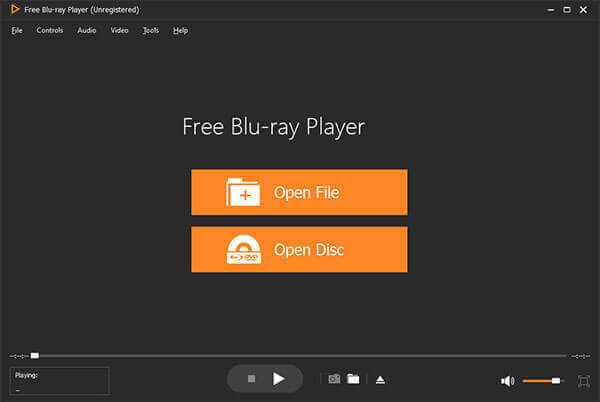 Step 2
Click "Play" to enjoy the song in WAV format. You can pause, resume, stop, forward or backward the WAV file with buttons near the bottom. The volume control locates on the lower right corner of the WAV audio player.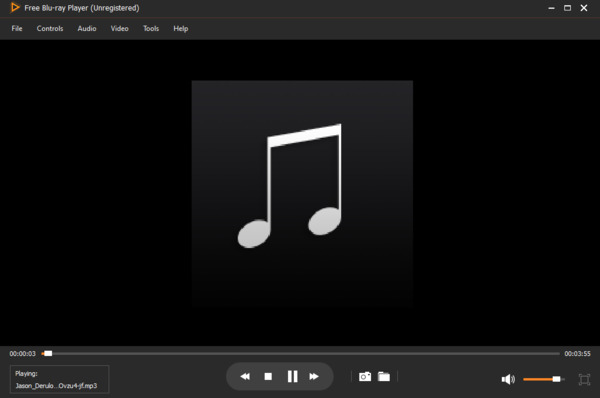 Step 3
Control the MP4 playback
After loading, it begins playing the MP4 movie immediately. The quick controls are located on the bottom, such as Fast forward, Fast backward, Stop, Pause, and more. Plus, you can find the custom options in the top menu bar.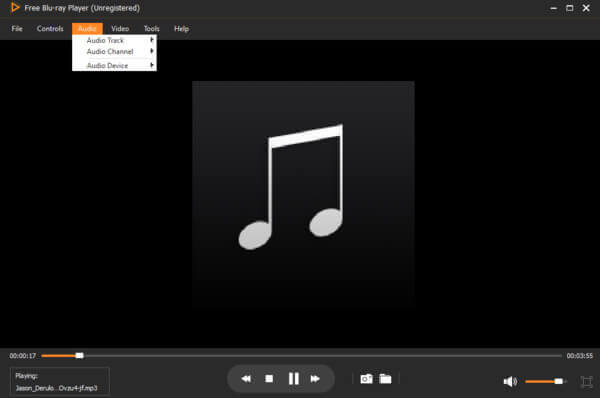 Part 4: FAQs of WAV Players
Can VLC play WAV?
Yes. VLC is not only a great music player to play WAV on mobile phones but a good choice on Windows PC, Mac, and Linux as well. And the most important, it is completely free.
Can MP3 players play WAV files?
Yes, most MP3 player devices and software support WAV playback. Even if it is not supported, you can always convert WAV to MP3 format.
Is WAV better than MP3?
Normally, WAV is better than MP3 in quality. But that also may cause large file size. So, if you are not that picky about the music quality, MP3 is more recommended since it is more popular.
Conclusion
By using any free WAV player mentioned above, you can play wav files on your mobile phone or computer freely. Actually, you can play other common and rare audio files with Free Blu-ray Player smoothly. Can you find your best free WAV player for Mac or PC now?