A Complete Guide to Help You Download Video from YouTube for Watching Offline
As the most popular stream platform, YouTube has attracted hundreds of millions of visitors and users around the world. However, many people have complained that they cannot watch videos at the places with spotty internet connectivity. It makes sense that stream platforms all work through the internet. Moreover, video streams spend a lot of traffic. In another word, you have to pay for cellular traffic even though YouTube videos are free to watch. So, you may wonder whether you can watch YouTube videos offline. This guide will answer your question in detail.

Part 1: Top 5 YouTube Downloaders You Can Try
There are some YouTube downloader applications on market. The following recommendations will reign supreme now.
Top 1: Y2Mate

Y2Mate is an online application to help you watch YouTube offline for free. It is able to convert and download your favorite YouTube videos to MP4 files without installation.
Pros
1. Download YouTube videos as MP4.
2. Support resolutions from 144p to 1080p.
3. Extract audio from YouTube videos.
Cons
1. It is not available to all YouTube videos.
Top 2: 4K Video Downloader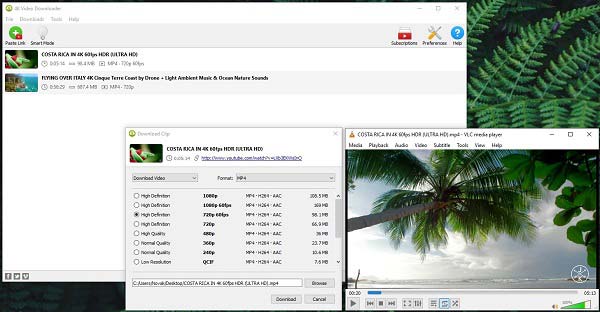 As its name indicated, 4K Video Downloader is able to watch YouTube videos offline with high quality. It will download videos from YouTube, Facebook, Vimeo and other platforms.
Pros
1. Download HD videos from YouTube.
2. Support plentiful platforms.
3. Process multiple videos at one time.
Cons
1. The free version cannot download playlist.
2. It requires installation before using.
Top 3: Airy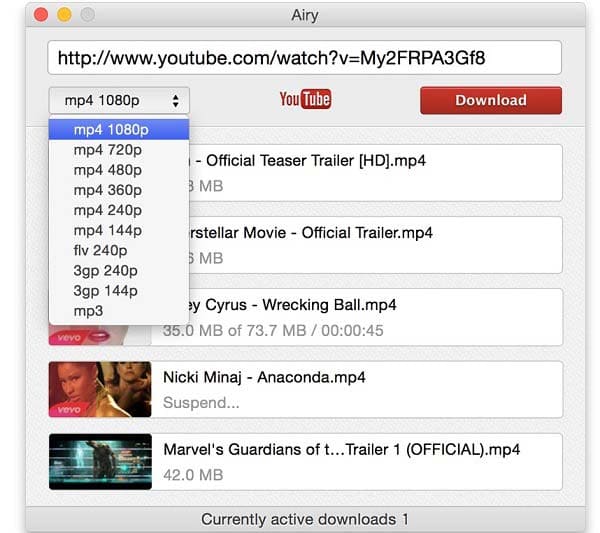 Airy is another way to watch your favorite YouTube videos offline. It provides both a free version and a pro version with full features. Moreover, you can decide the video quality when downloading.
Pros
1. Batch download multiple videos.
2. Offer a browser extension.
3. Support HD,4K and 8K Ultra HD videos.
Cons
1. You can only download 2 videos at once.
2. It needs you to sign in your YouTube channel.
Top 4: KeepVid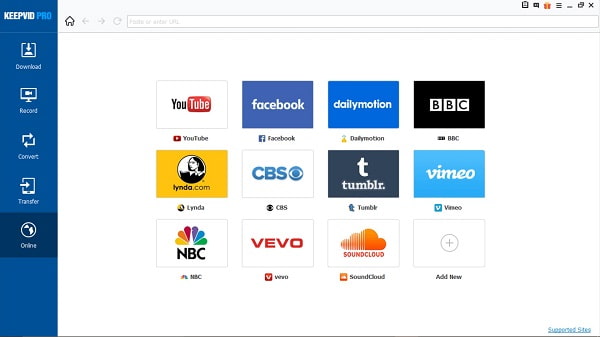 KeepVid is an application to download YouTube videos in MP4 files for watching offline. Though it is not available to encrypted contents, you can still try this service to get you favorite YouTube videos.
Pros
1. Download videos from YouTube and more.
2. Support HD video download.
3. Available to plentiful video platforms.
Cons
1. The success rate is a bit low.
2. It is pricy.
Top 5: YT Cutter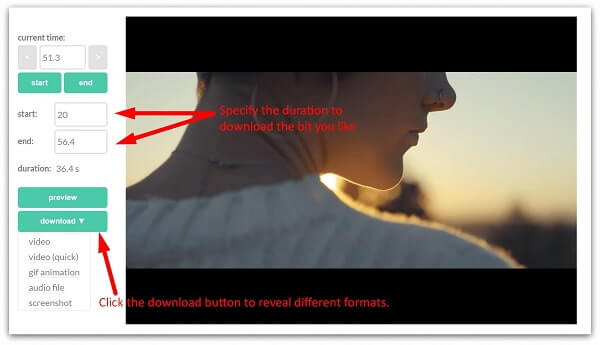 YT Cutter is another online service to help you watch YouTube videos offline. It works through video URL. Moreover, you can preview the video before downloading. You can also download a clip from the video.
Pros
1. Download videos online.
2. Set duration based on your need.
3. Convert YouTube video to GIF file.
Cons
1. It takes a while to load YouTube videos.
2. It cannot convert video format.
Part 2: Best Way to Watch YouTube Videos Offline
We have listed top 5 best ways to download videos from YouTube for watching offline. However, you still need a media player to watch the videos. Blu-ray Master Free Blu-ray Player can meet your need.
Main Features of the Best YouTube Video Player
1. Watch YouTube videos offline with high quality.
2. Support almost all video formats including 4K videos.
3. Control video playback with onscreen buttons.
In brief, it is the best option to watch YouTube videos offline on your computer.
How to Watch YouTube Video Offline
Step 1Open a YouTube video
Install the best media player on your computer and launch it when you want to YouTube video offline. Now, you have two ways to open the video file. Click the Open File button in the home interface to activate the open-file dialog. Then find the downloaded YouTube video and open it immediately. The alternative method is to open the video from the File menu on the top menu bar.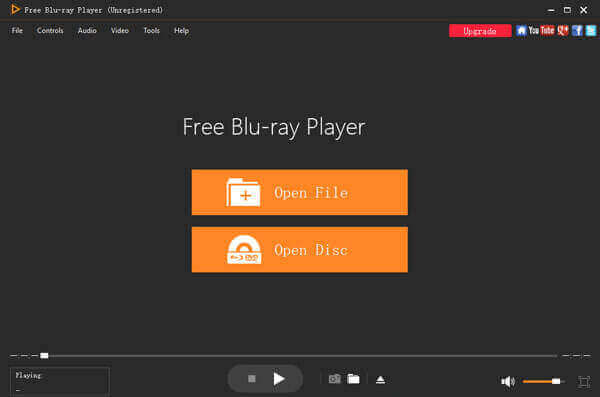 Step 2Watch YouTube video offline
After loading, the video will begin playing in the media player window. You can pause, stop, fast forward or rewind the video at any time with the icons at the bottom. At important moments, click the Camera icon to take snapshots. Moreover, you can adjust the volume to your favorite level in the Volume section.
Step 3Control playback
If you want to get the advanced controls related to watch YouTube offline, locate the top menu bar. Then you can adjust subtitle, audio track, screen size and more from the Controls menu. If the video color is not very good, go to the Tools menu and select Effects. Now, you can change Hue, Brightness, Contrast, Saturation or Gamma.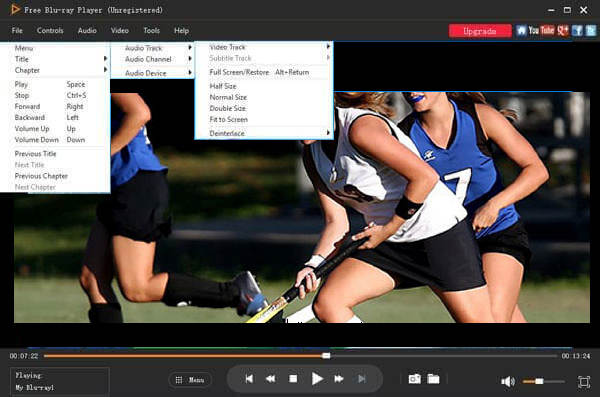 Part 3: How to Watch YouTube Offline on iPhone/Android
In addition to download YouTube videos for watching offline, you can get your favorite videos without extra software on mobile devices. YouTube Premium is the subscription service that gives you some privileges, such as ads removal and offline playback. Here are steps to watch YouTube offline on iPhone and Android phone.
Step 1Open YouTube app from your home screen or app tray. Sign in your premium account and find the video that you want to play on iPhone offline.
Step 2Tap the Download button between Share and Save below the video title.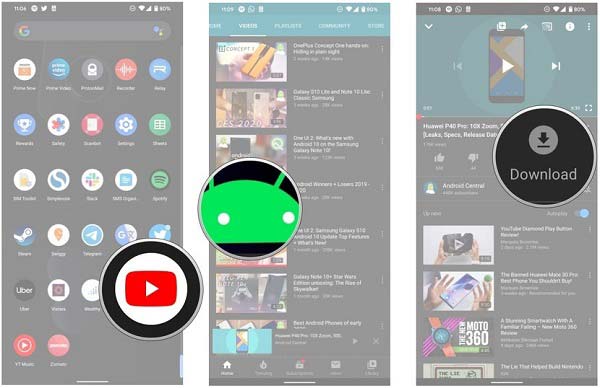 Step 3Next, you will be asked to choose the video quality, such as Full HD. It will tell you how much space the video requires. Tap OK and the YouTube video will start downloading.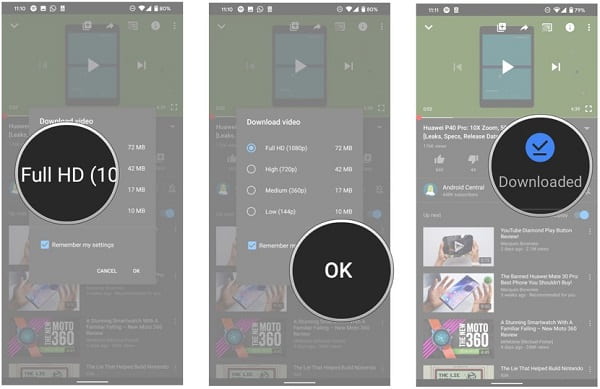 Step 4Wait for the Download icon to turn to blue and you can watch YouTube video offline on your iPhone or Android phone.
Note: This way is also available to playlist download, but you have to make sure that your mobile device has enough space.
Read more: How to Download YouTube Videos Using VLC Media Player
Part 4: FAQs about How to Watch YouTube Offline
Do you have to pay for watching YouTube offline?
It depends on the ways that you watch YouTube offline. If you do it with YouTube premium subscription, you need to pay for it. For the videos that you already downloaded from YouTube, you can watch them without paying a penny. Or you can use a YouTube video recorder to save YouTube videos for offline playback.
Why cannot I download YouTube videos anymore 2020?
There are several reasons that lead to YouTube videos unavailable to download:
1. Some paid videos may not be downloaded due to the copyright issues.
2. The video URL is encrypted or nonvalid anymore.
3. Your YouTube downloader is outdated and need to update.
4. Some antivirus software will block you to download videos from YouTube and other stream platforms.
Does watching downloaded YouTube videos use data?
According to our research, watching high quality YouTube videos will see significantly higher data usage. However, if you have downloaded the YouTube videos, you can watch them offline without using any data on both computer and mobile devices.
Conclusion
This article has told you the best ways to watch YouTube videos offline. Firstly, you can try the best YouTube video downloaders we shared above to get your favorite movies. For mobile devices, you need a premium subscription to watch videos offline. Blu-ray Master Free Blu-ray Player is the best way to watch downloaded YouTube videos. It is not only easy to use, but also offers high quality video experiences. If you have other questions, please leave a message in comment area below this post.