MOV File Player – 6 Best Programs to Watch MOV Videos with Ease
What should be the best MOV file player for Windows and Mac? MOV format is an MPEG-4 file format used in Apple's QuickTime, which contains videos, video effects, audio, text, images, subtitles and other media types in a single file. As the ISO standard video format, you can use most of the media player to watch the MOV files on Windows and Mac.
The article shares 6 best MOV video players, whether you need to watch the desired subtitle/audio track, enjoy the 4K MOV files, or play back the videos in different modes, you can find a suitable MOV player according to your requirement. Just read the article and choose a desired one.
Top 1: Free Blu-Ray Player – Versatile MOV Player for Windows
In order to play MOV formats, MOV HD, MOV 4K, DVDs and even Blu-Ray disc, Free Blu-Ray Player is the recommended MOV Player for Windows 10. Whether you need to play videos with great effects, or enjoy the high quality audio, it should be the desired media player.
Pros
1. Support most of the audio and video formats, DVDs and Blu-Ray discs.
2. Various of screen modes, such as full, half, normal, double and more.
3. Works with DVD as well as the commercial DVD with protection.
4. Capture the favorite snapshot while you play back the MOV video files.
Cons
1. Need to upgrade to Pro version in order to access the full functionality.
How to Watch MOV Videos with Free Blu-Ray Player
When you want to enjoy the MOV files with a high quality, such as the HD MOV files or 1080P MOV, here is the detailed process to watch MOV videos with the MOV file player.
Step 1
Download and install the MOV player on Windows 10. After that launches the program and click the "Open File" to load the MOV videos, HD MOV videos or MOV 4K files into the program. You can also load and watch DVDs and Blu-Ray movies with ease.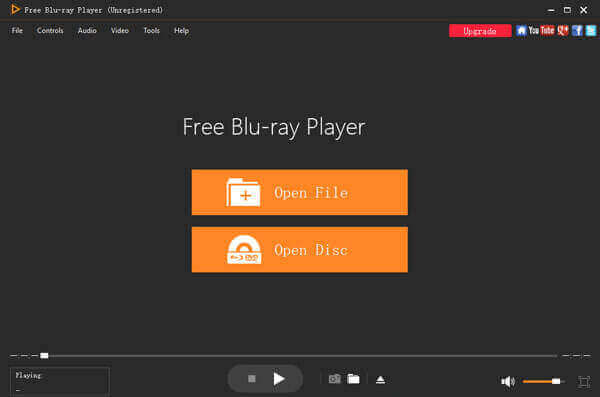 Step 2
Once you click the "Open File" option, you can select the MOV files from the local folder on your computer. You can also click the "File" button at the top of the toolbar to open the "File" drop-down list. Then press the "Open Files…" to add MOV video files into the program.
Step 3
Now you can watch the MOV files with high quality automatically. There are menus to "Pause", "Play", "Fast forward", "Fast backward" and other buttons to handle the video part you want to watch. Of course, you can also adjust the audio volume to enjoy the movie.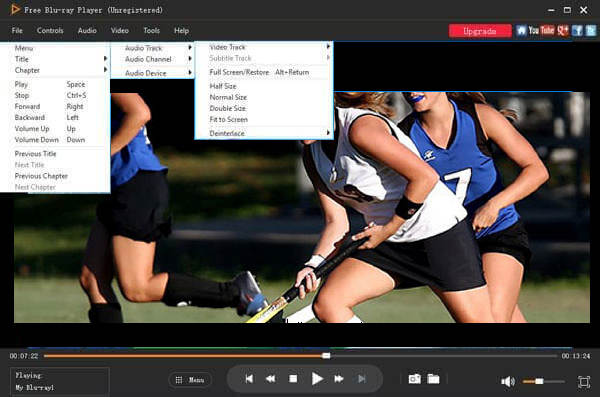 Note: Besides the "Full Screen" mode, you can also switch to "Half size", "Normal size", "Double size", and "Fit to screen size" to play the MOV files with the MOV video player.
Top 2: QuickTime MOV Player – Default MOV Player for Mac
Just as mentioned, MOV is the file format for QuickTime. QuickTime is more than a MOV file player, which also enable you to capture the Mac's screen and the connected iOS devices. Its advanced video technology provides a great video experience without any disturbance.
Pros
1. Playback controls to play, pause, rewind, fast forward or take other actions.
2. Record video and audio files on Mac, or capture the connected iOS screen.
3. Basic editing functions to trim, split, cut, copy, paste, rotate, delete, etc.
Cons
1. Less experienced users are prone to get lost due to its extensive set of advanced settings.
2. Limited editing features and filters without any additional feature.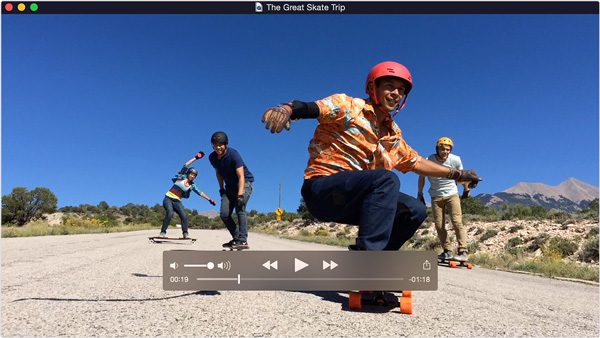 Top 3: Free Blu-Ray Player – Versatile MOV Player for Windows
As mention about the free MOV file player for Windows, Windows Media Player is the default solution. If you cannot get the program pre-installed, you can download it from the Windows Store. It is an easy solution to watch common videos and DVDs on Windows 10 for free,
Pros
1. Support MOV and most of the video and audio formats, including DVDs.
2. Browse a website for MOV, audios, videos, TV, Internet Radio and more.
3. Sync and stream the MOV files with other portable device with ease.
Cons
1. Compatibility issues and crash problems when playing some MOV files.
2. Difficult to read MOV files with small size and find the artwork details.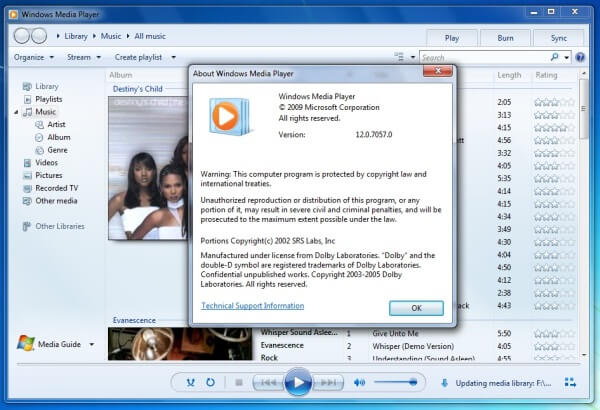 Top 4: DivX Plus Player – Great MOV Web Player for Windows/Mac
DivX Plus Player is another recommended MOV video player with DivX web player and DivX plus codec pack. It also supports most of the video and audio formats, even the 4K video formats. Moreover, it also creates DivX HEVC videos that have better video quality and compression.
Pros
1. Offer a web video player to stream, playback, convert and create videos.
2. Support MOV files with high quality, even for the H.264/AAC codec.
3. Convert and encode different video formats to HD MKV, even with 1080P.
Cons
1. Not all the video formats are supported, such as FLAC, ASF, ALAC, etc.
2. It is associated with video formats without asking for your permission.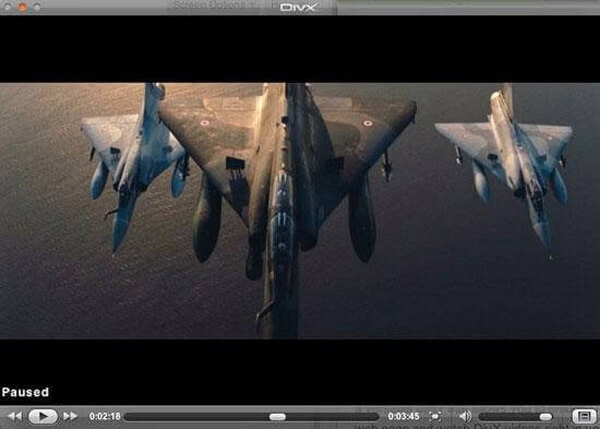 Top 5: 5KPlayer – Free MOV File Player for Windows/Mac
In order to get some full-featured MOV file player, 5KPlayer is one of your best choices. It packs with Airplay service, YouTube download, hardware acceleration and more, which handles all your movies and videos. Moreover, you can also play the 360-degree and VR videos.
Pros
1. True-Theater technology to play videos and audios in best available quality.
2. Enhance the video quality and even play MOV 4K/5K/8K UHD videos.
3. Adjust the subtitles and audio tracks for the MOV files accordingly.
Cons
1. Upgrade to a paid version to lock up 4K videos and other features.
2. Cannot work and playback the online MOV files directly.
Top 6: VLC Media Player – Cross Platform MOV Player
VLC Media Player is a popular and cross-platform MOV video player for Mac, Windows, Android and iOS devices. It supports MOV, MPEG, DivX and other streaming videos. What is more important, you can also play ZIP files without having to unpack the video files individually.
Pros
1. Tweak the different video and audio parameters according to requirement.
2. Create playlists that view multiple films to play one video after the other.
3. Support audios and extended support to podcasts and Internet radio.
Cons
1. Crash issues for some large MOV files, or even for the 4K/HD video files.
2. Copyright protections and region restriction DVDs are not supported.
FAQs of MOV File Player
1. Why won't my MOV file play on QuickTime?
If your MOV files are encoded with other video or audio codecs, QuickTime will refuse to play them. If you are looking for a simple way to fix this issue, you can download a third-party video conversion application, like Blu-ray Master Free Blu-ray Player to convert your MOV file to QuickTime supported formats, e.g. MPEG-4 files.
2. Can VLC play MOV files?
VLC Will Not Play MOV files. Because MOV videos are encrypted, MOV file cannot be played in VLC player.
3. How do I play MOV files on my iPhone?
According to Apple official website, only the MOV format encoded with H.264 or MPEG-4 can be supported by iPhone. So, if the MOV files you downloaded are encoded with some other codes just like MPEG-1 or VC-1, there is no doubt that such files can not be played on iPad. you need to convert your MOV files to iPhone supported formats, like MPEG-4 in .mp4.
4. Can Windows Play MOV files?
Yes, but you need to download QuickTime that is the recommended media player for playing MOV videos.
Conclusion
It is not difficult to find a media player to watch MOV files on Windows and Mac. You just need to choose the default video player as the MOV player. If it does not work, you can download some MOV codecs or choose a desired MOV media player from the article. More queries about the best MOV players, you can share more comments in the article.