Twitter Videos Won't Play on Chrome/Firefox/Android/iPhone? All Solutions Here!
Nowadays, almost everyone uses Twitter on their iPhone, Android, or computer. But many users find that some Twitter videos won't play on their iPhone after iOS 14 update. Or videos on Twitter are not playing in Google Chrome. No matter what kind of situation you are in, you can go on reading this post to learn how to handle with the problems of Twitter videos not playing. It's suggested that you try the methods one by one until you have the problem solved.

Part 1. Reasons that Videos Won't Play on Twitter
What are the reasons for videos not playing on Twitter? Most of the reasons that can stop Twitter videos from playing can be broadly classified into the following categories:
Part 2. How to Fix Videos Not Playing on Twitter in Google Chrome/Firefox
When you find Twitter videos won't play in Google Chrome or Mozilla Firefox, the problem may be with your Internet connection, or even with the browser itself. Follow the solutions in this part to get Twitter videos playing again in your browser.
Solution 1. Switch to another browser
If you can't play the Twitter videos in Firefox, you can switch to Chrome or other browsers to check if it works fine. But if all of your browsers can't play Twitter videos, then the problem lies in your computer rather than your browser.
Solution 2. Restart the Browser
If there is no problem with the network, you can refresh the Twitter page or restart Chrome or Firefox browser to see if the video plays.
Solution 3. Clear cache and cookies
You can clear your browser cache and cookies, and reload the Twitter page.
For Chrome, go to Settings, select the Privacy and security section, and scroll down to select Clear browsing data. Then, you need to choose a time range, and then select Browsing history, Cookies and other site data, and Cached images and files. Next, click Clear data.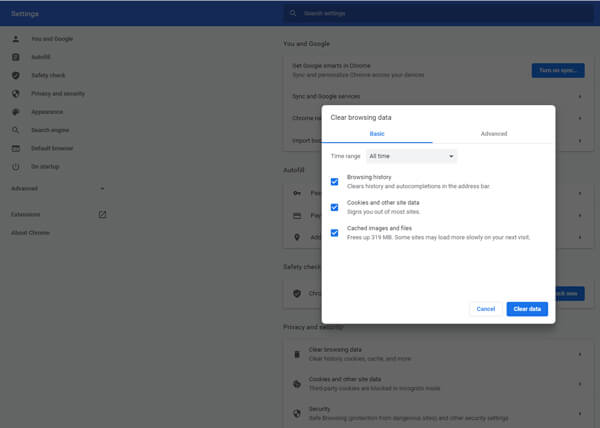 For Firefox, click the menu button, select Options, and select the Privacy & Security panel. In the Cookies and Site Data section, click the Clear Data button. Then, check the boxes next to Cookies and Sited Data and Cached Web Content, and then click the Clear button.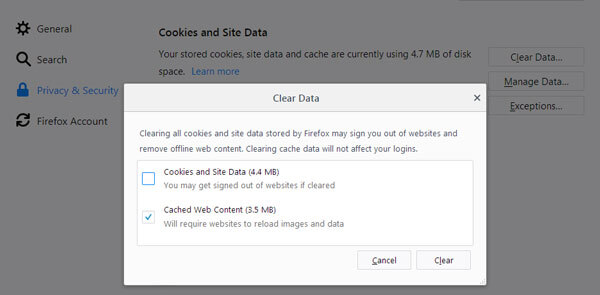 Solution 4. Disable extensions
Another way to fix the playback error on Twitter is to disable extensions in the browser. Some extensions can prevent audio or video content from playing. To determine whether a faulty extension is causing the Twitter videos not playing problem, you can disable all of your installed extensions:
For Chrome, just type chrome://extensions in the URL search bar and press Enter. Then, disable all the extensions off.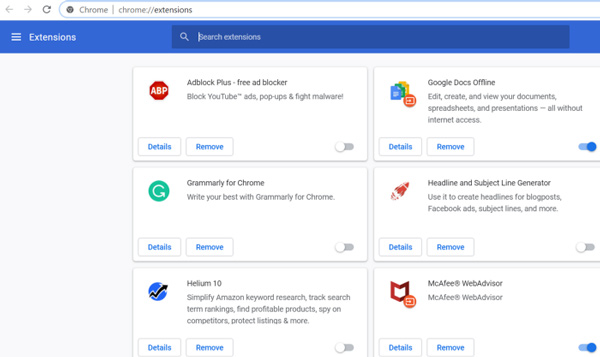 For Firefox, you just need to click the menu button, click Add-ons and select Extensions. For any extension listed as Enabled, click the blue toggle for the corresponding extension. The extension will be moved to the Disabled list.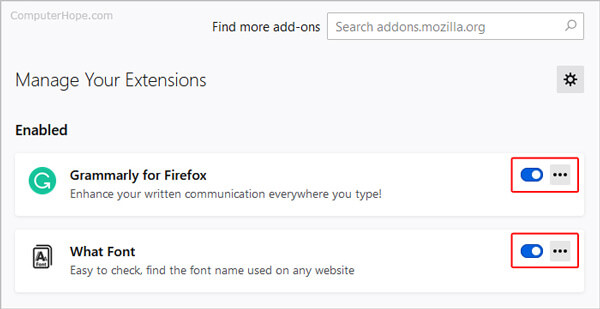 After that, restart your browser and text for your problem.
Solution 5. Check the Flash
The Flash plugin is used for embedded audio and video on Twitter. When your browser's Flash is missing, then your videos on Twitter may not play on Chrome or Firefox.
For Chrome, click More at the top right, and then click Settings. Under Privacy and security, click Site settings. Under Content, click Flash. Then, at the top, turn off Block sites from running Flash (recommended).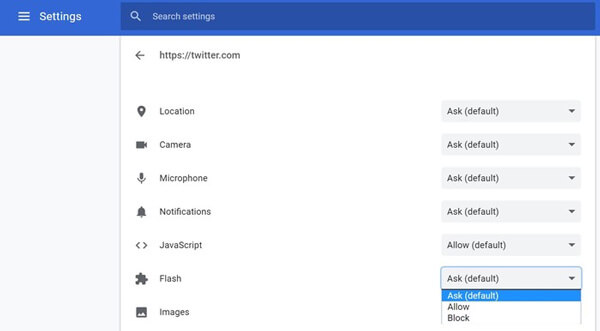 For Firefox, click the menu button, click Add-ons, and select Plugins. To enable Flash, click on Never Activate and select Ask to Activate in its drop-down menu.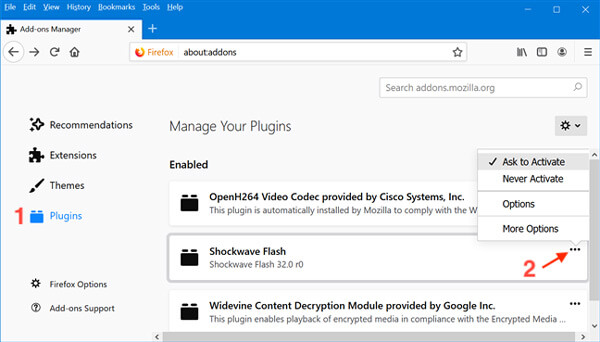 Solution 6. Update the browser to the Latest Version
If your browser is out of date, the videos on Twitter will not play. So you can try updating Chrome or Firefox to fix the Twitter video playback issues.
Solution 7. Restart your computer
If Twitter videos still won't play, try restarting your computer. At that time, allow your operating system to install updates if it has any waiting for you.
Also Read: How to Fix Video/Game Not Playing on Chrome
Part 3. What to Do When Twitter Videos Won't Play on Android and iPhone
While if Twitter videos are playing on Android devices or your iPhone/iPad, especially after iOS 14 update, there is usually a problem with corrupted data on your device or a connectivity problem with your internet connection. Follow the solutions in this part to have a try.
Solution 1. Check your internet connection
Usually, Twitter videos are not playing because you've lost your internet connection. If your internet connection is bad, you'll need to troubleshoot the internet connection before you can test Twitter again.
Solution 2. Clear the Twitter app cache
Too many caches and cookies may cause Twitter videos not playing. So try to clear the caches and cookies.
Solution 3. Update the Twitter app to the latest version
You can go to App Store or Google Play Store to check if there is a new version available. If any, don't hesitate to update Twitter.
Solution 4. Free up your device
If you get full storage on your mobile device and don't have enough internal storage left, Twitter may quit unexpectedly on your device. So you can try clearing up your device to free up more storage.
Solution 5. Restart your device
Restarting your iPhone or Android phone is a simple but useful way you can try.
Solution 6. View the video using a mobile web browser
You can try playing the video using a web browser on your mobile device instead of the Twitter app.
Solution 7. Uninstall and reinstall the Twitter app
You can remove the Twitter app from your device and reinstall it.
Part 4. Best Free Desktop Video Player: Watch Videos in Any Format
If you want to play downloaded videos from Twitter, YouTube or any other streaming websites, a right free video player is of great importance. That means you won't have to worry about needing to download additional codecs or plugins to enjoy your movies and TV shows. Blu-ray Master Free Blu-ray Player is the go-to free video player that is available for both Windows and Mac. This free video player supports all popular video and audio formats.
On top of that, you can use it to play DVD and Blu-ray movies with the highest image quality. While watching the movie, you can tweak your video settings to improve the playback. Not to mention, it lets you take screenshots of your movie with ease.
Outstanding features:
1. Plays a variety of formats, such as MP4, MOV, AVI, FLV, MP3, etc. with no codec packs needed.
2. Supports playback from DVD/Blu-ray discs, ISO files, and Folders.
3. Comes with lots of advanced features like video effects, screen capture, etc.
4. Totally free to use with no spyware, and no ads.
5. Available on Windows and Mac.
Part 5. FAQs of Twitter Videos Not Playing
Where can I watch live videos on Twitter?
You can watch live video from Moments, the Explore tab, trends, or Tweets from an account that has gone live.
Why doesn't my animated GIF play on Twitter?
Twitter supports looping GIFs. If your animated GIF doesn't loop and plays a single time, it will display as a static image.
How can I stop videos from autoplaying?
You can stop videos from autoplaying in your timeline, Moments, and the Explore tab by changing the video autoplay setting.
Conclusion
Hopefully, you find the methods helpful in fixing your Twitter videos not playing problems. If you've tried everything, and Twitter still won't play videos, then you may actually be looking at a problem with Twitter itself.