How to Fix YouTube Videos Not Playing in Chrome (Ultimate Guide)
Have you ever met the frustrating situation that videos not playing in Chrome on your Windows 10 or Mac? To make YouTube video play in Chrome again, you need to know what causes this problem and then puts forward feasible solutions. I come up with this detailed guide, including causes and various solutions to the YouTube videos not playing in Chrome problem.

Part 1. Chrome Doesn't Play YouTube Videos: The Possible Scenarios
Before fixing Google chrome not playing YouTube videos, let's analyze what are the causes of such an issue? Here's why this could happen:
1. Incorrect/slow internet connections.
2. Corrupted local data in the web browser.
3. Disabled JavaScript.
4. Incompatible browser extensions, plugins, or something.
5. There's something wrong with your internet service provider or home network equipment.
Part 2. How to Fix YouTube Videos Not Playing on Chrome
If a YouTube video is not playing in the Chrome browser, you can try each method given below until the problem is resolved.
Solution 1. Check Internet Connection
The first thing we're going to try is to check if your Internet connection is working by opening a different website. If nothing loads, you'll need to reset your modem or router.
Here's how to reset your Internet connection:
1. Shut down your computer.
2. Unplug your modem. If your wireless router is a separate device, unplug it too. Then, wait for about one minute.
3. Plug in your modem and wait until all the lights have stopped blinking. If your wireless router is a separate device, plug it back in and wait until all the lights have stopped blinking.
4. Boot up your computer.
5. Go back to YouTube, and try playing the video that you want to play.
Solution 2. Restart Chrome
If you browse with several windows simultaneously, close all the windows. If a YouTube video is still not working, you may need to force quit Chrome using Task Manager. Open Control Panel, and type Task Manager in the upper-right search box. Then, hit on View running processes with Task Manager. Next, select the Google Chrome application, then click End Task.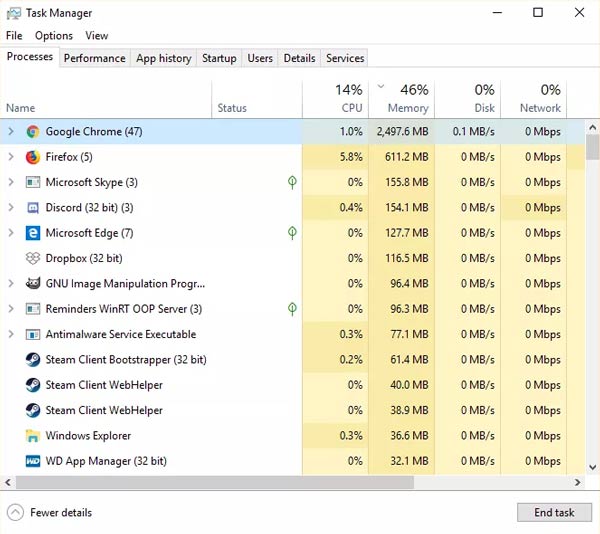 After that, restart Chrome and check to see if the YouTube video plays in Google Chrome.
Solution 3. Enable JavaScript
If JavaScript is disabled, YouTube videos won't run. So you need to make sure that you've turned JavaScript on. On your computer, open Chrome, click More at the top right, and then Settings. Under Privacy and security, click Site settings. Then, hit on Javascript and turn on Allowed (recommended).
Solution 4. Clear Cache & Cookies
Clearing cache and cookies can get rid of corrupted data that could prevent YouTube videos from playing in Chrome. Head to More, choose More Tools and click Clear browsing data. Then, click Clear data.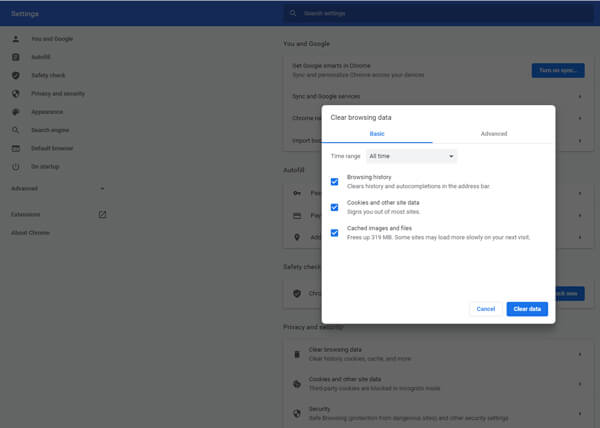 Solution 5. Turn off Hardware Acceleration
Another way to resolve the YouTube videos not loading in Chrome is to turn off the hardware acceleration in Chrome browser. If you have no idea how to disable hardware acceleration, follow these steps.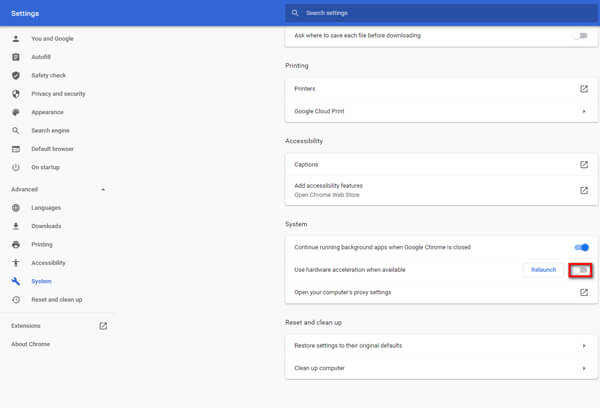 Then, you can try playing a YouTube video again.
Solution 6. Use Incognito Mode
You can go to the YouTube website in Incognito mode that can prevent extensions that might interfere with YouTube. If you can play YouTube videos in Incognito mode, you can disable your Chrome extensions one-by-one to find out which one is causing the problem of YouTube not playing in Chrome.
Solution 7. Reset Chrome Settings
On your computer, open Chrome. Click More in the upper-right corner and then select Settings from the drop-down menu. Scroll to the bottom of the page and hit on Advanced. Scroll down and select Restore settings to their original defaults.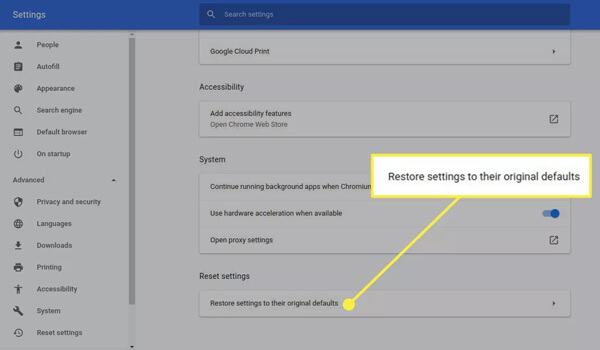 Then, you need to confirm by clicking Reset settings.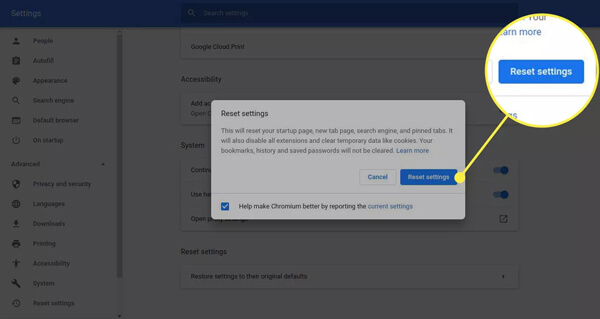 Solution 8. Update Chrome
Sometimes, Google releases updated features in YouTube, which makes videos need the latest version of Google to play normally. On your computer, open Chrome. Click More, choose Help, and then press About Google Chrome. When there is an update available, Chrome will update itself automatically when you come into this page. Once the update is over, click Relaunch.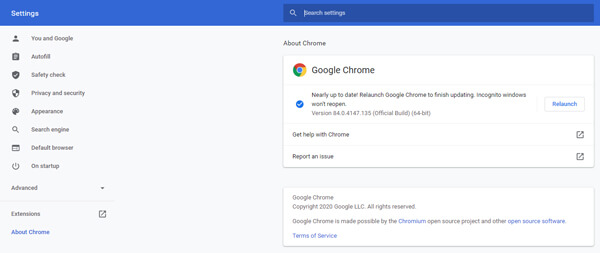 Solution 9. Uninstall then Reinstall Chrome
You can also uninstall and reinstall Google Chrome to solve this problem.
Solution 10. Switch to Another Browser
If the above solutions don't work for you, you can use another browser like Firefox to watch the YouTube videos.
Part 3. Best Free YouTube Video Player You Should Never Miss
With the right free video player, you can skip all the headaches and get right down to playing YouTube videos. Blu-ray Master Free Blu-ray Player is one of the more comprehensive free video players for not just watching YouTube videos, but playing Blu-ray/DVD discs, folders, or ISO files smoothly. On top of that, you don't need to worry about needing to download additional codecs or plugins to play your YouTube videos, movies, and shows.
1. Easily handle various video formats including MP4, MOV, AVI, FLV, MTS, TS, etc.
2. Offer the option to play YouTube videos without losing quality on your desktop.
3. Play Blu-ray discs/folders/ISO files, DVDs, 3D and HQ videos effortlessly.
4. Take screenshots while watching the video.
5. Compatible with the Windows PC and Mac.
Here you may like: 20 Best Free MP4 Players for MacOS and Windows
Part 4. FAQs of YouTube Videos Not Playing in Chrome
How do I prevent YouTube videos not playing in Chrome on Windows 10?
Make sure that you have turned on JavaScript for YouTube and a fast internet connection. And update Google Chrome now and then.
Why do YouTube videos load but don't play?
Usually, it is because of an out of date flash player. Other times it is because the connection to the server was reset for some reason and this can make the website not to load fully.
Why do some YouTube videos never load?
If your videos not loading, it is probably caused by your slow Internet connection, outdated HTML 5 or Flash, outdated browser, or corrupted files.
Conclusion
So those are a few ways for you to fix the problem of Google Chrome not playing YouTube videos. If you need a video player to play videos, you can try Blu-ray Player to enjoy any 1080P/HD YouTube videos without any hassle. Hope that you can watch YouTube videos in Chrome again.