Can DVD Player Play MP4 Video? Why the Answer is No
DVD players are devices that play DVD discs. They are already outdated but many families still keep them in their houses. You are one of them and are thinking about playing an MP4 with your DVD player. But will MP4 play on DVD players? In this article, we will give you the answer and you can learn all you want to know about the relationship between MP4 and DVD player.

Part 1: Can a DVD Player Play an MP4 Video?
No, DVD players cannot play MP4 videos. The most accepted video formats by DVD players are MPEG-1 and MPEG-2 (which is also called H.262). MP4 format, or to say MPEG-4, created as late as 2001, is beyond the capability of DVD players. However, this does not mean you can never play the specific MP4 video contained in your DVD disc with a DVD player. We will provide an alternative method to solve the problem in this article.
Part 2: How to Play That Specific MP4 Video on Your DVD Player
1. Recode your MP4 video with MPEG-2 codec
The most supported video format by DVD players is VOB with MPEG-2 codec. If your MP4 video does not play on a DVD player, you can follow the steps below to convert the MP4 to VOB format and try again.
Steps to recode your video with MPEG-2:
Step 1
Free download, install and launch Video Converter Ultimate on your Windows or Mac. First, you need to import the MP4 video files that you want to play on your DVD player. Click the Add Files button in the top left corner of the main interface. A file explorer or Finder window will pop up and you need to select your video file(s) in it. The importing process will complete immediately.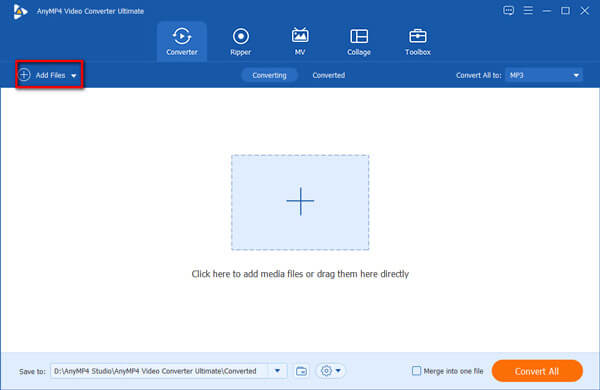 Step 2
When you see the file(s) are successfully imported into the program, click the drop-down button on the right of Convert All to. The format menu will expand then. Scroll down and find VOB under the Video tab, and then select 480P DVD Video.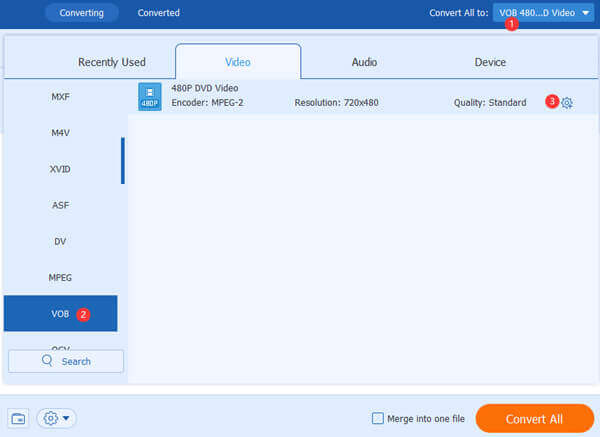 Step 3
Now you should be back in the main interface. At the bottom of the interface, you can select the destination of your output video file. When everything is ready, click the Convert All button in the bottom right corner to start converting the video. When it's done, a file explorer window will pop up to show you the newly produced MPEG-2 video file.
2. Store the video on a disc for playback on DVD player
After re-encoding your MP4 video, you need to store the video on a disc and then let your DVD player read it for the video. DVD burning programs are involved here. We will take DVD Creator for example.
Step 1
Install DVD Creator and insert your DVD into your external disc drive. Launch DVD Creator. When you see the interface, click DVD Disc.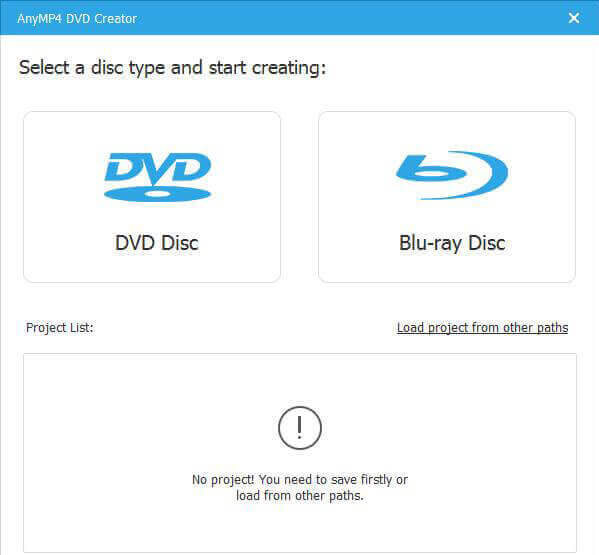 Step 2
In the next interface, you can edit your video and customize the DVD menu. Then just click the Burn button in the bottom right corner of the interface to start burning the video to the disc. When noticed success, the program has finished the task. Just insert the disc into your DVD player and try playing it.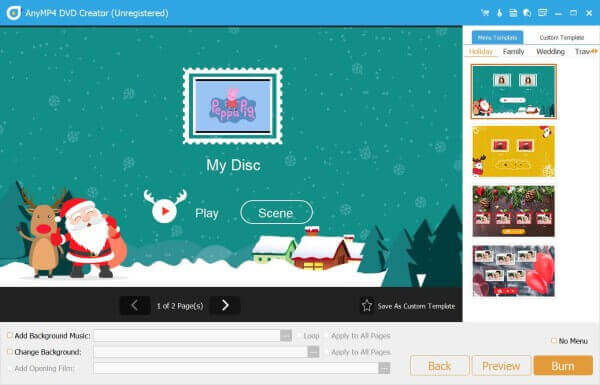 Part 3: Alternative Way to Play MP4 on DVD Player
Since you already have a DVD disc which contains an MP4 video, why not try playing it on your computer using a multimedia player program? Blu-ray Master Free Blu-ray Player can play any DVD disc as well as DVD IOS files and DVD folders, which makes it your ideal choice.
Key Features:
1. Play the MP4 not playing on your DVD player with original quality.
2. Play videos and audios from hard drives and external disc drives.
3. Play videos of any resolution, including 4K UHD, with any hassle.
4. Produce incredible picture and sound quality.
5. Compatible with all popular video formats including MP4, MOV, MKV, WEBM, WMV, FLV, AVI, M4V, MTS, MT2S and more.
Steps to play an MP4 file from DVD disc:
Step 1
Free download and install Blu-ray Player on your Windows or Mac. Double click the shortcut for it on your desktop to launch the program. It will load immediately.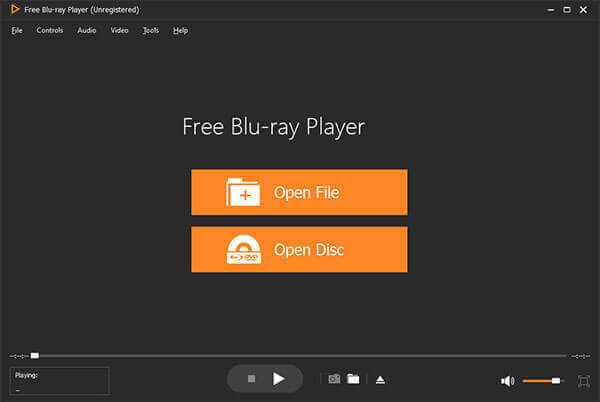 Step 2
Make sure the external DVD drive is correctly connected to your computer and then insert the DVD disc into the DVD drive. Now, the DVD is expected to be played automatically in the Blu-ray Player. If not, click the Open Disc button in the middle of the interface and select the disc you just inserted to play it.
Part 4: FAQs about MP4 and DVD Player
1. What formats do DVD players play?
The most standard format that plays on all DVD players is MPEG-2. Common DVD players also play MPEG-1, DivX, DVD+R, DVD-R, MOV, WMV and WMA.
2. How to rip DVD to MP4 on PC?
You can rip DVD to MP4 with the easy-to-use Video Converter Ultimate. Install and install the program. Move to Ripper tab at the top of the interface. Click Load DVD button in the top left corner of the interface. Then just select your DVD disc and rip the video.
3. What is the best free DVD ripper?
# 1 Blu-ray Master Free DVD Ripper,
# 2 AnyMP4 Free DVD Ripper,
# 3 WinX DVD Ripper,
# 4 Handbrake,
# 5 VLC Media Player, etc.
Read on Top 10 Free DVD Ripper Software to learn more details.
Conclusion
This post shared with you the knowledge about can DVD player play MP4 video file. The fact is that DVD players cannot play MP4 videos, for the codec of MP4, MPEG-4, is not on the supported list of DVD players. MP4 files are too different from MPEG-2, the most standard format for DVD players. Even so, you can still watch the specific video in MP4 format on your DVD player if you don't mind some efforts. Just rip it on your computer, convert it to MPEG-2, and burn it to a disc for playback on DVD player.