How to Convert Video URL Link to MP4 for Watching Offline
It cannot be denied that more and more video stream websites are available on the internet. However, most contents can only be played through a network or cellular. It makes sense that many people as if they can watch YouTube or other stream offline. Therefore, how to convert video URL to MP4 becomes a popular topic on social media and forums. Fortunately, this guide will identify and share 5 easy ways to help you do the job on desktop or online without any trouble.

Part 1: Verified Method to Convert URL to MP4
It is not so easy as you though when it comes to convert URL to MP4, partly because most websites are performing serious copyright protection. Blu-ray Master Screen Recorder is one of the best MP4 link downloader enjoys 100% success rate.
Main Features of the Best MP4 Downloader
* Convert any URL to MP4 video file within three steps.
* Produce high quality video files using advanced technology.
* Offer a wide range of custom options and bonus tools.
How to Convert a Link to MP4
Step 1
Install MP4 link downloader
The best MP4 link downloader offers two versions, one for PC and the other for Mac. Install the right one on your machine and launch it. Click on Video Recorder to open the main interface. Press the Settings icon and set output format as MP4 in the Preferences dialog. Open a browser, find the video you want to download, and open but not play it.

Step 2
Record URL to MP4
There are four sections in the main interface and the different combination can perform various task. To convert a video URL to MP4, for example, turn on Display and set the recording region, like Full screen or Custom area. Enable System Sound and adjust the volume while keeping Webcam and Microphone disabled. Click the REC button and play the video link to begin downloading it.
Step 3
Preview and save MP4
Wait for the video playback to finish or reach the stop position, and click on the Stop button on the toolbar. Then the preview window will pop up. Play the URL recording and click the Save button if you are satisfied. The Clip tool can help you remove unwanted frames.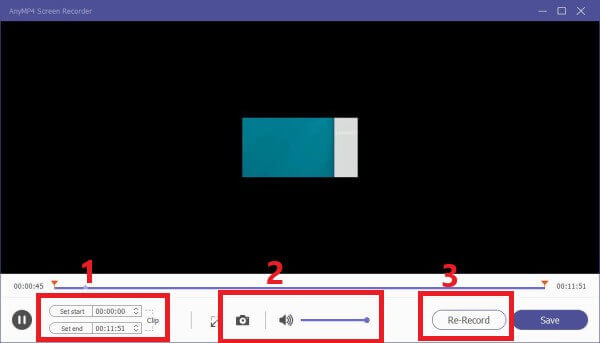 Part 2: Top 4 Apps to Download URL to MP4 Online
Top 1: Blu-ray Master Free Online Screen Recorder
Sometimes, it is not convenient to install software. You may wonder whether you can find a link to MP4 converter free online. To be honest, web apps are great tools, such as Blu-ray Master Free Online Screen Recorder.
Main Features of the Best URL to MP4 online
* Record online video and save to MP4 file.
* Free of charge with no ads, length, watermark or other limit.
* Keep the original video quality as much as possible.
How to Convert URL to MP4 Online for Free
Step 1
When you find an online video that you want to watch offline, create a new tab in your browser, and visit https://www.bluraycopys.com/free-online-screen-recorder/.

Step 2
Click the Launch Free Recorder button to get the launcher. Then it will pop up after downloading. Set the Recording area according to the video, and enable Speaker.

Step 3
Press the REC button once the video starts. When the video stops, hit the Stop button and download the MP4 file to your hard drive.
Top 2: ACEThinker
ACEThinker is another free video link to MP4 converter online. It is available to a lot of video platforms, like YouTube, Vimeo, Dailymotion, Facebook, etc. Though it cannot be guaranteed working to each video link, it is worth to try. Plus, it does not require signup.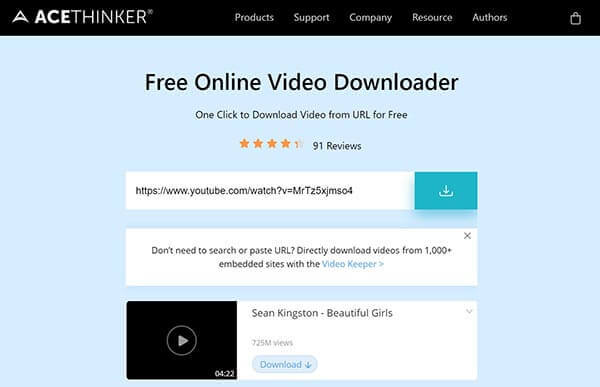 Step 1
Open https://www.acethinker.com/online-downloader in your browser.
Step 2
Copy the video link and paste it into the box on the URL to MP4 converter. Click the Download icon to begin analyzing MP4 files from the link.
Step 3
If there is one, you will get the Download button. If not sure, you can also preview the MP4 video on the page.
Note: This web app does not allow you to choose the video format.
Top 3: FLVTO
As a URL to MP4 downloader online, FLVTO is popular among internet users around the world. It has been around for years, even though it is not available to all online videos. You can choose output format, such as MP4, MP3, and AVI.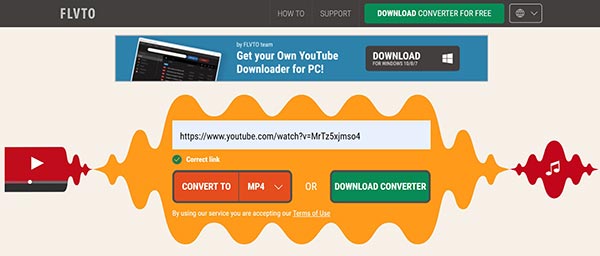 Step 1
Access https://www.flvto.biz/ and choose a proper language.
Step 2
Copy and paste the video link into the box. Make sure to select MP4 or MP4 HD from the format menu.
Step 3
Next, click on the CONVERT TO button. The web app will begin downloading the video and converting it to MP4. Then you can hit the Download button to get the video file.
Top 4: UNVido
UNVido is a simple video link to MP4 downloader online. In fact, it is more suitable to beginners. There is no custom options or bonus features. Once you put the link, it will extract video files from URL. However, you cannot change the output format.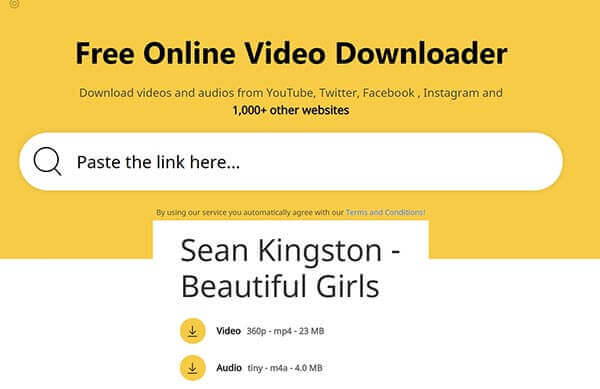 Step 1
Visit https://unvido.com/ in your web browser.
Step 2
Paste the video link into the box and the web app will search for video files automatically if there is one.
Step 3
Then click the Download icon before Video to download the MP4 file.
Recommend: Best MP4 Converter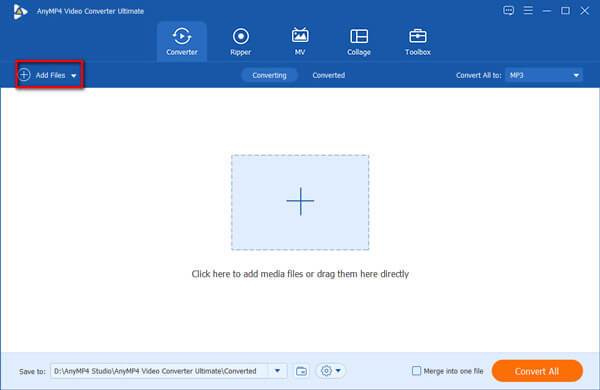 To be honest, chances are that you just get a video file from the URL but not MP4 format. In such case, Blu-ray Master Video Converter Ultimate can help you convert the downloaded link into MP4 or any video format quickly.
Key Features of the Best MP4 Converter for PC/Mac
* Convert downloaded videos to MP4 without losing quality.
* Batch process unlimited video files at the same time.
* Enhance video and audio quality.
With this handy video converter, you can easily convert any video to MP4, such as SWF to MP4, M4V to MP4, etc.
Recommend: Best MP4 Converter Online
Blu-ray Master Free Online Video Converter is another option to convert downloaded videos to MP4. It works online and does not require you to install any software on your machine.
Basic Features of the Best MP4 Convert Online
* Free to use with no limit, like watermark, video length, etc.
* Available to all major web browsers.
* Support a variety of popular video and audio formats.
Part 3: FAQs about URL to MP4
How do I create a URL from a MP4 video?
To create a URL from a video, you need to host the MP4 file to a website or online service, like YouTube. Then right click on the video and select copy link or similar option to get the URL.
Is MPEG-4 the same as MP4?
Although MPEG-4 and MP4 look similar, both of them can contain H.264 codec. However, they are not the same thing. MPEG-4 is a compression method while MP4 is a container format. What's more, MP4 is one of the media container format for MPEG-4.
What is the URL or Tiktok?
To get a URL from Tiktok, open a browser and go to Tiktok official website and login with your Tiktok account and then copy the link at the top of your browser.
Conclusion
This guide has shared five ways to help you convert URL and video link to MP4 files, so that you can watch them offline. If you worry about video quality damage, we suggest you to try Blu-ray Master Screen Recorder. It is not only easy to use, but also able to produce high quality result. More questions? Please write them down below this post.