How to Convert Instagram Video to MP4 File for Watching Offline
There are times when you really like a video on Instagram and want to save the video clip to your collection. The problem is that the social platform does not offer mechanism to do so. However, there are certain ways to download Instagram videos shared by others, but for that you might have to struggle a bit. So, in this tutorial you will learn multiple methods to convert Instagram videos to MP4 on your computer and mobile device easily.
Part 1: Convert Instagram to MP4 on Computer
Although Instagram was designed for mobile primarily, you can browse videos and posts on your computer with a browser. In fact, for converting Instagram to MP4, computer is the most convenient choice.
Method 1: Best Way to Convert Instagram to MP4
Blu-ray Master Screen Recorder is a powerful video recorder. It is able to download and convert any Instagram videos to MP4 if you can open the video. More importantly, the output quality is great. For beginners, the intuitive interface is easy to learn. For advanced users, there are plentiful custom options to create desired effect.
Main Features of the Best Instagram to MP4 Converter
* Download and convert Instagram videos to MP4 easily.
* Optimize video and audio quality using advanced technology.
* Include a wide range of bonus tools, like media player.
How to Download and Convert an Instagram Video to MP4
Step 1
Install Instagram to MP4 converter
Launch the best Instagram video to MP4 downloader once you install it on your computer. It is compatible with Windows 10/8/7 and Mac OS X. Then choose Video Recorder from the home interface, and click the Settings menu to open the Preferences dialog. Go to the Output tab and set the Video format as MP4. Click OK to confirm it.

Step 2
Download Instagram to MP4
Open a browser and find the Instagram video that you want to download. Turn to the Instagram to MP4 converter and set the recording region according to the video in the Display section, such as Full screen or Custom region. Toggle on System Sound and adjust the volume. If you want to add your reactions to the video, enable Webcam and Microphone; otherwise, keep them disabled. Click the REC button once you play the video to start download it.
Step 3
Preview and save MP4 file
Wait for the Instagram video to finish and click the Stop button on the toolbar. Then the preview window will pop up and let you play the Instagram video in MP4 format. You can also trim unwanted frames with the Clip feature. Finally, click on the Save button and export the MP4 file to your hard drive.
Method 2: How to Convert Instagram to MP4 Online
In some cases, people do not like to or are not convenient to install software. Blu-ray Master Free Online Screen Recorder is a good alternative to convert Instagram to MP4 online. Moreover, it is free of charge with no registration, watermark or other limit. Here are the steps to download Instagram to MP4 without installing.
Step 1
When you find an Instagram video that you want to download in your browser, create a new tab, and visit https://www.bluraycopys.com/free-online-screen-recorder/.

Step 2
Click the Launch Free Recorder button to get the launcher. Select the video region in Recording area option. Enable Speaker while disable Camera and Microphone. Press the Gear icon and set the output format as MP4.

Step 3
Hit the REC button once the Instagram video begin playing. When it is done, click the Stop button and download the MP4 file.
Method 3: How to Download Instagram to MP4 from Source Code
If you do not like third-party tools, source code is the only way to download Instagram link to MP4. However, this way is only available to a part of Instagram videos. If you do not mind, just try the steps below.
Step 1
Go to your computer, open a browser, visit Instagram website and find the video clip that you want to download as MP4 file.
Step 2
Right-click on the video and select Inspect element on the context menu. For different browsers, the option could be varied, such as View page source.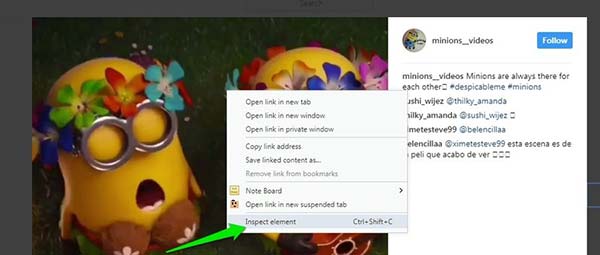 Step 3
Now, press Ctrl + F keys on your keyboard to open the Find box. Enter .mp4 and it will highlight all MP4 files in the page.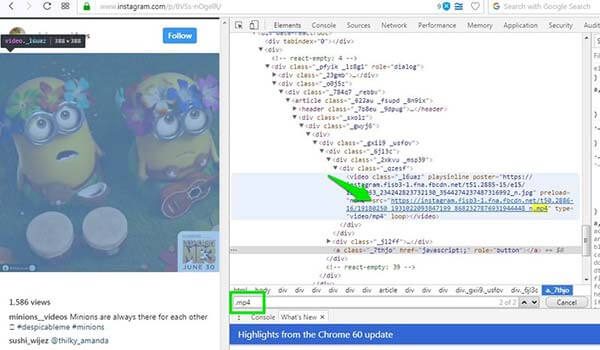 Step 4
Copy the real video link and pate it in a new tab. Then the video will begin playing. Right-click on the video and select Save video as to download Instagram link as MP4.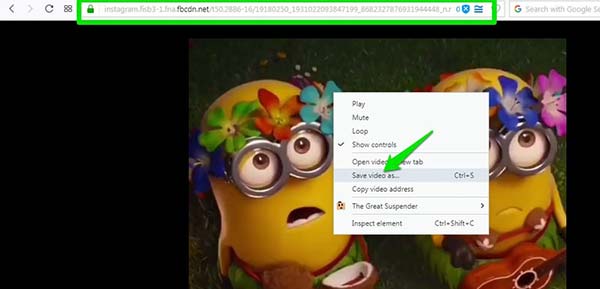 Part 2: How to Convert Instagram to MP4 on Mobile
As mentioned previously, Instagram is a mobile social platform. It makes sense that many people asked how to convert Instagram video to MP4 on iPhone or Android device. We use an Android phone as the example to show you the workflow.
Step 1
Open Instagram app from your app tray, find the desired video and play the whole clip.
Step 2
Next, go to the File Manager app, and head to Android, data, com.instagram.android, cache, videos.
Step 3
Here you can get all videos that you have viewed. However, the video files are ended with .clean extension. Select the latest video file, and rename the extension to .mp4.
Note: Since you cannot access file system on iPhone, this way is not available to iOS. You have to use a third-party app to download Instagram video to MP4 on iPhone.
Step 4
Move the MP4 file to DCIM folder and you can watch it offline.
Here you may like: How to Record Instagram Stories on Windows, Mac, iPhone and Android [Solved]
Recommend: Best Downloaded Instagram Video to MP4 Converters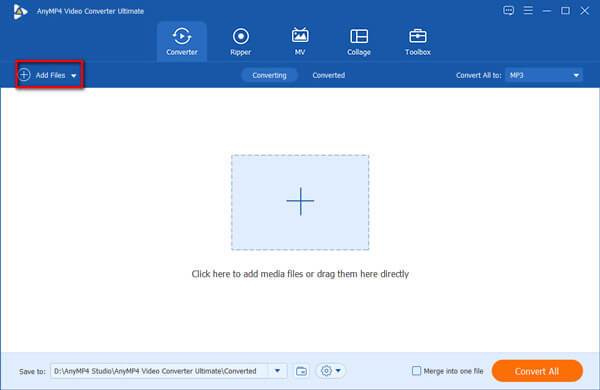 Blu-ray Master Video Converter Ultimate is the best choice to convert downloaded Instagram video to MP4 format. Besides you can get a lot of useful features, including a full video editor.
Key Features of the Best Video Converter
* Convert downloaded video files to MP4 or other formats.
* Batch handle multiple videos at the same time.
* Support almost all video and audio formats.
Recommend: Best MP4 Converter Online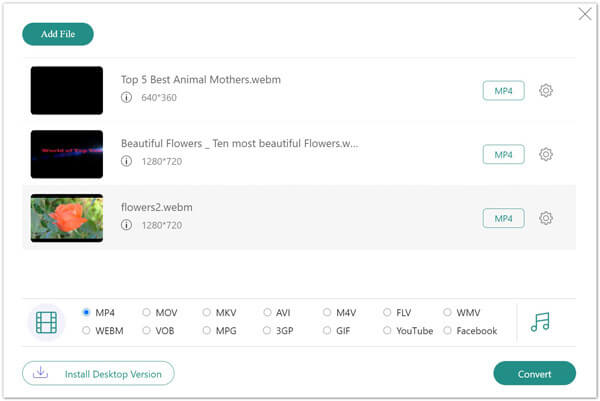 Blu-ray Master Free Online Video Converter is a web app to help you convert video files online. It does not ask you to install any software on your computer.
Basic Features of the Best Video Converter Online
* Free of charge with no ads or watermark.
* Keep the original video quality while converting.
* Available to almost all web browsers.
Part 3: FAQs about Converting Instagram to MP4
Does Instagram support MP4?
The best Instagram video format is H.264 codec. MP4 is short for MPEG-4, which is tied to H.264. Therefore, Instagram supports MP4.
Why is my video blurry on Instagram?
Instagram has an automatic setting in order to keep your mobile data usage to a minimum level. That may be the reason for blurry videos, if you are using cellular data.
Can I upload 1920x1080 to Instagram?
Now, you can upload HD videos to Instagram IGTV. The video should be less than 15 minutes. If it is longer, you have to upload it from your computer.
Why aren't Instagram videos playing on the computer or phone?
The most common causes of Instagram won't load include: Instagram app is corrupt due to some bugs. There's too much app data or corrupt caches. Or you're using an out-dated Instagram app. To know how to fix this issue, you can check on this article:
How to Fix Videos Not Playing on Instagram
Conclusion
You should master four ways to download and convert Instagram video link to MP4 file. So that you can watch the clips on any device at any time or use it in your story. Blu-ray Master Screen Recorder is the best option if you mind the video quality very much. More questions? Please write them down below this post.