8 Best MP3 Recorder Software Available to PC, Mac, iPhone and Android
After doing dozens of hours of research and testing the popular MP3 recorders over the past two years, we have determined a best list for most people interested in capturing meetings, lectures, dictation, and in-person interviews. In this article, we will share top 9 best MP3 recorders. Moreover, we will share the advantages and disadvantages to each application, so that users can make the best decision before downloading them to computer or mobile device.
Part 1: Top 3 MP3 Recorders for PC/Mac
Top 1: Blu-ray Master Screen Recorder
When looking for the best MP3 recorder for your computer, you may focus on several factors, like use with ease, MP3 quality and more. Blu-ray Master Screen Recorder appears on the top of our list.
Main Features of the Best MP3 Recorder
1. Record audio from system or/and microphone easily.
2. Enhance audio quality using advanced technology.
3. Pre-listen to MP3 recording with the built-in media player.
Moreover, you can get extensive custom options and bonus functionalities from the best MP3 recorder.
How to Record Audio in MP3 on PC
Step 1
Set up MP3 recorder
The best MP3 recorder has two versions, one for Windows 10/8/7 and the other for Mac OS X/11. Download and install the right version to your computer and launch it. Choose Audio Recorder to open the main interface. The Video Recorder is used to record screen in video files. If you wish to set hotkeys, output format, and other options, click the Gear icon to open the Preferences dialog.

Step 2
Record MP3
There are two options in the main interface, System Sound and Microphone. If you just want to record sound from your computer, turn on System Sound while disable Microphone. To capture both system sound and your voice, enable two options. Then adjust the volume until you are satisfied. Click the REC button to begin recording MP3.

Step 3
Export MP3 to computer
When audio recording is done, click the Stop button to enter the preview window. Listen to the MP3 recording and remove unwanted parts with the Clip feature. Finally, click the Save button to export it to your computer.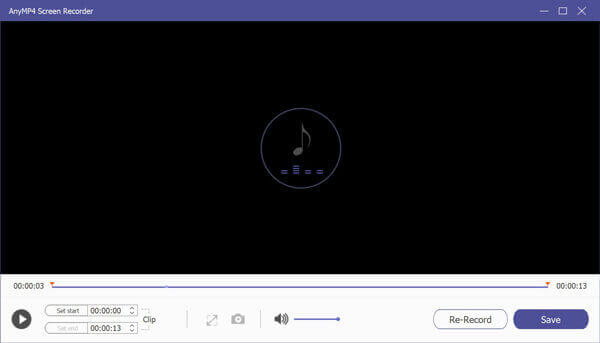 Top 2: Audacity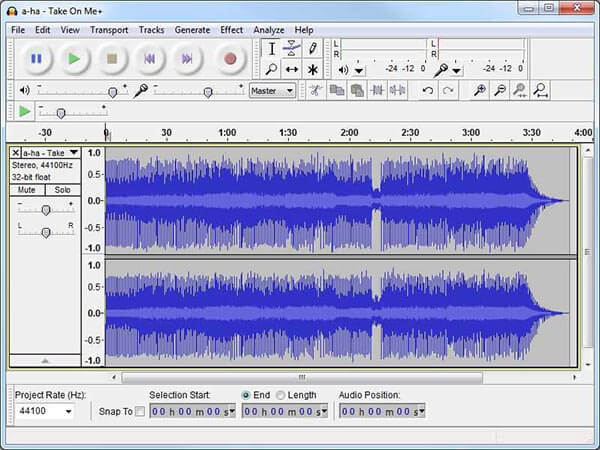 Audacity is an open-source audio project as well as a free MP3 recorder. It is compatible with Windows, Mac and Linux. Moreover, you can edit the MP3 recording on the track directly without extra audio editor.
Pros
1. Free to use.
2. Record audio on tracks.
3. Edit audio recordings directly.
4. Include plentiful audio editing features.
Cons
1. The setup is complicated.
2. The output formats are limited.
Top 3: Adobe Audition
Adobe Audition is a professional MP3 voice recorder for both PC and Mac. Some studios even use it to produce albums and movie music. If you need an all-in-one solution, it is the best choice.
Pros
1. Record voice and desktop audio.
2. Edit MP3 recordings on tracks.
3. Provide de-noise and advanced features.
4. Check MP3 wave in various views.
Cons
1. It is pretty pricy.
2. The learning curve is not friendly to beginners.
Part 2: Top 3 MP3 Recorders Online
Top 1: Blu-ray Master Free Online Audio Recorder
If you do not like to install software on your desktop, Blu-ray Master Free Online Audio Recorder is a good MP3 recorder. It can capture system audio and microphone without installing any software.
Pros
1. Free of charge.
2. No length limit or other restriction.
3. Support multiple sources.
4. Produce high quality MP3 recordings.
Cons
1. It lacks audio editing features.
How to Record MP3 Online
Step 1
Visit https://www.bluraycopys.com/free-online-audio-recorder/ when you want to record MP3. Click the Launch Free Recorder button to download the launcher.

Step 2
Enable or disable System Audio and Microphone options based on your need. Click the REC button to initiate it.

Step 3
Whenever you want to stop recording, click the Stop button and download the MP3 file.
Top 2: 123APP's Voice Recorder
Pros
1. Record audio online.
2. Support both built-in and external microphone.
3. Available to most web browser.
Cons
1. It can only save audio recording in MP3.
2. The online MP3 recorder will be lag if your network is poor.
Top 3: Bear Record
Bear Record is another way to record MP3 online. Unlike other web apps, it provides more features and is as powerful as some desktop software. Moreover, it supports four output formats including MP3.
Pros
1. Record MP3 without installing.
2. Edit audio recording online.
3. Support MP3, M4R, OGG, AAC and WAV.
Cons
1. It takes a while to render audio file.
2. The onscreen ads are annoying.
Part 3: 2 Best MP3 Recorder Apps for iOS and Android
Top 1: iOS Voice Memos
If you need a MP3 voice recorder app on iPhone, the built-in iOS Voice Memos is the best choice. It can record lectures, speeches, meeting, your ideas, and other voice on iPhone smoothly.
Pros
1. Record voice in MP3 on iPhone.
2. Free and no require of installing.
3. Mange MP3 recordings quickly.
Cons
1. It cannot record phone calls or Skype and other VoIP.
2. It is difficult to transfer MP3 recordings to other devices.
Top 2: Hi-Q MP3 Voice Recorder
Hi-Q MP3 Voice Recorder is a MP3 voice recorder app for Android devices. As its name said, it can record your voice in high-fidelity 44 kHz audio sampling. That makes it ahead of other standard audio recorders.
Pros
1. Support one-tap audio recording.
2. Upload recordings to Dropbox and Google Drive.
3. Offer a widget on home screen.
4. Output recordings in MP3, WAV, OGG, M4A, etc.
Cons
1. Some users reported the MP3 recordings cannot play.
Part 4: FAQs of MP3 Recorder
How do I make an audio recording?
If you want to make an audio recording, you have two options, use the built-in voice recorder or try a third-party audio recorder. By default, Windows has built in a Voice Recorder and you can find it in Start menu. QuickTime on Mac has the capacity to record audio as well.
Can my phone record audio?
Yes, you can record audio on your phone. The Voice Memos app on iOS allows you to record your voice on iPhone. The latest Android system has similar app as well. Plus, you can download an audio recorder app from Play Store or App Store too.
Do I have a voice recorder on my phone?
The answer depends on your situation. On iPhone running iOS 11 or later, for example, the Voice Memos app can meet your need.
Conclusion
This article has shared top 8 best MP3 recorders for Windows, Mac, online, iPhone and Android devices. Some of them are free to use, like Audacity, and others are paid software, like Adobe Audition. Blu-ray Master Screen Recorder is the best crossing-platform audio recorder for PC and Mac. More importantly, the output quality is pretty impressive. If you have other questions, please feel free to leave a message below this article and we will reply it as soon as possible.