How to Play DAT Videos on Windows, Mac, and Android
If you need the best DAT video player because you found out that the built-in media player on your computer is incapable of playing such video, then you are in the perfect place. Yes, there are numerous video players out there that support commonly used video formats. However, as the fact matters, only a few support videos and files in .dat format since it is not among the popular groups like MP4, MKV, etc.. Luckily, even if you do not know much about this file format, you can find the best and simplest players heer to help you open this file on the computer effortlessly.

Part 1. What is DAT File
Before we meet the best DAT video file player, having enough background about this kind of file would be best. DAT is a file extension for storing various data types, setting configurations, logs, and other data applications. Sometimes, DAT may come with binary data, such as videos, images, or executable codes. Annother common usgae of this file is to keep mailbox data like contacts, messages, and calendar entries, with a ".dat" extension but may not be compatible with different email clients due to their structure and content variations.
And since the DAT file is not a universal format, it is challenging to interpret or even to open directly. Its accessibility depends on the application or program that will generate it. Normally, you can convert DAT to MP4 and make the video files compatible with your existing players. However, conversion might takes energy and time, while having a powerful player that supports multiple formats is much more effortless. Therefore, to know how to play a DAT video, you will need the following programs to help.
Part 2. Best Way to Play DAT Video on Windows and Mac
The Blu-ray Player of Blu-ray Master is what you will need if you want the best program on your PC/Mac. This software is a powerful and versatile media player that is compatible various formats, including DAT files. Moreover, Blu-ray Player provides a user-friendly interface with smooth playback capabilities, giving you a hassle-free experience accessing your DAT videos. This program also has innovative decoding technology, ensuring flawless, stunning visuals and immersive audio quality when rendering DAT files.
What more? This DAT video player offers a variety of customization options that allow you to suit your preferences by adjusting the playback setting. And since this player provides comprehensive control over your viewing experience, you can adjust the aspect ratios, select audio tracks, or apply subtitles. Aside from DAT, you can also playback your Blu-rays, DVDs, MP4s, FLVs, WMVs, MKVs, and hundreds more.
Key Features:
• Flexible player of almost all types of media files.
• Support up to 4K videos without limitations.
• No annoying ads, even on its free trial.
• Create playlists with music and video files flexibly.
• Customization options and smooth playback control.
Step 1
Launch the Player
Start with downloading this DAT player here for free and then launch it on your computer. Meanwhile, prepare your DAT video files.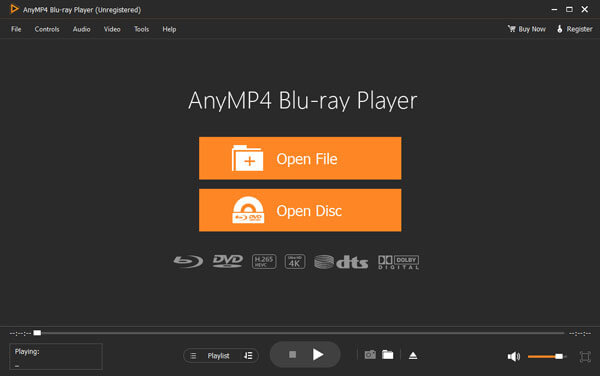 Step 2
Upload the DAT File
After the installation, you can open the player and click the Open File button. Then, locate the DAT file from the popped-up folder window.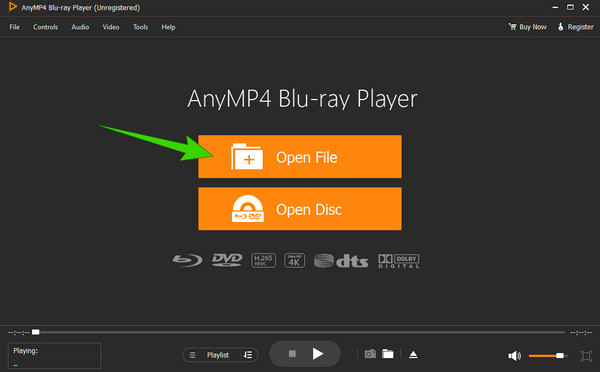 Step 3
Play Freely
When the video is loaded, the player will automatically play it. Along with that are the playback controls and presets on the ribbon menu you can freely use. Enjoy watching!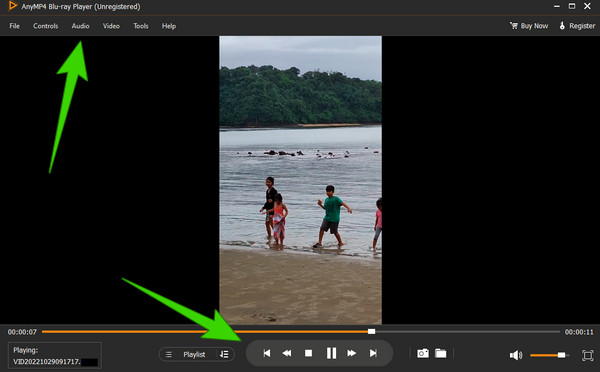 Part 3. Use File Viewer Lite to View DAT Video
The File Viewer Lite is not your typical video player but can be one of the top Windows Media Player alternatives designed to play your DAT tapes and files. It lets you open nearly all types of DAT and VCD discs on your computer. Furthermore, it provides a lightweight and simple solution to view various file types but is available on Windows OS only. Aside from DAT, you can also play other 150 file types without paying a dime. However, it is purely a DAT video file player and without editing tools. Thus, to play your DAT files with this program, follow the steps.
Step 1
Open the program after installing it on your computer. Please make sure to download it from a trusted source.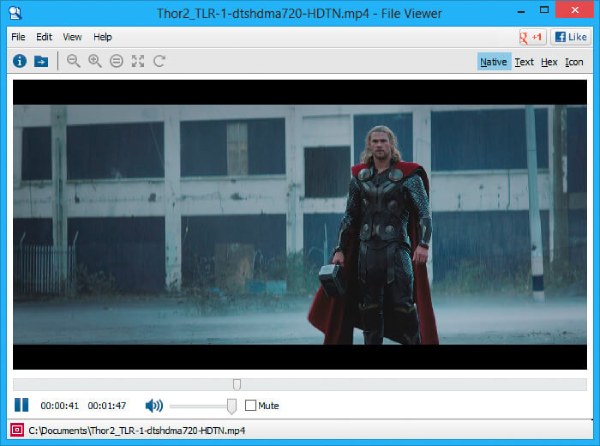 Step 2
Once it is launched, drag and drop the DAT file on the interface.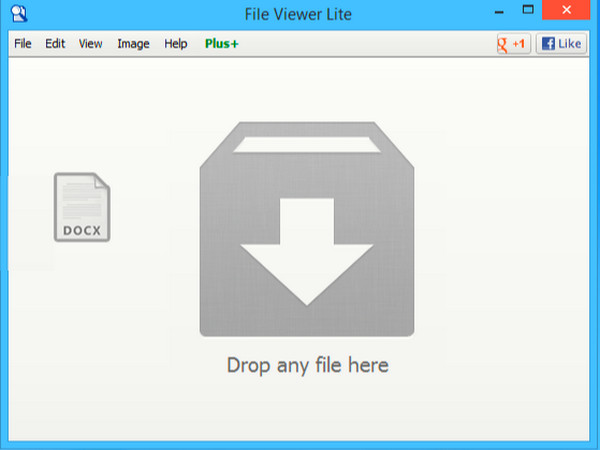 Step 3
After uploading the DAT file, you will see the playback control on the interface.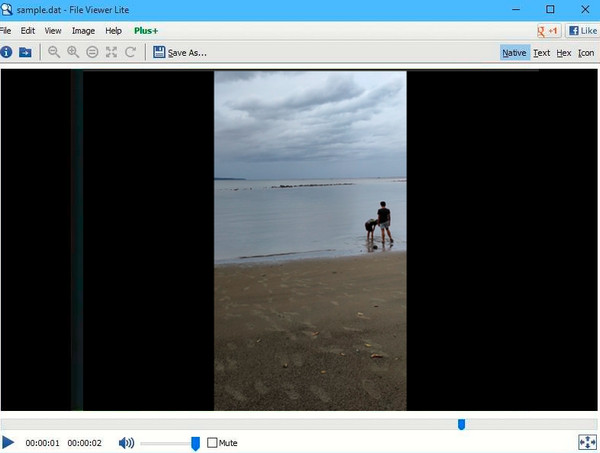 Part 4. How to Play DAT File on Android
If you are looking for a DAT video player for Android, then this File Viewer for Android is one of the best. It is a file manager that supports office documents, video, audio, archive, email, images, and text files, including DAT. With this app, you can browse, view, and manage the files you have on your device. However, there are times when it cannot open some of its supported videos due to unsupported codecs. On the other hand, here are the steps to follow when using it.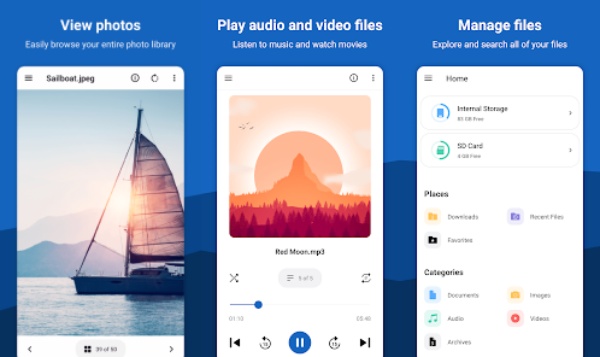 Step 1
Download the app from the Google Play, and install it. Once done, launch it and learn from its welcoming features and tap the Continue button.
Step 2
On the next page, tap the Open button and choose your DAT file.
Step 3
Wait until the app plays your selected file.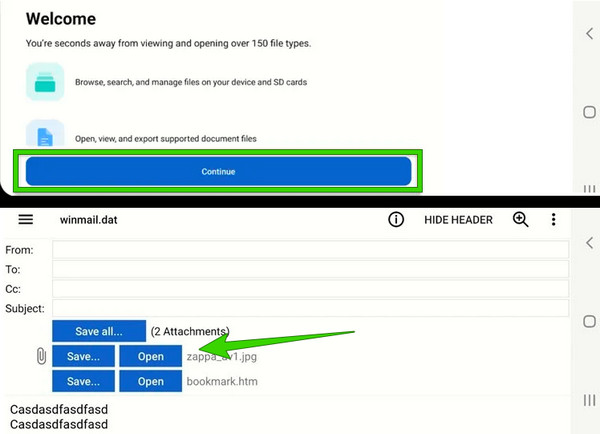 Part 5. FAQs About DAT Players
Can I play the DAT file without a third-party app on Windows?
Unfortunately, the built-in player on Windows cannot play DAT videos. However, you can use your desktop's Notepad tool for your DAT text files. To do so, right-click the file and choose the "open with" option and select Notepad to open the file.
Can I convert the DAT video to other formats?
You can convert the DAT videos to common video formats like MP4, MKV, AVI, and others if you use a powerful video converter.
Why can't I open my DAT file on some players?
NMost DAT files may not play in some media players due to some codec incompatibility. Please note that DAT files are usually associated with VCD format with the MPEG-1 codec. If your media player does not have the codec required to decode the MPEG-1 content from your DAT file, it may not play it and will display an error.
Conclusion
The lack of your built-in media players in playing DAT files has led you to explore this kind of file and the players that support it. This article highlights the commendable DAT video players to use on both PC and Android. These players have promising ways to playback the specific file type. But if you want an enthusiastic and superb watching experience of your videos, then there is no one you can choose but the Blu-ray Player. Enjoy not only your videos but also your audio file in a dynamic music experience.