[Totally Free] Top 5+ GIF Players for Windows/Mac/iOS/Android
More and more people like to create funny animated GIFs from YouTube and other sites to express different feelings. GIF (Graphics Interchange Format) is a bitmap image format with lossless compression. In other words, you can save short looping videos with no sound as GIF format. Later, you can share animated images in small file size without quality loss via Snapchat, WhatsApp, etc.
Different from common image formats, you need a GIF viewer to play GIFs on your phone or computer. Because some image viewers can open the static image instead of the complete GIF animation only. To view GIFs smoothly, you had better choose an animated GIF player with powerful features. Now, let's read and see which one can be your best GIF viewer.
Part 1: Top 3 GIF Player Software for Windows and Mac
Windows Photo Viewer is the default image viewer for all Windows users. However, it is not supported to play a GIF in the loop. You need to use Internet Explorer to view GIFs on Windows 10. If you want to get smooth GIF playback experience, you can choose one GIF viewer for Mac or Windows from the following recommendations.
Top 1: Free Blu-ray Player
You can play animated GIFs with Blu-ray Master Free Blu-ray Player on PC and Mac. With the wide support of input formats, you can play Blu-ray/DVD disc, popular video and audio formats with zero quality loss, as well as GIF animations. You can also take a snapshot to capture the funny moment in one click.
1. View animated GIF files with forward and backward navigation buttons.
2. Open, pause, stop and resume GIF animation.
3. Capture your favorite snapshot while playing an animated GIF file.
4. Open GIF files in full, hale, normal or double screen sizes.
5. The GIF player freeware works with Windows 10/8/7/Vista/XP and Mac OS X 10.5 or above.
Step 1
Download, install and launch free GIF player software.
Step 2
Click "Open File" to add your animated GIF image.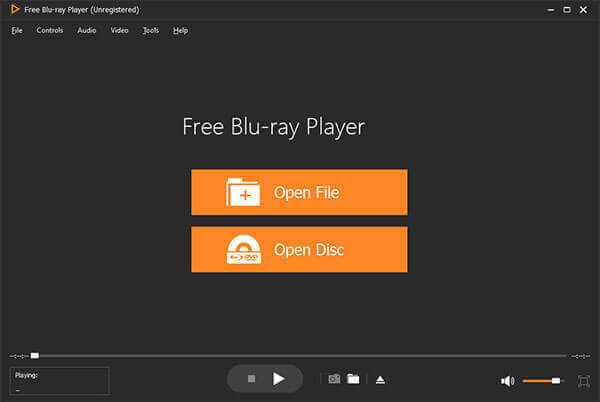 Step 3
Click "Play" to play a GIF on Windows 10. You can pause, resume and stop a GIF animation frame by frame.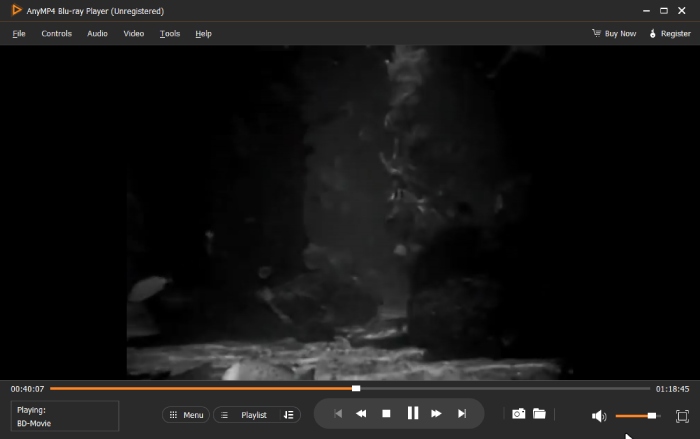 Top 2: IrfanView
OS: Windows
Download link: https://www.irfanview.com/
IrfanView is a free GIF player for Windows 10 and earlier versions. You can play not only animated GIF files, but also other image formats, like JPEG, PNG, TIFF and more. The batch conversion and slideshow support are useful for both beginners and experts. In addition, you can draw lines, circles, arrows and other shapes to your GIF image easily.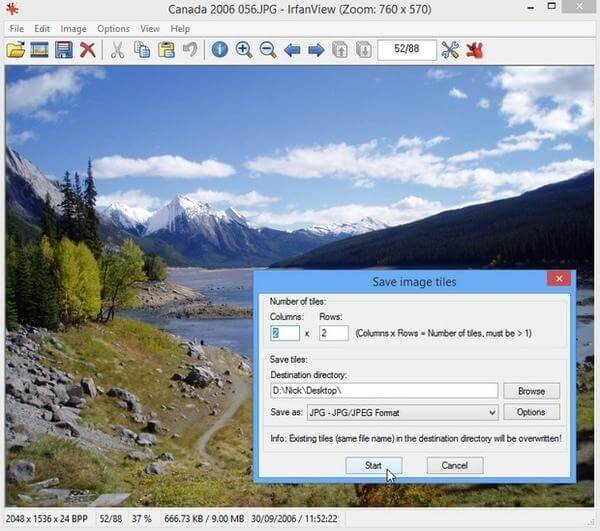 Top 3: QuickTime Player
OS: Windows, Mac
Download link: https://support.apple.com/kb/DL837?viewlocale=en_US& locale=en_US
QuickTime Player is the pre-installed media player for Apple Mac. You can play GIFs files on Mac with QuickTime Player directly. As for Windows users, you can download QuickTime 7.7.9 for Windows as your free animated GIF player for Windows 7/8/10. You can handle most popular video, audio and image formats within QuickTime Player.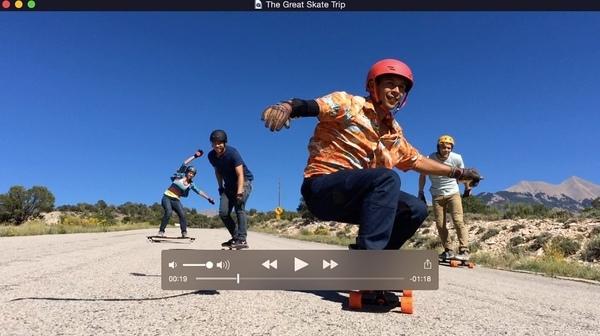 Part 2: Top 3 GIF Player APP for iPhone and Android
If you want to get more playback and editing features about GIF animations on your phone, you can use third-party GIF player apps. Moreover, many GIF players also provide the latest GIFs and animated stickers online. Just read and check.
Top 1: GIF Player
OS: Android
Download link: https://play.google.com/store/apps/details?id=com.robin.huangwei.gifviewerfree& hl=en
GIF Player is more than a handy GIF photo gallery browser. You can navigate GIFs by browsing Reddit, Tumbler and many other popular GIF web sites. If you have some secret GIFs, you can use private storage space to protect them within GIF Player for Android. Moreover, you can adjust GIF playback speed and reverse play with ease.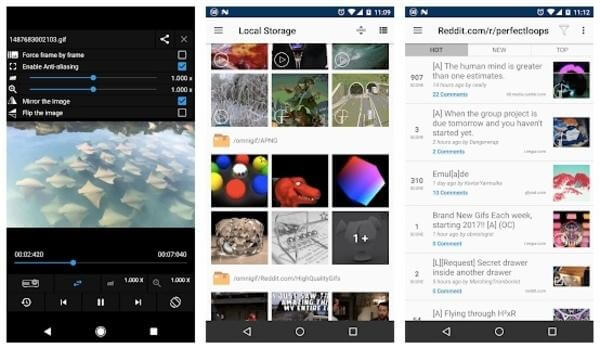 Top 2: GIF Viewer
OS: iOS
License: Adware
Download link: https://apps.apple.com/us/app/gif-viewer-the-gif-album/id895830403
You can play, share and organize GIFs stored in the Photos app by using GIF Viewer app. As for GIF animations from other sources, you can press the "+" button to import GIFs directly on iOS 13 and latter devices. The GIF player for iPhone app can play GIFs from local storage, clipboard, copied Twitter link, iCloud Drive and Dropbox. Furthermore, you can convert GIF to video which can be shared to Instagram or Facebook directly.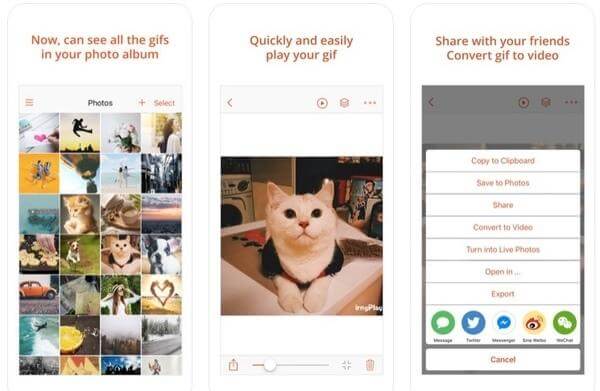 Top 3: GIF Viewer & Player
OS: iOS
Download link: https://apps.apple.com/us/app/gif-viewer-player/id421705291
GIF Viewer & Player is capable to manage, play and share GIFs from different places. You can add animated GIF files from Photo Albums, iTunes file transferring and Wi-Fi transfer in batch. If you want to get more details, you can zoom in and zoom out GIF files within the full-screen GIF viewer app. What's more, you can adjust GIF playing speed in 7 levels freely.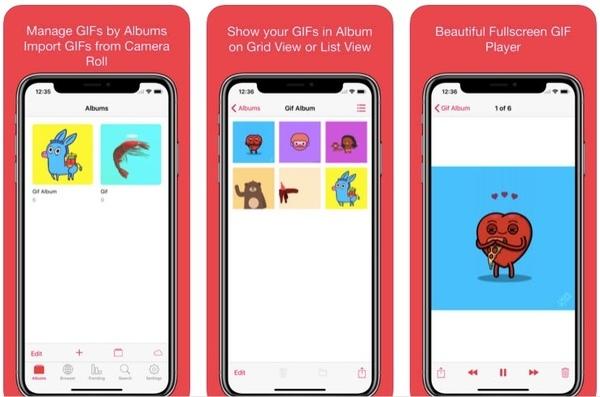 That's all for excellent GIF player apps that allow users to enjoy bunches of GIF animations on your computer or smart phone. If you also like watching Blu-ray movies, you should not miss Blu-ray Master Free Blu-ray Player. It is a 100% free and safe media player that can play not only GIFs, but also and commercial Blu-ray/DVD discs smoothly. You can get full control while playing any video or audio file.
If you have used any GIF player mentioned above, you can tell us more about your experience and feedback. Of course, you can also share sites to free download free GIF animation images below. Any suggestions would be greatly appreciated.
Part 3. FAQs of Playing GIF Files for Free
1. What is the best free GIF maker?
If you want to play animated GIF, you can find your best GIF viewer from Blu-ray Master Free Blu-ray Player, IrfanView, QuickTime Player for Windows and Mac, GIF Player for Android, and GIF Viewer for iOS.
2. Is GIF Maker free?
There are free GIF makers and online GIF programs for you to create animated GIF. For example, Photoscape, Gifted Motion, SSuite Gif Animator, Picasion, GifPal, and more.
3. Can I make a GIF on my iPhone?
Yes, you can make a GIF on your iPhone with GIF apps like GifsArt. Or you can capture a short video, edit and convert it to GIF file.
4. Can VLC play GIF?
VLC doesn't support playing GIF files. When you upload a GIF file into VLC Media Player, it plays as a still image.