Top 5 Music Player for Android Never to Miss
Many of you would like to listen to music from the popular streaming services like Spotify, Pandora, Apple Music and Google Play Music. Android users are lucky enough for Google Player has provided a lot of music player apps available. In this post we shall share the top 5 music players for Android users who are using devices like Samsung, HTC, LG, Blackberry, Huawei, etc.

Top 1. Google Play Music
Google Play Music is a music app for Android that gives millions of songs and playlists for any situations. It enables you to upload up to 50,000 songs to Google Play for free. You can listen to the music through the app or on your mobile app.
Price: $9.99
Key Features:
1. Users are free to store 50.000 songs online at most.
2. It supports playing MP3, WAV, FLAC, OGG, etc.
3. Easily download music playlist on phone device with Google account.
4. Users can listen to music on Android, iOS and web.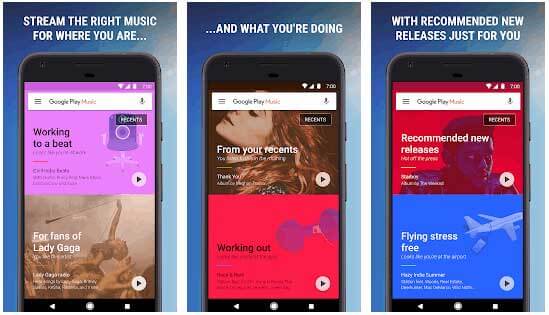 Top 2. Poweramp Music Player
Poweramp Music Player is a music player for Android that lets you enjoy music in all formats like MP3, MP4, OGG, WMA, FLAC, WAV, AIFF, FLV, MKA, etc. It is a fast, efficient and powerful music player that has been recommended by many bloggers. You can also find widgets, tag editing, and more customization settings.
Price: $3.99
Key Features:
1. Play MP3, MP4/M4A, OGG, WMA, WAV, FLAC, APE, WV, AIFF, MKA, TAK, FLV.
2. Provide 10brand optimized graphical equalizer for all supported formats.
3. Support for M3U, M3U8, PLS, WPL playlists, playlist importing and exporting.
4. Lyrics support, including lyrics search via musiXmatch plugin. (Find M3U8 video player )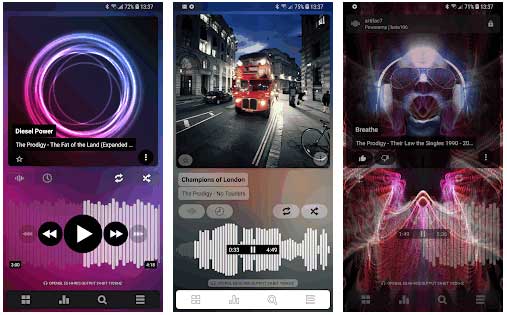 Top 3. Omnia Music Player
As a powerful music player for Android, Omnia Music Player has hi-res output and 10-band equalizer. It supports almost all audio formats like MP3, APE, AAC, ALAC, AIFF, FLAC, OPUS, OGG, WAV, TTA, etc. Besides, it outputs high-res output engine with best sound quality, with the footprint storage of less than 5 MB.
Price: Free
Key Features:
1. It has 10-band equalizer and 15 pre-built preset.
2. It is has gorgeous user interface following Google material design.
3. Users can manage and play music by album, artist, folder, and genre.
4. Save the playback position which is useful for podcast and audiobook.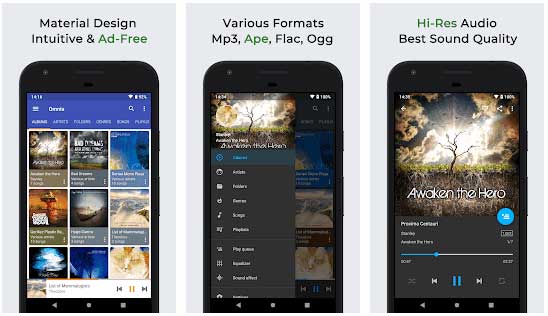 Top 4. Pulsar Music Player
Pulsar Music Player is an intuitive and full-featured music player for Android with gorgeous user interface. It can help you to manage and play music from every perspective and contains almost everything you need for a music player like browsing, gapless playback, searching, etc.
Price: $2.99
Key Features:
1. Manage and play music by album, artist, folder, and genre.
2. It supports standard music file like MP3, AAC, FLAC, OGG, WAV, etc.
3. It uses 5-band equalizer with presets, bass boost and reverb settings.
4. It can automatically download the missing album cover and artist image.
Top 5. Simple Music Player
Simple Music Player lets you listen to MP3, other songs or podcasts with this free music player. You can easily take control of the music playback from status bar, home screen widget or even hardware buttons on your headset.
Price: Free
Key Features:
1. You can create and manage handy playlists as you desire.
2. It supports both shuffle and repeating a particular song.
3. It supports many different languages and offers multiple different equalizers.
4. You can quickly share files with your friends on social networks, emails, or anywhere.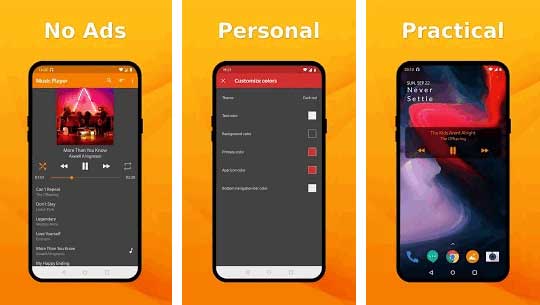 Best Free Music Player for Computer
If you would like to listen to music on your PC/Mac, we will show you a free music player - Blu-ray Master Free Blu-ray Player. As you can see from its name, it enables you to play music, Blu-ray, DVD, and videos in any popular formats like MP4, MOV, FLV, AVI, TS, MTS, M4V, MPEG, and more.
Key Features:
1. Play any music files, videos, Blu-ray/DVD disc with high sound quality.
2. It uses DTS-HD and Dolby TrueHD audio encoding technology.
3. It supports audio formats like FLAC, WAV, MP3, AAC, AC3, AIFF, M4A, etc.
4. You can share your music files to YouTube, Facebook and more.
FAQs of Best Music Player for Android
1. Does Windows 10 have a music player?
Yes. Groove Music is the default music player for Windows 10. You can also change the default music player to other music player by adjusting settings.
2. How do I make Spotify my default music player?
You can go to Settings and choose Apps. Tap the Gear Icon, select Default Section, and choose Music app. You can select Spotify as the default music player.
3. What is the best FLAC player for Android?
As a well-known media player, VLC can be used as a FLAC player on Android. If you are tried of using the VLC player for Windows, Linux, and other non-mobile operating systems, you can try VLC for Android.
Conclusion
That's all for the top 5 music players for Android devices. After reading this post, you can easily find a free music player for Android from Google Play you really like. If you want to play music files on computer, you can try the recommended player - Blu-ray Master Free Video Player. Tell us in the comment if you have any great Android music player recommendation.