8 VR Video Players for PC and Smartphone to Enjoy the Latest Visual Technology
VR videos have been well known throughout the previous couple of years with the buzz from news reports and the release of a few VR headsets. What are the best VR video players when you need to watch virtual reality videos and want to get the experience of watching cinema at your home? You may have discovered that regular video player software cannot offer such experience at all. Here brings you top VR video players for Windows, Mac, Android, and iOS, which will provide you an immersive experience as cinema.

Part 1: Top 4 VR Video Players for PC/Mac
Top 1: Kolor Eyes
As most VR player consumers know, Kolor Eyes is not only a free 360-degree VR video player for Windows and Mac, but also enables you to en-codec with HTML5. It is the best app of GoPro to enjoy VR videos.
Step 1
Download and Install the VR video player and open the program on your computer. It is compatible with Windows 7/8/10.
Step 2
Open a VR video and you can watch it. This player can also work with the most popular VR headsets. If you have one, you can get an immersive experience.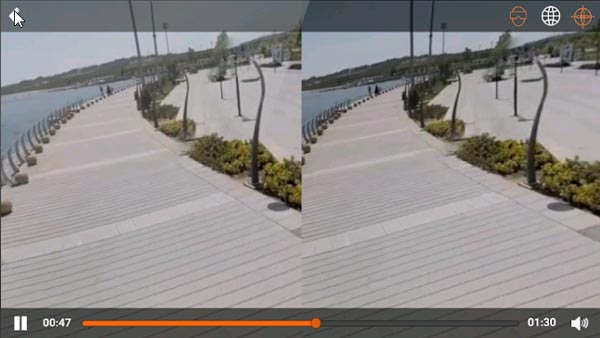 Top 2: SkyBox VR Player
With SkyBox VR video player, you can play local videos on PC/Mac and mobile devices. Moreover, it can sync videos from computer to mobile device via the same Wi-Fi.
Step 1
Connect your headset to your computer and run the best VR video player. You need to install the desktop client first.
Step 2
Use your controller to click the Open button at the top left corner and add a VR video to watch VR videos on PC.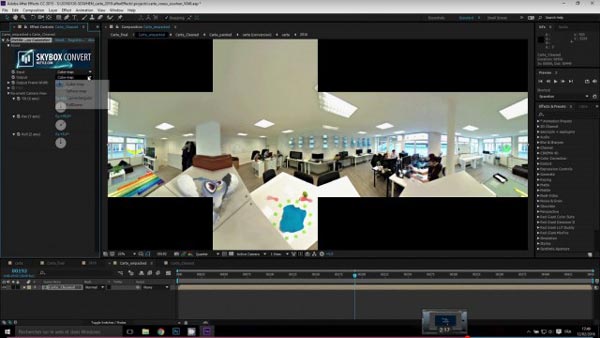 Top 3: Total Cinema 360 Oculus Player
Total Cinema 360 Oculus Player is another free VR video player that allows you to enjoy live-action and omni-directional content with an Oculus Rift headset. Just take advantage of this player to watch 360º videos.
Step 1
Open the VR video player and take on your Oculus Rift headset. Drag and drop a VR video into the player.
Step 2
You can control the playback, such as pausing playback, zooming, and adjusting the distance of the eye from a video.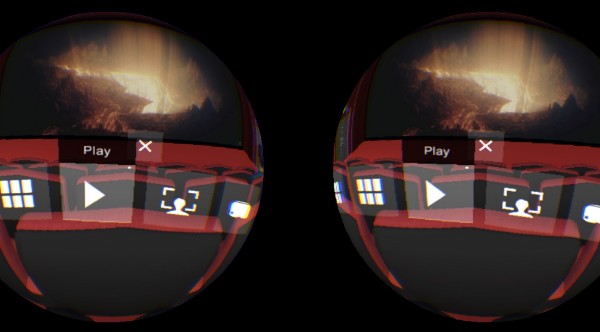 Top 4: Opera VR Player
Opera is not only a regular browser, but also functions as a decent VR video player on PC and Mac. You do not need to tackle various VR settings. It can launch 2D movie, or regular 180º video through a headset.
Step 1
Connect your VR headsets to your computer and open Opera. If you do not have the VR player, install it immediately.
Step 2
Open a local VR video or online VR video on YouTube to initiate the playback. Opera VR player automatically chooses a proper format for your video to watch the VR videos on Windows 7.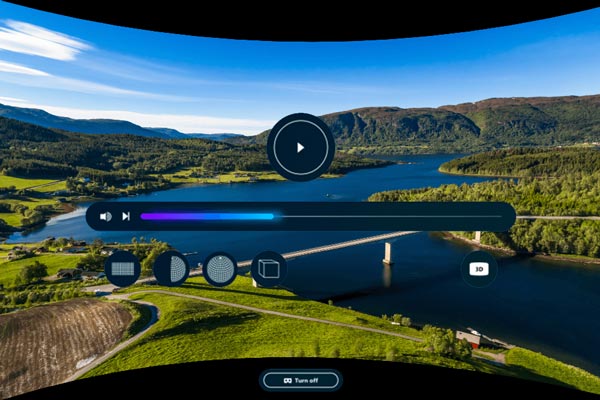 Part 2: Top 4 VR Video Players for iPhone/Android
Top 1: VR Player
VR Player is a clean and intuitive VR video player for iPhone and iPad. It enables you to stream off VR videos and YouTube, as well as watch 360 photos and videos in internal memory.
Step 1
Install the VR video player on iPhone from App Store. Connect your iPhone to a network.
Step 2
Select a video channel and find a VR video, or open a local VR video. Put your iPhone into a mobile VR device and start to enjoy it.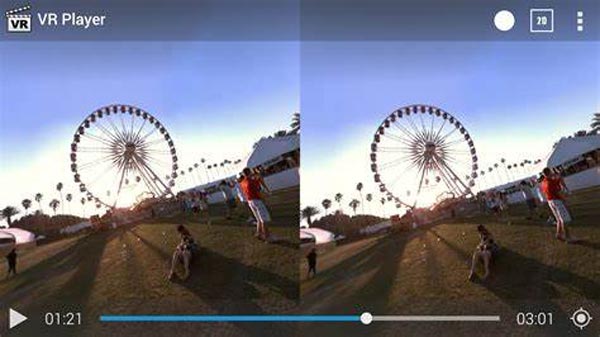 Top 2: Homido VR Player
Homido VR video player is designed to pair with the Homido headset on iPhone or Android phone. You can stream 360-degree content from any platform.
Step 1
Run the VR video player app, and you have three options available. Open the video to play a VR video on your Android.
Step 2
Go to Homido Center and you can open a 360 content. If you want to watch YouTube VR, tap Internet Browser and find the video.
Step 3
Now, connect your mobile device to the Homido headset and initiate watching.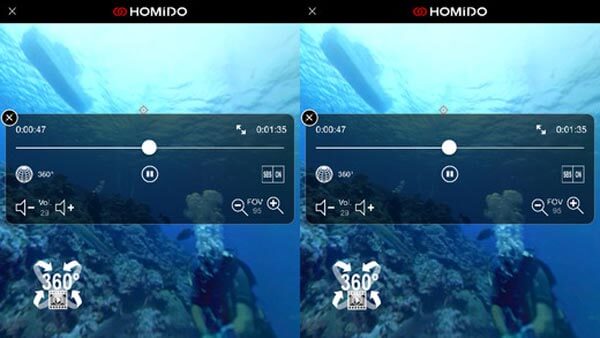 Top 3: KMPlayer VR
KM player came to a VR video player app for Android phones. You can just watch 360-degree content on your phone or try the glass mode, which allows you to enjoy immersive videos in a VR headset with your smartphone.
Step 1
Install the VR video player for Android from Play Store. It is free of charge for all Android devices.
Step 2
Open an immersive video in the player. Then you can start watching it alone or with a headset.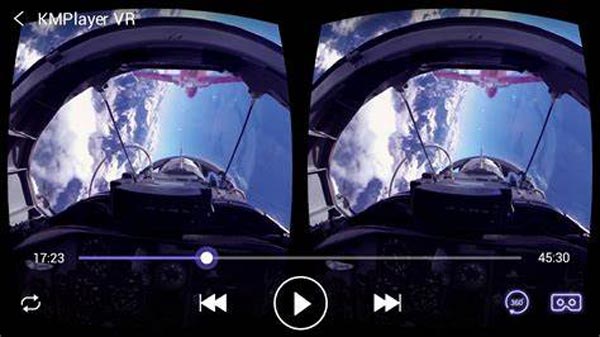 Top 4: Video360
You can watch VR videos, YouTube VR, or other streams via URL on your iPhone via Video 360 VR video player. Just keep in mind that streaming YouTube videos would require an additional purchase, but the VR video player is free to download.
Step 1
Open the VR player app after you install it on your iPhone. It might crash if your iPhone has been upgraded to iOS 11 or later.
Step 2
Choose VR Videos or Video URL and open the desired video to begin watching the virtual reality video on Android.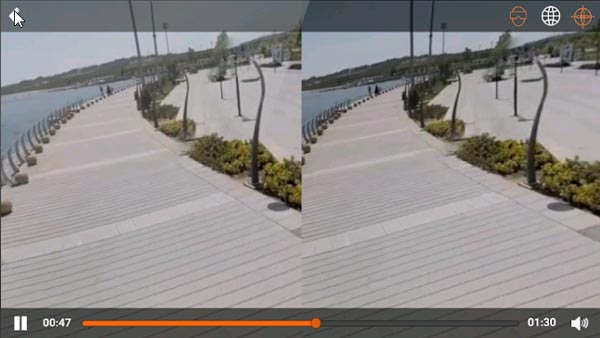 Best VR Video Player Alternative: Free Blu-ray Player
Free Blu-ray Player is the best VR video player alternative, which enables you to watch most of the videos and audio files, including 4K video, DVD, and Blu-ray disc. Moreover, you can also have a perfect audio-visual experience with the free media player.
* Play almost all videos and audio file formats for free.
* Support DVDs, Blu-ray discs, and other optical discs.
* Free to play the media files without any limitation.
* Full control video playback with advanced effects.
Part 3: FAQs about VR Video Player
1. What is a VR Video?
VR video, or virtual reality video is a kind of immersive video, which creates an illusion of being part of the video through the rendition of 3D images. You can use the VR headset to enjoy the audio-visual experience of the immersive VR video accordingly.
2. Can I Enjoy VR Video without a VR Headset?
Yes. You can simply choose a VR video player to playback the VR videos without a headset. The VR headset provides a comprehensive all-in-one VR experience. In this case, you do not have to use the small screen of your mobile to enjoy the videos.
Conclusion
Here are the top 8 VR video players for PC, Mac, iPhone, and Android devices. Besides local VR videos, some of them also support platforms, such as Samsung VR, Steam VR, Oculus, HTC, VeeR VR, WITHIN, Littlstar, Jaunt, etc. You can choose your favorite tool and get the best audio-visual experience.