Remarkable DVD Player and External DVD Drives for Chromebook Worth Your Try
Are you tired of making ways to play your DVDs on Chromebook? Here's some sunshine for you, for you are about to find the best solutions for this problem. Chromebook is a new minimalist computing platform that was developed by Google using its own OS. It is as good as its competitors like Apple and Microsoft. And yes, this Chromebook is more popular now than Macbooks. However, we cannot deny its lightness, showing its limitations for a lot of things, including DVD playback.
On the other hand, you don't need to worry about using a Chromebook and still want to enjoy watching DVDs. Because the best solutions will be at your hand after reading this article, so, without further adieus, let us start meeting the DVD players for Chromebook.

Part 1. Does Chromebook Have a DVD Player
Once and for all, let us keep in mind that there is no way to directly play DVDs on Chromebook, for it doesn't support DVD codecs. It needs to have this support for such codecs because they are the ones to use to encode or decode the signal or digital data stream. You see, Chrome OS has many limitations, and it can only accept only a few audio and video formats. Hence, if you want to watch a DVD, you can use an external DVD drive for Chromebook.
Part 2. How to Play DVDs on Chromebook via External DVD Player
Chromebooks were developed without built-in CD drives. With the help of an external DVD player, Chromebook will be able to read various types of discs. Such discs are CD, CD-RW, Blu-ray, Blu-ray-RW, DVD, and DVD-RW. Thus, to provide you with additional information about this, here is the most suggested external DVD drive to use on Chromebook.
LG Electronics 8x USB 2.0 Super Multi Ultra Slim Portable DVD Writer Drive
We present this LG external DVD player that offers light and slim physical hardware you can easily carry. It is known to be an ultra-slim portable DVD player for Chrome OS with a height of 14mm while showing compatibility with a USB 2.0 interface. Furthermore, this player has recordable formats, which include DVD-ROM and CD-ROM. This player and writer do a great job in proving the LG quality of performance, for it also provides you with up to 24x CD write speed and 8x DVD R write speed.
Hence, you need to understand that this kind of external DVD drive can only read their accepted DVD types, as others do. And they cannot burn any data or files to DVD discs.
Thus, how will you use this DVD drive on your Chromebook? Start by connecting it to your computer device via its USB. Then, insert your DVD disc in the DVD drive and navigate your Chromebook to access the DVD files. Please note that accessing the file in this external DVD is the same as when you access your regular files.
Part 3. How to Play DVDs via DVD Ripper
Moving forward is the usability of a DVD ripper for a Chromebook. This is one of the most effective ways to play DVDs on your computer. This is a more reliable solution for your Chromebook, as your PC is an ultrabook due to its super-slim profile. Therefore, if you do not like the idea of connecting an external DVD drive to your Chromebook, then you may want to play the DVD movies pre-saved in a USB drive, which is the product of ripping. Now read below to meet the best DVD ripper to use.
Use Video Converter Ultimate
Introducing the most outstanding software with a magnificent DVD ripper as part of its ultimate features, the Video Converter Ultimate. This converter provides you with the easiest and fastest way of ripping, making you play DVDs on Chromebook anytime you like. Furthermore, it lets you rip and convert your bundle of DVD contents into more than 500 various files. Aside from that, there are also tons of editing features that you can use to enhance your converted movies based on your preferences. Meanwhile, the ripper tool of this Video Converter Ultimate allows you to add multi-audio tracks and subtitle tracks to your DVD movie. Plus, it even supports DVDs that contain 2D And 3D content.
Key Features:
● Rip and convert any type of DVD to more than 500 formats.
● Support ultra-high video quality.
● An ultrafast ripping process with a 70 times faster conversion process.
● A lot of editing options to use before and after the ripping and conversion process.
How to Rip DVD Without Losing Quality
Step 1
Insert your DVD disc on your computer, then download and install the amazing DVD ripper after. Launch it and go to the Ripper menu option to click the Plus icon or the Load DVD tab to import the disc.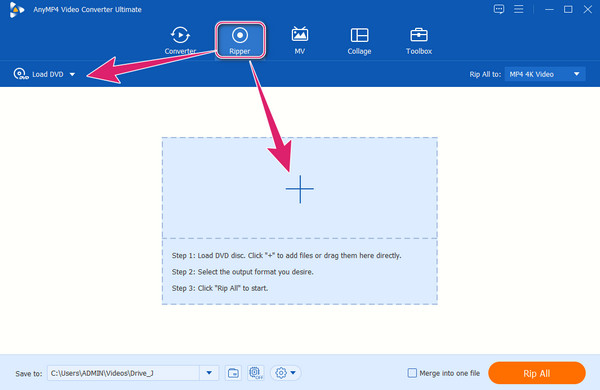 Step 2
After loading, you go and click the Arrow button of the Rip All To portion to prompt the window for various format choices. You can choose your preferred video format and encoder or quality.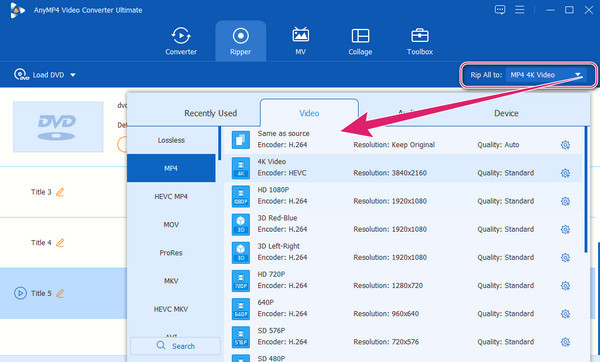 Step 3
Afterward, you have the option to click any of the setting thumbnails for the enhancement of your DVD movie. Then, you can go to the Save To section and set the file destination to your preferred folder or directly to your USB drive.
Step 4
Finally, hit the Rip All red button to begin the quick ripping process. Then, check the newly ripped movies in your designated folder.
Part 4. FAQs about Playing DVDs on Chromebook
Is it worth it to purchase an external DVD drive for Chromebook?
Yes, if you use it for business purposes. However, if you will only use it for personal use due to your desire to watch a DVD movie, then it is not.
Can I play DVD ISO files with Chromebook?
Yes. DVD ISO files and folders can be played on Chromebook. Only DVD discs are not permissible to play since Chromebooks do not have a built-in optical drive.
What is the best DVD player software for Chromebook?
The best DVD Player software for Chromebook that we highly recommend is the Blu-ray Player. It is an all-in-one player that plays all types of Blu-rays, DVDs, and digital videos.
Conclusion
There you have it, the trusted DVD ripper and external DVD drive for Chromebook you shouldn't miss. Again, using each solution depends on your needs. Grabbing an external Chromebook DVD player is a must if you will use it for a business purpose, but if it is only for personal use, it is much more affordable to use a DVD ripper. Use the Video Converter Ultimate, which has multifunctional software that will allow you to rip and convert files and edit your files.