When you compress audio files in M4A format, it will mean you reduce file size and use valuable techniques to preserve audio quality. This M4A is a well-known audio format for its high-quality audio compression that uses AAC or Advanced Audio Coding. Therefore, compressing M4A files is beneficial for saving more storage space, which will improve the transfer times and ensure efficiency in playback on different devices. Meanwhile, in this post, we'll explore the compression process concerning M4A files and further discuss its benefits. All of those you will learn if you continue reading the entire content below.

Part 1.

Understanding the M4A File and Why You Need to Compress it

If you are not still aware of different file formats, then you may not know why you need to compress an M4A audio file. Also, you might not know how it differs from the other audio formats. As mentioned previously, M4A, an abbreviation for MPEG-4 Audio, is an audio extension that has been compressed using an AAC, a lossy compression method. Furthermore, this format was intended to be MP3's successor, not initially for audio but in a level III in an MPEG 1 or 2 file format.
Why Compress an M4A File?
Compressing such a file is beneficial for some reasons. Initially, it helps reduce the size of the file to make it more manageable to keep and faster to share, particularly on online platforms. So, are M4A compressed? The answer is no. So, minimizing its size optimizes the storage capacity, allowing a larger collection of M4A files without excessive space. This will mean improved bandwidth efficiency during the transmission and streaming. As you know, smaller media files are easier to load and transfer, resulting in an enhanced playback performance in your M4A players. In addition, compressed M4A files guarantee better compatibility over various applications and platforms, enabling seamless access regardless of the device used.
Part 2.

How to Compress M4A Files With the Best Tool

The first best tool we have is this Video Converter Ultimate. It is a perfect desktop solution with practical features and is packed with many powerful options, which include the tool that compresses audio files. Furthermore, it lets you compress M4A to a smaller size without losing the original quality. Besides, the compressor supports numerous new and well-known formats, such as MP3, WAV, AAC, OGG, M4A, and many more.

Moreover, this Video Converter Ultimate allows you to condense your M4A audio track files by modifying the audio bitrate and the format. If you want, you can have a 5MB file size from your huge M4A file. Finally, you can also customize the sample rate if you want to have the original sound quality from the file source,
Video Converter Ultimate
Compress the M4A audio file by decreasing the channel and bitrate.
Convert the M4A files into other 500-plus formats while you reduce the file size.
It has an ultra-fast conversion and a superior level of compressing speed.
It has all the video and audio editing solutions you need within its Toolbox.
How to Compress M4A With Video Converter Ultimate
Step 1.Access the best compressor tool by installing it on your computer using the Free Download buttons above.
Step 2.Launch the software and go to its Toolbox tab menu to access the Audio Compressor tool. After clicking it, a new window will launch. Click the Plus button and upload the M4A file you want to compress.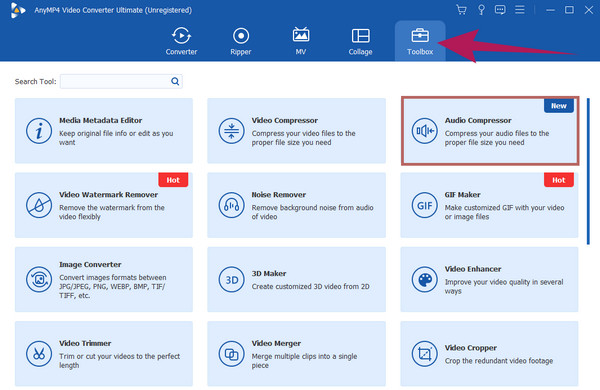 Step 3.Once the file is loaded, you can already hit the Compress button. However, you are free to alter the editing options available according to your preferences before compressing it.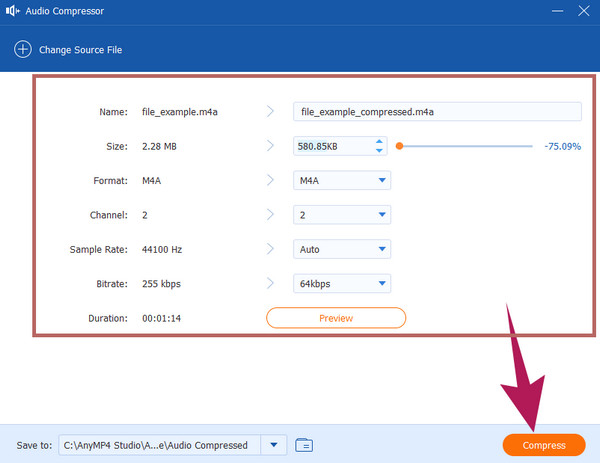 Part 3.

How to Compress M4A Online for Free

if going through the download and installation process is not your thing, then here's a method available to compress M4A files online for free. Introducing this Online-Audio-Converter, a free online video compressor/converter that lets you easily convert and compress the M4A files to your desired output format. This online tool has different advanced settings and selections to adjust the file quality, frequency, bit rate, and others. Moreover, it can convert more than 300 file formats and extract audio from video files. However, one of the disadvantages of an online tool is that it only works with a strong internet connection. Still, you can use this M4A compressor by following the steps below.

Step 1.Visit its official site in your browser and hit the Open File button to upload the M4A file you will compress.

Step 2.This is how you compress the M4A file size online, adjust the audio quality, and drag it from best to either economy or standard to compress it.

Step 3.After that, click the Convert button to apply and save the compression process.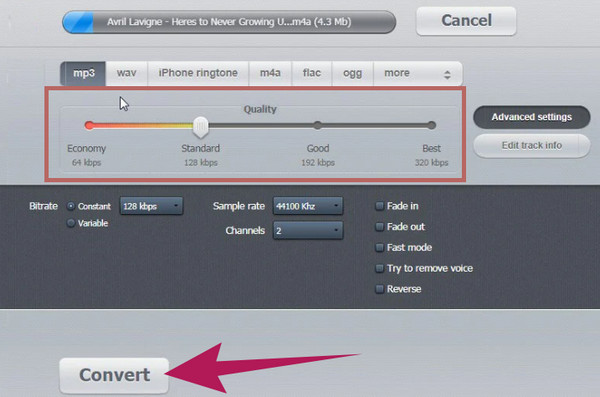 Part 4.

How to Use iTunes to Compress M4A Files

iTunes is a built-in application on Mac that you can also use to compress M4A files on a Mac. Although it is natively available on macOS, it is also feasible on Windows. When it comes to compression, iTunes changes the sample rate and the file's bitrate, requiring you to be gentle on altering these settings. Otherwise, you will not export a lousy audio quality. However, there are some reports that it may not be available on other Mac versions. Thus, check if your Mac is in the compatible list before following the guidelines below to compress the M4A file on your Mac.

Step 1.Launch the iTunes and import the M4A files when you click the Preference>Menu>Import Files buttons

Step 2.From the Import Using section, change the encoder to MP3 to lower its size. Then, click the OK button.

Step 3.After that, click the File menu and choose the Convert option. Then, click the Create MP3 Version to process the compression.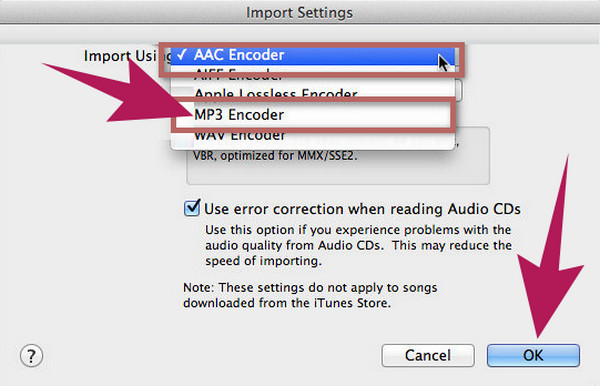 Part 5.

FAQs About M4A Files
Which is better, MP3 or M4A?

M4A offers better quality but may not be supported widely, while MP3 is better as it has a smaller file size with wider compatibility.

How do I play M4A audio files?

You can use the VLC Media Player or iTunes to play the M4A files. Or, you can convert M4A to MP3 using Video Converter Ultimate. for broader compatibility.

How do I make MP4 less MB?

To make an MP4 file smaller, you can compress it to have a lower bitrate and resolution.
Wrapping up
In conclusion, the M4A file compression can significantly enhance your audio playback experience. Understanding how to compress such files is an important skill, whether you're using your music library for portable devices. By following the guidelines outlined in this article, you can make your M4A files more accessible and manageable. Thus, you just need to choose the perfect compressor for you. But if you're undecided, we highly recommend the Video Converter Ultimate.