Does PS3/PS4 Play DVDs? Yes, Here are 2 Workable Methods
Can PS3 or PS4 play DVD movies? Yes the PS4 works with DVD movies without problem. When you insert the DVD disc, you can select the content from the content area. PS4 system must enable the disc playback feature over the Internet. It seems to be an easy process to play DVD movies with PS4 or PS3.
Why it does not work for you? When you insert the DVDs, you might not get the movies automatically. What should be the problems and how to play DVDs with PS4/PS3? Just find 2 workable solutions you can find from the article now.

Part 1: How to Play DVDs on PS4/PS3 Directly
"Every time I want to play a DVD on PS4, there is an error message that says I must connect to the Internet. What should be the problem?" When you want to watch DVD discs on PS4 successfully, here is the detailed process you should know.
Step 1
Connect PS4 to the Internet
Turn on your PS4 and make sure the device is connected to the Internet. Go to "Settings" to choose your Wi-Fi network and set up the Internet connection. Then follow the instruction to configure the network settings.
Step 2
Insert the DVD disc to PS4
Once you launch the console of PS4, the PS4 Pro system must enable the disc playback feature over the Internet to play DVDs. There is only one chance to enable the feature to play DVDs on PS4.
Step 3
Play DVDs on PS4/PS3
Then there is a dynamic menu pops up, which enables you to locate the movies of DVD disc and hit the "Play" button to play the DVD on PS4. Now you can enjoy the movies on PS3 or PS4.
Note: You should also make sure the DVDs are not dusty, scratched or damaged. It is easy to check whether there is any problem for the DVD itself before playback the disc.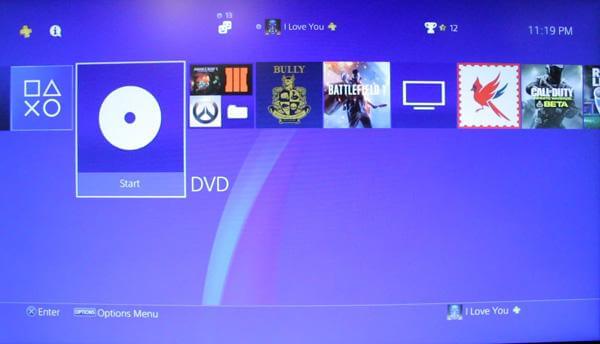 For playing the DVDs on PS4/PS3 via the Internet, you should make sure the DVDs are the compatible type for PS4 and the DVD region is matching the PS4 you have.
The Workable DVDs for PS4
Compatible DVD/Blu-Ray Discs
Blu-Ray Disc: BD-ROM, BD-R/RE (BDAV, BDMV)
DVD Disc: DVD-ROM, DVD-R/RW (video mode, VR mode), DVD+R/RW
Other Files: Hybrid disc, AVCHD videos and CPRM files.
Incompatible DVD/Blu-Ray Discs
CD, BD-RE, BD-R/RE XL and DVDs that have not been finalized are not supported by PS4. Besides, 8cm discs, non-circular disc and discs that are cracked or deformed are not recommended.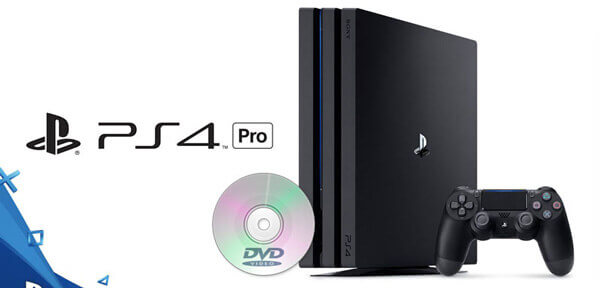 DVD Region You Should Select for Your PS4
Region 1: the United States/Canada/Bermuda/U.S. Territories
Region 2: Europe regions except for Russia, Ukraine and Belarus/Middle East/Egypt/Japan/South Africa/Swaziland/Lesotho/Greenland
Region 3: Southeast Asia/South Korea/Taiwan/Hong Kong SAR/Macau
Region 4: Mexico/Central and South America/Australia/New Zealand/Oceania
Region 5: India/Afghanistan/Ukraine/Belarus/Russia/Africa/Central and South Asia/North Korea
Region 6: People's Republic of China/Hong Kong SAR
Region 7: Reserved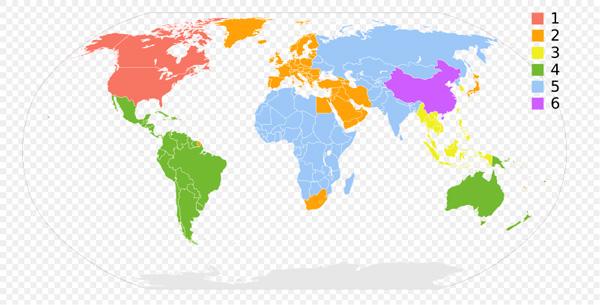 Part 2: How to Rip DVDs to PS4/PS3 Compatible formats
Just as the information above, there are lots of restrictions for playing DVD on PS4/PS3. Is there a workaround to get rid of the problems? If you have already purchased some DVDs from Amazon or eBay, what should you do as in the case? Free DVD Ripper is able to extract the movies from DVDs to MP4, FLV, AVI and more than 200 video formats with a super-fast speed and high quality.
1. Convert DVD to video, HD video, 3D video and 4K video with ease.
2. Support both the DVDs and commercial DVDs.
3. Multiple editing features to clip, rotate, crop, add watermark and effects.
Step 1
Download and install the free DVD Ripper
Once you download and install Free DVD Ripper on your computer, you can launch the program. Make sure you have already inserted the DVD into the drive of the computer. Click the "Load Disc" button to load DVD disc or DVD folder into the program.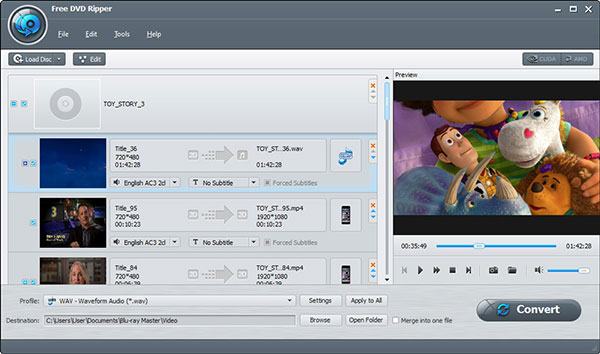 Step 2
Choose PS4 as the output format
Whether you need to convert DVD to MP4 or other video formats, or even directly to the optimal videos for PS4, you can directly find the preset within the program. As for the case, you can transfer the videos to play DVD movies on PS4 without problem.
Step 3
Edit DVD with multiple editing features
In order to get a desired video for PS4, you can click the "Edit" button to crop the video frame, adjust the video effects, adjust the video brightness, hue and contrast, saturation, add text and image watermark, and apply 3D and other effects to the output.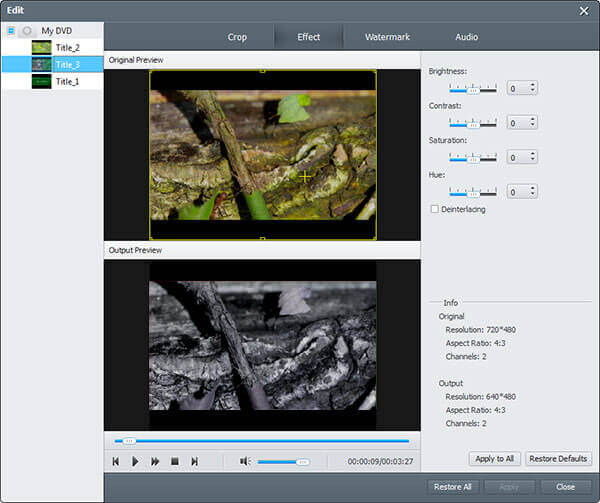 Step 4
Transfer and playback videos to PS4
If you are satisfied with the result, you can click the "Convert" button to convert DVD to PS4/PS3 compatible formats. After that you can transfer the video to your PS4 with a USB cable or Cloud service. Now you can watch the DVD movies on the PS4.
Part 3: How to Play Converted DVDs on PlayStation 4/ PlayStation 3 via USB
Once the conversion is over, you can play DVD movies on PS4 or PS3 using USB. Before playing the DVD, you need to check if you have installed the Media Player app on your computer. If not, just go to the PlayStation Store, find the app, and then download and install it on your computer. Read on to learn how to do so.
Step 1
First, you need to transfer the PS4/PS3 compatible videos to your USB stick and then connect it to the PS4/PS3.
Step 2
Run Media Player and then select the USB device. Then, find and tap on the movie that you want to watch on PS4/PS3.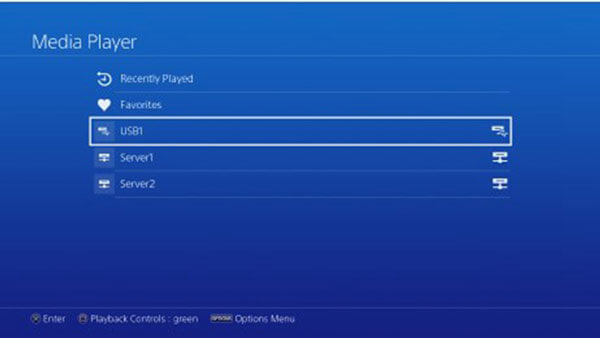 Part 4: FAQs of Playing DVDs on PS4/PS3
1. Can PlayStation 4 play DVDs without Internet?
Yes, you can. For playing DVDs on PS4 without the Internet, you should rip DVD to PS4 compatible formats first, and then get put the ripped DVDs into the USB drive and then insert the drive into PS4 for playback. The key to playing the DVDs on PS4 without the Internet is ripping DVD to PS supported MP4, WMV, AVI, MPG and TS, which has been explained in the second part in this post.
2. What format do I need to burn a DVD to play on a DVD player?
Not all formats are compatible with all DVD players, and different DVD players have slightly different formats support. Here are the common disc formats are supported by most DVD player hardware: DVD video, CD, MP3 CD, WMV, DivX, SVCD, and JPEG. For playing all DVD formats, you should try the DVD player software, which commonly supports a wide range of DVD formats.
4. Can I play DVDs on a Wii?
Yes, you can. With Homebrew Channel, you can play the DVDs directly on Wii. Moreover, you can rip DVDs to Wii compatible MOV or AVI format, and then insert the USB drive with the ripped DVDs into Wii for offline playback. More details about playing DVDs on Wii are here.
Conclusion
Can PS4/PS3 play DVD? Since the DVD drive is available for the device, it is easy to get answer for this. How to play DVDs on PS4 or even without Internet? If you have any problem to playback the DVD discs with PS4 or PS3, you can find the reasons from the frequently asked questions from the article. In order to make sure all the DVDs play on PS4, it is recommended to rip the DVD discs or folder to digital video formats. Free DVD Ripper is a free and excellent solution you have to take into consideration. If you have any query about the methods to play DVDs with PS4 or PS3, you can share more about your comments in the article.