7 Top Graded GIF Croppers to Utilize on Your Desktop, Phone, and Online for Free [2023]
Using a GIF cropper allows editors to remove unwanted areas from the animated GIF. Editors can remove watermarks, change the aspect ratio of the animated GIF itself and make their GIFs more attractive and appealing to the eyes of the users. By reading this post, you will know the various GIF croppers on desktop, phone, and online. Along with this, you will also learn how to crop a GIF using the professional GIF cropper most of the editors utilize nowadays.
Part 1. 3 Notable GIF Croppers for Windows and Mac
1. Video Converter Ultimate
Video Converter Ultimate is a powerful desktop application that performs all of the necessary editing functions. Upload your GIF to the main interface, crop it, and apply special effects before exporting it while retaining the high quality of the original. To make matters even better, the user-friendly interface is suitable for both beginners and professionals, as neither will have difficulty navigating through the tool. Try this GIF cropper with no quality loss once the GIF is converted.
Pros:
1. Works without internet connection.
2. Convert media files instantly.
3. Packed with excellent editing features.
Cons:
Paid software but offers a free trial.
2. EaseUS Video Editor
EaseUS Video Editor is a complete editing GIF frame cropper app. It can handle a variety of GIFs and a variety of video formats. Import your animated GIF into the interface and crop it as desired. Additionally, you can add text, apply filters, add effects, and trim the GIF to your liking. Despite its capabilities, most of the tool's effects and filters are not worth using. But it is still worth the try in cropping your most-treasured GIFs.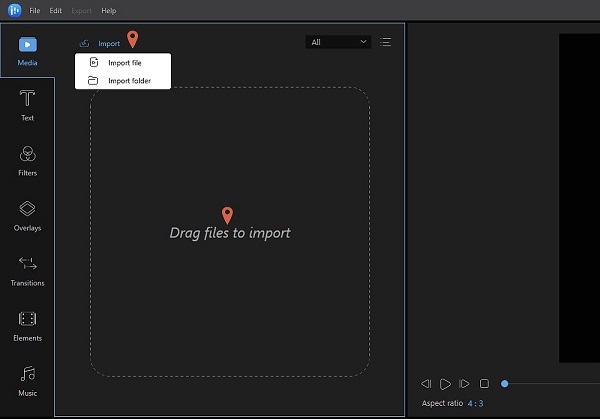 Pros:
1. Produces smaller file GIFs but with high quality.
2. Can generate 50 FPS GIFs.
3. Has a precise control of dimensions.
Cons:
1. Limited input and output formats.
2. Lack of editing tools.
3. Gifski - Convert Videos to GIFs
Using Gifski's advanced editing tools, you can easily remove the unwanted area from a GIF. It converts video clips to GIFs without sacrificing any of the video's quality. Because it is equipped with an easy-to-use user interface, it is simple to adjust the speed of the GIF and control the lopping and bouncing playback effects. This tool supports video and audio formats only supported by the Mac operating system. However, this intuitive tool is deficient in terms of other excellent editing capabilities.
Pros:
1. Easy to navigate the software.
2. Minimalist interface.
3. Offers basic editing tools.
Cons:
1. Lacks of compatibility with other formats.
2. Requires a high-end pc to launch.
3. Requires a paid subscription to maximize the tool.
Part 2. 3 Animated GIF Cropper Apps [iPhone and Android]
1. Gif Me - GIF Maker
The Gif Me free GIF cropper application on a mobile phone is the most effective tool available for quickly and easily editing an animated GIF from a video clip. Take a photo or video with your phone's default camera, import it into your phone, crop it, and then export the clip back to your gallery. The animation speed and the order in which the clips are displayed can all be adjusted as well. Because of its numerous beneficial features, this tool has a great deal to offer. However, to take advantage of all of the available features, you must pay a one-time fee.
Pros:
1. Manages image sequence.
2. Simple but intuitive interface.
3. Unlimited color adjustments.
Cons:
2. GIF Maker
GIF Maker is a mobile animated GIF cropper app that converts GIFs into frames and vice versa. Cutting and cropping GIFs and changing many other aspects of your images are all possible with this tool. Remove the background of the GIF and make it transparent, or change the color of the GIF using this feature. If you want to convert video clips to GIFs, it can also assist you.
Pros:
1. Change the background of the GIF.
2. Compress the file size of GIF while maintaining the quality.
Cons:
Limited basic editing tools.
3. Pixel Studio
It is a famous pixel art editor for all game developers and artists. It has a straightforward interface and works on many different mobile phones. Pixel Studio is more than just its name. You can upload a GIF and customize it by cropping its dimensions. It has a nifty RGB color picker that can make your GIF more appealing and eye-catching.
Pros:
1. Modification of background-color.
2. It offers a pixel art rotation.
3. No ads.
4. Supports extra formats like SVG, EPS, WEBP.
Cons:
1. Requires signing up.
2. Leaves watermarks for a trial account.
Part 3. Online Animated GIF Cropper
1. Gifgifs - Online Free GIF Editor
Gifgifs is an online GIF cropper that lets you crop and trim animated GIFs which has unnecessary areas to remove. It is an excellent GIF editor that enables you to add filters effects and enables animation on your GIF. The only drawback of this online tool is you cannot work correctly if you haven't internet access.
Pros:
1. Free and no need to install.
2. You can edit the GIF by cropping, trimming, cutting, reversing, and splitting.
Cons:
Slow conversion because of the internet connection.
Part 4. Instantly Edit Animated GIF with the Recommended GIF Cropper
When using Video Converter Ultimate without an internet connection, it is essential to note that it has a plethora of unique features that can make your GIF more attractive to viewers. Change a GIF format to any other form and share your GIF on social media networking sites with ease. Take a nice look at the step below to see how to crop a GIF using the excellent GIF cropper.
Step 1
Download and install the GIF cropper
To get started, download the Video Ultimate Converter by hitting the download buttons provided above. Otherwise, you can go to the main page of the tool. Install and run the tool quickly. Upon launching, you will see the main interface of the tool. On the menu bar, click the Toolbox > Video Cropper.
Step 2
Import the animated GIF onto the interface
After that, you may upload the animated GIF by clicking the Plus (+) button you see in the main interface.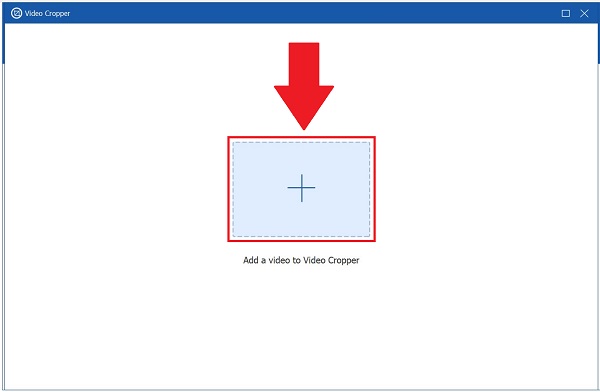 Step 3
Begin to crop the GIF
Upon finishing uploading the GIF, you may now crop the GIF. When cropping, you are eliminating the unnecessary area in the frame of the GIF. Using the handlebar, manually cut the video according to the desired dimension. Conversely, you can input the preferred size of the GIF on the Crop Area section.
Note: If you are unsure about using the Crop Area, you can hit the Aspect Ratio drop-down button and hit the ratio you wish to apply on your GIF.
Step 4
Check the output setting
After cropping the GIF, you need to see if the output setting is correct. Click the Settingb button in the Output section. Then, look if there is a need to adjust the format, resolution, frame rate - bitrate, and zoom mode. Once you are done, hit the OK button.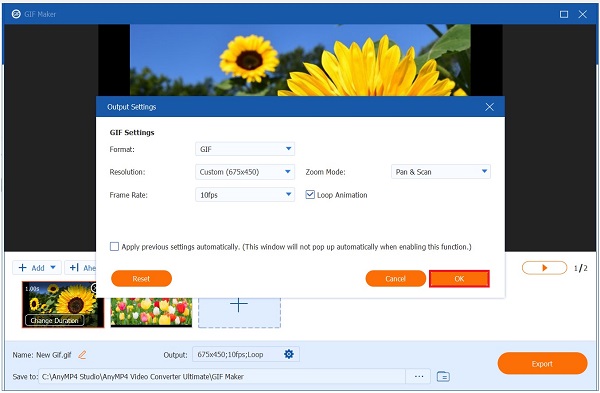 Step 5
Export the animated GIF
Finally, to save all the changes made hit the Export button. You may preview the GIF on its file folder destination.
Step 6
Generate GIF
Finally, export the animated GIF by hitting the Generate GIF. Now, you can playback the GIF on the file folder destination and share it with your social media accounts!
Part 5. FAQs about GIF Cropper
How does an animated GIF work?
GIF is an abbreviation for Graphics Interchange Format. It is generated by incorporating numerous data into a single file, which is then animated. All images in this format can be represented with 8 bits per pixel. GIF also supports visuals and has a separate 256-color palette for each animation frame.
How to crop a GIF?
You will most likely only need to select the Crop option that defines the portion of the image you want to eliminate. It is important to remember that cropping a GIF can alter the image's aspect ratio.
What is the best GIF cropper?
Each of these easy-to-use tools has a unique feature that distinguishes it from the others. You need to select the device that best meets your needs. Video Converter Ultimate is the best solution for cropping your GIF because it can export 70X faster while maintaining high quality.
Conclusion
If you want to remove any unnecessary parts in the animated GIF, cropping it will be the most effective option. Using the GIF croppers listed above, you will be able to crop animated GIFs quickly and easily without any difficulty. Video Converter Ultimate is the most effective option when it comes to the highly recommended GIF cropper software. It will assist you with all of your editing issues.