Find Out the Top 7 Best GIF Editors for Windows, Mac, iPhone, Android, and Online [2023]
Today, GIFs have become more popular since they are being utilized to express oneself on social media. It gives more meaning and emotion than just typing plain text in a conversation. If you want to customize the animated GIF you are using, we've prepared different GIF maker editors for you to utilize. We will explore the best GIF frame editors compatible with the web, desktops, and mobile phones.

Part 1. 2 Topnotch GIF Editor Software for Windows and Mac
1. Video Converter Ultimate
Video Converter Ultimate is the most recommended GIF editor software for Mac and Windows. If you want to edit your animated GIF easily, this tool offers you the easiest and quickest way to do it. You can freely apply effects, add various kinds of filters, and put captions without watermarks. The exciting part about it, you can also crop and trim any unnecessary area of the GIF you wish to remove. With its editing tools, you can loop animation and intervals in any way you want. Since it works with any operating system, it is worth checking out!
Pros:
1. Excellent basic and advanced features
2. Imports and exports file easily
3. Default color grading for applying effects
4. Stylish text styles and fonts
5. Quick file rendering
Cons:
Paid software but offers a free trial
2. Smart GIF Maker
Using Smart GIF Maker, you can excellently edit your animated GIF anytime on your Mac. With every frame of the animated GIF, you can add captions, draw shapes, modify the background color of the GIF, utilize the eraser tool and you can also use different colors to apply on your animated GIF. It offers a smooth workflow and a simple interface. Yet, it has limited features if you are using a free account. Nevertheless, it is still worth the risk. Try the Smart GIF Maker, one of the notable animated GIF editors.
Pros:
1. Easily create new GIFs
2. Edit the existing GIFs using the tool
3. Clean and straightforward interface
Cons:
1. Restricted features for free accounts
2. Slow conversion process
Part 2. 3 GIF Editor Apps for iPhone and Android
1. Gifx - iPhone's Best GIF Maker
If you have an iPhone, Gifx is considered the most customizable animated GIF app on the App store. It has more than 300 filters to apply to your GIFs. It also allows you to add text, edit the style and change the size of the GIF according to your liking. Yet, despite its efficiency, you need to purchase the Gifx Pro to maximize all the features. More so, it has infrequent updates, and users might experience lagging.
Pros:
1. Can upload music
2. Save GIF in different formats
3. Have 200+ optional masks to apply
Cons:
1. Produce low-quality GIFs
2. Export GIF with watermarks
2. GIF Maker - Video to GIFs
Using GIF Maker, you can upload animated GIFs on any social media platform to share them in your conversations with your peers. In addition to this, it enables you to add captions to your GIF while cropping, cutting, trimming, and adding filters to it instantly. The good thing about it is you can also apply different artworks, emojis, and stickers to your animated GIF. The only disadvantage of this GIF video editor, users are asked to pay a flat amount to unlock all the features of the tools.
Pros:
1. Simple but intuitive interface
2. Has many trending memes and GIFs
Cons:
1. Limited features for a free subscription
2. Lack of speed adjustments for GIFs loop animation
3. GIF Maker - GIF Speed Editor
You can utilize the GIF Maker for Android users, known as the GIF speed editor. It is an all-in-one powerful GIF application where you can create your animated GIF and apply cool effects while maintaining the quality of the GIF. Aside from that, you can add emojis with a few touches and add text labels. It enables basic editing tools to modify your GIF before the conversion.
Pros:
1. Lightweight and a user-friendly tool
2. Supports a plethora of formats
3. Loaded with different effects and filters
Cons:
1. Export GIF with the tool's logo
2. Cannot undo the action made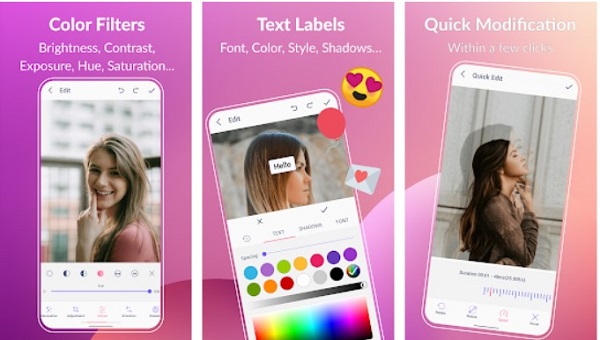 Part 3. The Best 2 Online GIF Editors
1. Giphy - The Topnotch Online GIF Editor
Giphy is a worldwide application for GIF searching and making and one of the best online GIF editors. It has a wide range of effects, emojis, stickers, and GIFs available for both Mac and Windows. The fantastic thing about the tool, you can instantly create an animated GIF using your videos and photos in just a few clicks. It is very accessible because you can share, save and upload GIFs online. The only drawback of Giphy, it will require you to log in first before uploading a GIF.
Pros:
1. Tweak frame speeds easily
2. Saving a GIF requires no logins
Cons:
1. Uploading needs a sign-in account
2. Lack of editing tools
2. Canva - Animate Designs into Fun GIFs
Using Canva, you can step up your GIF editing. Canva is one of the most-trusted free design platforms for GIF editors online. Using this tool, you can create your stories, presentations, slideshows, projects, and more. Express your creativity by editing the GIFs by applying more than 200 filters and effects. You can also apply text captions to your GIFs and modify their font size, color, and style. Yet, you need to pay for the Educational account to enjoy its fullness. Nevertheless, it is still worth the try.
Pros:
1. User-friendly interface
2. Works in collaboration with the team
3. Easy-to-use editing tools
Cons:
1. Limited features for the free account
2. Does not have local file storage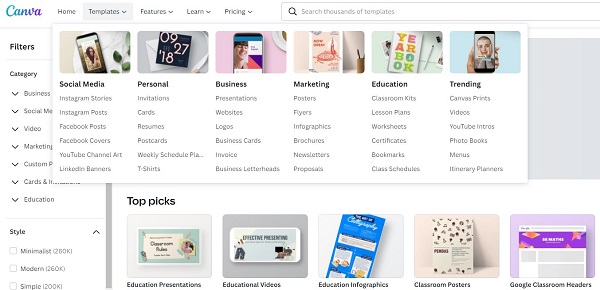 Part 4. Professionally Edit Animated GIF with the Best GIF Editor
With Video Converter Ultimate, you can edit the animated GIF with ease. Outlined below are the simple steps to make your GIF more attractive on the web using the GIF editor app.
Step 1
Quickly install the GIF editor
Before customizing the animated GIF, you must first download the necessary software. Go to the home page of Video Converter Ultimate to begin using the program. Download the tool and launch it on your computer.
Step 2
Upload the desired animated GIF
To import a GIF from your folder, navigate to the Converter tab and click on the Plus (+) icon when the application has been successfully launched. Drag and drop the animated GIF into the middle of the interface to rapidly import the file.
Step 3
Begin to edit the GIF
Then click on the Edit icon, which has a star symbol on it, to begin the process of editing your animated GIF. A new page will open as a result of selecting this option. Here, you can edit your animated GIF by cropping, rotating, and applying effects.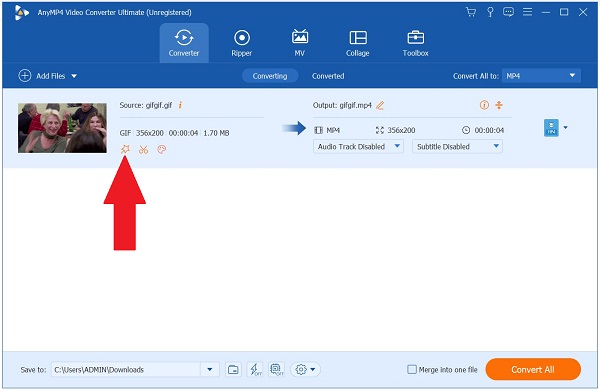 Step 4
Check the output setting
Navigate to the Rotate & Crop tab and manually crop the GIF to the appropriate length by dragging the pointer across the image. Alternatively, you can alter the aspect ratio of the GIF by selecting it from the Aspect Ratio drop-down list.
Navigate to the Rotation area on the same page as your GIF to rotate your GIF. You have the option to turn the media file to the left, right, horizontally, or vertically, depending on your preference.
Step 5
Apply filters
After that, select Effects & Filters from the drop-down menu to add effects to the GIF. Then, navigate to the Basic Effects section and adjust the GIF's contrast, saturation, brightness, and hue using the controls there. On the right-hand side of the interface, you'll find a selection of preset filters. If you don't get the desired result right away, you can change the effect by clicking the Basic Effect section.
By pressing the OKb button, you will save all of your modifications. When you click on the button, you will be returned to the tool's main interface.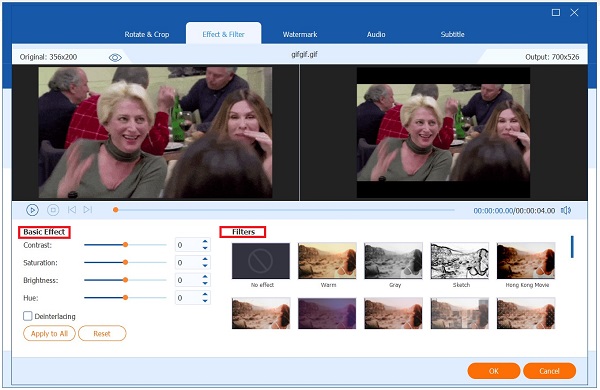 Step 6
Generate a GIF
Before actually exporting the file, it is necessary to verify that the GIF output format is correct. To do so, select the Format icon from the toolbar. Select the Video tab > GIF > Large GIF from the drop-down menu.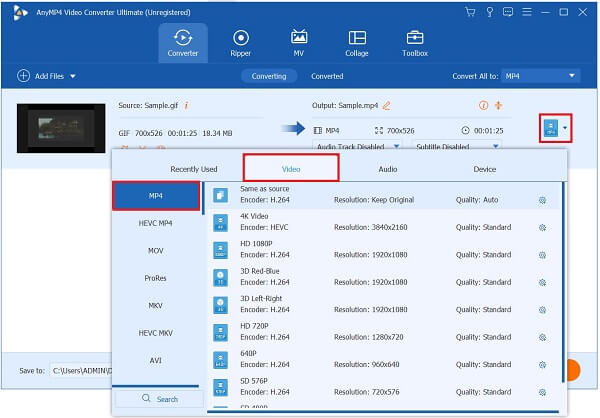 Finally, click Convert All to export the animated GIF. After exporting, you may now share it to your most-loved social media accounts with your friends!
Part 5. FAQs on GIF Editors
What tip can I have in editing GIFs?
You don't need to make your GIF colorful. You need to use fewer colors. The fewer colors your GIF has, the more fun it is. Because if your GIF has a lot of colors, you will have a problem exporting it.
Is it possible to export GIFs without watermarks?
Yes, some GIF editors have a feature to remove the watermarks using a free account. However, there are also GIF editors where you need to pay a flat amount first before exporting GIF without watermarks.
Can I use Video Converter Ultimate offline to edit a GIF?
Absolutely, yes. Even without internet access, you can modify and quickly convert your GIF in no time.
Conclusion
Animated GIFs can be edited with relatively little effort if the appropriate GIF editor is used. Video Converter Ultimate is a GIF editor and GIF maker that comes highly recommended by users. Now is the time to try it!