The Top 10+ GIF Makers for Desktop, Mobile Phones, and Online [With Bonus Tips]
GIFs are widely used today more than emojis or emoticons, especially in conversations, chats, comments, and other websites. A GIF can be created using an audio less clip or images. This post will give the list of top-rated GIF makers on the web. These GIF makers have unique offers and features that touch thousands of users worldwide. Moreso, learn how to make a GIF using the commendable tool.
Part 1. 5 Recommended GIF Makers for Windows and Mac
Video Converter Ultimate
Video Converter Ultimate is just your not ordinary converter. It is also specialized in GIF-making. It is simple to use and designed with functionality in mind. This program has a basic and straightforward UI that makes creating GIFs incredibly easy. More than that, you can also add beautiful effects and filters to your animated GIF. You don't need to worry about the quality of your GIF because after converting it, you can still enjoy the high-quality media file it produced. The great thing about this tool, it has a lot of things to offer, too, aside from converting itself and GIF-making. You can also edit your videos here and add captions to make them attractive; you can rip your DVD edit your music video using your most-loved images, clips, and music. This tool is available on both Mac and Windows.
Pros:
1. Works even without internet connection
2. Convert files over more than 500+ different formats
3. Add captions, images, and effects to your media files
4. GIF creator and GIF editor
Cons:
1. No mobile app is available
2. The free download has limited features
Photoshop
How to make a GIF in Photoshop? Easy and possible. Adobe Photoshop offers advanced editing features. Create your own animated GIF by doing a new project on the timeline. Using its editing tool panel, you can add more layers to each frame and add animations, effects, text, and filters. Beginners find it hard to utilize since it has a steep learning curve, but those pros in editing find it convenient and efficient since most of their editing needs are found in the tool.
Pros:
1. All in one editor
2. Equipped with advanced editing tool
3. Works without connection
Cons:
1. Complex user interface
2. Overwhelming editing tools
Photoscape
Photoscape is a desktop software where you can make your customized GIF for free. It has a lot of great features. It can be an editor and viewer at the same time as media files. You can add effects, crop, split, trim, and reverse your GIF instantly. You just need to import, edit and export your GIF right away.
Pros:
1. Fair program and workflow
2. High utility and easy-to-use interface
Cons:
1. Users find the tool lagging and slow
Giphy Capture
Giphy Capture is one of the best GIF maker apps for Mac. It has many excellent editing tools to create an appealing and exciting animated GIF. More so, you can add text, filters, and captions to it without losing its quality. The exciting part about Giphy capture, after creating your customized GIF, you can easily share it with your colleagues on your social media accounts. It is free software. However, you will need to sign up for your existing email and password to use this app.
Pros:
1. Freeware
2. Packed with excellent features
3. Compatibility wise
Cons:
1. It needs a sign-in account
Gimp
Last, the best GIF maker on Windows and Mac is Gimp. This tool has unique features that users love. It is known as one of the great image makers on the web. Since it has a user-friendly display, you can make your own GIF efficiently without hassle. It supports formats such as GIF, JPEG, PNG, and more. However, Gimp is a good image-maker, but it is not entirely used for GIF-making.

Pros:
1. It is a freeware tool
2. No registration needed
Cons:
1. Works best as image-maker
Part 2. Top 3 iPhone and Android GIF Maker Apps
Pixel Animator: GIF Maker [Works with both iPhone and Android]
When we talk about GIFs, animated sprites, and pixel art, Pixel Animator: GIF Maker is what we are looking for. It is specialized in pixel-based GIFs. Amazing right? With Pixel Animator, you can make a GIF on iPhone pixel to pixel, then generate it to a moving GIF. This application has an intuitive but straightforward display but has limited features since it is just a free app.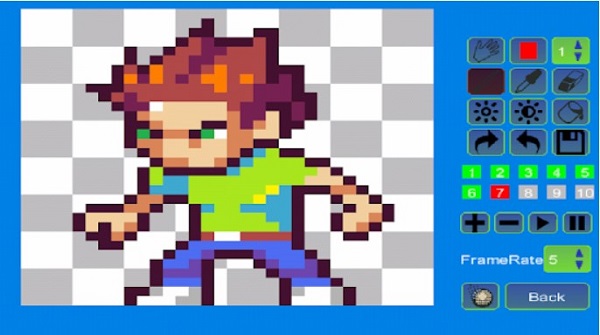 Pros:
1. Create a uniquely designed animated GIF
2. Equipped with essential editing tools
3. Suitable for both beginners and pros
Cons:
1. Need to purchase the app for more additional features
Video to GIF [iPhone]
If you are looking for a tool on how to make GIFs from iPhone, Video to GIF is a good option. The nice thing about the tool, you can instantly upload clips from famous social media accounts and turn them into an animated GIF. The drawback of this tool is its finite feature which frustrates users because it has little animation and style.
Pros:
1. Simple and user-friendly interface.
2. Fast GIF maker that directly uploads to other social media accounts.
Cons:
1. Lacks of compatibility.
2. Limited features for free account.
GIF Camera [Android]
From the word itself, GIF Camera enables you to create an animated GIF using your own photos from your gallery. Since it has a straightforward UI, all you need is your clips and images, upload them to the interface, and create the GIF right away. Yet, if you are looking for more option editing tools, you can check the other apps mentioned above. Currently, the tool has no option to upgrade the tool yet, but users still wish that the tool can be improved. Nevertheless, you can still try this free GIF maker.
Pros:
1. Simple and easy GIF maker
2. Works on both iPhone and Android
Cons:
1. Finite features
2. Slow downloading process
Part 3. 3 Top of the Range Online GIF Maker
Ezgif.com
Create your own GIF easily with Ezgif. Thi tool is available to all browsers. Add filters effects, cut, trim, and add text to it. It has a lot of cool animations that will make your GIF more appealing and funny. More so, it enables you to adjust the speed of a GIF. The only disadvantage is the slow process of the conversion of the GIF, you need a stable internet connection to see a fast and good output.
Pros:
1. Packed with marvelous features
2. GIF editor and GIF creator
Cons:
1. It has a plain interface
2. Many disturbing advertisements
GIFMake.com
This online animated GIF maker enables you to make GIFs from images clips and merge them all at once. Even if your media files have different formats, such as PNJ, JPG, and MP4, it will help you create the desired animated GIF. Additionally, you can make a GIF from video. Just add your files on the interface by dragging and dropping the preferred medial files, customizing the GIF, and, lastly, exporting the media file into an animated GIF.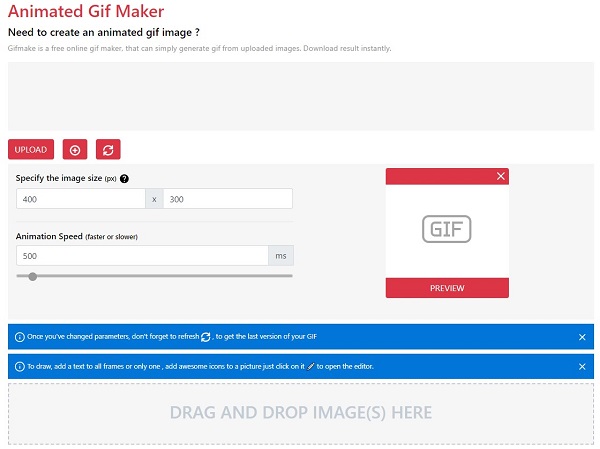 Pros:
1. Simple user interface
2. Compatible with almost all the media formats
Cons:
1. Beneficial for beginners only
Convertio
The go-to GIF maker online of all the techy people, Convertio. You can upload your media files in various ways, such as uploading a file from your folder, Google Drive, Dropbox, or copying and pasting the file URL. This tool accommodates many formats, which allow you to upload easily and quickly without converting them first. You can visit the official page and give this GIF maker online a shot!
Pros:
1. A versatile tool as it accommodates many formats
2. It offers a wide range of features, such as converting GIF to different file formats
Cons:
1. Allows only 100MB maximum file size
Part 4. Tips on How to Create Animated GIFs using the Best GIF Maker
Now you've learned the different GIF makers, here is the bonus tip on creating your own animated GIF using Video Converter Ultimate. Below are the ways how to make GIFs.
Step 1
Download the GIF maker
To get started, download the Video Converter Ultimate by hitting the download buttons above. Conversely, you can visit the page of GIF maker download and install the tool on your desktop.
Step 2
Hit the GIF maker tool
After launching, locate the Toolbox tab from the menu bar and click the GIF Maker on the list of editing tools on the interface.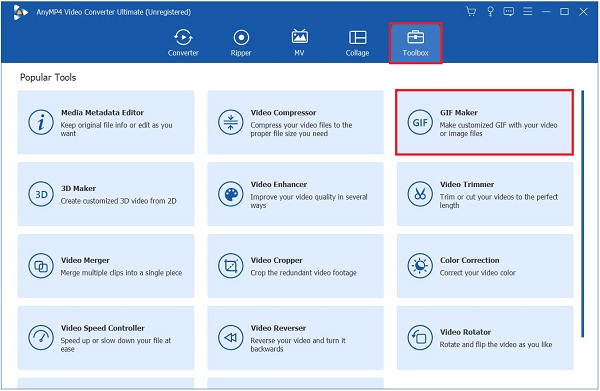 Step 3
Add video to GIF maker
Upon hitting the GIF Maker, it will bring you another page to import your media file. You can choose between Video to GIF or Photo to GIF. But in this tutorial, Video to GIF is selected, as we make GIFs from video. Now, you can import the video file you wish to turn into GIF.
Step 4
Loop the animation
After importing the video, always look if the Loop Animation is enabled. It means the GIF will repeat its animation.
Note:If the Loop Animation is disabled, the GIF will not look like one. It will turn out to be just a plain video without animation.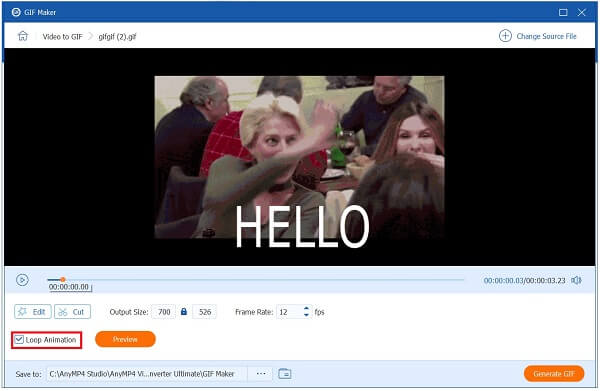 Step 5
Add filters and effects
Before converting the animated GIF, you can make it more appealing by adding effects. Hit the Edit button near the Preview panel. You may now choose the filters for the Filters section then adjust the contrast, saturation, brightness, and hue of the GIF on the Basic Effect section. Hit OK when you are done with the modifications.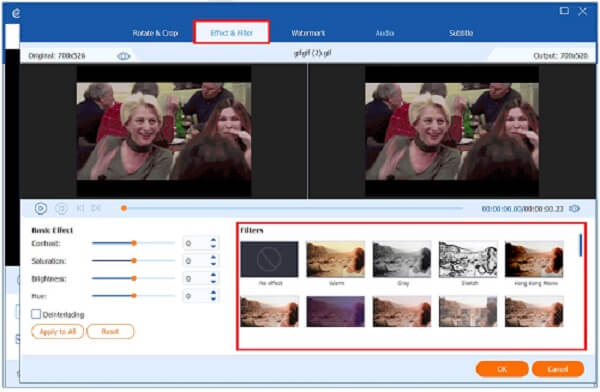 Step 6
Generate GIF
Finally, export the animated GIF by hitting the Generate GIF. Now, you can playback the GIF on the file folder destination and share it with your social media accounts!
Extended Reading:
5 Incredible Methods to Optimize Your GIF - Easy-to-Use Tools
Top 8 Animated GIF Resizers on Windows, Mac OS X, and Online
Part 5. FAQs about GIF Maker
How to make an animation in Canva?
You can make your design using Canva Animator, go to Download, and from the drop-down menu, choose the Animated GIF. Now, you can select different animations and styles according to your liking. Then, download the file as a GIF on the right-side corner of the screen.
Is it free to create an animated GIF?
Absolutely, yes. As long as you know how to find the right and versatile GIF maker, you can make your GIF for free. Some GIF makers can be found online, but I suggest using Video Converter Ultimate. Creating, editing, trimming, cutting, and adding effects to your animated GIF are all possible with this tool.
What is the most-used GIF on Giphy?
Giphy revealed that the most known animated GIF is The Office, which is the look of Stanley without emotions.
Conclusion
There you have it! Making GIF is not that hard as long as you know how to choose the right GIF maker to make your experience easy and hassle-free. From all the GIF makers above, Video Converter Ultimate is a top-rated GIF maker that helps you with how to make an animated GIF. Install and try it now!