HandBrake Rip DVD – Best Methods to Convert DVD to Digital Formats
If you need to convert DVDs into MP4, MP3 or other formats, HandBrake is an open source and well-known DVD ripper that supported by a developer community. It means you can use HandBrake DVD ripper to convert DVDs to digital formats without paying a penny.
How to rip DVDs with HandBrake, especially when you have a large collection of DVDs? Does HandBrake work with the protection DVDs? What are the best alternative solutions? Just find the right answer from the article now.
Part 1: The Easy Guide on HandBrake Rip DVDs
Brief Instruction of HandBrake DVD Ripper
HandBrake is a versatile DVD Ripper available on Windows, Mac and Linux with extensive features. Except for the common video formats, you can convert DVDs to iPhone, iPad, Android phone and more other presets. Moreover, there is a wide range of custom options related to video, audio, chapter, titles and more. HandBrake DVD Ripper is always a nice choice for ripping your DVD collections.
Pros
1. Rip a DVD to HQ videos up to 1080P, or iPhone, iPad and other presets.
2. Free DVD ripper for all platforms without zero limitations, virus, or malware.
3. Convert DVDs to digital formats in a batch process for multiple DVDs.
Cons
1. Complicated to tweak and master the best output format for beginners.
2. The hardware acceleration for DVD ripping is not available on Linux.
3. Limited video formats and presets by default, MP4, MKV and iOS devices.
How to Use HandBrake to Rip DVD
Since HandBrake works consistently on Windows, Mac and Linux, the workflow is the same to use HandBrake to rip DVD on Mac, and other platforms.
Step 1
Put the optical disc into your DVD drive. Then launch the HandBrake DVD Ripper. If you do not have it, download the program from the official website and install it on your computer.
Step 2
Click the "Open Source" menu to open the source dialog and then select your DVD drive to import the DVD files. For encrypted DVDs, you need to install "libdvdcss" beforehand.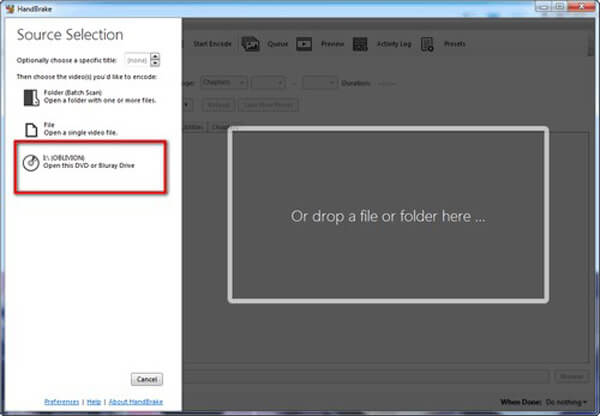 Step 3
If you want to rip the whole DVD, skip this step. Locate the "Title" area and select the desired chapter and title. The "Duration" area will tell you the length of the video.
Step 4
Click the "Presets" menu on the top ribbon to expand the preset dialog. Select your preset option or the target portable device. Just check the desired one from the drop-down list.
Tip: It is not recommended to choose 720P or 1080P for ripping DVD with HandBrake. The resolution of PAL DVD is 576P and the resolution of NTSC DVD is 480P. Using presets with higher resolution won't upgrade DVD video quality. Moreover, the "Fast" and "Very Fast" presets will speed up the process but sacrifice some output quality.
Step 5
Go to the "Summary" tab, customize other options, such as Web Optimized and more, as well as look at the information of output videos. Next, go to the "Filters", "Video", "Audio", "Subtitle" and other tabs to get more custom options.
Step 6
Move to the bottom area, click the "Browse" button and select a location to store the DVD movies. Finally, go to the top ribbon and click the "Start Encode" button to begin ripping DVDs with HandBrake. Monitor the process bar and you can get the time remaining to complete.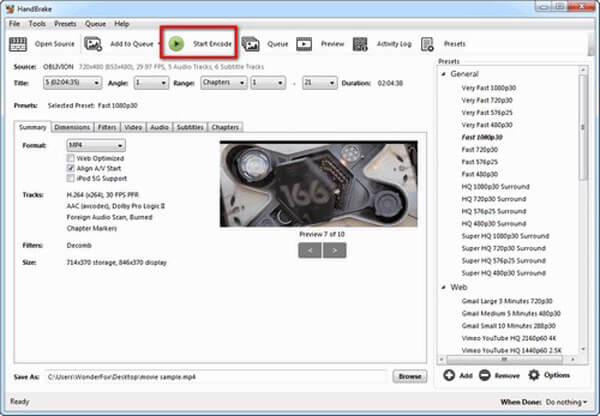 Part 2: Top 2 HandBrake Alternatives for Ripping DVDs
HandBrake DVD Ripper should always be a nice solution for ripping DVDs. But if you have a large collection of DVDs, the complicated process and settings, and limited presets should take a large amount of time.
Free DVD Ripper – Best Free HandBrake DVD Ripper Alternative
Free DVD Ripper is a free HandBrake DVD Ripper alternative, which is able to rip DVD disc/movie to MP4, AVI, MKV and more other 200 formats with a super fast speed and a high quality. It helps you backup and commercial DVD movies with ease.
1. Rip DVD and commercial DVD to MP4, AVI, MKV, etc.
2. Convert DVD to presets for iPhone, iPad, Android phone or tablet.
3. Optimize output videos automatically using the advanced algorithm.
4. Easily customize and edit profile effects via the free DVD ripper.
Steps to Rip DVD with Free DVD Ripper
Step 1
Download and install Free DVD Ripper on your computer. Open the program and insert the disc into the drive. Click "Load Disc" and select the DVD you want to convert.
Step 2
In the bottom of the program window, choose the target format for your DVD video by clicking "Profile". If you need to edit your video file, you can click the "Edit" button from the toolbar to crop, rotate, add watermark, and more.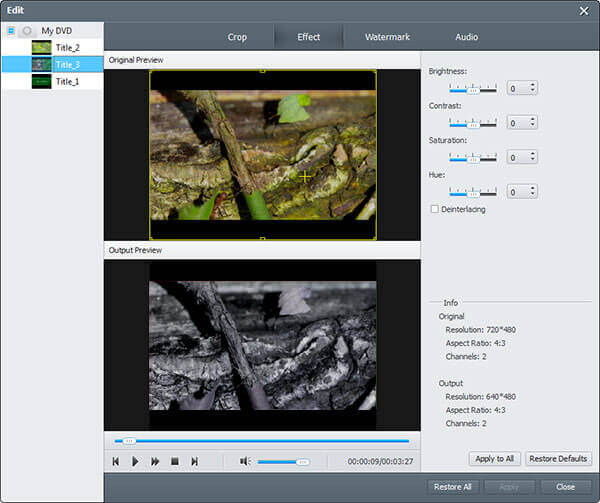 Step 3
Finally, hit the "Convert" button to start. The ripping process will be completed within a few minutes.
AnyMP4 Video Converter Ultimate – Professional HandBrake DVD Ripper Alternative
AnyMP4 Video Converter Ultimate is a professional DVD ripper provides more advanced features. As a professional alternative of HandBrake DVD ripper, it is able to convert DVD to 4K/HD/3D videos and more than 200 video formats. Moreover, it has advanced editing features to clip, crop, rotate, add watermark, adjust brightness and more.
1. Extract videos from any DVD to more than 200 video/audio formats, like MP4, AVI, FLV, etc.
2. Rip movies from optical discs to digital videos up to 4K and full HD.
3. Integrate extensive video editing tools for modifying DVD videos simply.
4. Tweak audio track, subtitle, video and audio codec, and so on.
How to Rip DVD to MP4/MP3/MKV with an Easy Process
Step 1
Download and install the HandBrake DVD Ripper alternative, launch the program and click the "Load Disc" button to import the DVD movies you intend to convert.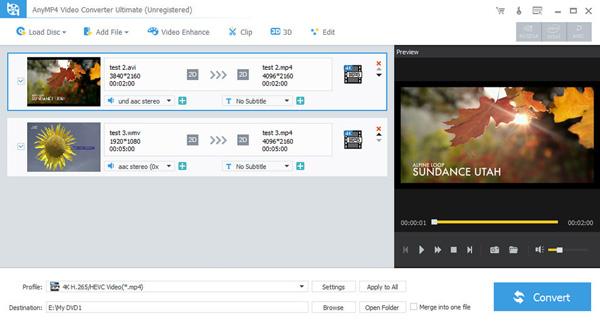 Step 2
Once you load the DVD movies into the program, you can click the "Edit" the button to rotate videos, crop clips, apply video effects, enhance the video quality and add watermark.
Step 3
After that you can click the "Profile" menu to unfold the presets, you can choose the MP4, AVI, MKV, iPhone, iPad and more than 200 formats. Moreover, you can click the "Settings" to adjust the different parameters.
Step 4
Just preview the videos within the DVD ripper. If you are satisfied with the result, you can click the "Convert" button to rip the DVD disc into a desired digital format within a short period.
Part 3: FAQs of Ripping A DVD with HandBrake
1. Can HandBrake convert DVD to MP4?
Yes. HandBrake is a popular DVD ripper, which is able to rip DVD to popular video formats. So you can use HandBrake to convert Your DVD disc to MP4 video format.
2. Can HandBrake convert DVD to MKV?
Yes, HandBrake is also able to convert your DVD to MKV format. You just need to download and install it on your computer, and you can free rip your DVD to digital video format.
3. What is the best setting for HandBrake ripping a DVD?
The recommended settings for an H.264 (x264) video encoding (which is the default on Handbrake) is RF (Rate Factor) 18 to 22 for Standard Definition. For higher definitions, you can play with the Quality bar, 19 to 23 for High Definition, RF 20 to 24 for Full High Definition and 22 to 28 for Ultra High Definition.
4. Can HandBrake rip protected DVDs?
No. In fact, Handbrake doesn't decrypt any protected DVD. Handbrake can rip a DVD that is not protected, but the reality is that most of DVDs you purchase in the store are copy-protected.
Conclusion
When you want to rip DVDs with HandBrake on Windows, MacOS and Linux, here is the ultimate guide you should know. As an open-source DVD ripper, HandBrake is a good approach to convert your DVD to digital videos. But there are some limitations for the HandBrake DVD ripper, such as the protection, limited video formats and presets and more others. As for the case, you can take Free DVD Ripper or AnyMP4 Video Converter Ultimate into consideration. If you have any query about how to use HandBrake to rip DVD, you can share more detailed information in the comments.