Windows Media Player Classic: Your Home Cinema on Desktop
This is good news for you if you want to experience a comfortable movie marathon at home. You can watch your favorite movies, videos, and music like a cinema at home from your computer using the Media Player Classic. Hence, let us dig for more information about this said media player as you read the entire article outlined below.

Part 1. What is Media Player Classic
The Media Player Classic, known to be MPC, is a free and open-source player dedicated to Windows computers and was continued to be MPC-HC which stands for the name Media Player Classic Home Cinema. This continuation has been incorporated with bug fixations and other improvements. Furthermore, this MPC-HC is well-known for having a beginner-friendly interface that supports a broad range of video and audio types of formats, such as MP4, MKV, AVI, MPEG, MP3, AAC, and many more.
MPC-HC is also lightweight, which only requires a small system usage. Despite its older or less design, it still provides smooth and powerful playback due to its robust hardware that is infused with hardware acceleration in video decoding. This accelerated decoding allows your system to offload the process of graphics and performance process for videos.
Part 2. Media Player Classic Review
This part will show you a review of this media player about its main elements or features.
Video Rotation
For those who ask and want to know how to rotate video in Media Player Classic, you may proceed to your learning, as this player comes with a video rotation feature. As a matter of fact, this player offers you to rotate your clips in 90-degree increments clockwise and counterclockwise, depending on your orientation.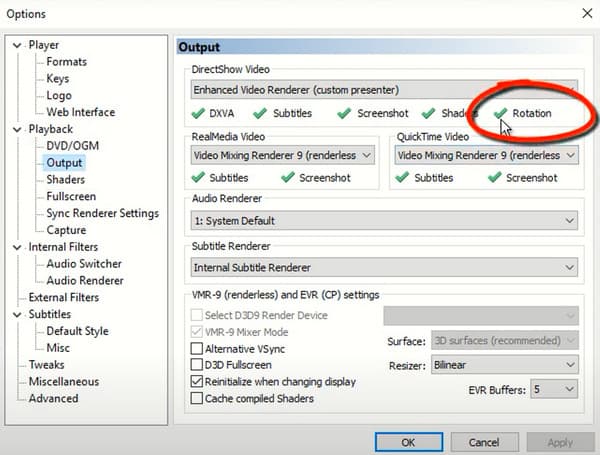 Subtitle Support
Just like most media players, MPC-HC also supports subtitles to show along with the playback. It works on various formats, such as ASSD, TXT, SSA, SRT, SUB, and ASS. Hence if you wonder how to sync subtitles in Media Player Classic, then all you have to do is navigate to its subtitle option, wherein you will be given choices to download the captions or upload them automatically from your device.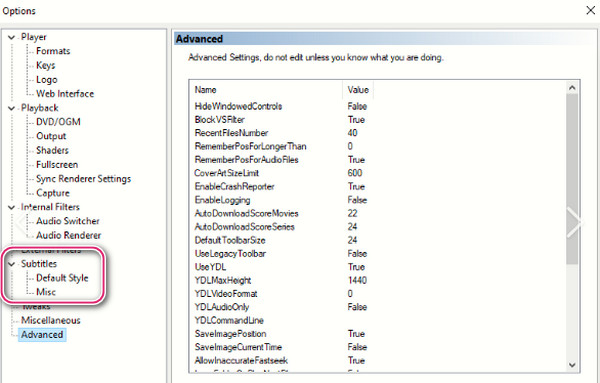 Price
You can acquire this multimedia player for free. This means you will not need to spend any dime just to use it. However, you must know that its developers planned to stop cultivating it due to their lack of familiarity with some coding languages. But still, you can obtain this Media Player Classic on Windows 10/11 and older OS.
TV Tuners
You can install a TV Tuner and integrate it into your MPC-HC. This will enable you to record and playback television programs.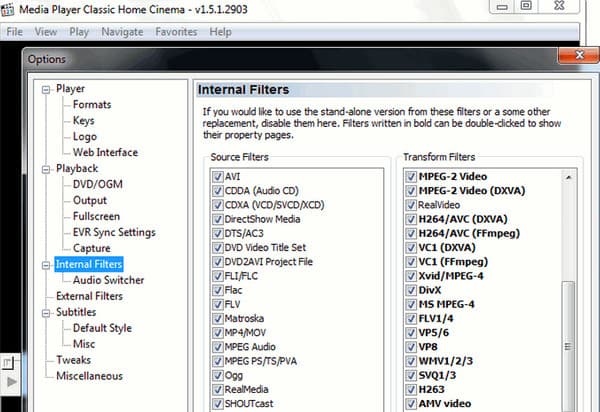 Direct Show
Since this MPC-HC is DirectShow architecture-based, it utilizes decoding filters of DirectShow automatically. For this reason, this player can post-process and decode high-quality H.264, flash videos, and MPEG-4 ASP formats quickly and excellently. Moreover, it can also use various filters and codecs such as RealPlayer, Shoutcast, and QuickTime.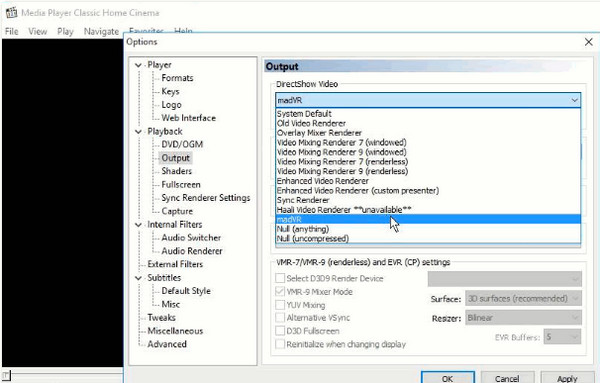 Part 3. Media Player Classic Download
This media player is lightweight software that you can have on your desktop. As mentioned above, this best Media Player Classic can be obtained without purchasing it. However, if you want to download it, you can use a reliable third-party website that offers its download process. Yes, you read it right. You will still need to download it, for it is not a built-in program on Windows. You can use it on your Windows 10 and earlier OS, such as Windows 7,8, XP, Vista, and SP3. However, you cannot have this Media Player Classic on Windows 11.
Part 4. How to Make the Media Player Classic Default on Windows 10
MPC-HC is not the default media player on Windows desktops. Hence, if you have installed it and want to set it as your default player, here are the following steps. Please note that the given instructions are applicable to Windows 10 OS.
How to Make Media Player Classic Default in Windows 10
Step 1
Make sure that your Windows 10 computer has MPC-HC software. Otherwise, you will need to install it first.
Step 2
Once installed, make it your default player by reaching any video file and right-clicking on it. Then, choose the Open With option tab and proceed to click the Choose Another App selection.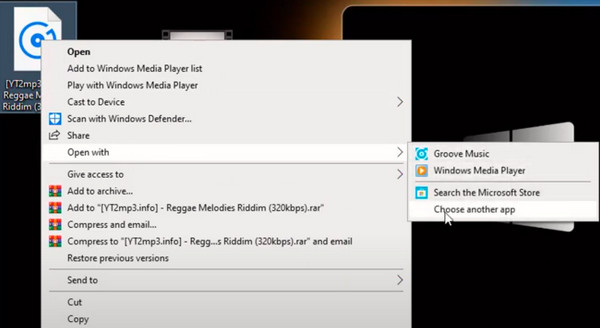 Step 3
Next is to find the installed MPC-HC as the player to open the file. Then, tick the box dialogue that says to always use the app to open your files. After that, click the OK button to finalize.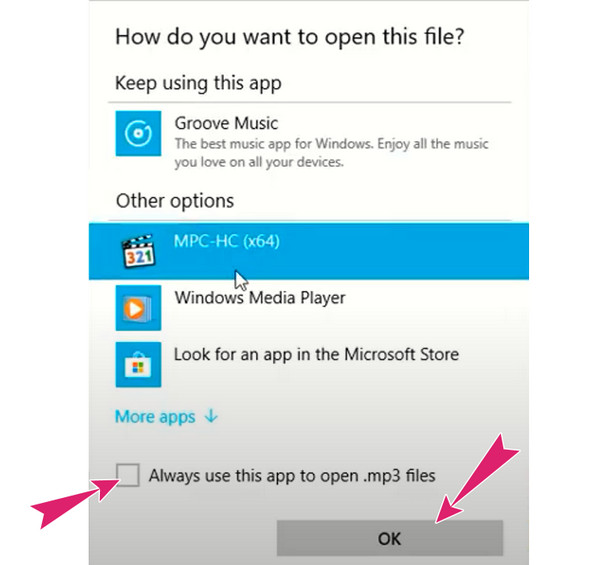 Part 5. Best Media Player Classic Alternative
If you have many media files that your media player cannot play, then you need to think of something that will help you solve the problem. To help you with it, you can use the Blu-ray Player as an alternative to Media Player Classic. Similar to your media player, this Blu-ray Player comes with amazing features that will turn your interest in it. One of its aces is its ability to play almost all types of digital videos that you hardly play with regular players. In addition, it can also play all types of Blu-rays and DVDs whether you use a desktop or Mac.
Aside from being a one-shop media player, it also provides you with cinematic playback for the display and sound of any movie or video you play. Making you experience a more realistic yet convenient movie marathon at home.
Key Features:
● Play all videos and Blu-ray movies limitlessly.
● 4K support in a seamless playback experience.
● Powerful yet easy-to-operate media player.
● Rich in configuration audio and video effects.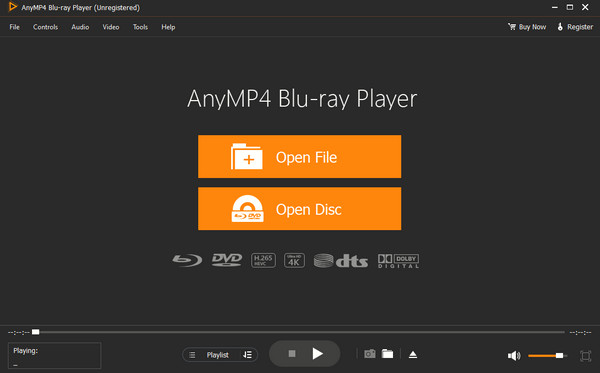 Part 6. FAQs about Media Player
Why does the Media Player Classic DVD copy protection fail?
This error occurs because the media player lacks the decryption capabilities to route the protected DVDs.
Why is my Media Player Classic cannot render files?
The "cannot render files" error shows when you use this Media Player Classic will only mean that the player cannot decode or play the file you are opening. That means the player doesn't support the kind of format your file has.
Is Media Player Classic safe to download?
It is supposed to be safe to download. However, many websites offer downloads of this media player, and not all of them are safe. The best thing to do is to have an app scanner before installing it.
Conclusion
You see, the Media Player Classic will bring you a home cinema. It has features and attributes that will give you a remarkable playback experience using your computer. Even TV programs can be played as long as you have another TV Tuner tool. However, we cannot deny its limited capabilities when it comes to format and OS support. Hence, if you want another media player for better flexibility, Blu-ray Player is the one to check out.