Play MKV Video Files in QuickTime Player on Mac, Here are the Efficient Ways
When you open the MKV video in QuickTime Player, there might be an error message that an additional audio decoder to play the soundtrack of the MKV file, how to fix the problem, and play MKV in QuickTime? If you have some MKV movies with different subtitles, you can choose the following ways to enjoy the MKV videos on your MacBook.

Part 1: The Ultimate Way to Convert MKV to QuickTime Player
MKV is more than a video format, but also a video container, which stores multiple video and audio codec. Just tweak the video codec that compatible with QuickTime Player, you can play MKV in QuickTime Player on Mac. Video Converter Ultimate is a versatile way to convert MKV to QuickTime MOV, or tweak the video codec of MKV. Moreover, you can also compress the video, crop the desired part, enhance the video quality, or even add a watermark to the MKV files.
1. Convert MKV to QuickTime MOV, Final Cut Pro, and more other files.
2. Batch process to convert multiple MKV videos at the same time.
3. Customize the frame rate, video resolution, sample rate, and more.
4. Choose the audio track, subtitle, desired video clip, and others.
How to Convert MKV Videos for QuickTime Player
Step 1
Launch the Video Converter Ultimate after the installation on your computer. Click the Add File menu on the upper left side to add the MKV files that you want to play in QuickTime. Alternatively, drag and drop the video files into the main interface directly.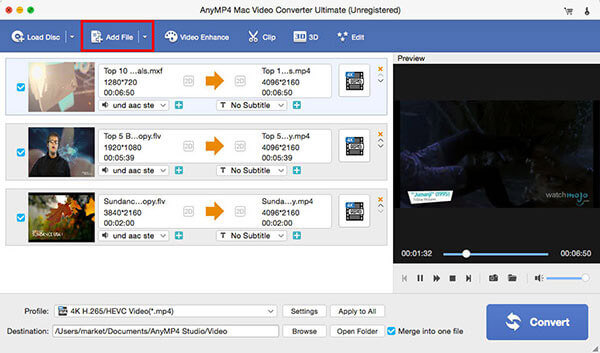 Step 2
Once you have imported the MKV file, you can preview the video with the built-in media player and choose the audio and subtitle tracks. Go to the Profile menu to choose the desired QuickTime format, such as QuickTime Player or Final Cut Pro.
Step 3
When you want to convert a large MKV to QuickTime format, you can tweak the video codec, bitrate, sample rate, and more other parameters. It also enables you to enhance the videos in 4 different ways, such as video de-shake, video enhance, etc.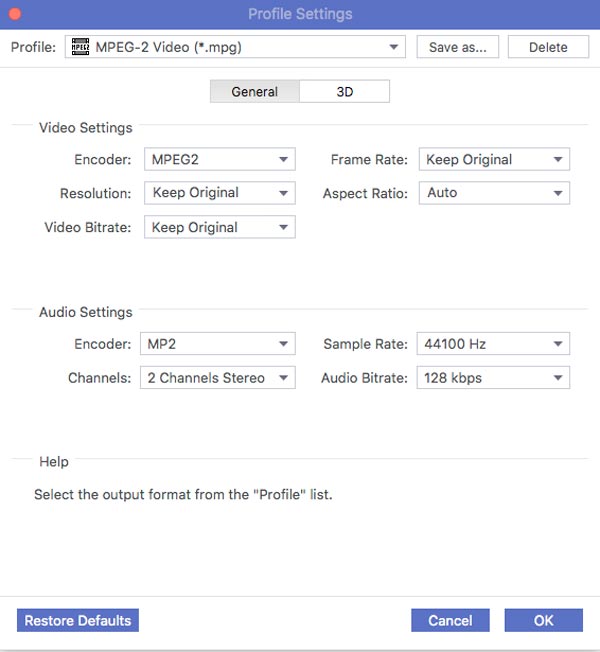 Step 4
Choose the destination folder from the drop-down list by clicking the Browse button. You can click the Convert button to convert MKV videos to QuickTime compatible format. After that, you can play the converted videos in QuickTime or use them for Final Cut Pro.
You may be interested in: How to import DVD to Final Cut Pro
Part 2: How to Convert MKV for QuickTime Player Online
If you just need to convert MKV to QuickTime online, Free Online Video Converter is a free way to convert MKV files without limitation. It supports most of the video and audio formats. Moreover, you can personalize the videos with different parameters, such as bitrate, video codec, audio codec, and more others.
1. Convert MKV files online without installing any extra software.
2. Keep the original video and audio quality as much as possible.
3. Process several MKV videos fast with multi-thread technology.
4. Work well in all major browsers, like Chrome, Firefox, Safari, etc.
How to Convert MKV for QuickTime Online for Free
Step 1
When you need to convert MKV for QuickTime Player, open any web browser and go to the online video converter to click the Launch Free Converter button to download the installer.
Step 2
Once you have installed the online video converter, you can click the Launch Free Converter button again and click the Add File menu to import the MKV files into the program.
Step 3
Locate the bottom area and select MOV as the output format. Click on the Convert button to convert MKV to QuickTime. It takes a while to complete the conversion process.
Part 3: FAQs about Playing MKV in QuickTime Player
1. Can I Play MKV files with QuickTime Directly?
QuickTime Player does not support MKV file format natively. Therefore, you will get nothing but an error message when opening MKV in QuickTime Player directly. The alternative solution is to convert your MKV files into QuickTime. Plus, you can install extra plugins for QuickTime to play MKV. (Play MKV with a MKV player here)
2. Does QuickTime Player Work on PC?
Apple had released a version of QuickTime Player for PC. But the technology giant has stopped it in 2017. In another word, you can still download and install QuickTime Player on PC, but it is only the old version. There is no update or new version. That may bring risks to your device.
3. What is QuickTime Perian?
Perian is a free and open-source component for QuickTime. It will help QuickTime play MKV videos without converting. To install Perian, your QuickTime player may resume having the ability to open and play .mkv files. And you can download the plugin from its official website for free.
Conclusion
Here is the ultimate guide about how to play MKV files in your QuickTime Player. Though the pre-installed media player is convenient to use, it cannot open or play MKV files at all. Just free download the QuickTime MKV converter to enjoy the high-quality MKV on your MacBook.