Honest Review of CapCut Video Editor on PC with Best Alternative
Video editing is something that everyone is doing nowadays. As many turned to video creation, editing and enhancing have been one of the prerequisites for the blog. Indeed, video editing on the phone is more accessible and comfortable. This is why many aspiring bloggers choose to do the magic on their handy devices. However, most of them miss the inevitable expertise of the tools used on a computer that professionals utilize. On the other hand, CapCut has been one of the sought-after apps for this job, for it comes with good tools that a blogger needs. Fortunately, CapCut for PC has been introduced recently, and interest stirred up, especially from those who liked it but loved their PC more. And today, we will bring up our personal thoughts through this honest review article about this software. By reading the entire information below, see if this tool deserves a spot on your PC.
Part 1. What is CapCut for PC
CapCut is a sought-after video editing app for many video creators. Those who know what CapCut is will appreciate the desktop version since it is a famous app originally for mobile. It is packed with numerous features that you can surely lavish for your videos, which is why the call for the computer version has grown among users. Fortunately, in August 2022, CapCut finally heard their call and released its official computer version for both Mac and Windows. Furthermore, this computer program also comes with great features. It is free to use on modern computers run with an Android emulator.
In addition, this software version of CapCut and its wide array of editing tools can transform a regular video into an extraordinary one without a hassle. This CapCut for Windows assures you that even if it is easy to use, the quality will also let you be excited, even if you are a novice in video editing.
Key features of CapCut Software Version
It comes with a video trimmer and speed changer.
Advanced video editing tools such as chroma-keying, keyframing, and optical flow.
Automated features like background remover and text-to-speech.
Wide arrays of effects, with filters, stickers, and texts.
Part 2. How to Use CapCut on a Desktop
Step 1
You must rely on the most trusted website that offers a successful downloading process. Once you are done with downloading, install it successfully, then run it.
Step 2
Next to this CapCut tutorial is to upload the video you need to edit by clicking the Plus icon that says Import. Then, choose the video from your media folder, and click the Add button to bring the media file in.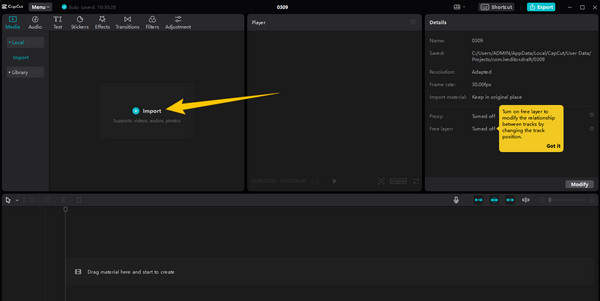 Step 3
When the video is loaded, you can now click your chosen preset choice, whatever you want to use to edit your video. If you want to add an effect, then click its icon and tick the checkmark to release the options.
Step 4
Once you are done editing your video, click the Export button at the top and check the edited video in the library of CapCut on your PC.
Part 3. CapCut Best Alternative to Use
Suppose your computer cannot handle the software for technical reasons and requirements. In that case, you will need a perfect alternative: Video Converter Ultimate. It is a multifunctional video-converting software with all the editing tools you need for your video files. Therefore, while you want to transform your bulk videos to any of the 500-plus formats that it supports, you can also easily access its editor. This editor has tools for rotating, cropping and adding effects, filters, watermarks, audio, and subtitles. Within this tool are the numerous choices of filters and basic presets for effects that you can apply to bulk files you need to customize simultaneously. Not just that, because as part of its powerful features is its Toolbox which offers individual editing tools such as a cropper, compressor, merger, reverser, trimmer, rotator, volume booster, and many more.
You will surely forget the CapCut video editor when you use this Video Converter Ultimate. Moreover, it works with advanced technologies such as but not limited to hardware acceleration and Artificial Intelligence, which are the primary tools in making the editing procedures smooth and fast. Imagine editing and enhancing your videos have become one-click operations, and you will immediately obtain lossless video quality in no time! Aside from the applaudable tools, Video Converter Ultimate also offers a watermark remover, 3D maker, speed controller, media metadata editor, file date changer, GIF maker, and audio sync tools.
Key Features
A powerful editor for bulk editors.
Support more than 500 different formats.
Infused with advanced technologies like AI and Hardware accelerations.
Multiple video editing tools are available to use.
How to Use CapCut's Alternative
Step 1
Obtain the video editing software on your PC by using the Download buttons presented above and installing it freely and smoothly.
Step 2
Run the software and prepare to import all the videos you need to edit. To do so, click the Add icon at the center or the Add File at the top left part of the interface.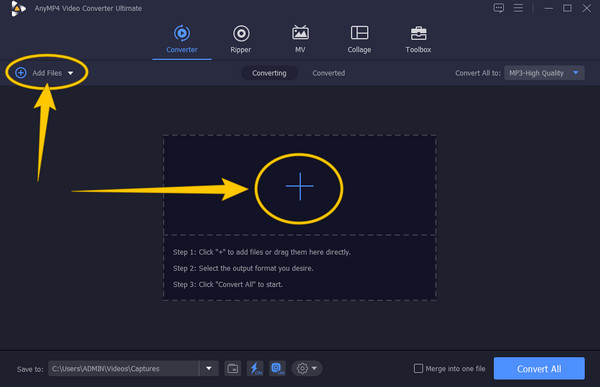 Step 3
After that, to access the editing function in the converter, click the Star icon you see under the file. In the next window, select the editing menu you need for your file and choose from the menus at the top of the preview. If you need to customize the video's contrast, saturation, brightness, and hue, go to the Effect & Filter menu. Then, adjust the presets according to your preferences and hit the OK button. Note that you can click the Apply to All button. You also can use this software to trim videos.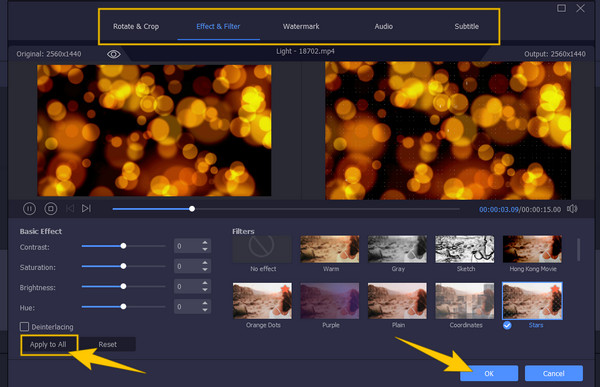 Step 4
Going back to the main interface of this CapCut PC alternative, you may want to edit the output format first by hitting the arrow button at the tail part of the video file. Then, choose your preferred format on the window. Otherwise, hit the Convert All button to apply the changes and export the edited videos.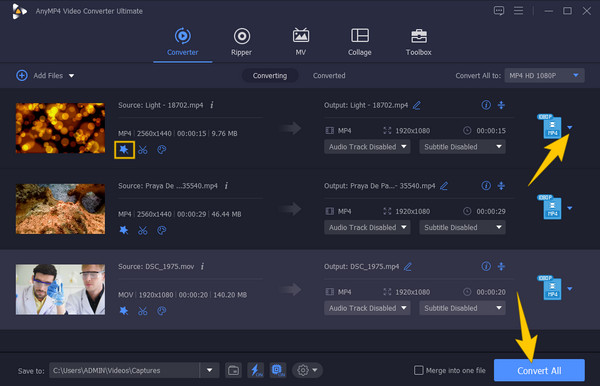 Part 4. FAQs about CapCut PC Version
Does CapCut have a preview section on the PC version?
Yes. However, the preview section only comes with the output video and no preview for the original one. Therefore, you won't be able to compare the new one with the original.
What is CapCut's output format?
CapCut will enable you to produce MP4 and MOV formats for its free version on a desktop.
Can I import bulk files in CapCut?
Yes, you can upload multiple files to edit on CapCut by clicking the Import button again.
Conclusion
We cannot deny the amazingness of CapCut for PC. However, there is something much better than CapCut when it comes to the offered editing tools. Therefore, if you want more powerful video editing software with extra special features, use Video Converter Ultimate.