How to play the DAV file produced by DVR365 or CCTV camera portal? If you need to save or share the recorded videos, you need to convert DAV to MP4 beforehand. But DAV files can be played using the CCTV system that created them, as well as some specialized media players. Usually, the recorded DAV files might be encrypted and compressed. Is it possible to convert DAV to MP4? Just learn more about the best methods from the article.

Part 1.

What Exactly is a DAV File

A DAV file could be classified as a specialized, compressed, and encrypted format for videos. Usually, the DAV files are created by a DVR365 Dahua Technology digital video recorder a.k.a. DVR. When you extract records from a CCTV surveillance system, which is most likely to produce content in this format. Since its encrypted nature, most common video players on the market could not directly open this format. You might need to convert this file to other popular formats, i.e. convert DAV to MP4 for further investigation.
Part 2.

How to Convert DAV to MP4 with Command Line

Since the DAV files are encrypted and compressed with a special algorithm, there are few DAV to MP4 converters to extract the video format. Of course, there are some exceptions, such as FFmpeg. It is one of the most powerful methods to extract the DAV files from a CCTV surveillance system.

Step 1.Download and install FFmpeg from the official website, which is available for Windows, Mac OSX, and Linux platforms.

Step 2.Install FFmpeg in your respected system. Open up a terminal window, and navigate to the path of your DAV file. Enter the following command: ffmpeg -y -i input-file.dav -c:v libx264 -crf 24 output-file.mp4

Step 3.Replace input-file.dav with the name of your DAV file. Replace output-file.mp4 with your desired name for your MP4 file to convert DAV to MP4.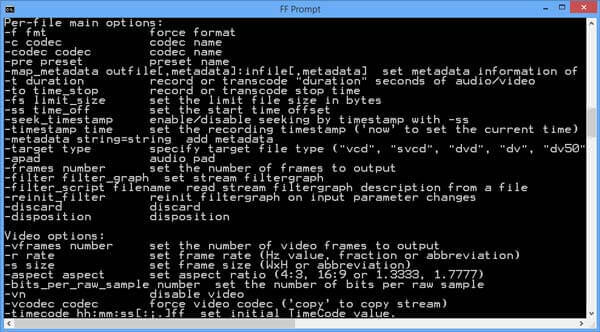 Part 3.

The Professional Method to Convert DAV to MP4

Is there an easy method to convert DAV to MP4? If you need to remove the protection of the DAV files and extract the desired video files, Video Converter Ultimate is the all-in-one DAV to MP4 converter that support more than 500 file formats, including DAV files. Moreover, you can also tweak the frame rate, bitrate, sample rate, and more other parameters according to your requirement.
Convert DAV to MP4, MOV, AVI, MKV, and more other video formats.
Tweak the frame rate, video/audio codec, bitrate, sample rate, and others.
Enable you to trim the videos, rotate the files, merge video clips, etc.
Provide 4 different modes to enhance the DAV files, including remove noise.
Step 1.Download and install Video Converter Ultimate, you can launch the program on your computer. Simply drag and drop your DAV files into the program. Alternatively, you can click on Add Files button on the upper left side to import the videos.
Step 2.Once you have imported the DAV files, you can preview the recorded video within the program. Select the desired file and click on the format icon to choose the MP4, HEVC MP4, or 4K MP4 as the output format.
Step 3.To convert DAV to MP4 for Facebook, Twitter, and more others, you can click the Gear icon to tweak the video and audio parameters, such as video codec, frame rate, bitrate, and more other parameters.
Step 4.If you wish to select a different path to save your video, click on the Save to option to select a different folder. After that, you can click on the Convert All option to convert DAV to MP4 files on your computer.
Part 4.

How to Convert DAV to MP4 Online and Free

If you need to convert DAV online for free, Free Online Video Converter is another popular method to turn the DAV into another video format. It supports multiple video formats, including MP4 and MOV. Moreover, you can also tweak the videos with various parameters.

Step 1.Go to the online video converter and choose the Launch Free Converter button. Then you can follow the instruction to download the DAV video Launcher plugin to proceed.

Step 2.Click on the Add a File button on the upper side of the screen. Drag and drop your DAV file to the page, choose the MP4 option as the output video format. Click the Convert button to convert DAV to MP4.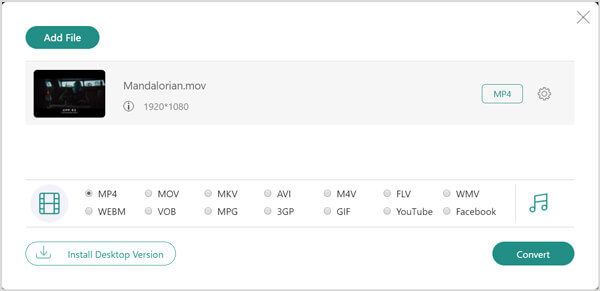 Part 5.

FAQs About Converting DAV to MP4
How can I open up a DAV file directly?

Launch VLC Media Player on your computer and use the Ctrl + P combination on your keyboard after opening the program. Find the Input/Codecs option in the Advanced Preferences. Select Demuxers. On the right side of the screen, change Automatic to H264 video demuxer. Click on the Save button to confirm. Now you could play DAV files directly with VLC.

I have difficulties when I install/use FFmpeg, what shall I do?

Command-line tools are not suitable for everyone, even experienced experts could sometimes get into trouble when unexpected issues happen. Try to use professional software with a graphic interface instead (like Video Converter Ultimate) to convert your DAV file to MP4.

I tried some other software claiming they could convert DAV to MP4 but failed, why?

Since the encrypted nature of DAV files, many video converters that promise to be able to convert a DAV file to MP4 fail to deliver. Carefully choose a proven working product instead. Moreover, you can also download the trial version of the program to find whether it works.
Wrapping up
The article introduced the most popular and proven working options to convert a DAV file into an MP4 video, including using a command-line tool, professional software, and an online converter. If you have any query about the topic, you can leave a comment in the article.