"I am trying to extract subtitles from MP4 movies, but I cannot figure out how it works?" The subtitle is the caption displayed at the bottom of a movie or TV show. It is used to transcribe the dialogue or narrative into visual element. Sometimes, it translates the dialog into different languages. This guide explains how to extract subtitles from MP4 video or delete the original captions from a movie in detail.

Part 1.

Can You Extract Subtitle from MP4

There are two kinds of subtitles, hard subtitle and soft subtitle. The former is one part of your video. It has been blended into the images, so that you cannot extract, edit or delete the hard subtitles from MP4. The soft subtitle, on the other hand, is an independent track in a video file. In another word, it is possible to extract the hard subtitles from a MP4 video. Before editing, you'd better check the type of subtitles in your video file.
Part 2.

Ultimate Way to Delete Subtitle from MP4

You cannot extract, edit, delete or use new subtitles in MP4 movies without a proper tool. However, some people worry about quality loss when editing subtitles. Luckily, Blu-ray Master Video Converter Ultimate can meet your need. It includes everything you need about subtitle editing. More importantly, all functionalities are pretty easy to use, even for beginners.
Main Features of the Best Subtitle Editor for MP4
Delete subtitles in MP4 video in a single click.
Include a subtitle editor that lets you add subtitles to MP4.
Delete original subtitle and add new subtitles.
Support almost all media file formats including subtitles.
How to Delete Subtitles from MP4
Step 1.Open MP4
Launch the best subtitle editor after you install it on your PC. There is another version for Mac users. Go to the Add Files menu at upper left side, and select Add Files or Add Folder option to open the MP4 video files that you want to edit.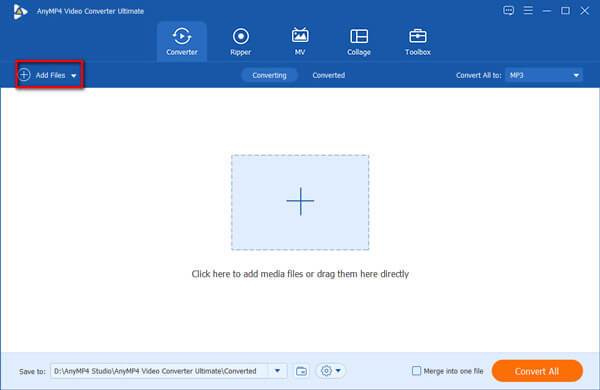 Step 2.Delete subtitles
After video loading, click the Edit menu under a title with a magic-bar icon. It will open the video editor window. Go to the Subtitle tab, pull down the Subtitle drop-down and select Subtitle Disabled. Now, play the MP4 file in the built-in media player and the subtitle should be deleted from the video. If you have loaded several MP4 files, click Apply to All button to delete subtitle in batch. Click OK to confirm it.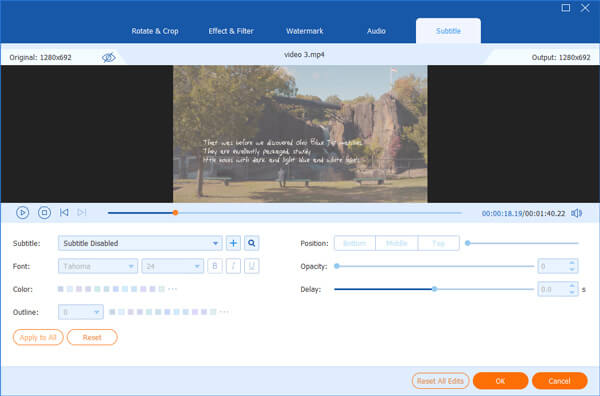 Step 3.Export MP4 videos
At last, click the Folder button at the bottom and select an output folder. Once you click on the Convert All button, the MP4 files without subtitle will be saved to your computer.
Further Reading
Part 3.

How to Extract Subtitle from MP4 Online

The easy way to extract subtitles from a MP4 video is a web-based subtitle editor app. SubtitleVideo, for example, is an online tool that has the capacity to extract subtitles from a video file.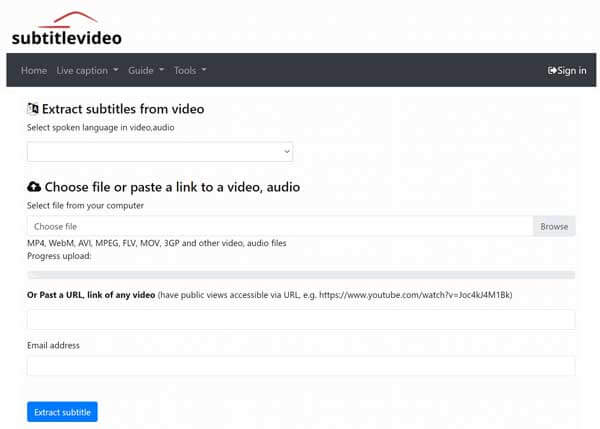 Step 1.Visit https://www.subtitlevideo.com/ in a browser when you intend to extract subtitles from a MP4 video.
Step 2.Click the Browse button and upload a MP4 file from your hard drive. You can also upload a MP4 from URL by entering the link into the box.
Step 3.Pull down the language option and select the subtitle language. Write down your email address into the box under Email address. Finally, click the Extract subtitle button to begin extracting subtitles from MP4.
Step 4.After processing, the subtitle file will be sent to your email. Then you can download it at any time.
Part 4.

FAQs About Extracting Subtitle from MP4
Where to find subtitles?

There are several websites providing subtitles for movies and TV shows in a variety of languages, such as Subscene, Open Subtitles, English Subtitles, YIFY Subtitle, TV Subs, etc.

What is the best format of subtitle file?

The subtitle file formats include SRT, SMI, SSA, and WebVTT, but the commonly used format is SRT. When you extract subtitles from MP4, we suggest you to use SRT as the output format.

Can I extract subtitles from MKV videos?

The answer is determined by the type of the subtitles in MKV file. Although MKV supports soft subtitles, the hard subtitles in the video cannot be extracted or edited. You can check the MKV file in a subtitle editor tool.
Wrapping up
According to our research, only the soft subtitles can be edited independently. Therefore, we told you how to extract or delete subtitles from MP4. SubtitleVideo lets you create a subtitle file from a video file online for free. Then it will send the file to your email for using later. To delete subtitles and use external subtitles, Blu-ray Master Video Converter Ultimate is the easiest method. If you have other questions, please contact us by leaving a message below this post.