How to Make the Video Quality Better Online, on Computer, and on iPhone
Wouldn't it be frustrating to have your long-waited video and watch it with low and blurry quality? You thought it would be great, but it turned out the opposite of what you expected. So what now? Are you going to delete it just like that? Are you going to disregard your effort in taking the shot? You know, recording a video is easy, but to have good quality after recording is a different story. Fortunately, good solutions are waiting for you, which is what this article is about. Today, as you read this post, you will learn how to make video quality better with the best solution to use online, offline, and even on iPhone. This way, you will have various choices that will suit your device preference. As a result of reading this article, you will indeed be enlightened by the tutorials and find yourself like a Pro in video quality enhancement.

Part 1. Best Way to Make the Video Quality Better on Computer
Indeed, suppose you are looking for the best answer on how to increase video quality. In that case, there is no other solution that we will give you than the Video Converter Ultimate. This video converter has the most extraordinary way of transforming videos to a much better quality. Why? Because this software comes with advanced AI technology that does the work instantly, remarkably, and powerfully. Aside from that, this AI-powered video enhancer also enables you to achieve your target resolution, format, and perfect cut for your video. It is while it upscales the display, reduces video shaking, removes the noise, and optimizes the brightness and contrast of your video files.
What's more surprising is that this Video Converter Ultimate lets you use its video enhancer in two ways. You can work directly on its video enhancer tool, where you can work with a single video file, and then you can also work via its conversion process, where you can fix the quality of videos in batches. How? That's what you will learn from the tutorial below.
Key Features
1. AI-powered video enhancer and other acceleration technologies.
2. It holds powerful tools that work on perfecting your video files.
3. High-quality outputs to enjoy.
4. More than 300 various formats to use for the input and output.
Guidelines on Batch Improving Video Quality on Video Converter Ultimate
Step 1
Get your computer the software by downloading and installing it for free. You may rely on the download buttons available above to do this quickly. Click the one that is applicable on your device and follow the instructions to download.
Step 2
After that, launch the software and batch upload the files to enhance video quality. How? Drag the files from your folder, then drop them all at the interface's center. After doing that, click the Paint icon under the video file to access the video enhancer.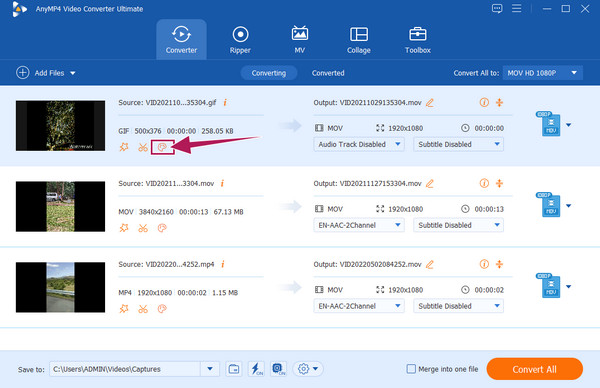 Step 3
Upon accessing the enhancer, you will get to its editing window. From there, tick all the boxes that represent the video-enhancing tools. Also, to work on this video quality improvement in batches, you must click the Apply to All tab under the Preview tab. Then, click the Save button.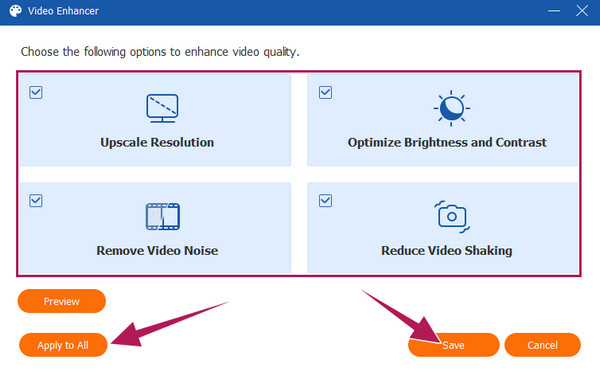 Step 4
Check each file to see if they have the same format according to their original input. If not, you can click the Arrow-Down button at the tail part of each file and select the output format you want for your video. After that, hit the Convert All button, wait for the quick process to finish, then check your newly added files.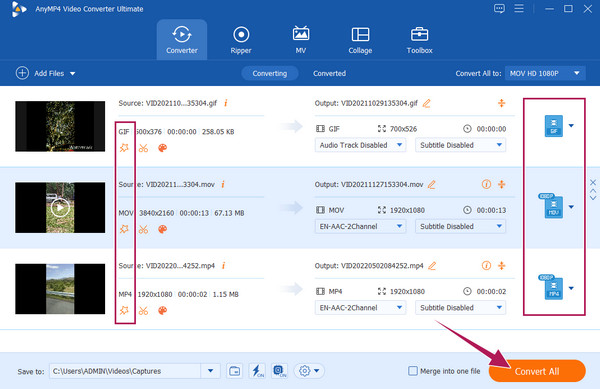 How to Enhance Video Quality in Another Way
Step 1
Go to the Toolbox menu once you reach the main interface. Then, click the Video Enhancer selection among the multiple tools there. Once clicked, upload a single video file.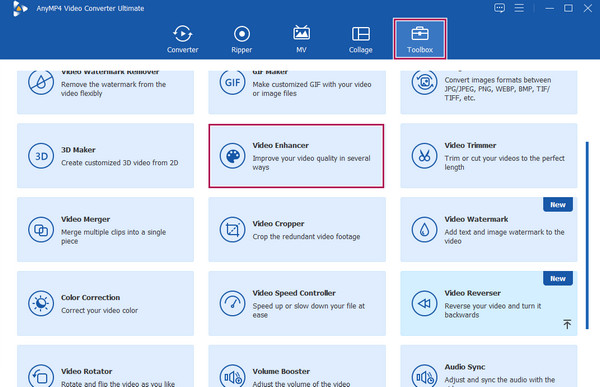 Step 2
After that, click the same boxes for enhancement from the Video Enhancer window. Then, decide whether to navigate the , and Resolution options. Otherwise, hit the Enhance button to apply the changes.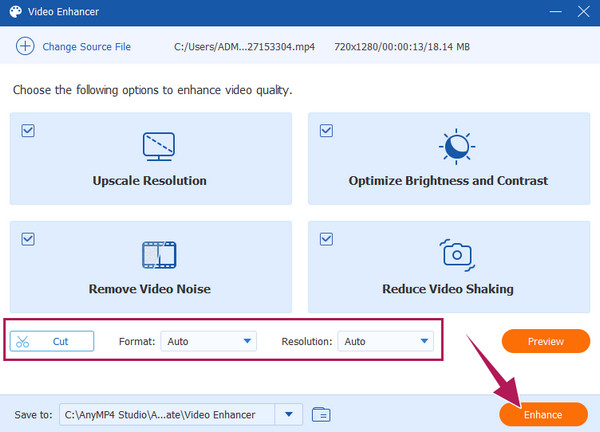 Note: Please note that both ways have the same processor speed. They only vary depending on the number of video files you need to enhance. Therefore, follow the first method for the batch editing process and the second for the single file.
Part 2. Good Solution to Enhance Video Quality Online
For those who ask how to make a higher-quality video online, you should know more about Clideo. Clideo is an all-around video editor that is always available on the web. It holds a good solution that will help you transform your videos clearly, and vividly. One thing you will surely love about Clideo is that you will not need to install any software that will add to your desktop's space. On top of that, you can use it for free while giving you no limitations on your device. This means you can use your Android and iPhone, besides Windows and Mac.
However, as good as it is, Clideo's free version will only allow you to gain watermarked outputs. Hence, if you want to know how to change video quality without the watermark, you will need to purchase its paid version. Meanwhile, this tool enables you to adjust your video's saturation, brightness, hue, fade, vignette, and contrast to achieve better quality. Let's see the process by looking at the steps below.
Step 1
Access the Adjust Video tool of Clideo from your browser. Then, hit the Choose File tab to upload the video you need to enhance.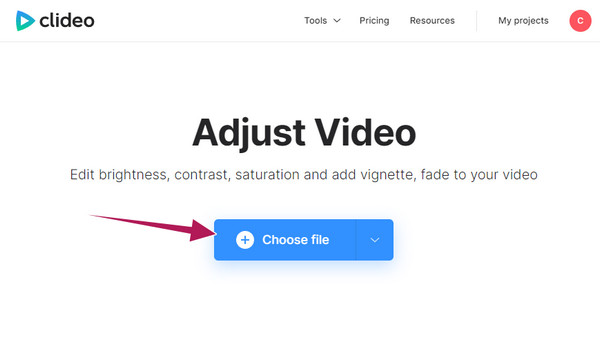 Step 2
Now, manually adjust the Brightness, Contrast, and Saturation with their adjustment bar. These options will help you achieve a higher or better quality for your uploaded video.
Step 3
After that, navigate to the Format section and select the one that you need for your output. Then, hit the Export button to proceed with the downloading process of the enhanced video file.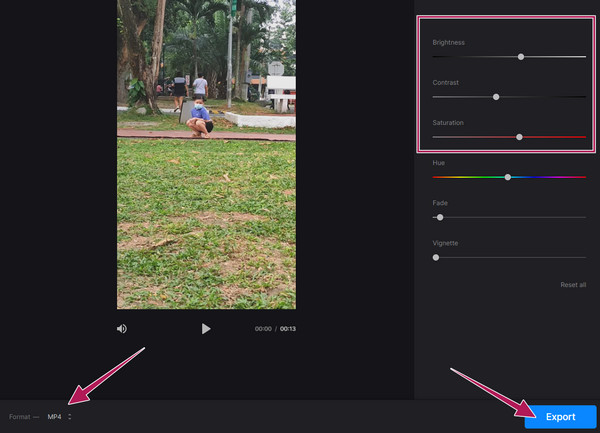 Part 3. How to Improve Video Quality on iPhone
Are you an iPhone user? Then we have the best scheme where you can improve the quality of your video. You probably are familiar with the Photos app or are currently using it. Did you know that this app has its own video-enhancing tools that magically let you enhance your videos at their finest? The Photos app contains tools to adjust your video's exposure, shadow, brightness, contrast, sharpness, and highlight. With this free built-in tool for iphone, you will be able to edit simultaneously and keep tons of your video and photo files. Here are the steps to improve video quality on iPhone using the capabilities of the Photos app.
Step 1
Launch the Photos app from your iPhone, then find the video you want to enhance within its gallery.
Step 2
After finding and tapping the video file, tap the Edit tab in the screen's right-top corner. After that, move your eyes to the bottom of the screen and tap the Enhancement icon. Use the enhancers in this option, and navigate them until you see the perfect enhancement for your video.
Step 3
Once you are done with the enhancement navigation, you can save the video. To save, tap the Done tab at the bottom left corner of the screen. And that's it; you can now check your enhanced video.
Further Reading:
Best Ways How to Change Video Resolution for All Platforms
How to Lower the Resolution of a Video in Three Easiest Ways
Part 4. FAQs about Improving Video Quality
How to change the video quality of an old video?
Enhancing an old video is not as simple as enhancing a current video. However, if you use Video Converter Ultimate., it will be as simple as you thought. Upload your old video in this best software after going to the video enhancer under the Toolbox menu. After that, toggle the enhancements and click the enhance button.
Can I enhance my video on Android using the Photos app?
Yes. The Photos app is also available on Android. You can follow the guidelines above in enhancing your videos using the Photos app.
Does fixing blurry parts mean enhancing the quality?
Not for all the video editing tools. Because some tools can enhance the quality but cannot unblur the video, fortunately, Video Converter Ultimate can do both seemingly.
Conclusion
Now that you know how to fix the quality of a video, you can step out and learn the next level of video editing. Go and explore the things that will enhance your videos more. To make your video quality better, you will need a powerful and flexible tool, just like Video Converter Ultimate.