How to Remove Audio from Video on Various Platforms with the Best Ways
Silencing a video during playback will never be enough for extreme video editing. It is a shallow act to eliminate the audio. How about when you need to exert some dub sounds in the video? Or if you want to insert your favorite music on it to create your own music video? Hence, you must know the proper way to remove audio from video. And by knowing this proper way, you must also know the tools to use to meet our efficiency expectations. Because unfortunately, not all tools you see are efficient and proficient in their purpose. We bravely say this due to our own experiences on this matter.
For this reason, we have provided the best tools you shouldn't miss to complete the tutorial you are about to learn. Therefore, let us now see this double-purpose article post and learn the comprehensive guidelines with the perfect tools to utilize for your agenda.

Part 1. How to Losslessly Remove Audio from Video on Windows and Mac
Removing background music from a video is not as easy as one, two, or three. But the best solution to this matter is to mute the video. However, a person does not need to be a professional editor to do that. Still, he needs a professional and powerful video editing tool to remove the audio from his video to maintain the quality. In addition, as per a professional's mindset, video editing will be more accurate when done with a desktop. Thus, below are the tools to use for your Windows and Mac computers.
Video Converter Ultimate for Windows and Mac
Video Converter Ultimate is among the most powerful video and audio editing tools you can acquire on Mac and Windows if you wish to mute a video. It is an offline software that helps all types of users omit the audio from the video and inserts a new audio track without affecting the video quality. What makes this Video Converter Ultimate more remarkable is that it allows you to disable or mute the audio in the easiest way you can imagine. It will only technically require you to perform three easy steps to come up with a muted output. On the other hand, this amazing tool supports almost all media formats, such as MP4, MKV, AVI, FLV, MOV, WMA, AAC, MP3, and other 500 more, for your input and output. In addition, this video muter also allows you to process high-quality videos, for it supports HD, 4K, 5K, and up to 8K.
Moreover, it has numerous advanced technologies and editing features for editing your video and audio files. The features include an AI video enhancer, audio sync, audio compressor, video merger, watermark remover, and powerful acceleration technologies. Despite that, beginners will love how breezy this application is since all the functions are easy to navigate. Thus, if you want to see how simple yet efficient it is, here are the following steps.
Main Features:
1. AI and accelerated technologies that empower the software.
2. Edit your video in the most convenient yet efficient manner.
3. With a toolbox that contains all the powerful tools to enjoy.
4. Makers of video collages, movies, 3Ds, and GIFs.
5. It is software that is available on both Mac and Windows.
How to Eliminate the Audio from Video on Windows 10
Step 1
First and foremost, please click the Download buttons presented above to download and install this amazing tool freely. Then, run the software to begin the agenda.
Step 2
Once the software is launched, ensure you are in the Converter menu. Then, click the Plus icon to upload your video files. Feel free to add as many files as you need.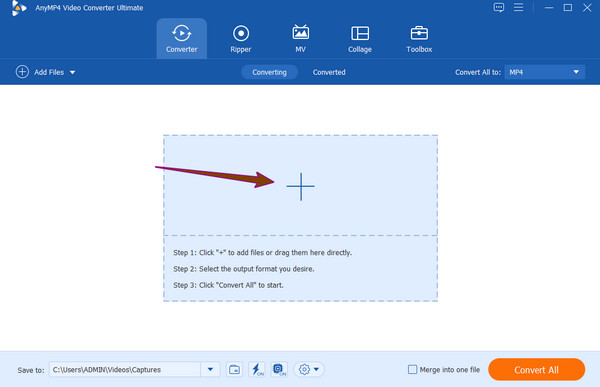 Step 3
Once the videos are uploaded, you must click the Arrow button beside the EN-AAC-2Channel dialogue for each video file. Then, from the options shown, click the Audio Track Disabled to mute the sound. You can also hit the other video editing options under the video files to have more editing experiences.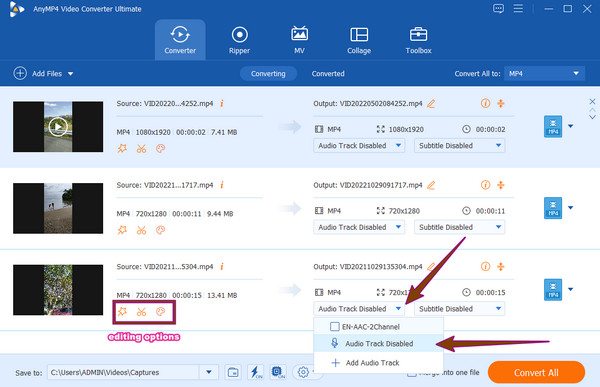 Step 4
Finally, hit the Convert All button at the bottom right corner of the main interface. This is to process the new muted files. After the procedure, this amazing software will automatically save your files. And that is how to mute a video.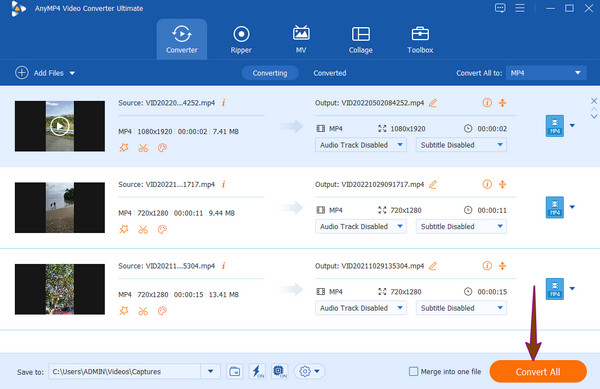 iMovie for Mac
If you want to perform your agenda on Mac without requiring you to install a new program, then you must use iMovie. It is software that every Mac user knows since it is pre-installed. There are many video editing endeavors that you can do with iMovie, and removing audio is one of them. Aside from that, we must recognize this tool's primary purpose, which is to make movies and other projects where video and audio are involved. Furthermore, it is not only on Mac that you can enjoy using this software because you can also indulge it using your iPhone and iPad. Plus, it supports multiple file formats that will surprise you, such as MP4. MOV, MPEG-4, MPEG-2, DV, AVCHD, and for audio MP3, AIFF, AAC, WAV, and M4A.
Thus, if you are excited to know how to mute a video on iMovie, then be mindful of some cons that this tool has. Some of them are its incapability with Windows desktops and its way of deleting the audio permanently from the video. This means that you can never revert the audio, even on the original video file. If these facts don't alarm you at all, then you can proceed by following the guidelines below.
Step 1
Run the iMovie on your Mac and create a new project. Then, hit on the File option from the menu bar you see above and choose the Import Media option from the drop-down section. Then, click the Import Selected recourse. And this is how to remove background music from a video.
Step 2
After importing the video file, and it is in the project library, you need to click the Modify tab. After clicking, choose the Detach Audio option. This will enable you to separate the audio from your uploaded video.
Step 3
Now, on the timeline below, you will see the audio in a green color split from the video. Click the audio in green to delete it permanently. Then, save your video after.

Part 2. How to Remove Audio from Video on iPhone
As part of the Apple family, you can also remove audio from video on iPhone using iMovie. However, in some versions of iPhones, iMovie must first be obtained from the App Store. Hence, if your mobile already has it, follow the steps below.
Step 1
Launch the app, and start a new project under the Movie option. Then, import your video.
Step 2
After uploading, tap the Speaker icon. And adjust the volume slider to the left until the audio gets muted.
Step 3
Then, after muting the entire audio of the video, you can now tap the Done tab. Then, save the video file and check your output afterward.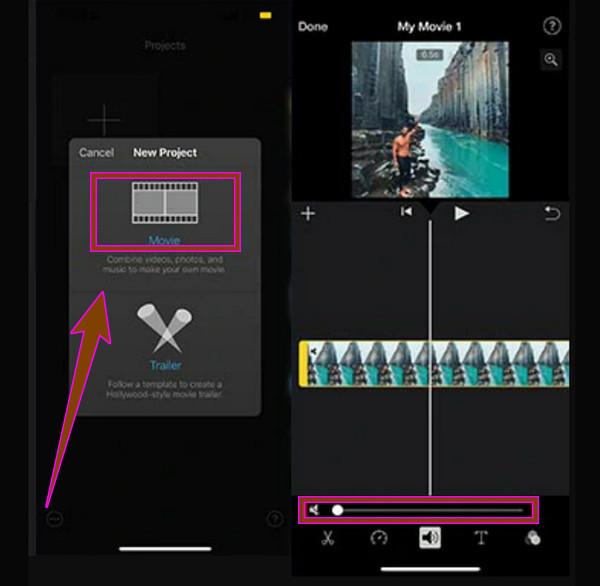 Part 3. A Great Way to Remove Audio from Video Online
If you want to remove audio from video online, Clideo is a great tool to use. This web tool is accessible on all web browsers that everyone uses, including Google, Safari, and Firefox. Furthermore, with this Clideo, removing the audio in a video has been made easier due to its intuitive interface. It also has a speedy process that it offers you for free. However, this free service will give you watermarked outputs. Thus, if this won't bother you, please proceed to the guidelines below.
Step 1
On your browser, go to the website of Clideo video muter. Then, click the Choose Files button to add your video.
Step 2
Once the video is uploaded, this background music remover online will automatically do its purpose.
Step 3
Finally, you can click the Download button to acquire the new file.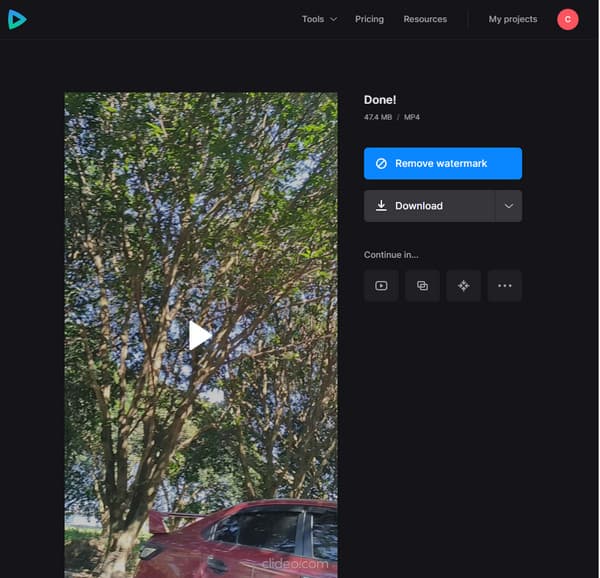 Further Reading:
How to Delay Audio: Full Guidelines with the Best Tools
Steps on How to Fade In and Fade Out the Audio in the Video
Part 4. FAQs about Removing Audio from Video
Can I remove the sound of my video with Microsoft Office?
Yes. You can remove the video's sound using PowerPoint. Once you play the video on the said office suit, head to the volume option and set it to mute it.
What is the best way to remove the video's audio on Android?
One of the best ways for this device is through the Photos App. It has an edit button that you need to tap while the video is in play, then mute the video using the speaker icon.
Does Audacity remove background music?
Audacity is software that works for audio files only. If you want to remove the background music from an audio file, try its noise-reduction feature instead.
Conclusion
Those are the best methods to remove audio from video. Follow the simple instructions in this post, and you will surely get your desired outcome. Also, if you want to have an extraordinary experience with a video editor, then you must acquire Video Converter Ultimate.