Upscale 1080p to 4K: How to Upscale Videos
Do you have tons of videos in 1080p resolution and want them to convert to 4K? Then you should see the content we have here for you. This article has the outline of the instructions on how to upscale 1080p to 4K videos in advanced and professional ways. 4K is the in-demand video resolution nowadays. This is because of the new and advanced devices and media players that require this resolution for compelling playback. However, which video editing tool can efficiently assist you with this task? Fortunately, the three best video editing tools are waiting for you, together with their remarkable procedure that will surely amaze you. So without further adieu, let's dig into this exciting learning by reading the content below.

Part 1: Best Way to Upscale 1080p to 4K Without Losing the Quality
Let's begin by giving you the best HD to 4k converter software of all time, the Video Converter Ultimate. Yes, the users and we declare it the best due to the tool's features, capabilities, quality, and simplicity. This converter lets you work on batch videos that you can upscale at once. At the same time, its upscaling ability is done in its conversion process, enabling you to convert the videos 70x faster due to its advanced acceleration technologies. Furthermore, it gives you the liberty to transform your 1080p videos to 4K without affecting the quality. In fact, it even gives you a choice to enhance the quality before converting them into more than 300 formats.
Hence, before we learn how to convert full HD video to 4k without losing quality using Video Converter Ultimate, let us see the key features first.
Key Features of Video Converter Ultimate
1. Ultrafast conversion technology with 70x faster conversion process.
2. Numerous options for enhancing videos.
3. Hundred of various video and audio formats are available.
4. Lossless quality outputs for video and audio.
How to Upscale Videos without Losing Quality
Step 1
Download the Upscaler
Download the best video upscaling tool to your computer first. To help you do it faster, hit the Download buttons shown above.
Step 2
Upload Your 1080p Videos
Once installed, you can now launch the tool. Then, hit the Add button at the center of the UI to upload a video. Thus, if you plan to edit two or more videos, just drag them to the center or hit the Add Files tab.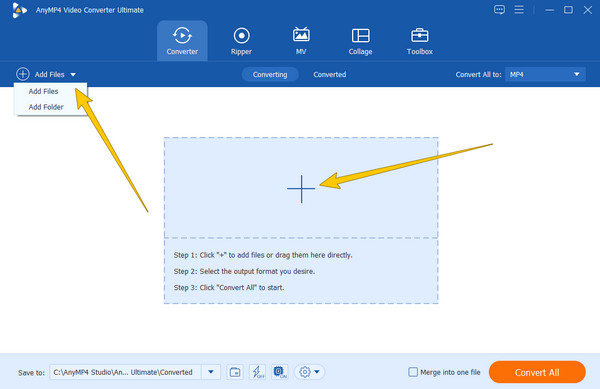 Step 3
Convert HD to 4K
This time, click the Arrow icon in the Convert All To section. Then, in the popped-up window, choose the same format that your videos have, and select the 4K Video with the 3840x2160 size.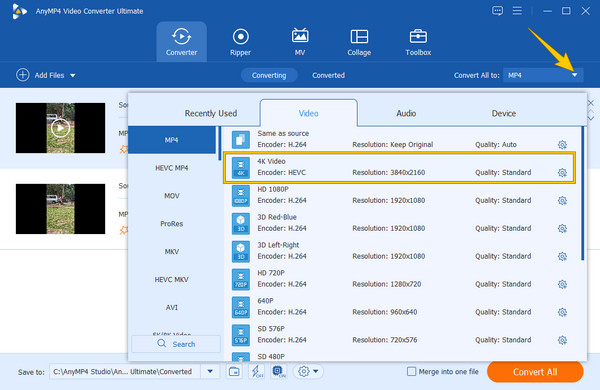 Step 4
Choose a Destination Folder
Now you can set and choose a destination folder for your output. How? Click the drop-down arrow from the Save To section, then select the Browse and Select Folder dialog.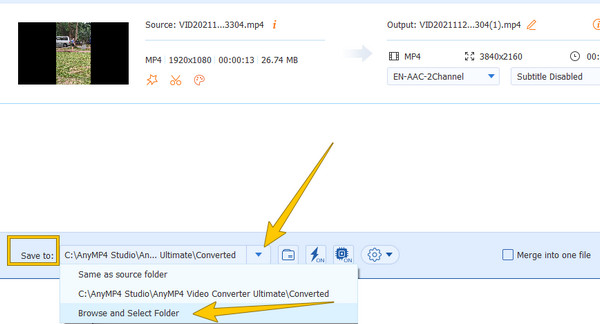 Step 5
Start the Conversion
Finally, you can now hit the Convert All button. Then, wait a few seconds for the process, and check your new 4K videos afterward.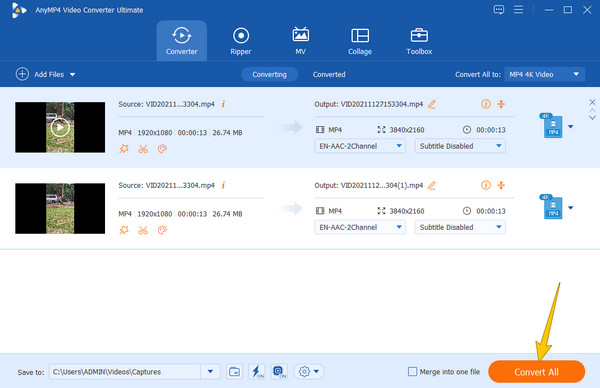 Part 2: How to Convert 1080p to 4K Using Premiere Pro
This time let's learn how to change 1080p to 4K in Premiere. Why? Because Premier Pro is another remarkable software that is worth your attention. As a matter of fact, this software has been very in demand, especially in other different video editing matters. However, as everyone knows, stretching a 1080p video to 4K will somehow lose the best capacity of the video to provide a superb display. This fact is also present when you use Premiere Pro. It is why we will give you a method now where you will need Adobe After Effects to preserve the video quality still when upscaling it with Premiere Pro.
How to Upgrade HD to 4k with Premiere Pro
Step 1
Launch Premiere Pro, and begin to upload the video to start a new project.
Step 2
Then send the uploaded video to After Effects. Note that when you use After Effects, you will not need to re-upload the video file.
Step 3
Now right-click on the video, and select the Replace With After Effects Composition dialog. Then, go to the Effects & Presets tab and look for the Detail-Preserving Upscale option.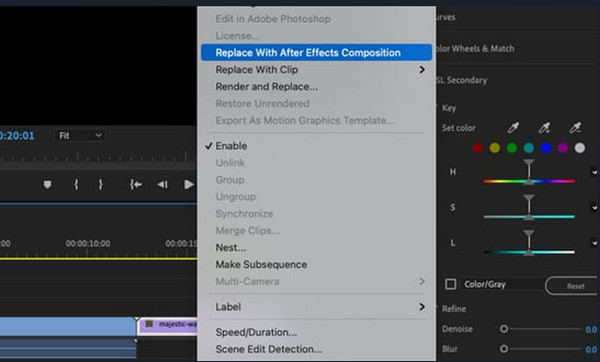 Step 4
After that, hit the Fit to Comp Width option and tweak it to meet the desired scale. Then, send the video back to Premiere Pro and then save it.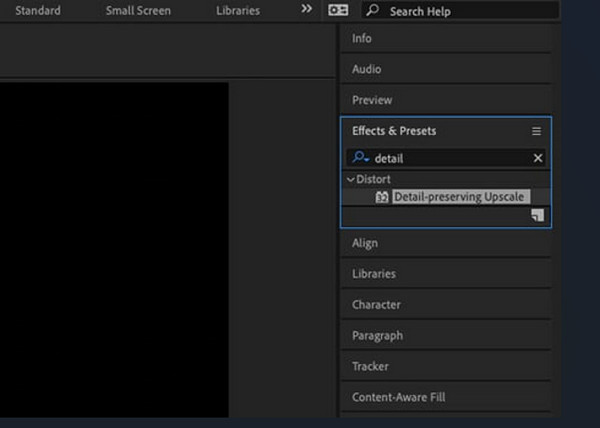 Part 3: Incredible Way to Change 1080p to 4K Online for Free
If you want to convert HD to 4k online, then FreeConvert is something you need. It is one of the few online converters that let you convert any video with 1080p resolution to 4K. In addition, it offers you a free conversion process with multiple video files as long as their sizes don't exceed 1GB. Likewise, you can also downscale your videos to your desired scale simultaneously. Henceforth, here are the guidelines for using FreeConvert in upscaling a video.
Step 1
Get your browser to the site of FreeConvert.com and click the Choose Files right away to import your file.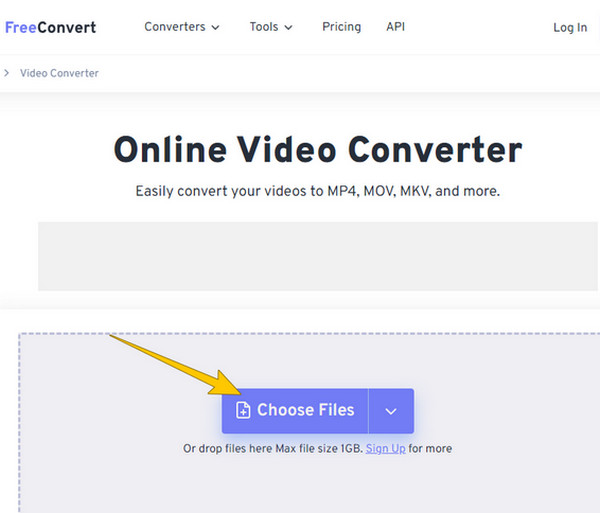 Step 2
Then, hit the Coggle icon beside the Output section once your video is uploaded. From there, choose a resolution size of 4K. Also, don't forget to select your output format.
Step 3
After that, hit the Convert button. Wait for the process to finish, then download the file.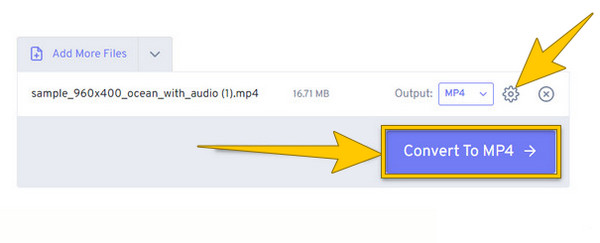 Further Reading:
How to Stabilize Shaky Videos with Three Amazing Ways
AI Upscaling Video: How to Upscale Video in Two Best Ways
Part 4: FAQs on 1080p to 4K Upscaling
Does upscaling full HD to 4K make the video blurry?
Not really, as long as the video is properly converted. So, suppose you want to convert your 1080p video to 4K. In that case, you must use a reliable video converter like the Video Converter Ultimate.
Is it possible to upscale 1080p to 8K?
Yes. Upscaling 1080p to 8K is possible. But then again, you must choose the best upscaling tool for this task.
Is 4K better than 1080p video?
Yes, if you want to enjoy a much higher image display on a more significant player device. However, if you only use a device with a small display, then you are better off with 1080p.
Conclusion
Now that you know how to upscale 1080p to 4K using the best ways in this post, you can now confidently do this task anytime without hesitations. Hence, if you still don't know which one is worthy of acquiring, you must go for Video Converter Ultimate. This software handles 4K videos very well. So if you want to retain the quality of your 4K videos even after conversion, this video converter is what you need to use. Then, we ensure that you will never go wrong in choosing this software anytime for any task!