Do you have tons of videos in 1080p resolution and want them to convert to 4K? Then you should see the content we have here for you. This article has the outline of the instructions on how to upscale 1080p to 4K videos in advanced and professional ways. 4K is the in-demand video resolution nowadays. This is because of the new and advanced devices and media players that require this resolution for compelling playback. However, which video editing tool can efficiently assist you with this task? Fortunately, the three best video editing tools are waiting for you, together with their remarkable procedure that will surely amaze you. So without further adieu, let's dig into this exciting learning by reading the content below.

Part 1.

Best Way to Upscale 1080p to 4K Without Losing the Quality

Let's begin by giving you the best HD to 4k converter software of all time, the Video Converter Ultimate. Yes, the users and we declare it the best due to the tool's features, capabilities, quality, and simplicity. This converter lets you work on batch videos that you can upscale at once. At the same time, its upscaling ability is done in its conversion process, enabling you to convert the videos 70x faster due to its advanced acceleration technologies. Furthermore, it gives you the liberty to transform your 1080p videos to 4K without affecting the quality. In fact, it even gives you a choice to enhance the quality before converting them into more than 300 formats.

Hence, before we learn how to convert full HD video to 4k without losing quality using Video Converter Ultimate, let us see the key features first.

Key Features of Video Converter Ultimate
Ultrafast conversion technology with 70x faster conversion process.
Numerous options for enhancing videos.
Hundred of various video and audio formats are available.
Lossless quality outputs for video and audio.
How to Upscale Videos without Losing Quality
Step 1.Download the Upscaler
Download the best video upscaling tool to your computer first. To help you do it faster, hit the Download buttons shown above.
Step 2.Upload Your 1080p Videos
Once installed, you can now launch the tool. Click on the Toolbox tab on the top menu, find Video Enhancer, and click on it. Add your 1080p video by clicking on the + button.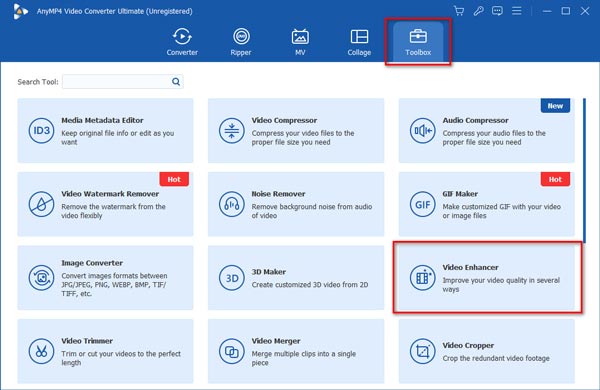 Step 3.Select the Enhancement Option
Check the Upscale Resolution and choose a desired format. Next, select 3840×2160 or 4096×2160 from the Resolution dropdown list. You can preview the video before the upscaling. Finally, click on Enhance.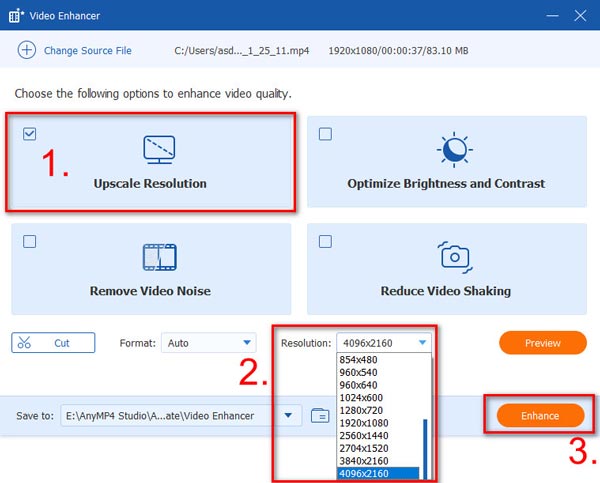 Wait a few seconds for the upscaling process, and check your new 4K videos afterward. With the best video enhancer, you can not only upscale the resolution but also stabilize shaky videos and adjust brightness and contrast. These adjustments make your video more professional and enjoyable.
Intuitive interface and simple steps to upscale videos.
Additional enhancing tools like noise and shaking reduction.
Less CPU usage with hardware acceleration.
You can't upscale your videos in batches.
Part 2.

How to Convert 1080p to 4K Using Premiere Pro

This time, let's learn how to change 1080p to 4K in Premiere. Why? Because Premier Pro is another remarkable software that is worth your attention. As a matter of fact, this software has been very in demand, especially in other different video editing matters. However, as everyone knows, stretching a 1080p video to 4K will somehow lose the best capacity of the video to provide a superb display. This fact is also present when you use Premiere Pro. That is why we will give you a method now where you will need Adobe After Effects to preserve and even improve the video quality when upscaling it with Premiere Pro.

How to Upgrade HD to 4k with Premiere Pro

Step 1.Launch Premiere Pro, and begin to upload the video to start a new project.

Step 2.Then send the uploaded video to After Effects. Note that when you use After Effects, you will not need to re-upload the video file.

Step 3.Now right-click on the video, and select the Replace With After Effects Composition dialog. Then, go to the Effects & Presets tab and look for the Detail-Preserving Upscale option.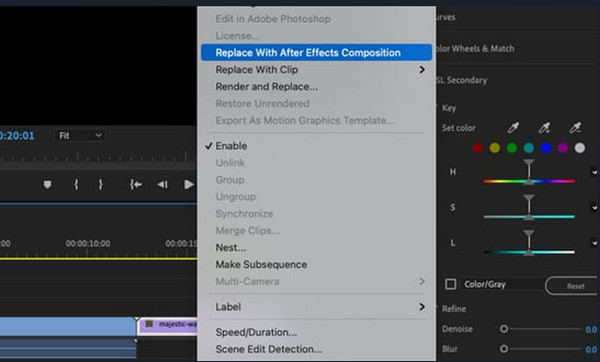 Step 4.After that, hit the Fit to Comp Width option and tweak it to meet the desired scale. Then, send the video back to Premiere Pro and then save it.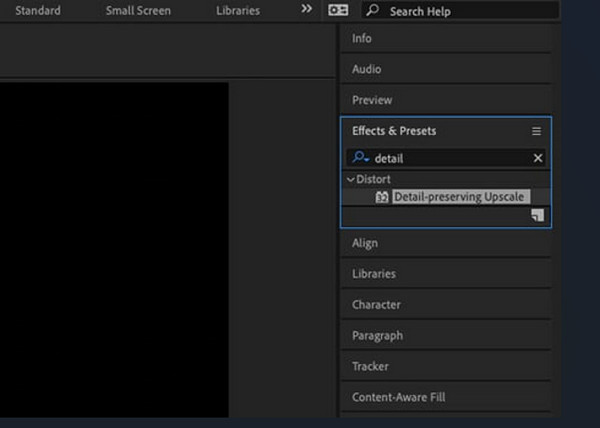 Feature-packed and powerful video enhancer and editor.
Advanced effects like Faded Film, Sharpening, and Vignette.
Offer only a 7-day free trial.
Complicated video upscaling process for beginners.
Higher requirements for computer systems.
Part 3.

1080p vs. 4K

1080p and 4K represent different resolutions of your videos. What is resolution? It is the number of pixels in your video or image. The higher resolution a video is, the clearer it will be. That's why we want to upscale a video from 1080p to 4K. The table below displays the comparison between 1080p and 4K.
| | | | |
| --- | --- | --- | --- |
| | Category | Resolution | Total Pixels |
| 1080p | Full HD | 1920×1080 | Over 2 million |
| 4K | Ultra HD | 3840×2160 or 4096×2160 | Over 8 million |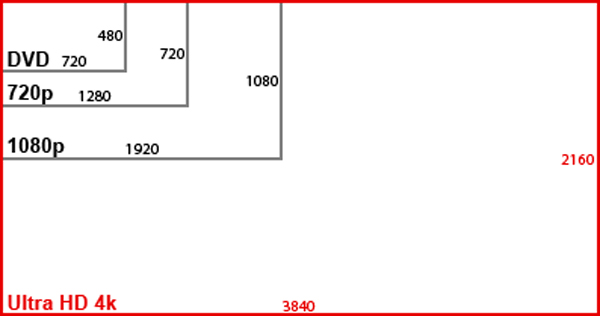 Since 4K videos contain four times more pixels than 1080p, it shows more details and delivers clearer visual effects. Therefore, it's more suitable to be displayed on a larger screen like a cinema or TV. However, it's not always perfect. 4K videos usually have bigger sizes and higher requirements for your system. If you simply want to watch videos on your mobile phone, 1080p seems to be a better choice for its smaller size, faster streaming, and clear display as well.
1080p vs. 4K, which is better? Well, there is no direct answer to the question. It largely depends on your needs and other considerations, like the storage space and system performance.
Part 4.

FAQs on 1080p to 4K Upscaling
Does upscaling full HD to 4K make the video blurry?

Not really, as long as the video is properly converted. So, suppose you want to convert your 1080p video to 4K. In that case, you must use a reliable video converter like the Video Converter Ultimate.

Is it possible to upscale 1080p to 8K?

Yes. Upscaling 1080p to 8K is possible. But then again, you must choose the best upscaling tool for this task.

Is 4K better than 1080p video?

Yes, if you want to enjoy a much higher image display on a more significant player device. However, if you only use a device with a small display, then you are better off with 1080p.
Wrapping up
Now that you know how to upscale 1080p to 4K using the best ways in this post, you can now confidently do this task anytime without hesitations. Hence, if you still don't know which one is worthy of acquiring, you must go for Video Converter Ultimate. This software handles 4K videos very well. So if you want to retain the quality of your 4K videos even after conversion, this video converter is what you need to use. Then, we ensure that you will never go wrong in choosing this software anytime for any task!