How to Convert 480p to 1080p HD in Three Outstanding Ways
There is no problem with the 480p videos. As a matter of fact, this resolution is the standard video resolution of popular social media platforms. However, once a viewer has decided to play a video with this kind of resolution, the viewer's desire to turn it to a higher resolution gets stronger. This is because media players nowadays have also innovated their playback displays. If this is also the reason why you want to know how to convert 480p to 1080p, then you have chosen the right article to read. This article post will help you to quickly transform your 480p videos to your desired resolution, like 1080p. Therefore, let us already jump to your concern and continue to read the informational details below.

Part 1: How to Convert 480p to 1080p Videos Ultimately
Would you like to upscale 480p to 1080p like never before? Then there is the Video Converter Ultimate for you. As its name suggests, it is a converter that ultimately works in transforming videos and audio files in a lossless way. For your concern about converting a lower resolution to a high one, you can be confident that this software will give you its total capacity to meet your expectations. In the same way, this software is committed to providing you with the safest and fastest conversion process due to its ultrafast and hardware acceleration features.
What is more impressive is the toolbox that it possesses. Imagine this single toolbox containing all the helpful and excellent video, audio, and photo editing tools you need! Yes, this software has it all for you! Hence let's see the additional features below before upscaling 480p to 1080p.
Additional Features of Video Converter Ultimate
1. Support the conversion to 4K, 5K, and 8K video resolutions.
2. Work with all popular types of video formats.
3. With a DVD ripper, collage maker, movie maker, 3D maker, and GIF maker.
4. Batch conversion within a 70 times faster process.
How to Use Video Converter Ultimate in Upscaling Video Resolution
Step 1
Launch and Upload Files
Launch the software after acquiring it via free download. Then, drag your 480p video files from your local folder, and drop them at the center of the main interface. Alternatively, you can hit the Add Files tab and choose Add Folder to add all videos from a folder.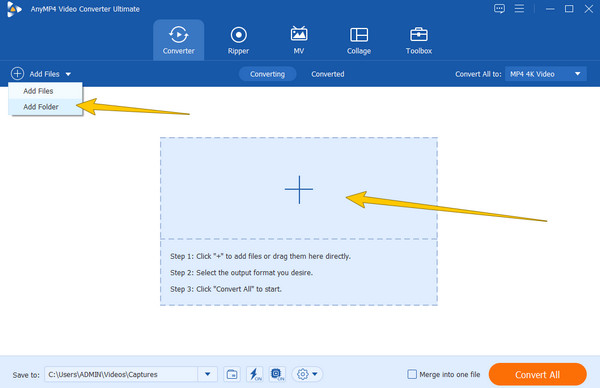 Step 2
Set to Upscale 480p to 1080p
This time, hit the arrow of the Convert All To option located at the right-top corner of the interface. Then, on the new window, choose a format and then click the 1080p among the resolution options on the right side of the window.
Step 3
Optimize Additional Settings
Now, you are all set for conversion. However, before you convert the video files, you can optimize the other setting options you see in the interface. Also, please make sure to turn on the Ultrafast and Hardware Acceleration icons.
Step 4
Convert the Video Files
Lastly, you can now hit the Convert All button. Wait for a second, and check the converted file after. This program also can help you upscale 1080p videos to 4K.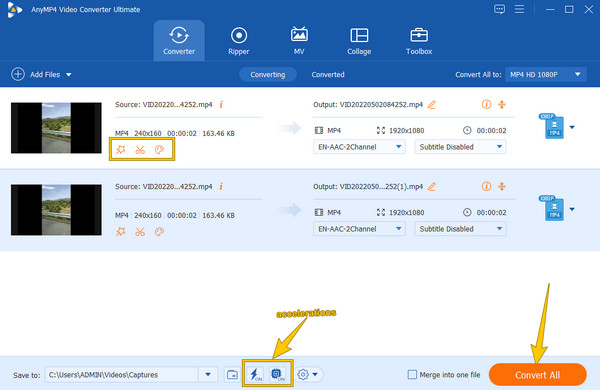 Part 2: How to Change 480p to 1080p HD Online for Free
Now for the best 480p to 1080p, more upscale online, it is none other than the Vidmore Free Video Converter Online. This web tool proves what its name suggests, for it converts, at the same time, upscale the videos for free. Furthermore, it supports various video formats such as MKV, MP4, AVI, MOV, FLV, M4A, and many more. The video settings are also impressive, for it allows you to customize the video bitrate, frame rate, and encoder besides the resolution. Hence, choosing this as your companion online will not go wrong. On that note, here are the guidelines to follow when using this 480p to 1080p converter online for free.
Step 1
On your browser, search and get to the website of the tool. Then, hit the Add files to convert tab to download the launcher. After that, hit the tab again to upload your 480p video file.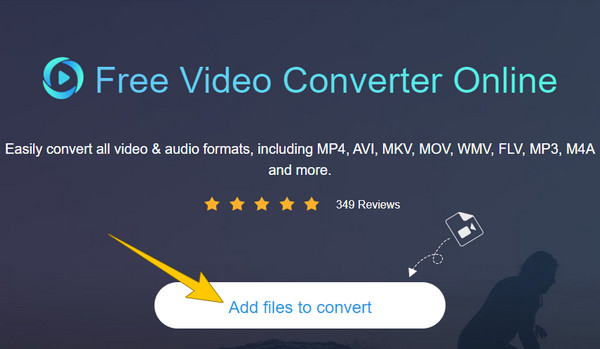 Step 2
Now on the main interface, hit the Setting icon to access the editing section. Then, click the Resolution and select the 1920*1080 option.
Step 3
After that, you can already click the Convert button to apply the changes.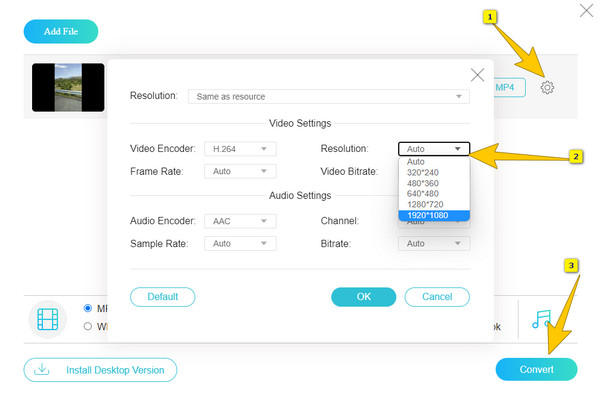 Part 3: Upscale a 480p to 1080p Video on Mobile Phone
Finally, for your iPhone and Android devices, nothing will top the CupCut. It is an amazing app to upscale video from 480p to 1080p. Furthermore, it comes with many powerful tools such as crop, split, overlay, and enhance the video. In addition to that, it provides you with other amazing effects, styles, and filters to make your video perfect. Meanwhile, its ability to upscale video is something that is impressive, for it lets you upscale or downscale a video from 480p to 4K and vice versa. But please note that this app provides its full capacity with its premium version. Hence, below are the steps on how to use CapCut in upscaling 480p videos.
Step 1
Open the app, and tap the Add icon to do a new project. Then, look for your video file from your local folder and upload it.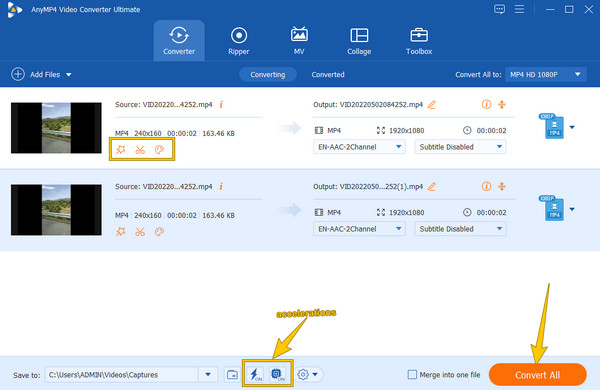 Step 2
Once the video reaches the timeline, tap the arrow icon showing a resolution. Then, on the popped-up slider, slide to 1080p.
Step 3
After that, tap the Export icon beside the resolution setting. Wait for the exporting process to finish, then tap the Done button.
Part 4: FAQs regarding Upscaling 480p Video to 1080p
Will I have the same file size after changing 480p to 1080p?
No. Upscaling a video, such as the 480p to 1080p, will change the size of the file. This is because you are changing the display size as well.
Can I upscale the 480p video with AI?
Yes. Many video upscaling tools use AI, such as the Video Converter Ultimate.
Do I need to change all my videos to higher resolutions?
Not really. Upscaling a video is intentional and is based on your needs. Therefore, whether you upscale your videos or not, it will never be a problem.
Conclusion
Now that you know how to convert 480p to 1080p videos and how important it is to use an outstanding tool, you can upgrade your videos efficiently. Convert your 480p anytime using the three fantastic software in this post. They are not just exceptional when our team uses them, for they can also give you the same excellency once you use them. Remember that, in most cases, you need to edit your video on a desktop or Mac. Always choose the Video Converter Ultimate, for it holds everything you need for editing.