How to Make a Video with Pictures: Guide to Making High-Quality Videos
Making videos with pictures is stressful sometimes. You must compile and choose the photo you will use and what music to include that will fit the video. Moreover, you need to consider what type of effects will go well. And one last thing, you need to look for a trustworthy and effective application that can create videos efficiently. What you are looking for is in this post. We put three amazing programs for you to try with a complete description of each program. It also includes steps for each program on how to make a video with pictures. Let's not waste our time any longer, continue reading below and see the best tools right now.
Part 1: Three Ways to Make a Video with Pictures
Here are the three programs you can try to use for photo video making.
Video Converter Ultimate
Video Converter Ultimate is one of the well-known programs when it comes to making and editing videos. It has a simple interface with powerful features and tools included. Its features include editing videos, plenty of templates with themes, adding songs, filter effects, and more. In addition to that is a feature where you can create slideshows, music videos, movies with subtitles, etc. This is great whenever you need to make video projects for school and work. You can download this tool on Windows and Mac platforms for free.
Key Features:
1. No limit to adding images and videos
2. Enhance videos by upscaling, optimizing, and removing noise
3. Can easily create slo-mo videos
4. Very easy-to-understand interface
Refer to this detailed step-by-step tutorial on how to make a video with pictures using this very commendable program.
Step 1
Use MV Feature
Start by pressing the Download button above to acquire Video Converter Ultimate. Wait for the program installer to download and run it. The program opens simultaneously after the installation wizard ends. Use the MV feature to start creating a video.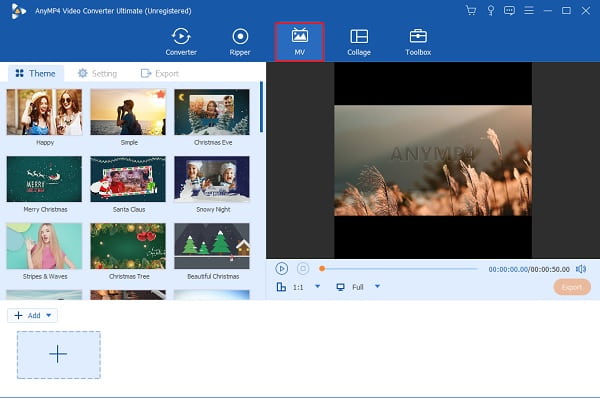 Step 2
Import and Enhance Image
Click +Add to add the images to the slides with the MV feature. You can also drag the file and drop it in the program. Hit Edit to allow you to enhance your images. Move to Filter & Effects to apply filters by using the inbuilt ones. Click OK to save the changes. Do not forget to choose a template that includes transitions effects and music, adding uniqueness to your video.
Step 3
Add a Background Music
Go to the Setting tab to add background music to your slideshow. Use the drop-down list or the Plus sign button to include your preferred music from your desktop to the video. Leave it as it is if you are satisfied with the music from the template.
Step 4
Start the Export Process
After editing and enhancing your video, move to the Export tab. You can then change the final output format by selecting the available format on the drop-down list. Do not forget as well to choose the location where your video will be saved so you can find the files quicker. Click Start Export to start saving the video. You can close the program once the exporting process ends. Enjoy watching your newly created photo video.
MiniTool Movie Maker
MiniTool Movie Maker is a user-friendly and free powerful video editing software that will surely help you make videos with pictures. It offers basic video editing tools like trimming, splitting and adding music and texts to the video. The user interface is very novice-friendly, you will become familiar with using it after a few tries. There are advanced features as well; these are full support for 4K videos, an advanced timeline, a huge transition library, and a speed controller. There are free video templates for you to use if you want to make short slideshows, video greetings, and more. What you will dislike is that the transitions and other effects are basic ones and cannot add multiple audio tracks in one video
Follow these simple steps on how to create a video with pictures using MiniTool Movie Maker.
Step 1
Import Media Files
For starters, you need to download and install the program on your computer. Open the tool and choose Full Feature Mode to go to the main interface. Just click Import Media Files to import photos or drag and drop the images into the program.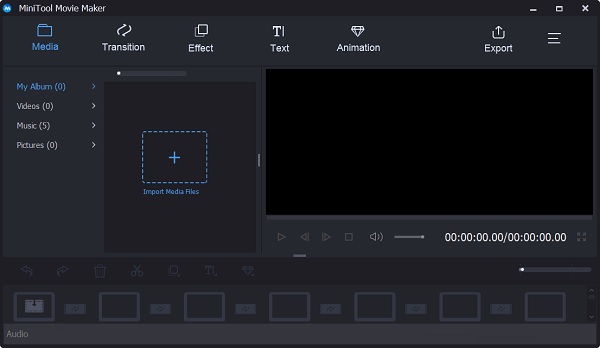 Step 2
Add Transitions
After adding all the photos, you will use, transfer them to the storyboard in any sequence you want them to see. Go to the Transition option and insert transition effects between each photo.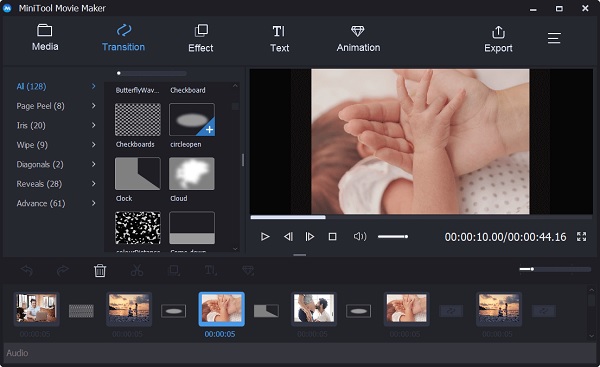 Step 3
Add Music
In the Media section, use the Import Media Files again to import songs or any kind of music to your video. Drag the song to the music track. You can also edit the music by adjusting the duration and other info.
Step 4
Add Text
You can add subtitles and text to your video using this tool. Head to the Text function, then select your preferred font or text mode and drag it to the storyboard. Type the words for your title or subtitles. You can also change the color and style of the text.
Step 5
Save the Photo Slideshow
Hit the Export button to store the slideshow on your computer. You change the video format to commonly used ones like WMV, MP4, AVI, and more. You can change the resolution for the best viewing quality.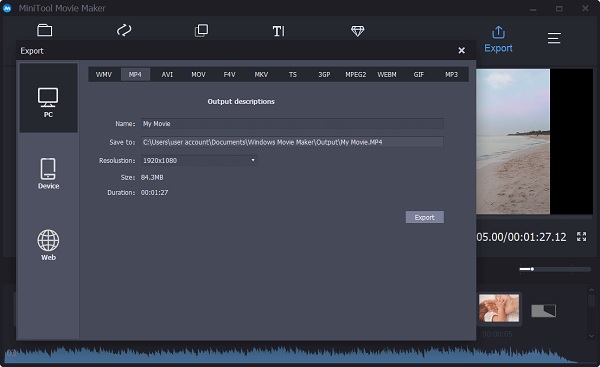 VideoStudio Pro
Corel VideoStudio Pro is a popular name in the video editing space. It is a highly-accessible tool with a very intuitive interface and powerful video editing tools. Features included in this tool are improved color grading options, advanced editing tools, overlaying multiple videos, etc. There are new useful tools like GIF creator, speech-to-text captioning, variable speed changing, and fun face editing. Also, because of its fast-rendering speed, you won't need to wait too long for the video to finish. This program is free to download on Windows only.
Follow these simple guide steps on how to make a video from photos using VideoStudio Pro.
Step 1
Add Photos
Download and install the video editing software on your Windows desktop or laptop. Open the tool after installing. To add photos or media files, drag and drop them from your file folders to the timeline in the order you desire.
Step 2
Add Transitions
You can begin editing your video after successfully adding the media files to the program. You may add a transition effect after each photo, and it will help the video flow better. Open the transition library and select your desired effect. Drag the chosen transition to the timeline to apply it. You can use different transitions in each photo.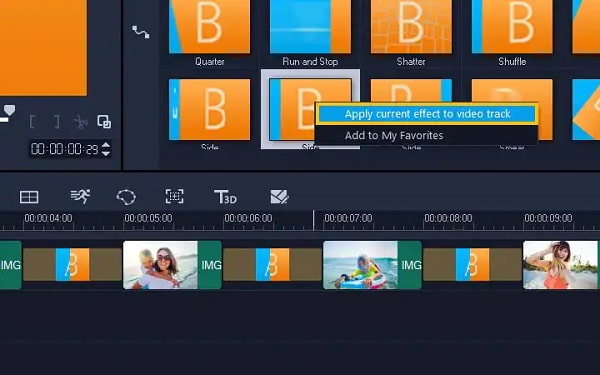 Step 3
Add Soundtrack
You can also integrate background music into your video. Tap the Timeline toolbar and select Auto Music. Here, you can search and use a wide range of different songs by using the drop-down lists. You can preview the music by pressing Play. You can also use your own preferred music by importing the media file to the program.
Step 4
Save Video
After you finish customizing the video, move to the Export tab to upload the video online directly on Facebook, Youtube, and other social media sites. You can also save it on your computer and be sure that the video has the correct file format, resolution, and aspect ratio.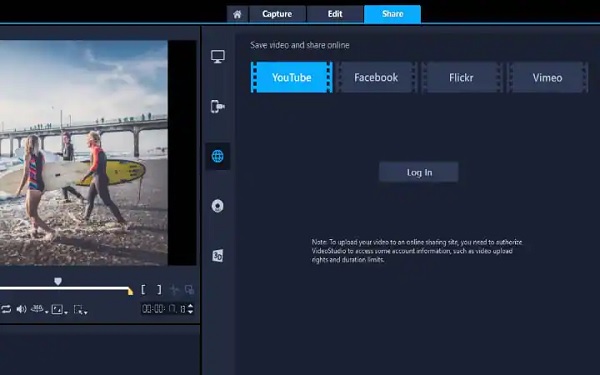 Part 2: FAQs on How to Make a Video with Pictures
What is the best video format right now?
MP4 is one of the most used video file formats today. It is currently recognized as the international standard format. The MP4 container can store video, audio, subtitles, and still images.
What is the best image format for photo videos?
The best image format being used today is JPEG or JPG. This popular image format is best for digital cameras, web images, documents, etc. The main advantage of this format is the small file size.
What simple solutions can you do when there's no audio on my photo video?
You can try these troubleshoots to solve your problem when the audio is not working on your photo video.
Restart your computer
Check if the Volume is on
Restart Windows Audio service
Turn off the DTS sound
Convert video file format
Conclusion
You now know how to make a video with pictures with the help of the tools mentioned above. Not only that, but you also learned how to add effects and music that greatly enhance your photo video. It's not as challenging as you think, as long as you use a reliable program. And as for us, we would choose Video Converter Ultimate as the best program for photo video making. This program presents all the functions and tools you need for making photo videos. You also don't need to be a professional to utilize its capabilities thoroughly. Use it now, you will not regret choosing it.