How to Combine Audio Files with the Most Efficient Ways On Web and PC
There are different reasons why we merge audio files. Some do it because they need to combine their favorite songs into one file, which is a good idea since it is like a playlist. Some do it for their voiceover vlogs, and some need it for their performance task. Regardless of the reason why, one thing is for sure, and it is a must, and that is, use only the merging tool that will enable you to combine the files efficiently, quickly, and losslessly. But how can you find the perfect one? Thank God you chose to be here. By reading the entire content below, you will meet the best web and desktop audio combiners to use ultimately, with their perfect guidelines to follow. Thus, to cut to the chase, let's get moving below.
Part 1. How to Merge Audio Files Online
Beginning with a web tool, let us already have this Audio-Joiner. As its name suggests, it is a web-based application that boosts its functionality by joining audio files together. You will love this app if you are the type of user who is not patient in downloading and installing any software to a computer device. Furthermore, this audio-merge software online lets you lavish its neat and straightforward interface. However, it is not that neat from ads, which is understandable with a free app like such. In addition, you can use this online tool to combine multiple audio files while allowing you to configure particular playback intervals for the track you use.
On top of that, you can unlimitedly add tracks as you need to! Suppose you are also the type of user who loves to multi-task, therefore, wants to do extra audio editing aside from merging. In that case, you might find this Audio-Joiner limited. Thus, by looking at the steps on how to merge audio files online below, you can confirm if this method is for you.
Step 1
Grab your cruiser and bring the web browser ready. Visit the official website of this tool and begin to upload the audio files you need to merge. How? Click the Add Tracks button on its interface.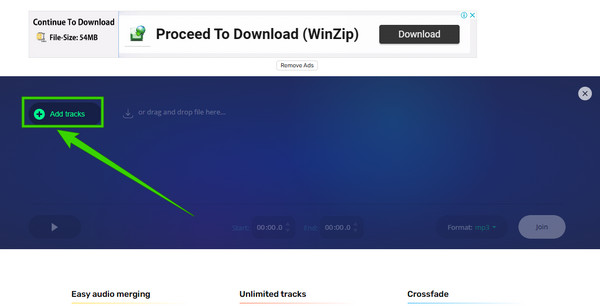 Step 2
When the audio files are finally uploaded, choose the format you want to obtain for the output. Then, navigate on the Start and End if you need to.
Step 3
After that, you can finally hit the Join button. Wait for the merging process to finish, and download the output after.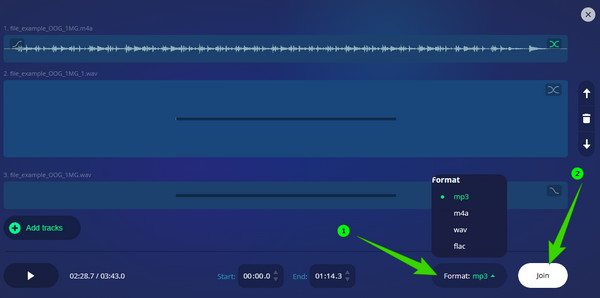 Part 2. How to Merge Audio Files Offline on Windows and Mac
This time, let us meet the best editing software to merge MP3, AAC, WMA, WAV, AC3, FLAC, and other 500 formats, Video Converter Ultimate picked by Blu-ray Master. Yes, it is a converting tool for video, but it also works ultimately for audio files. Furthermore, you won't stumble to using it on a desktop or Mac for powerful administering to those OS. Meanwhile, this unique software comes with many excellent features and tools, and believe it or not, it can merge all your video and audio files with just one click! You read it right. Thanks to its converter function that possesses this powerful trait. That said, you can combine numerous audio together and convert, edit, and enhance them with the extra editing thumbnails the converter has.
Oops! That is just one part of its features, and you better know the others. Video Converter Ultimate holds a Ripper, MV maker, collage maker, and makers of 3D and GIFs. Aside from that, it comes with a Toolbox which you will surely love. Why? Because this Toolbox offers all the video and audio editing tools you need, such as an audio compressor, audio sync, volume booster, trimmer, enhancer, speed controller, and many more to mention. Therefore, having it on your computer device is not a loss but a gain. Hence, if you want to learn how to merge audio files using this great software, follow the steps below.
Key Features
1. Merge multiple files in a click.
2. Convert, edit, and enhance audio files during and after merging them.
3. Support more than 500 formats and devices.
4. Advanced technology like AI and acceleration are supporting the software and procedure.
Step 1
Install the Software
First and foremost, you must click the Download button available above. Make sure to only hit what applies to your computer's OS. Then, proceed to installing and launching.
Step 2
Add All the Audio Files
When you reach the software's main interface, stay on the Converter panel and hit the Plus icon at the center. This will enable you to upload the files to this audio file merger.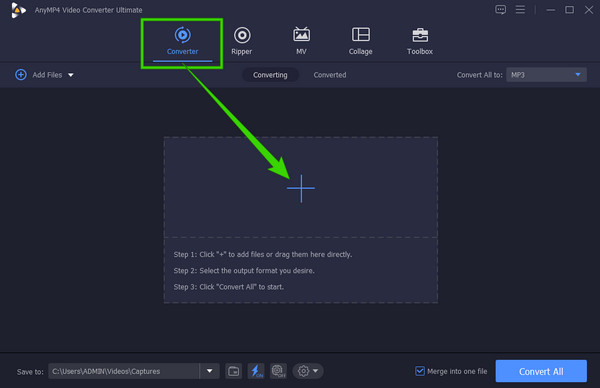 Step 3
Merge the Files
Once all the files are loaded, you can now act to merge them. To do so, simply toggle the Merge Into One File button at the bottom part of the interface.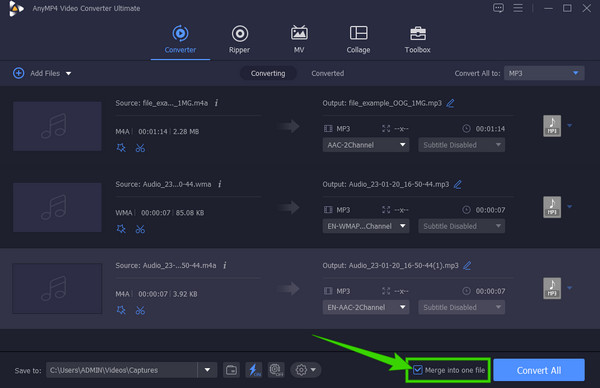 Note: If you want to edit your audio files before merging them, you can do so by hitting the Star icon to edit the volume and delay. Or the Scissors icon to split, add segments, and apply fade-in and fade-out effects. When you click one, the tool will direct you to a new window to edit freely according to your preferences.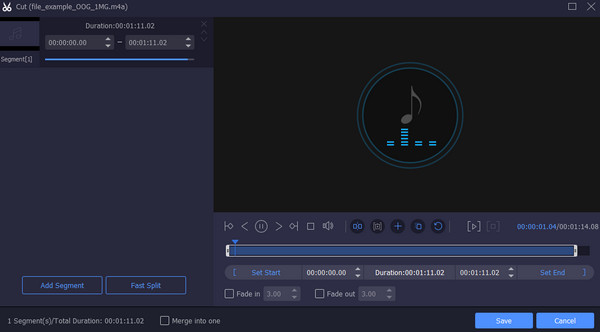 Step 4
Convert to Export
We encourage you to set the format you want for your output. Go to the Convert All To section and click its Arrow button to do so. Then, select your chosen audio format there. When you're done setting, combine the MP3 files by clicking the Convert All button at the bottom. Wait for the conversion process to finish, then check your exported merged file.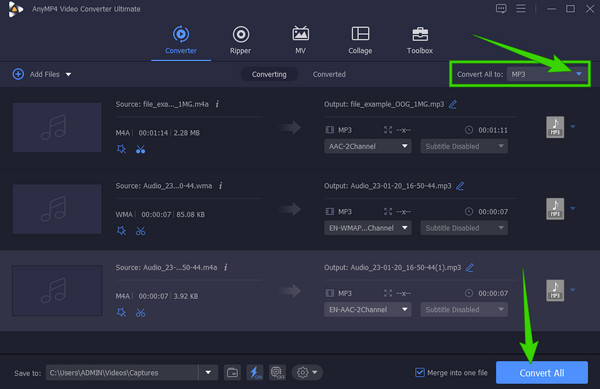 Part 3. Compare These Ways
| Attributes | Audio-Joiner | Video Converter Ultimate |
| --- | --- | --- |
| Free to Use | Yes | Yes (Free Trial) |
| Easy Audio Merging Process | Yes | Yes |
| Supported Formats | More than 300 | More than 500 |
| With Interval Adjustments | Yes | Yes |
Further Reading:
Easily Cut and Merge Songs Online for Free Without Download
Step by Step Guide to Merge Audio Tracks in Audacity Correctly
Part 4. FAQs about Merging Audio
Is VLC an audio combiner?
No. Unfortunately, this media player can't cater you to merge video or audio files.
Can I combine MP3 and AAC files together?
Yes. You can easily combine any audio type with Video Converter Ultimate picked by Blu-ray Master. To do so, you need to upload the MP3 and AAC files when you click the plus sign at the center of the interface, then tick the box that says merge the files. After that, choose a format for your output, then hit the convert button.
How do remixing and merging differ?
Remixing audio files is the method of adding sound within the existing sound to make a mixed sound. While merging, you will only combine the files without overlapping them.
Conclusion
Many editors we are acquainted with choose the audio mergers presented in this article. Therefore, we were just some who tried and tested them. Both Audio-Joiner and Video Converter Ultimate have their weaknesses, but when you use them, you will undoubtedly focus on their edges. However, they differ in many things, especially in how they merge audio files, and the Video Converter Ultimate has the upper hand.