6 Best MP4 Trimming Software You Should Not Miss on Desktop or Online
MP4 cutter software lets you trim, split or cut a video in various parts while keeping the originality of clips. If your video file is too large to upload to social media, load in media player or transfer to mobile device, these tools can help you to resolve the trouble. The new problem is there are too many video cutters and it is impossible to identify the best. Therefore, this article shares a top list contains both desktop software and web apps.
Part 1: Top 4 MP4 Cutters on Desktop
Top 1: Blu-ray Master Video Converter Ultimate`
When editing videos, quality loss is the biggest concern. Fortunately, Blu-ray Master Video Converter Ultimate can solve this problem. It is able to cut and split videos while maintaining the original quality. Users can get a lot of bonus features within the single application, such as format conversion.
Pros
1. Cut, trim and split MP4 videos without technical skills.
2. Support almost all video and audio formats, like MP4, MKV, etc.
3. Offer a wide range of bonus tools and custom options.
4. Use hardware acceleration to improve performance.
5. Available to Windows 10/8/7 and Mac OS X.
Cons
1. You need to purchase a license after free-trial, but it is pretty affordable.
How to Trim a MP4 File on Desktop
Step 1
Add MP4 video
Run the best MP4 splitter once you install it on your computer. Click the Add Files menu at upper left side and add a MP4 file that you want to cut. Or drag and drop the video into the main interface to load it.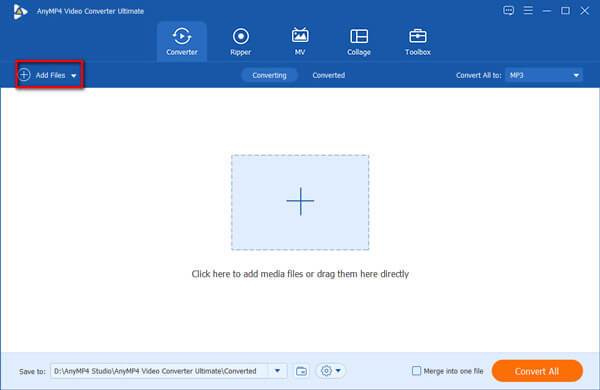 Step 2
Cut MP4
Click the Cut button with the scissors icon on the title to open it in the Cut window. Here you can do both video cut and split.
Cut and trim MP4: Move the right slider to the new end and set the left slider to the new begin and click the Trim button. Then unselected frames will be deleted. You can also do it accurately by resetting the start and end positions.
Split MP4 into clips: Put the slider to the right position and click the Split button. Then the MP4 file will become two clips.
Click Save button to confirm it and go back to the main interface.
Step 3
Export trimmed video
Locate the bottom area and click the Folder icon to set the output directory. Click the Convert All to menu at upper right side and set the output format. Finally, click on the Convert All button to export the clips.
Top 2: iMovie
iMovie is the best MP4 cutter for Mac. In fact, many MacBook has packed the video editor when released from manufacturer. Therefore, the MP4 cutter is free to use and does not need installation.
Pros
1. Cut and split MP4 on timeline.
2. Preview videos in real time.
3. Work well with other Mac apps.
Cons
1. It can only save videos in MP4 or MOV.
How to Split MP4 in iMovie
Step 1
Open the free MP4 trimmer on Mac, create a new project and add a MP4. Drag and drop the video onto the timeline.
Step 2
put your mouse to the proper position, right-click, and choose Split Clip. Then delete the unwanted clip.
Step 3
Click the Share icon and save the clip or share it directly.
Top 3: Windows 10 Photos App
The Photos app is the built-in MP4 cutter on Windows 10. It enables you to edit MP4 videos with basic editing tools. Moreover, everyone who have updated to Windows 10 can use the app for free.
Pros
1. Easy to use.
2. Trim MP4 video on timeline.
3. Save clip as new video.
Cons
1. It is only available to Windows 10.
2. The cutting is not accuracy.
How to Trim a MP4 on Windows 10
Step 1
Open a MP4 with Photos app. Unfold the Edit & Create menu and choose Trim.
Step 2
Reset the start and end points on the timeline.
Step 3
Click Save a copy to save the trimmed MP4 to your hard drive.
Top 4: Avidemux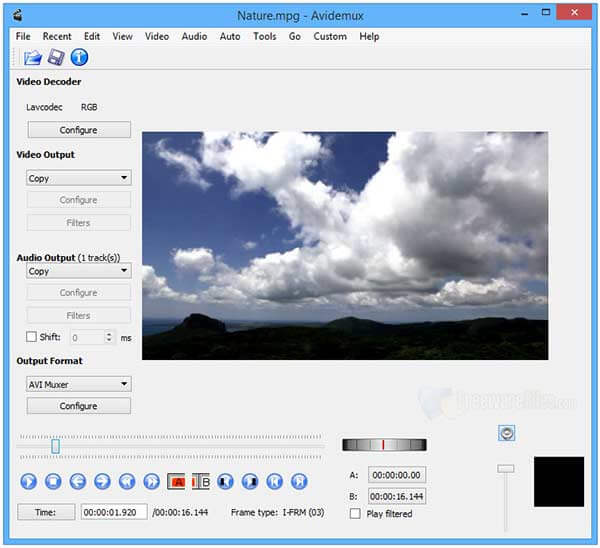 Avidemux is an open-source MP4 cutter for PC, Mac and Linux. It lets you edit a video frame-by-frame, so you can get the desired effect exactly. To use it, you'd better install from official website.
Pros
1. Free of charge for full version.
2. Cut MP4 by frames.
3. Include more editing tools.
Cons
1. The interface looks outdated.
2. Some features are hard to understand.
How to Cut a MP4 in Avidemux
Step 1
Also, open a MP4 in the free MP4 cutter.
Step 2
Move the slider to the new start point and click the A button. You can use the Forward icon to find it accurately. Then put the slider to the new end point and click the B button.
Step 3
Press Ctrl + S and export the clip as a new video.
Part 2: Top 2 MP4 Cutter Apps Online
Top 1: Online Video Cutter
As its name said, Online Video Cutter is a MP4 cutter app online. It enables you to trim a MP4 file without installing any software. Of course, there are both free and paid plans for various needs.
Pros
1. Cut a MP4 online.
2. Upload video from URL and computer.
3. Crop and rotate video.
Cons
1. The maximum size is 500MB for free.
How to Cut a MP4 with Online MP4 Cutter
Step 1
Visit https://online-video-cutter.com/ in a browser, click Open file to upload a MP4.
Step 2
Drag the start and end sliders to the desired positions.
Step 3
Click the Save button to begin cutting MP4. Then download it.
Top 2: FreeConvert
FreeConvert is another online MP4 trimmer online. A free account can process a video up to 1GB per time. You can upload a video from hard drive, Google Drive or Dropbox and cut it online.
Pros
1. Easy to use.
2. Support MP4, MOV, AVI, and WebM.
3. Delete videos after 2 hours.
Cons
1. There is no other editing tool.
How to Trim a MP4 Online with FreeConvert
Step 1
Open https://www.freeconvert.com/video-trimmer in a browser. Click the Choose Video button to upload your MP4.
Step 2
Set the new beginner and end in the Trim start and Trim end boxes. Click Trim Video button.
Step 3
When it is done, click Download MP4 to get your video.
Extended Reading:
• 3 Easy Ways to Extract Audio from MP4 Video
Part 3: FAQs about MP4 Cutter
How to trim video in Windows Media Player?
Windows Media Player is a video player and manager. It cannot trim or edit videos.
Can I cut YouTube video?
If you have a video cutter tool, you can cut or edit it as you wish.
Will cutting MP4 shrink the video file?
Yes, one way to compress file size is to cut the video or split it into several clips.
Conclusion
Now, you should learn at least 6 ways to cut your MP4 video files on Windows, Mac and Linux. Some of them are free to use with some downsides, while others enable you cut videos like professionals. Blu-ray Master Video Converter Ultimate, for instance, can cut, trim and split MP4 videos without damaging quality. If you have other questions, please feel free to write them down below.