Top 2 Methods to Reduce MP4 File Size for Free
I often hear people complain that why their MP4 video files on hand are always so large. Gigantic file size can cause numerous problems. You may fail to upload your big MP4 videos to platforms like YouTube and Facebook. Email service providers also set strict limits on the attachment file size. Large MP4 files take a long time to transfer and thus increase the risk of transmission interruption. The most annoying moment is when your hard drive is fulfilled with big MP4 video files and you cannot download a thing anymore. But don't worry. This post will teach step by step how to reduce MP4 file size for free.

Part 1: A Professional Tool to Reduce MP4 File Size
There are thousands of solutions on Google to reduce MP4 file size. However, I would say 95% of them will cause excess and unnecessary quality loss. The tool you choose to use will affect the size-reducing result to a great extent. Video Converter Ultimate is a professional tool to reduce MP4 file size with the least loss of video quality. Here are several key features of it:
1. Reduce MP4 file size no matter how big or how long it is.
2. Compress MP4 video files with the least loss of image quality.
3. 3 Ways (compressing, converting and trimming) to reduce MP4 size.
4. Reduce MP4 file to any size at your will.
5. Advanced hardware accelerating assures 70x faster processing speed.
Steps to compress MP4 file with Video Converter Ultimate:
Step 1
Free download, install and launch Video Converter Ultimate on your computer. When you see the interface of the program, head to Toolbox tab on the top of the interface. Then click to open the Video Compressor.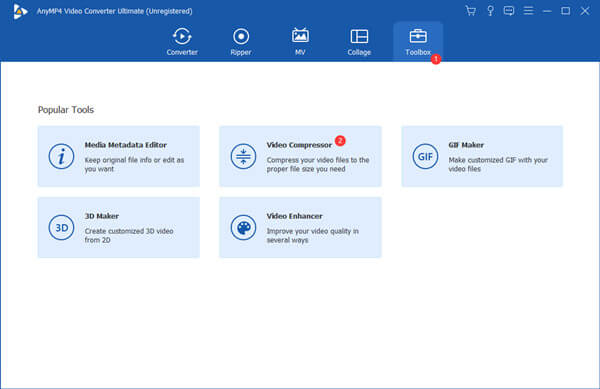 Step 2
There is a big + button in the middle of the Video Compressor window. Click it and then import the MP4 video file you want to compress. The importing will be done immediately.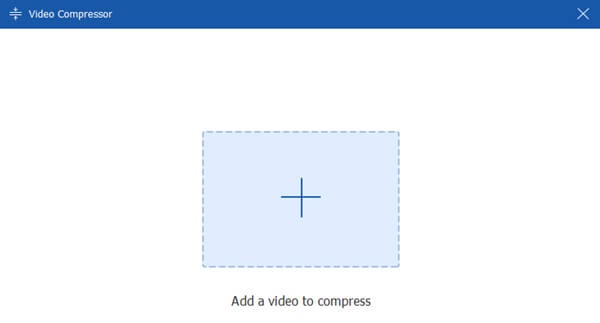 Step 3
In the video compressor interface, you can rename the file, select the output format, and change the resolution of the video. Here you just need to focus on the Size section. You can drag the dot left and right on the size bar to adjust the output size of the file. This program also allows you to directly enter your desired output file size. Format and resolution will also affect the output size to some extent. Click the Preview to preview the result. When you are satisfied with the result, click the Compress button in the bottom right corner to start compressing the MP4 file.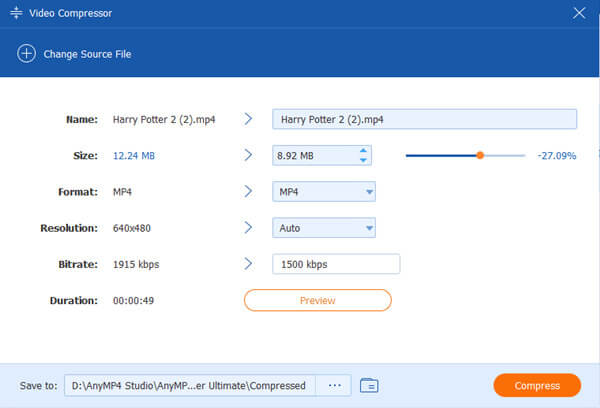 More than merely compressing, Video Converter Ultimate also supports you to trim and convert your video to reduce the file size. You say you just want a shortcut to reduce the file size and don't want to download any program? Not a problem. Below is a shortcut to do the task without any downloading or uploading.
Part 2: Reduce MP4 File Size Online for Free
Free Online Video Compressor can help reduce MP4 video size within your browser. It accepts video in various formats like WMV, WEBM, MP4, MOV, MKV, and AVI, and don't have any limit on your file size and length.
Pros:
Using it does not require any downloading.
It has no limitation on the video size and length.
Cons:
It does not support compressing 4K videos.
The compressing speed is a little bit slow.
It can only output video in 13 formats.
Steps to reduce MP4 file size with Free Online Video Compressor:
Step 1
Go to https://www.bluraycopys.com/free-online-video-compressor/ in your browser and click the Add Files to Compress button in the center of the webpage. A file explorer window will pop up. You can upload your MP4 video using it.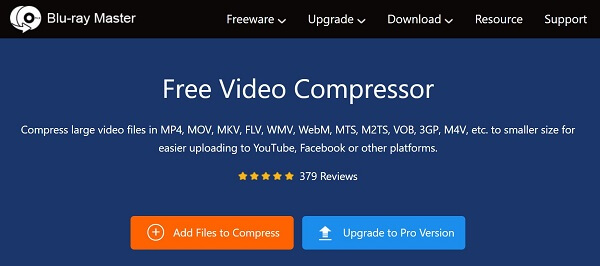 Step 2
When the MP4 file you selected is fully uploaded, you will see the interface of the online compressor where you can customize the settings for the compression. Dragging the dot on the percentage bar will influence the bitrate of the video so that the size of the file is under controll. More than that, you can also reduce the resolution of your video to reduce the MP4 file size.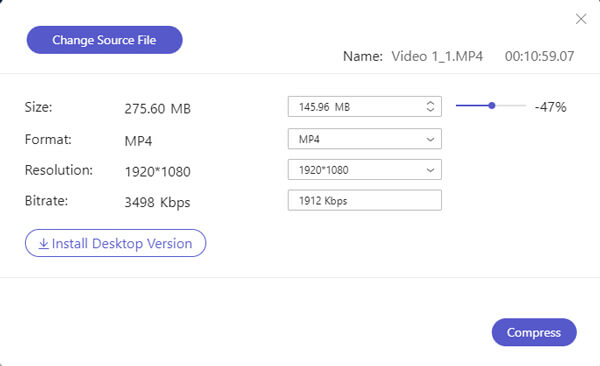 Step 3
After customizing the settings, you can click the Compress button in the bottom right corner of the interface to start compressing the MP4 file. It will prompt you with a file explorer window for you to select a destination. When the MP4 compression is completed, you will see a notice saying Compression successfully!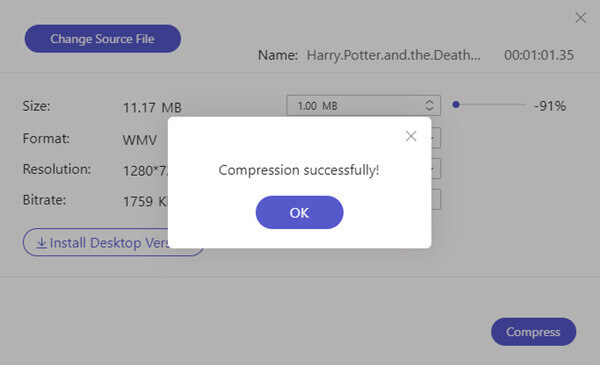 Part 3: FAQs about Reducing MP4 File Size
Which video format is the smallest?
Possibly 3GP is the smallest video format you are looking for. But rigorously speaking, there is no such smallest video format. The reason why different formats take different levels of storage is that they apply different codecs and bitrates.
Is there a way to reduce MP4 file size without losing quality?
Yes, there is. Although compressing MP4 will unavoidably damage the video quality, there is another way to reduce MP4 file size without quality loss. You can use a MP4 cutter to trim the unwanted segments of the video so that the video gets shorter and smaller while the remaining part won't get vague.
How to save my MP4 video file in other formats?
We introduced two tools to compress MP4 files. Both of them can help you convert MP4 files to other video formats. You can select your desired output format before exporting the video.
Conclusion
This post talks about two efficient methods to reduce MP4 file size. The best tool to do it is Video Converter Ultimate. It can reduce video size in three ways, namely compressing, trimming, and converting. If you are simply looking for the quickest solution and don't care much about the result video quality, you can turn to Free Online Video Compressor. This tool also support compressing AVI, MKV, VOB, or any other video formats to your desired size.