Comprehensive Instructions Speeding up Videos for Instagram Easily
One way to make your videos Instagramable is by accelerating their speed. A fast-forwarded video can cover all the exciting events our video has. Well, why would you cut or trim your video when you can speed it up instead? For this reason, many are still wholly using this tactic to post their video. For this reason, if you are new to using Instagram and still don't know how to speed up a video using Instagram, then you just came into the right post. Because in this article, you will learn everything you need to know regarding this task. So, without further delay, let's start this tutoring by reading the information below.
Part 1: General Way to Speed Up Videos Using Instagram
This general method is done by using the original function of Instagram on this matter. Yes, Instagram has this default feature that can control or change the speed of your video. However, this function is not available on all feeds of Instagram, for it only caters to the videos made from Reels. Anyway, here are the steps on how to speed up videos using Instagram.
Step 1
Open the Instagram app, and tap the Reel icon that you will see on the bottom-center part of the screen.
Step 2
Once you are on the Reels, tap the Camera icon at the top right corner. This is to bring you to recording a new video for Reels.
Step 3
On the recording page, tap on the 1x selection from the tools on the left. This selection is the speed controller, tap it and set it to 3x. Now, long press the Recording button to start capturing a new fast video.
Step 4
After recording, tap the Next tab. Then, on the next page, tap either the Edit Clips option to adjust it more or the Next tab to proceed with posting it.
Part 2: 2 Best Options to Speed Up Videos for Instagram
As mentioned earlier, Instagram's default video speed controller only applies to Reels. However, this is not something to fret about because we still have the best options for you.
Option 1. Double Speed Videos for Instagram with the Best Software
We introduce you to the best video speed controller on Windows, Linux, and Mac, Video Converter Ultimate. If you want to have all-out software that will cater to all your video editing needs, then you better check this software out. Because besides being the fastest and most efficient high-quality video converter, this software also entails a robust toolbox with all the enticing tools, including the video speed controller. And for your information, its video speed controller doesn't only come with a speed controller alone. As a matter of fact, it also entails a video setting where you can adjust the resolution of your video up to 4K!
Aside from that, it also lets you customize the frame rate, encoder, quality, zoom mode, and format of your video. It also has the audio setting section where you can control the encoder, sample rate, bitrate, channel, and audio format enticed in your video. Notable, isn't it? Therefore here is the demo on how to speed up video for an Instagram story using this phenomenal Video Converter Ultimate.
Key Features of Video Converter Ultimate
1. Speed up videos up to 8X faster than their original speed.
2. Advanced video editing controls to perfect videos.
3. Supported by Linux, Mac, and Windows OS.
4. High-quality outputs are produced instantly with its intuitive interface.
Step 1
Obtain the Software
Begin with acquiring the software on your desktop or Mac. Click the download button to do the step quickly. After installing, you can already launch the tool.
Step 2
Access the Video Speed Controller
Once you open the software, hover over to its Toolbox, where the Video Speed Controller is kept. Click the speed controller once you see it, and follow it by importing your video once you click the Plus icon within.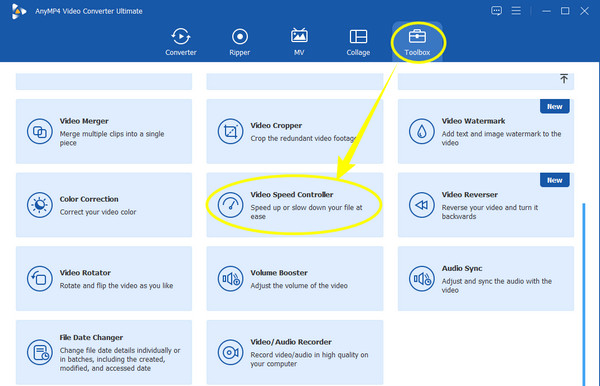 Step 3
Speed Up the Video
Now that your video is already uploaded, hit the speed-up option you want to apply to your video. As you can see, you can double-speed video for Instagram here. And for the other setting, hit the Settings icon as marked in the image below.
Step 4
Set the Video Output
This is after clicking the Settings icon. In a new window, you will be given all the adjustment options that you can apply to your video and its audio. Adjust according to your want, and hit the OK tab after.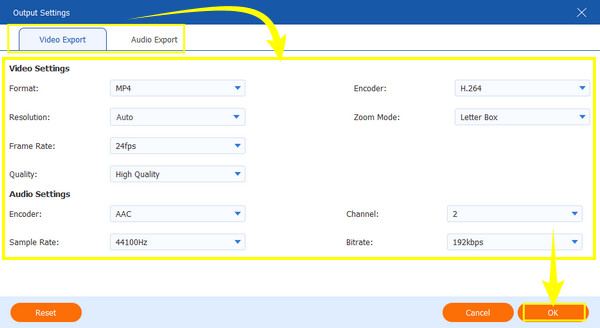 Step 5
Export the Video
Finally, you can hit the Export tab so the tool can produce your newly accelerated video.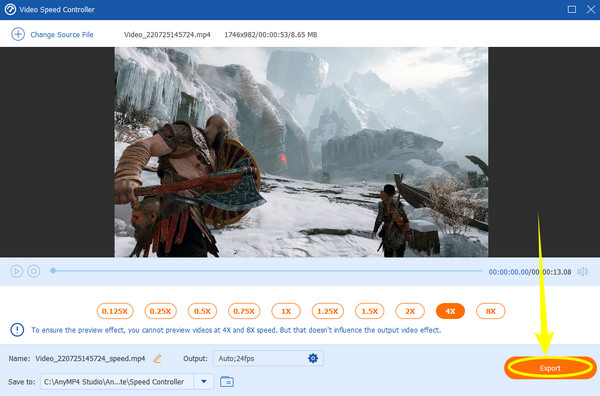 Option 2. Speed up Your Video with Hyperlapse
Hyperlapse is known to be the official video editing app of Instagram. Regarding speeding up videos, this app is the confidante of Instagram. Furthermore, it provides users with great options in video editing, including recording a movie and uploading one from your mobile phone. However, this app is only available on iPhones, which makes it unfortunate for Android users to be lavished. Anyways, if you are an iOS user, then feel free to follow the instructions below on how to speed up video for Instagram in this speed up video app.
Step 1
Download Hyperlapse from the App Store. Launch it and tap the Record white button to start capturing a raw video.
Step 2
Once the recording is finished, you can adjust your video's speed. Drag the slider to the preferred speed that you want to apply to the video.
Step 3
Then, tap the Check icon at the top right corner of the screen to save the video to your photo gallery.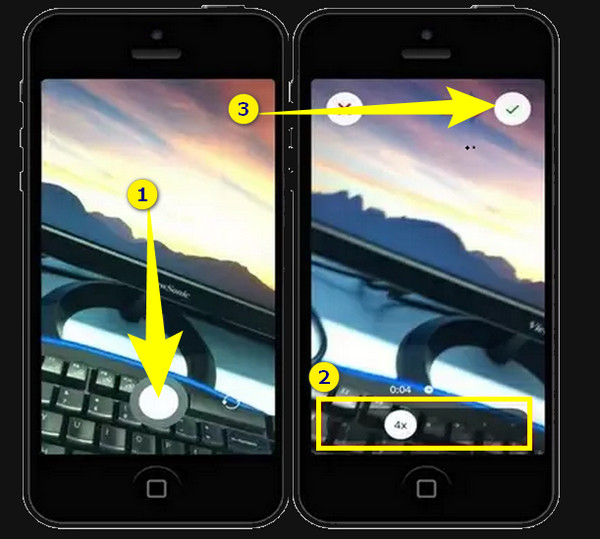 Part 3: FAQs about Speeding Up Videos for Instagram
Can I speed up my videos on iMovie for Instagram?
Yes. iMovie is also an app that offers a speed controller for your videos.
What is the maximum time duration of the Instagram story that I can speed up?
By default, Instagram sets the limitation up to 60-second-long stories that you can speed up. In addition, you can only speed up videos of not more than 15 seconds from the Feed.
Can I convert the video I sped up into a different format on my phone?
No. Video conversion must be done with the help of a video converter tool. Try the Video Converter Ultimate if you want to transform your videos into many different formats while making them excellent in quality.
Conclusion
To conclude, speeding up a video using the Instagram app limits you. Therefore, you will need a third-party app for a broader video editing experience. But looking for a third-party tool won't be a problem anymore because we have provided you with the best options in this article. Thus, you can always rely on them, especially with Video Converter Ultimate.