Top 5 Internet Radio Recorders for Windows Mac iOS Android
Want to record music streaming from internet radios to MP3 but don't know how?
Recording internet radio is one kind of free legal option to increase a collection of digital music. To capture streaming radio from internet, you need a good internet radio recorder. So with so many audio recording tools offered on the market, which internet radio recording software you should use?

You can easily access various streaming live music and talk shows from internet radio stations. Here in this post, we like to share 5 best internet radio recorders to help you capture digital music and other audios from internet with high quality.
Part 1. Internet Radio Recorders for Windows and Mac
Thanks to the internet, you can easily listen to many different stations from all around the world on your computer. You don't need to listen to an old AM FM radio in the tradition way. You can record internet radio to listen later at your free time. Here in this part, we will introduce you with 3 great internet radio recorders for Windows PC and Mac. You can pick your preferred one to capture streaming music, lectures and other radio contents from internet.
Free Online Audio Recorder
Free Online Audio Recorder is a popular free audio recording tool which allows you to record internet radio, online music and other audio tracks with high sound quality. This internet radio recorder can capture any sound played on your computer from system audio card and microphone. It enables you to record internet radio with its original quality.

This free internet radio recording software provides a simple way to capture any radio from internet. You can navigate to the official site of this internet radio recorder and click the Start Recording button to start the recording process. It also carries some basic editing features for you to edit your recorded radio file. With its help, you can handily record internet radios to MP3.

SonicWeb - Internet Radio Player and Recorder
SonicWeb is a powerful internet radio player and recorder which allows you to listen to and record free internet radio with ease. It selects and gathers more than two thousand radio stations. You can browse popular and recommended stations. Also, it acts like a music player that enables you to directly search your favorites by name and some filters.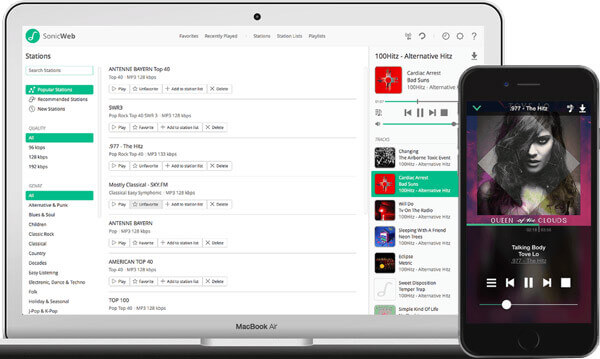 While you streaming in SonicWeb, you can also record multiple radio stations at the same time. This internet radio recorder can capture continuously and automatically split radio streams into separate tracks. It offers a convenient way to create your music library. It allows you to export your radio recordings to computer and portable device for listening.
Screen Recorder - Professional Internet Radio Recorder
Screen Recorder is an all-featured screen and audio recorder which enables you to record any streaming radio, digital music and more from internet with high audio quality. It has the capability to record internet radio from system audio, microphone or both. You can record as many stations as you like on both Windows PC and Mac.

This internet radio recording software provides you with a high quality way to capture digital music, audio calls, voice notes and more. Besides the internet radio recording, it also enables you to capture your computer screen and any activities on your computer. It is designed with some editing functions for you to edit your recordings.
Part 2. Internet Radio Recorder for iPhone iPad
If you are an iOS user and want to record radio from internet, you should also rely on some third-party app. Even though iPhone or iPad carries a Voice Memos app and screen recording feature that can help you capture audio, they can't capture the internet radio with high sound quality. Considering that, here we recommend a great internet radio recorder to help you record internet radio on iPad and iPhone.
Anchor is a popular audio recording app which enables you to capture internet radios, voice messages, online music and more. It has the capability to record with your friends. Moreover, it is able to record your own voice and add background tracks to it.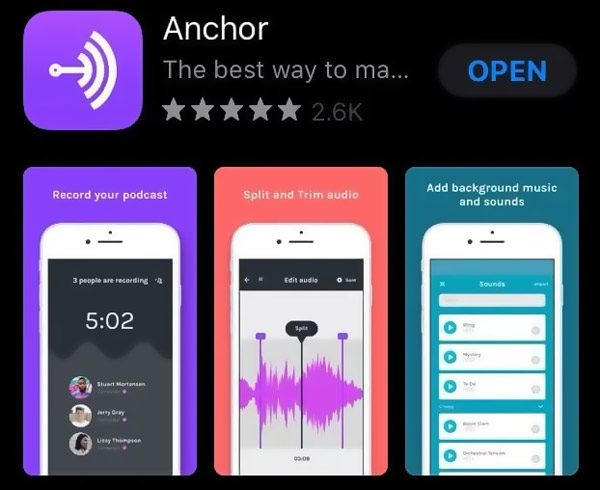 This internet radio recorder allows you to edit the mix multiple audio segments together. It also provides a simple way to publish your podcast straight to the web. One thing you should know is that, Anchor can only capture compressed audio.
Part 3. Internet Radio Recording Software free for Android
If you are using an Android phone and want to record internet radio, you can use the free internet radio recording software, VRadio.
VRadio is a top-notch radio app that allows you to stream thousands of radio stations online. It provides a simple way to find your favorite radio stations and discover many others. You can directly access a wide variety of radio stations of different music genres and categories in this app. Moreover, it can work as a great internet radio recorder to capture your favorite radio talk shows and music.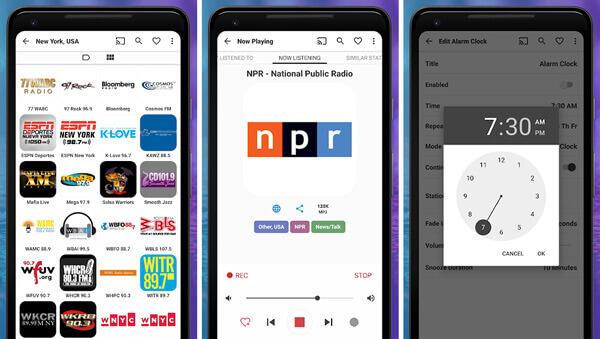 VRadio lets you import or export your favorites list to keep and retrieve a backup. It provides many radio streaming features to help you better enjoy your favorite radio stations. It supports Android Auto for listening to radio while driving. It can be the best online radio player and internet radio recorder app for Android users.
Here you may like: How to Record PS3 Gameplay without Buying Anything
Part 4. FAQs of Internet Radio Recorder
Question 1. How can I screen record on my iPhone??
As an iPhone user, you can easily capture your iPhone screen with its built-in screen recording feature. You can go to Settings app and add this recording feature to the Control Center. When you want to screen record your iPhone, you can arise the Control Center and use it.
Question 2. Can you record internal audio??
When you want to capture internet radio or some online music, you'd better record the audio through your computer system audio card. In that way, you can get a high quality output file. To capture internal audio, you can rely on some professional audio recorder like the recommended Screen Recorder.
Question 3. Does Windows 10 have an audio recorder??
Windows 10 has a default audio recorder, the Voice Recorder app. You can use it to capture your voice, lectures, conversations, audio calls and other audio files on your Windows 10 PC.
What is the best internet radio recording software free? After reading this page, you can get 5 great internet radio recorders to help you capture any internet radio on computer and portable iOS Android device. If you have any better way to capture streaming music or an internet radio recorder recommendation, you can leave us a message.