How to Record Screen with Audio Using QuickTime Player
QuickTime Player is one of the popular media players that comes bundled with macOS. QuickTime Player has an intuitive interface that makes it easy to navigate and find the video or audio files you're looking for. What's amazing about QuickTime Player is that it can be used as a screen recording tool. In this post, we'll show you how to use QuickTime to start a screen recording with audio, as well as share you with the QuickTime Player alternative to offer you more choices to record the screen with audio on your computer.

Part 1. How to Record Video with Audio Using QuickTime Player
In addition to playing video and audio files, QuickTime Player also allows users to record the screen and audio on your Mac. However, one thing you need to note that you can only record the external sound from a built-in microphone or headphones, not being able to record the audio from system sound. To record the screen with system sound, you should turn to a professional screen recorder. For more information, you can directly go to Part 2.
Screen capturing with VLC is quite simple, and requires just a few steps:
Step 1
Launch QuickTime Player from your Applications folder. Click on File menu and choose New Screen Recording.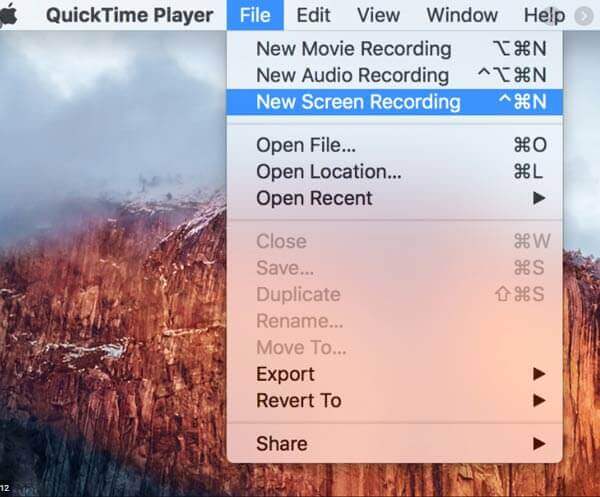 Step 2
Then, you'll see the following window appearing on your screen.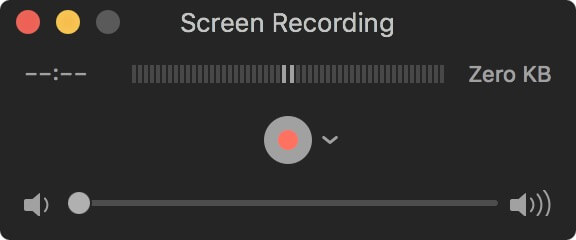 Before recording, you can click on the arrow icon next the red recording button to configure the recording settings:
If you need to record your voice from the microphone while recording the screen, just enable the Internal Microphone option. If not, just check the None option.
If you want to show a black circle around your pointer when you click during the recording process, you can enable the Show Mouse Clicks in Recording option.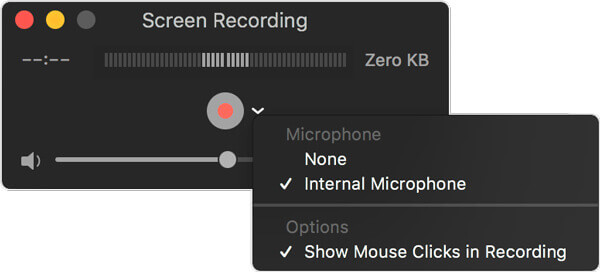 Step 3
When you're ready, click on the red recording button, and then the following prompt will appear.

You can click anywhere on the screen to start an entire-screen recording; or drag to select a portion of your display to record. Then, QuickTime will start recording the activity on your screen.
Step 4
Once the recording is over, click on the Stop button in the menu bar, or press Command + Control + Esc to stop recording your display. After that, QuickTime Player will open the recording automatically and you can preview it freely. If you are satisfied with the recorded file, you can go to the File menu, and choose the Save… option.
Then, you can name your recording file and choose the folder to save it.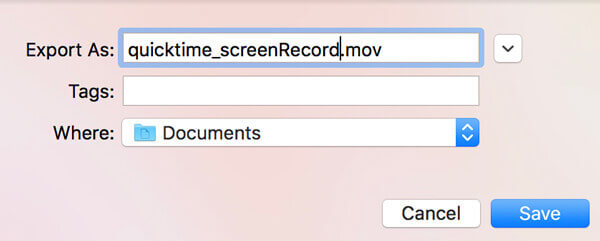 Part 2. The Best Alternative to QuickTime – Blu-ray Master Screen Recorder
As we know, QuickTime Player doesn't support recording the system sound. When you want to record a movie along with its audio, you need to find another screen recorder to record the video and audio simultaneously.
Blu-ray Master Screen Recorder is the best alternative of QuickTime Player to record your Mac or Windows PC screen. You can use it to capture screen activities, games, videos, video conferences, and more. It also works as an audio recorder that allows you to grab any sound from the microphone, system sound, or both. Also, it offers real-time editing features such as callout, highlights, caption, etc.
1. Record any screen activity in full screen or customized size.
2. Support multiple video & audio output formats as well as popular devices.
3. Works on both Windows PC and Mac.
Step 1
Free download, install and launch this screen recording tool on your Mac or Windows PC. On the main interface, choose the Video Recorder option.
Step 2
You can record the screen in the full area or select a customized area. To record the audio from System Sound, you need to enable the System Sound option. If you'd like to add your voice to the recording, you can also turn on Microphone at the same time.

Step 3
Click the REC button to begin recording. When the recording is completed, click the Stop button and then a preview window will appear. Here you can choose to re-record, or just directly export it to your computer by clicking on the Save button.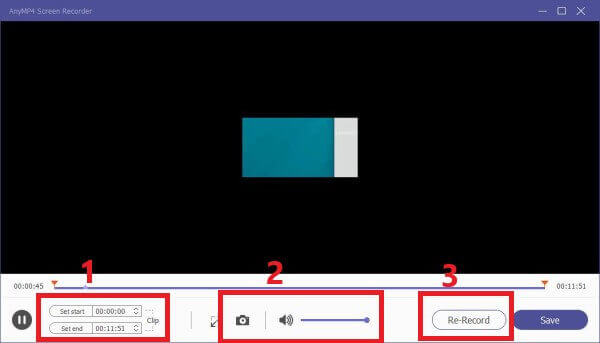 Part 3. FAQs of QuickTime Screen Recording
Can I install QuickTime on Windows 10 for screen recording?
QuickTime Player is not available for Windows 10, since Apple ceased Windows support of the program in January 2016. But you can find a similar screen recording tool for Windows, like Blu-ray Master Screen Recorder.
How do I record the screen online?
Free Online Screen Recorder can fill all your needs of recording online. You can use it to capture screen activities, videos, online tutorials, gameplays, and more easily for free.
How to fix the error that QuickTime can't stop screen recording?
You can force quit QuickTime. Click on the Apple menu, and then select Force Quit. To learn more solutions, you can check out this article: Can't Stop QuickTime Screen Recording?
Conclusion
Now you can create your screen recordings with QuickTime Player. If you want more controls on screen recording, like recording HD quality video, capturing music only, real-time editing, etc., Blu-ray Master Screen Recorder is exactly the one that can fill all your needs of recording and make your job more comfortable.