How to Record Pokémon GO on Android and iPhone
Releasing in the summer of 2016, Pokémon GO brought the enticing world to life. It is a free-to-play game and attracts more and more people to play. Obviously, many players look for ways to record Pokémon Go gameplay so that they can keep those important moments and share their experience with friends. Therefore, we'd like to show you two easy ways to record Pokémon GO on Android and iPhone in this post.
Best Game Recorder You May Be Interested in:
Blu-ray Master Screen Recorder is the best and most professional game screen recorder to capture any PC/online games in high quality. This game recording program comes with the ability to record games in various video formats MP4, AVI, FLV, etc., and it is compatible with both Windows and Mac.
1. Record any games on computer in HD quality.
2. Add your reactions through built-in or external webcam.
3. Capture both video and audio from multiple sources.
4. Optimize and enhance output quality automatically.
5. Compatible with Windows 10/8/7 and macOS 10.7 and above.
Part 1. How to Record Pokémon GO on Android
You can use a third-party screen recorder, like Mobizen Screen Recorder. It is the best screen recorder for Pokémon GO to produce HD video screen captures on Android. And this app also provides you with basic video editing tools to beautify your recordings.
Step 1 Download and install the screen recording app for your Android phone. Then open this app on your phone.
Step 2 Once you enter the screen you want to record, tap the Video Camera icon on the floating button.
Step 3 After finishing the recording, tap the Stop Recording button to save the screen recording.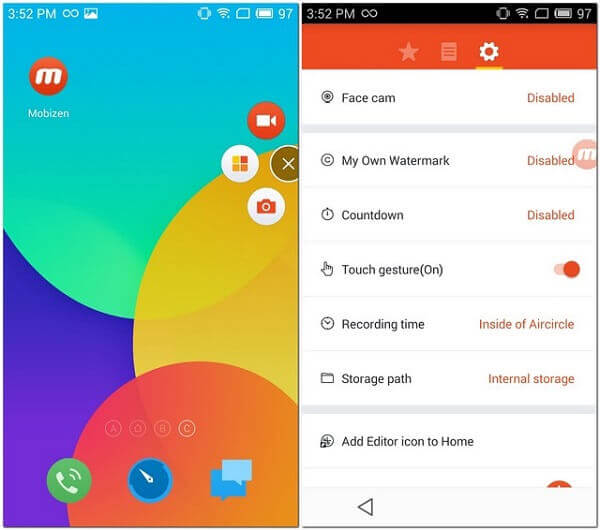 Part 2. How to Record Pokémon GO on iPhone
iPhone has a built-in screen recording feature designed in iOS. You can directly use this recording feature to capture Pokémon GO with ease.
Step 1 Add the screen recording feature to the Control Center. Navigate to Settings > Control Center > Customize Controls, and then tap + icon next to Screen Recording option to add it to Control Center.
Step 2 When you're ready of recording Pokémon GO, swipe your finger from the bottom part of your iPhone screen to arise the Control Center and tap the Screen Recording icon to start the game recording.
Step 3 Tap the record icon again to stop the recording. When you are done with it, you can get the Pokémon GO gameplay recording.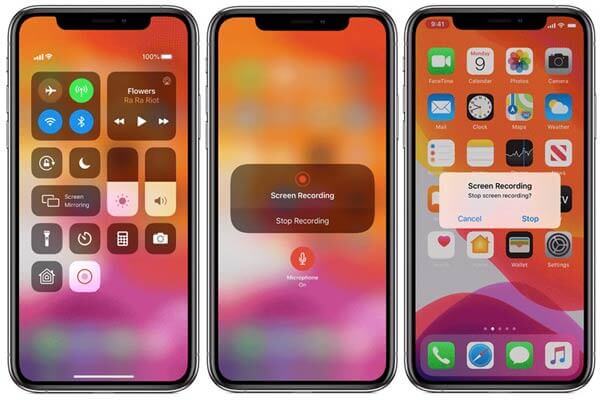 Here you may like: How to Convert MPEG/MPG/MPEG2/MPEG 4 Videos to DVD for Free
Part 3. FAQs of Recording Pokémon GO
1. Can I record Pokémon GO on Android with built-in screen recorder?
Sometimes, the screen recording feature is hidden by default, so you have to enable it before recording Pokémon GO.
2. Can I record Pokémon GO with audio?
Yes, you can use Blu-ray Master Screen Recorder to record Pokémon GO gameplay along with its audio at the same time. It also works as the audio recorder that lets you easily capture high-quality sound from your microphone, sound card, voice chat, etc.
3. What is the best Pokémon game?
By far, the best Pokémon games for a Single Type Run are Pokémon X and Y followed by Pokémon AlphaSapphire, Pokémon OmegaRuby, and then Pokémon Platinum. Both Pokémon X and Y had a remarkable 1A ratio of 13-18.
4. How to download Pokémon GO?
You can download Pokémon GO from App Store or Google Play.
Conclusion
Now, you know two ways to record Pokémon GO on your Android phone and iPhone. For recording game on your computer, you can try Blu-ray Master Screen Recorder to capture any gameplay in HD quality with no lag. And it also has the capability to capture videos, music, online conference, webcam videos, and more.