6 Solutions to Fix VLC Not Recording Problems
VLC Media Player is a worldwide media player, converter and editor for desktop and mobile users. Actually, you can record video using VLC as well. Just choose Open Capture Device from the Media drop-down list. Later, you can capture the desktop or webcam video for free with VLC. However, you may find that VLC record button not working or other VLC not recording issues. If you have problems while recording screen video with VLC or VLC not recording, you are coming the right place. Here we will explain the reason and solutions to fix this problem.

Part 1: Why Is VLC Not Recording Video or Audio
If VLC cannot record video at the beginning, there might be something wrong with system bugs. For instance, the latest builds of VLC recording and transcoding are possible reasons. To reduce the incidence of VLC not recording video, you can install an older VLC version, like v.2.0.8, v.2.1.5, v.3.0.0 and more. You can also switch versions when VLC stops recording in the middle.
Part 2: 6 Solutions to Fix VLC Not Recording
Solution 1: Find VLC Alternative
VLC is not designed for screen recording originally. To record screen or video, you had better find a professional recorder progran, and AnyMP4 Screen Recorder is the best VLC recorder alternative.
There is no maximum time limit, and you can record screen video with audio on your Windows and Mac computer. You can also unlock the hardware acceleration, scheduled tasks, hotkey preferences and other advanced recording features.
1. Record gameplay, online conferences, tutorials, video calls without lag.
2. Capture screen video with audio from a browser, program and even your voice.
3. Create annotations and highlight mouse clicks while recording with different sizes, colors and styles.
4. Set custom hotkeys to control the entire video and audio recording.
5. Adjust output video/audio quality, format and other settings.
6. Phone mirror can cast and mirror iPhone and Android screen on computer.
Step 1
Free download Blu-ray Master Screen Recorder. Then install and launch the program. Since VLC record not working, you can choose Video Recorder in the main interface instead.
Step 2
Set the screen capture area and input audio source based on your need. You can record video with system audio and microphone voice.

Step 3
Click REC to start recording. You can take a screenshot and add drawing tools during recording. When the screen recording ends, you can preview and trim it. At last, click Save to save the recording video.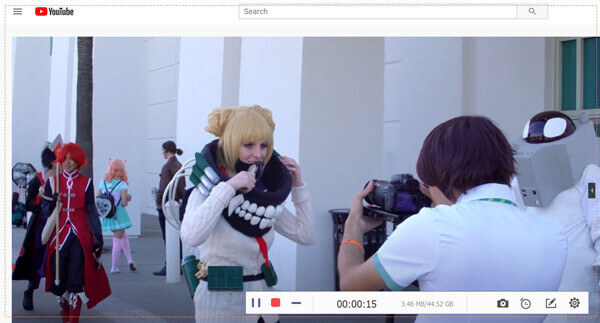 For more VLC Media Player alternatives, you can click it here.
Solution 2: Restart VLC Recording
When the VLC not recording video only audio problem occurs, you can restart and reinstall the latest VLC version. If it does not work, you can disable video acceleration before recording with VLC. Just head to VLC Tools. Choose Preferences followed by Video. Later, uncheck Accelerated video output. Then, you can use VLC to start record a video or audio to see if the problem is solved.
Solution 3: Disable Controlled Folder Access
Sometimes, the Windows Defender settings conflict with VLC recording settings. To fix it, you need to access the Windows Defender on your computer. You need to disable Controlled Folder Access to troubleshoot VLC not recording.
Solution 4: Change a Screen Recorder to Capture DVD subtitles
When you use VLC to record DVD videos, you may meet the problem that the video recording does not include subtitles. Even though you enable subtitle overlay while recording, the recorded file contains no subtitle. This is because the subtitle is saved into a separate file. VLC cannot recognize the separate subtitle. During this time, you need to change a screen recorder to bypass VLC not recording screen issue. (Find solutions to VLC won't pLay DVD issues )
Solution 5: Change Audio Output Modules to FLAC
VLC may delay when you record screen video with FLAC output. To fix VLC delay issue, you can relaunch VLC. Choose Settings followed by Preferences. Select Audio and set the output modules. Click Advanced options. Then select Win32 output extension wave to fix FLAC stutter delay in VLC.
Solution 6: VLC Recording Playback Crackle to ALSA
When you use VLC to playback the recording, you may find the playback crackle. To fix this problem, you just choose VLC Tools. Select Preferences and then choose Audio. After that, change the output module to ALSA. You can get rid of VLC crackling sound while playing or recording successfully.
Part 3: FAQs of VLC Recording Problems
Where does VLC recordings save?
All media files will be saved into the Videos folder by default. You can find it in the Users folder. Choose a folder named with your user name. Then you can find the recording path folder.
What format does VLC record in?
VLC can record, transcode and stream video and audio in multiple formats. You can save the recording video file as MP4, ASF, AVI, FLAC, MOV, OGG, WebM and more.
What to do when VLC keeps crashing?
You can download diagnostic, reset preferences, disable hardware acceleration and fix corrupted program files to troubleshoot VLC crashes.
Conclusion
After fixing VLC not recording with the above methods, you can continue recording, playing, converting and editing video and audio files with VLC. Or you can turn to Blu-ray Master Screen Recorder and its online alternative to get better screen recording experience. If you still have problems of VLC video not recording, you can feel free to contact us.