How to Convert WAV to MP3 Online and Offline
WAV and MP3 are the most used audio formats today, so why must we convert.WAV to.MP3? As we all know, the WAV format is an uncompressed lossless audio format commonly used in CD recording, mastering, and advanced audio applications. WAV files are typically huge since they are uncompressed. To clarify, a CD recorded at 44.1 kHz and 16-bit takes roughly 30MB on average, and a typical WAV can take up to 500MB.
As a result, WAV music files are impractical for portable devices and online distribution, particularly in the current streaming era. Consider iTunes, Spotify, and others; why do those streaming services offer MP3 audio instead of WAV? The argument could not be clearer! The issue is file size. MP3 is a lossy audio file that takes up much less free space but still provides fairly beautiful sound effects, particularly at a higher 320 512 kbps. Furthermore, because the difference between a WAV file and an MP3 file on a portable device is not that significant to normal listeners with inadequate headphones or earbuds, it is quite fair to convert WAV to MP3 so that even hundreds of songs do not consume too much storage space on your smartphone. After you understand why you need to convert WAV to MP3, let's move on to how to convert WAV to MP3, with desktop converter software and online service.
Part 1. The Difference Between WAV and MP3
WAV files are raw audio files developed by Microsoft and IBM. They are container files storing the sample, tracking numbers, and other sample and bit rate information. They are usually uncompressed audio files. However, they can support some forms of compression if necessary. In general, they contain lossless audio, which implies a lot more detail is recorded in the file. The disadvantage is that the files can be substantially larger, with some exceeding 4 GB.
On the other hand, MP3 files are lossy audio files using a compression method that results in a substantially reduced total file size. Because the compression that occurs cannot be reversed, data is lost. This is why it is referred to as lossy. This data loss does not have to imply a loss in audio quality, but it can reduce file types by up to 80 or 90% in an MP3 vs. WAV test. For example, a 25 MB WAV file could be compressed to a 3-4 MB MP3 file. In addition, MP3 files are quite popular because compression usually does a decent job of maintaining audio while drastically reducing file size. This was especially beneficial in the days of smaller hard drives in MP3 players and computers.
| Differences | WAV | MP3 |
| --- | --- | --- |
| Description | Format for Waveform Audio Files. uncompressed audio file format of high quality. | A digital audio coding format that uses lossy compression to reduce file sizes and is widely used. |
| File Extension | .wav | .mp3 |
| Developer | IBM and Microsoft | Fraunhofer Society |
| File Size | Larger | Smaller |
| Compression | Lossless | Lossy |
Part 2. Convert WAV to MP3 Offline (Fast and Safe)
As we talk about the most incredible software for converting WAV to MP3 even in other ways, Blu-ray Master picked Video Converter Ultimate is one of the leading tools we can use nowadays. This tool offers advanced features for converting our files and even necessary special features. With that, turning MP3 into WAV will now become easy. For that, kindly see the feature it offers and the instructions we need to take to do the process properly.
Key Features
1. It converts over 500 media formats, including MP3, WAV, ACC, and more.
2. It offers editing features for audio, like splitting, trimming, and merging.
3. Fast conversion with batch conversion features.
4. Highly compatible with Winows 11/10/8/7 and macOS.
5. Safe to convert the WAV files on the lcoal drive.
Step 1
Get and install the software on your Windows or Mac computer. You can make it by going to the official website of Blu-ray Master Video Converter Ultimate for free.
Step 2
Execute this application on your computer. Select the Add File or option when you click Add File. Or simply drag several audio files directly into this program. This will allow you to add the WAV file you want to modify to WAV.
Step 3
On the right side of the audio file, select the format icon to choose MP3 as your output file format. Then you can see a rundown of presets. Make any necessary adjustments to the profile settings after selecting a preset.
Step 4
Choose a destination for the converted files. Then, click the Convert All button on the main interface to edit your computer's audio files. After that, you can see the WAV files on your selected location.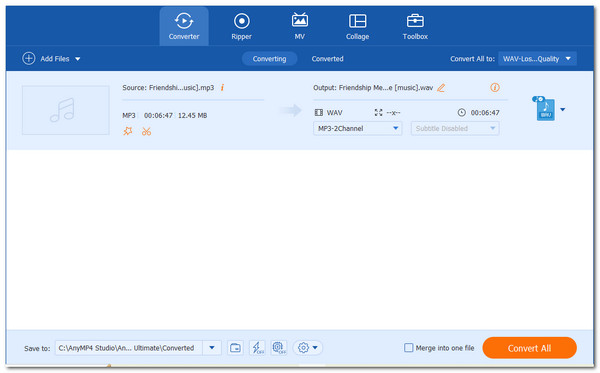 That process presents you with the most incredible software converting tool we can use. We can see above how easy it is to use and how flexible it is in converting our media files. Many users believe this software is a go-to solution for doing their tasks easily. You can now use it and regret not after like other users.
Part 3. Convert WAV to MP3 Free Online
Tool 1: Convertio.co
Aside from utilizing work area WAV to MP3 converters to change over WAV to MP3 or vice versa, there are likewise many free WAV to MP3 converters you can utilize straightforwardly from an internet browser. This means you don't need to install anything; all you need to do to perform the online conversion is upload your WAV files to the website.
Next, let's take a closer look at one of the best free online services for converting WAV to MP3 that you can use. Converting WAV to MP3 is just one of many online services offered by the Convertio.co website. The WAV to MP3 conversion process can be completed in simple steps. Look at the guideline below to see how this straightforward online service converts WAV to MP3:
Step 1
Use the Choose Files button to load the target WAV file, or you can directly add files from Dropbox, Google Drive, or a URL;
Step 2
After loading the WAV file, you can change the channel, bitrate, frequency, and volume settings by clicking the Gear button behind the MP3 format selection box. You can even cut the length of your WAV file only to save the part you want with this free WAV to MP3 converter service. What a sweet component it is.

Step 3
Click the enormous red Convert button to begin the WAV to MP3 conversion process.

Besides MP3, this online converter also supports converting FLAC, WMA, WAV, AIFF, M4A to WAV.
Tips: It should be noted that the WAV file must first be uploaded to their server before the conversion can begin, which may take a few minutes, depending on your Internet speed and the size of your WAV file. Additionally, if you have a lot of WAV files to convert, you will need to download the final MP3 file from their server after the conversion is complete, which will take some time.
Tool 2: MP3Cutter
Another online tool that can help us with ease of conversion is the amazing MP3Cutter. An effective online WAV to MP3 converter, audio combiner, MP3 cutter, and video compressor are all found in MP3Cutter. Its advantage over Podcastle is that it can batch convert WAV to MP3 on your Mac or Windows computer, making it possible to save multiple converted files in a single ZIP file. This incredible online tool offers a speedy conversion of our files. In this case, we will test it by doing the reverse process of what we did above. In this situation, we will see how we can change WAV to MP3 instantly using MP3Cutter. Let us see the instructions below and follow them as we make the process without complications.
Step 1
Open the destination website, click the Choose File button, and then upload MP3 files from your local folder.

Step 2
Choose the file format WAV as the output format. Then, set the audio options, such as reverse, fade in, out, etc.
Step 3
Convert your MP3 file to WAV and select Download Your Files Here.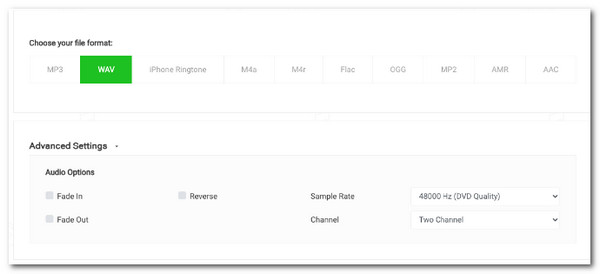 Those are the two infamous online converting tools we can use. We can see that these two are very effective in offering features for converting our MP3 files to WAV files. With that, any of these two will be great for finishing tasks easily. However, if you are aiming for more features, please remember that online converting tools are limited with it. For that, you may proceed with the next portion of this article, as we give you the most flexible tool for conversion.
Part 4. FAQs about Converting WAV to MP3
Is quality lost when WAV is converted to MP3?
Note: Some people want to learn how to convert WAV to MP3 without sacrificing quality. Unfortunately, this is impossible due to MP3's lossy audio format, and any conversion involving a lossy format is a lossy conversion.
Can I play wav on a Windows Media Player?
Yes. The wav file can be played back in Windows Media Player if the appropriate codecs are installed on the computer. Two types of wav files are Uncompressed Pulse Code Modulation (PCM) and Microsoft Adaptive Differential Pulse Code Modulation (MS ADPCM), the audio codecs utilized the most frequently. For more WAV player software, you can check them here.
Is MP3 or WAV louder?
No. Thanks to digital compression, the MP3 file is significantly smaller than a WAV file. Its goal is to sound just like the original file, which may have been in WAV format and was uncompressed. Because MP3 uses lossy compression, some of the original's subtleties will be lost, but the volume will remain the same.
Conclusion
In this article, we've examined the justification for why we, in some cases, need to change WAV over completely to MP3 design with disconnected WAV to MP3 converter programming on PC or free converter arrangement straightforwardly from an internet browser. Neither offline WAV to MP3 converter software nor online WAV to MP3 converter service has a clear winner. Each has benefits and drawbacks. More than that, we are grateful to have a converting tool like the Blu-ray Master Video Converter Ultimate in making the conversion process super fast. For that, you can now use it easily.