Does PS5 Play DVD Movies: Come to Know the Verdict and the Best Solutions
PS5 is among those gaming consoles catering to games and other home entertainment hubs. Yes, this console has the ability to play music, movies, and sports using popular online streaming sites and movie apps today. However, many who are using PS5 still want to bring back their childhood movie collections with physical discs like DVDs. Therefore, we often get a question such as "Does PS5 play DVDs, validating the console's feature to stream movies?"
For this reason, this article post is something important for those who want to find out the real score between DVD and PS5. The content of this post will show you the verdict on whether you can use the device for DVDs or not, then practical solutions are lined up for assistance.

Part 1. Can PS5 Play DVD
To answer this question of whether a PS5 can play DVDs or not, then depends on the PS5 you have. This is because there are two types of PS5 in the market today, the PS5 console and the PS5 digital edition. PS5 has a DVD player, but the digital edition doesn't. Why is that? Because the standard edition of PS5 comes with an optical drive that is infused with UHD Blu-ray support, enabling the console to play Blu-rays and regular DVDs.
Hence, you can now be on solid ground if the PS5 you have is the standard edition. To assist you in playing DVDs on your standard PS5, kindly proceed to the next part below.
Part 2. How to Play DVD on PS5
Before we begin the instruction below, please make sure that you enable the feature to play discs on your gaming console. This enablement is a one-time process that you should perform on the PS5 system using the internet.
Step 1
Please ensure that your PS5 is connected to your internet. Navigate to Settings > Network > Set Up Internet Connection using your controller to do so. Note that you can use either the LAN or the WIFi to connect your console to your internet.
Step 2
After that, insert the DVD into your PS5 and log in if needed. Wait for the enablement of the disc playback feature, and then your DVD will automatically play.
Step 3
If it doesn't work, you will need to go to the XMB menu tab and, select the Video option, then press the X button.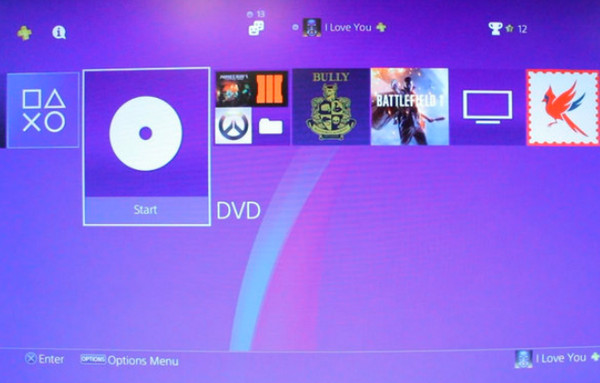 Part 3. Elmedia Player Free VS. Pro Version
Unfortunately, even though you use the standard edition of PS5, there are still tendencies that it won't play the DVD you have. Why? First, the disc won't play and will get stuck on the black screen if a PSVR connected to the console. Second, if your DVD is not finalized, it will not play on PS5 since your console doesn't support unfinalized discs. Click here to find answers for whether PS4 and PS3 play DVDs.
People who still experience this problem should not fret since the solutions are listed below.
Solution 1. Unplug PSVR
You just need to unplug the PSVR or the PlayStation VR headset from your console, then retry to play the DVD.
Solution 2. Check the DVD
Always check the DVD to see if it is already finalized and if it doesn't have scratches and stickers on it.
Solution 3. Convert DVD to Digital Video
One of the best solutions to play DVD movies to PS5 is to convert the movie to a supported console format, such as MP4, MKV, WebM, and others. This way, you will be able to play the DVD even using the digital version of PS5.
Solution 4. Use Video Converter Ultimate to Rip DVD
Introducing you to this Video Converter Ultimate that will enable you to convert your favorite DVD movies and videos to your desired digital format. Video Converter Ultimate comes with a DVD ripper that will do the complete work for you. This additional feature allows you to grab the DVD content from your inserted DVD and convert it to more than 500 various video formats for your output. Then, it also allows you to adjust the output by choosing its profile in HD, 4K, 5K, and even 8K videos!
Aside from that, you must not miss using its marvelous toolkit features, such as a video enhancer, compressor, merger, cropper, watermark remover, reverser, color corrector, speed controller, rotator, volume booster, and many more. What is more amazing is that it allows you to create your own 3D videos, GIFs, and collage out of your converted videos. Amazing right? Then, do not miss the chance to convert your DVDs into a digital format for both versions of PS5. How? Take a look at the steps below.
Key Features
● Rip and convert DVD files in 3 easy steps.
● Choose among the 500 video formats that it supports for an output.
● Ultrafast technology that supports the rapid ripping and conversion process.
● Supports up to 8K video input and output.
How to Convert DVD to PS5-Supported Format
Step 1
Launch the amazing Video Converter Ultimate after you install it. Then, begin to insert the DVD into your computer's optical drive. Import the DVD by going to the Ripper menu and clicking the Load DVD tab.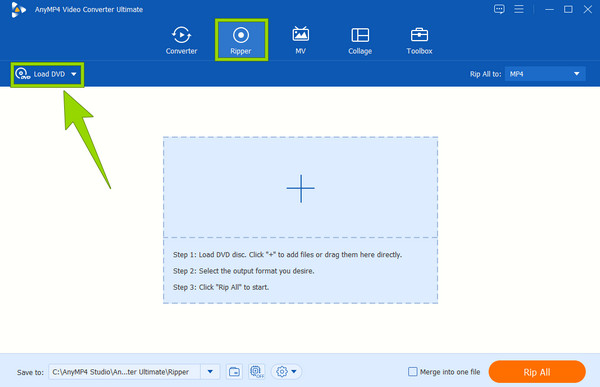 Step 2
Once the DVD is loaded, click the Arrow button of the Rip All To option. Then, on the popped-up window, select a format supported by PS5, such as MP4.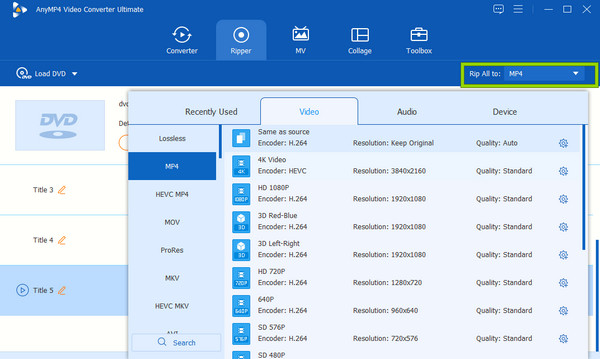 Step 3
As simple as that, you can now click the Rip All button to begin the ripping and conversion process.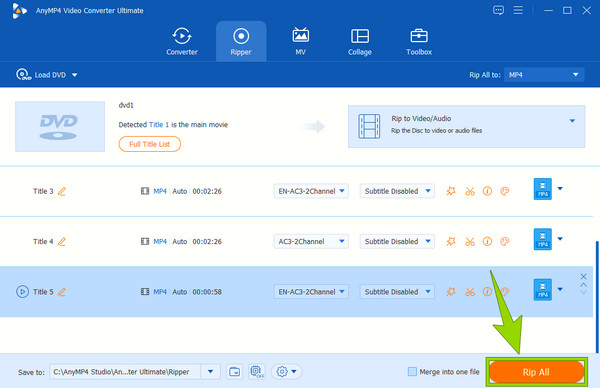 Part 4. FAQs about PS5 and DVDs
Can I use a third-party DVD optical drive with PS5 digital?
No. Even though PS5 has a USB port to attach an external optical drive, you cannot still play DVDs with PS5. It is because an external drive will require a program that the PS5 digital edition doesn't have.
Does PS5 play region-free DVDs?
No. PS5 cannot play region-free DVDs, for it is not a region-free DVD player.
Can I play 4K disc games with PS5?
Yes, if only you use the PS5 standard edition since it is the version that supports discs.
Conclusion
So, does PS5 play DVDs? The answer always depends on the kind of PS5. We hope you got the gist of this article and saw the differences between PS5 editions. If you are about to purchase a PS5 and want to deal with discs, we suggest you grab the standard edition. However, if you already have a PS5 with the digital edition, you can still watch your favorite DVD videos with the help of Video Converter Ultimate. This converter will help with ripping, conversion, and video editing.