DVDFab Blu-ray Ripper Review and Its Best Alternative
Only a few are using a DVD ripper, but those few must know how to rip in the best way possible. One of the best ways to do DVD ripping is using DVDFab Blu-ray Ripper. This ripper is considered one of the unique tools all over the internet today. And to know why, here is a complete review of this said ripper's features, price, advantages, and disadvantages. Thus, you can review the attributes of DVDFab and see for yourself how this tool can be helpful to you and your ripping task. On the other hand, let's not pause this any longer and begin dodging the deeper review of this subject software below.

Part 1. Full Review of DVDFab Blu-ray Ripper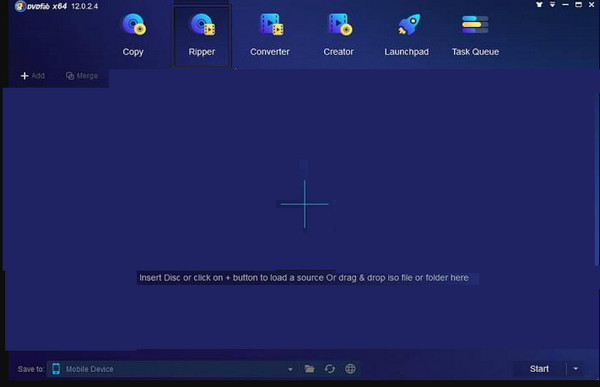 To start with this DVDFab Blu-ray Ripper review, we want you to know the software first. As its name suggests, DVDFab Blu-ray Ripper is a tool capable of ripping DVDs and Blu-rays as its primary function. Along with this is its ability to convert those ripped videos and audio into various formats excellently and conveniently. Furthermore, this tool can provide you with gapless playback on any media player you use while allowing you to remove the Blu-ray protection before ripping. We all know how vital protection removal is with Blu-rays and DVDs, for they usually have region codes, resulting in a playback failure if they do not match your region. And luckily, it is one of the users' favorite features of the DVDFab Blu-ray Ripper. Thus, to give you the other amazing features of this tool, you may rely on the information below.
Features:
1. Rip DVD and Blu-ray discs, ISO/folder, and convert them to various formats.
2. Batch conversion.
3. GPU hardware acceleration.
4. AI-video upscaling tool.
5. Share your output directly with various social media platforms.
Pros:
1. It supports many different formats for your output.
2. It has a simple yet intuitive interface.
3. You can rip and convert your Blu-rays in batches.
4. It can enhance your movies to 1080p and 4K.
Cons:
1. It is not a free tool.
2. It comes with a 30-day free trial but has great limitations.
3. The premium is a little pricey.
4. DVDFab Blu-ray Ripper for Mac is only available on 10+.
5. It doesn't support Windows 11.
Price:
Free Trial - Free for 30 days.
1 Month License - For $44.99, you will have one month of access to all its features, with only updates available for one computer.
Lifetime License - For $99.99, you can purchase its license for a lifetime in one computer with a 30-day money-back guarantee.
Blu-ray Copy + Blu-ray Ripper (Lifetime) - You can enjoy both with a lifetime license for $139.99. It includes free access to all the features and updates, with a 30-day money-back guarantee for one computer. Thus, you can still have this DVDFab Blu-ray Ripper for a free download.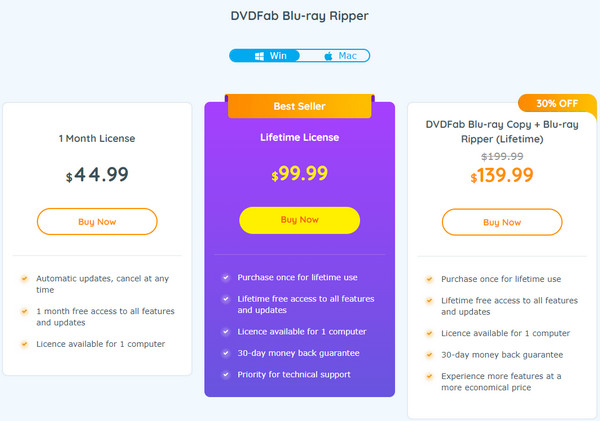 Part 2. Best Alternative to DVDFab Blu-ray Ripper
DVDFab is, without a doubt, a fantastic Blu-ray and DVD ripper. However, upon identifying the disadvantages of this software, you might lose interest in using it. Fortunately, we have the best alternative you can use to back you up on this matter. We present to you the Blu-ray Ripper, the choice of Blu-ray Master. It is a ripping tool you can acquire on both Mac and Windows. Furthermore, it has good features like batch ripping and conversion and much more support for various input and output formats than what you read about the DVDFab Blu-ray Ripper review. In addition, it has a built-in media metadata editor, video compressor, GIF maker, 3D maker, and a video enhancer that AI powers.
Moreover, it also comes with a 30-day trial version, where you can enjoy all its features and functions. Regarding its premium versions, we are happy to inform you that it is more affordable than the DVDFab. Imagine, for only 45.96 dollars, you will already enjoy its 1-year license, and if you want to upgrade to its Lifetime license, you need to acquire it for only 55.96 dollars! Yes, you read it right, you can attain this tool with the same features as DVDFab Blu-ray Ripper at a more reasonable price, with a 90-day money-back guarantee!
Features:
1. GPU hardware acceleration.
2. Batch ripping and conversion process.
3. Easy online sharing.
4. Built-in AI editing tools.
5. More than 200 input and output formats.
6. 1080p and 4K supported.
Pros:
1. It is super easy to use.
2. Breezy to install.
3. The outputs are expectedly excellent in quality.
4. You can work in batches.
5. It easily transforms your ripped videos into Ultra HD.
Cons:
1. It is not entirely free.
2. With a 30-day free trial with a limit.
How to Rip Blu-ray in Batches
Step 1
First and foremost, you need to Install this fantastic tool on your computer. To help you do it faster, click the Download buttons above. After the installation, you can proceed with the tutorial of DVDFab Blu-ray Ripper's best alternative is to open it and begin to load the Blu-ray you want to rip by clicking the Load Blu-ray button.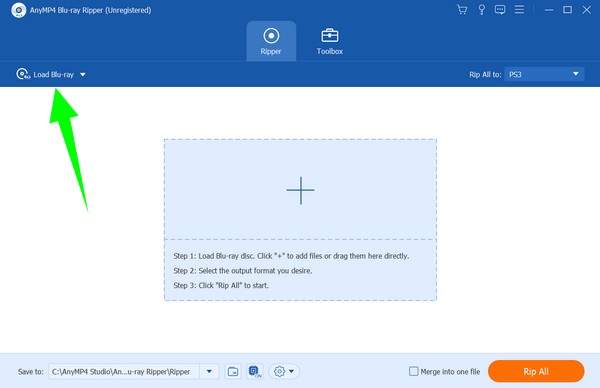 Step 2
Once the Blu-ray is uploaded, go to the Rip All To selection, and click its arrow-down button. After that, a new window will appear. From there, choose the desired format you want for your output. Also, if you want to ensure the format for a specific device you want to use, simply click the Device option and choose among the options given.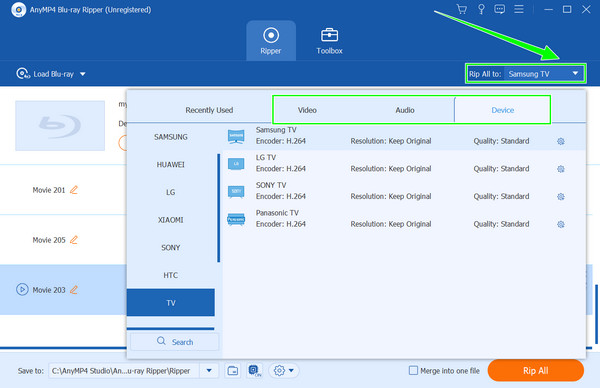 Step 3
Afterward, you can now click the Rip All tab which you can see at the bottom right corner of the main interface. Wait for the swift and lossless ripping process to finish, then enjoy your ripped Blu-rays after.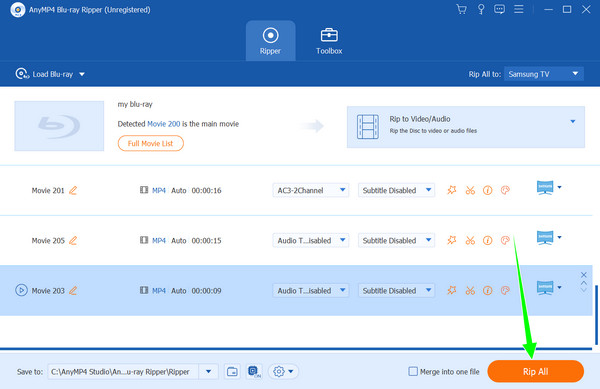 Further Reading:
Full Review of Leawo Blu-ray Ripper for Windows/Mac 2023
Topmost Technologically Advanced 4k Blu-Ray Rippers
Part 3. FAQs about DVDFab Blu-ray Ripper
How can I get rid of the DVDFab Blu-ray Ripper crack error?
If you want to eliminate the trouble with the DVDFab Blu-ray Ripper, the best solution is to use a safe and professional replacement like Blu-ray Ripper.
Can I rip my Blu-ray as a 3D video using DVDFab Blu-ray Ripper?
Yes. DVDFab allows its users to transform their Blu-ray movies in 3D. In addition, this tool contains 3D filters that can be applied to the output videos.
How long will it take to rip Blu-rays?
The duration time of Ripping Blu-rays depends on the ripping tool you use. If you use a tool with acceleration technology like Blu-ray Ripper and DVDFab Blu-ray Ripper, you can rip the 2-hour-long movie in 12 minutes.
Conclusion
Indeed, DVDFab Blu-ray Ripper has the best settings and features you will need when ripping Blu-rays. However, although it may seem like a good pricing range for others, we must acknowledge that there is still a better tool than it. With Blu-ray Ripper, you can ensure the same potency, efficiency, and quality, in a more user-friendly and affordable way.