Extract Songs from ISO: 3 Effective Methods You Should Try
Music can not be out of the scene with everything that is going on around us. We all love to indulge our ears with something sentimental, mellow, or funky. Yet, there are some situations where you cannot play your songs on your phone because it's saved on an ISO file.
Of course, if you want a stress-free playback, you need to extract songs from ISO. And to do it, you need an excellent tool to help you. Good thing, this guidepost will dive into the best ways to extract your precious songs as quickly as 1, 2, and 3.

Part 1. How to Extract Songs from an ISO
For some good reasons, tons of people use a Blu-ray disc since it can hold many files in high-definition quality. If your songs are video-recorded and you need to extract what is saved on a Blu-ray ISO, you have the best with you: Blu-ray Ripper. This powerful program is geared with functional features and supports videos in 1080 and 4K resolution. Not only that, it supports bath conversion and video-editing toolkit to make sure that your footage or audio clip is the best quality.
Pros:
1. It supports hundreds of video formats like AVI, FLV, VOB, DivX, MOV, etc.
2. Supports audio and device formats aside from videos.
3. It contains a built-in video editor such as an enhancer, special effects, trimmer, and more.
4. Allows the user to define their output format settings.
5. Support batch conversion.
Cons:
A limited number of files catered in the free-trial version.
Indeed, there are tons of ways to extract songs from an ISO file, and the best method is what you can refer to below.
Step 1
Install the best ISO to MP3 converter
Start by clicking the Free Download button below to save the program on your device. Then, double-click the file and follow the installation process.
Step 2
Upload the ISO file to extract
Now, import your file into the program by selecting the Plus icon at the center of the interface. Then, hit the Full Title List to see all the files you want to convert to MP3.
Step 3
Set ISO to MP3
When the files are already loaded on the program, you can individually tick the X icon to omit the files you do not want to copy. After that, drop down the Rip All To tab, go to the Audio section, and select MP3 > High Quality.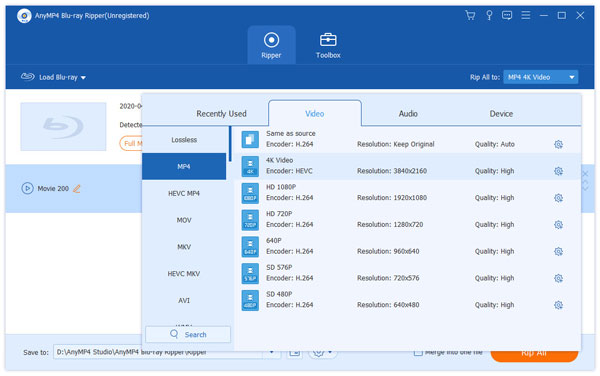 Step 4
Convert ISO to MP4
Now, you should have all of your files set into an MP3 on the format status. Finally, hit the Rip All button on the bottom of the interface to start the conversion.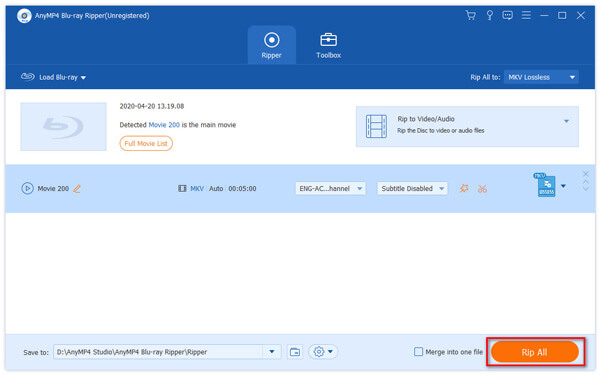 Video Converter Ultimate
Next to our best ISO to MP3 converter is the Video Converter Ultimate. As the name suggests, its primary activity is to convert files, but it goes beyond that. This program is a helpful tool when you want to rip files from any DVD. Video Converter Ultimate is rich in features that make your conversion hassle-free, even if you are just a beginner. Starting from the graphical user interface, you will enjoy its blue, orange, and white color combination. Plus, it can convert video up to 8k resolution, which is a great catch. As for the system requirements, Video Converter Ultimate is highly compatible with Windows and Mac OS.
Pros:
1. Supports more than 500 media formats.
2. Converts files up to the highest resolution.
3. The toolbox contains GIF maker, video merger, color correction, and more.
Cons:
It does not support Blu-ray disc ripping.
Moving on, this is the quick and easy way on which you can convert ISO to MP3 using the program.
Step 1
Install Video Converter Ultimate on your device
Begin to click the Free Download button below. Make sure that you select the appropriate one for your operating system. Then, double-click the program, run it, and follow the installation process.
Step 2
Upload ISO file to extract
Now, begin to import your ISO file. To do this, hit the Plus icon at the center of the interface. Then, you should see that your computer directory will appear and select your target ISO.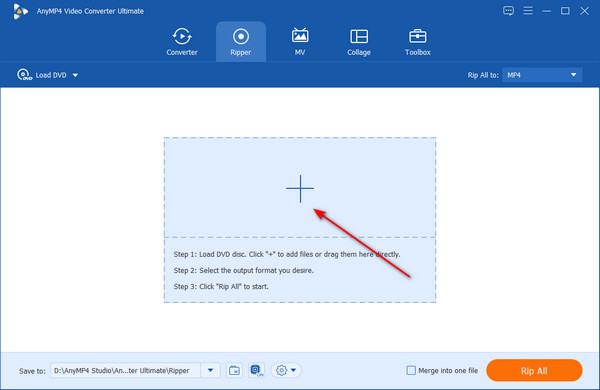 After that, select the Full Title List from the dialog box. In this way, all of your video files will show on the interface and their respective thumbnails.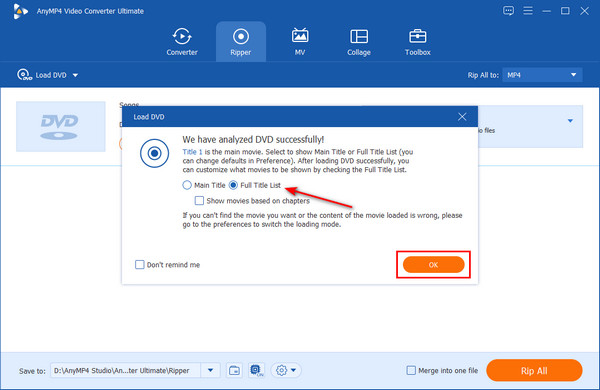 Step 3
Choose MP3 as the output format
Since your ISO files are in a video format, you have to convert them to an audio file such as MP3. To do this, expand the Rip All to tab and go to the Audio section. Then select MP3, which comes first in the list. For the best, select the High Quality for a satisfactory output.
Step 4
Convert ISO to MP3
You can check whether all of your files are set into MP3 by looking at the format status on the left side of the program's interface. In addition, select the destination of your output by changing the Save to box. When all is ready for the conversion, hit the Rip All button.
Part 2. How to Convert ISO to MP3 Free
If you need to extract your ISO file to MP3 songs, there is also a free program that can do it. For this part, get to know the best Free blu-ray Ripper and the Free DVD ripper, and a quick tutorial on how you can convert files smoothly.
Free Blu-ray Ripper
Free Blu-ray Ripper by Blu-ray Master is best for Windows devices. This program supports most of the popular audio formats, including MP3. Besides that, you can convert blu-ray discs without compromising the quality, especially when you have 4k and 1080p videos. Above all else, even though this is a free program, it can also do batch conversion, which is primarily a feature in paid programs. To extract songs from an ISO file, refer to the guide below.
Step 1
After launching the program, start to upload your ISO file on the program by clicking the Load Disc tab. Then select your ISO folder that is saved on your hard drive.
Step 2
Next, you have to click each file to set the output quality, which, in this case, is the MP3 format. To do it, click the Format tab > General Audio and then select MP3.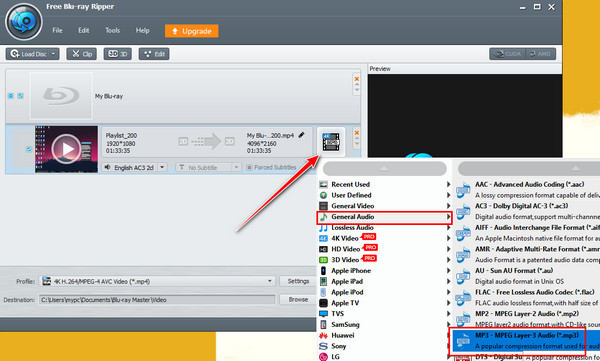 Step 3
When you all are ready, hit the Convert button to comment on the process.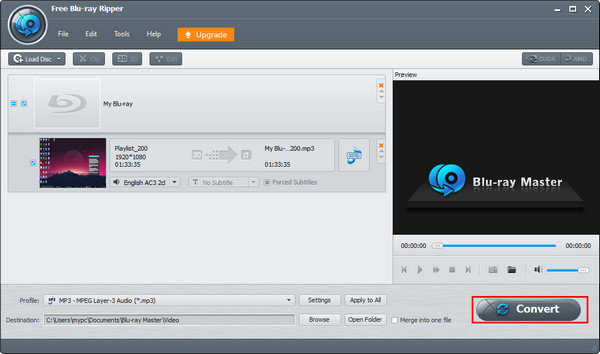 Free DVD Ripper
Another fantastic tool for extracting DVD ISO is the Free DVD Ripper. This program supports more than 200 audio, video, and specific device formats. One more thing, you can also configure the quality of your output before commencing the conversion. Lastly, the conversion speed of this program is never an issue because of the GPU acceleration.
Step 1
First, upload your DVD ISO by clicking the Load Disc at the top right side of the program.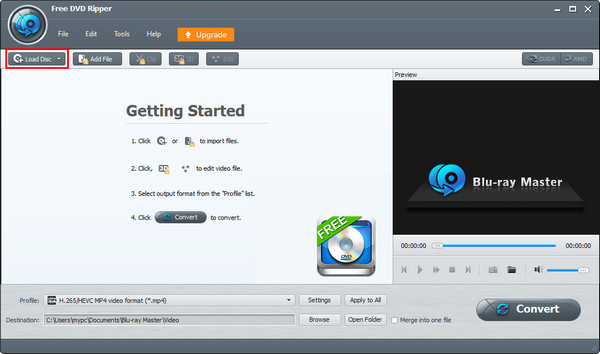 Step 2
Wait for a minute for the program to load your files on the interface. Select the Format box > General Audio > MP3 to set the output format.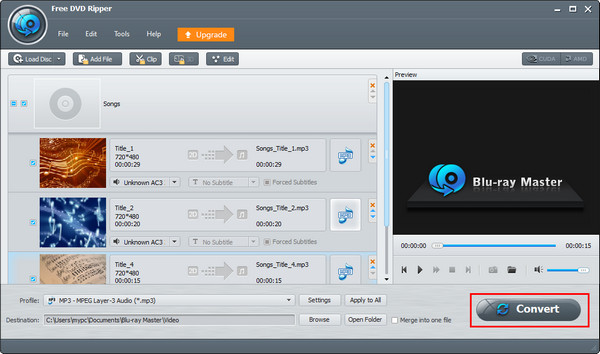 Step 3
Lastly, hit the Convert button on the interface to commence the conversion. Once done, you can check your output.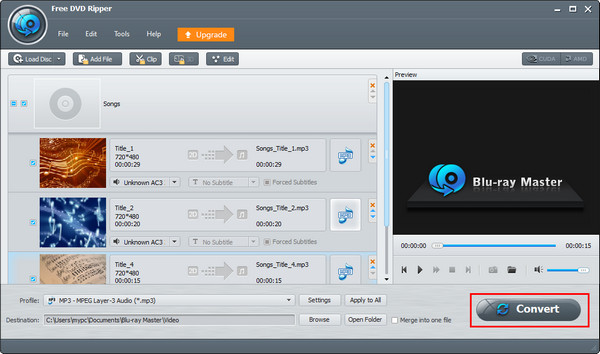 Part 3. FAQs in Extracting Songs
How many files can a Blu-ray disc hold?
Typically, a Blu-ray disc may range from 25-50 storage capacity. That's why it is the best option when saving high-definition movies. However, the number of files you can save depends on their sizes.
Is it legal to extract songs from albums?
It is strongly suggested that only you should rip DVD discs that are entirely yours. Extracting songs from materials may lead to legal sanctions, primarily when copyright protects it.
Do I need an optical drive when ripping the disc?
Definitely, yes. Just as you need to mount a blank disc when burning files to a DVD, you also need an optical drive to save it on your hard drive when ripping a disc.
Conclusion
While there are tools that can help you convert ISO to MP3 online, most of these tools contain advertisements and support a limited file size. Suppose you want to overcome such limitations; going for offline programs like those mentioned above will leave you satisfied. If you want the best for ripping ISO to MP3, choosing between Blu-ray Ripper and Video Converter Ultimate is both a win-win.