Samsung Music App: How to Add Music, and the Reasons and Solutions on Failing to Play Music
For Samsung mobile users, it is easier for them to access music libraries with the Samsung Music app. However, if you are a first-time user of Samsung phones, and do not know how this music app works, then you have just landed on the right post. In this article, you will learn the overview of the app, as well as the process of adding music to it, and the reasons with solutions when the music fails to play. All that, when you continue reading the entire content below.

Part 1. An Overview of Samsung Music Player APK
What is Samsung Music? It is a built-in app on Samsung devices that allows you to access and listen to music from various storage. Furthermore, this app will enable you to organize songs, create custom playlists, synchronize music, and adjust sound quality. If you are wondering if you can use this app for free, then the answer is yes. However, for those who want to experience more of its features that include listening to other devices and offline playback, then a subscription to a streaming service must be done.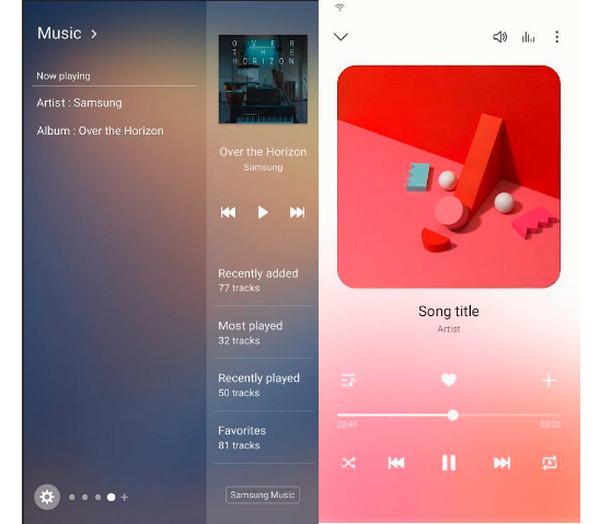 Part 2. How to Add Music to Samsung Music
In this part, we will show you the easiest method to add music to Samsung Music using Google Play. As a Samsung Music user, you can transfer your saved songs from your Google Play Music and add them to your playlist. Here's how you add Google Music and songs to your Samsung app.
How to Put Google Play Music on Samsung Music Player
Step 1
Launch your Google Play Music app, and select your desired album or playlist that you want to transfer to the Samsung Music Player app. You can choose from My Library storage.
Step 2
Then, tap the Download button to grab a piece of music. After that, tap the File Manager and open the file storage that contains the music.
Step 3
Now select and hold all the songs and tap the Move To option. Then, transfer them to the folder you set as your file destination.
Part 3. Reasons and Solutions of Samsung Music Failed to Play Track
There are various reasons why Samsung Music failed to play the track. For this reason, we have gathered a few possible reasons with their corresponding solutions below.
Reasons for Failing to Play Music
1. Outdated App- An outdated app version will cause the program to stop or fail to play music, especially new songs.
2. Glitches in the App- Similar to the other apps, the Samsung Music program may also experience bugs or glitches that will cause it to fail.
3. Insufficient Space- Always check your device's space storage. It can affect your music app's performance if it is roughly full. Therefore, make sure to check the space on your Samsung Music app before you save any songs.
4. Corrupted Data- The data or the temporary files we call cache can eventually be corrupted. This can result in different issues, including the failure to play music.
5. Unsuitable Music Format- Your music app doesn't support all the music formats. Therefore, if the song you are trying to play on this app is not one of what it supports, it will not be played. Please note that the following formats are MP3, AAC, FLAC, WMA, OGG, and ALAC.
Solutions Fix Samsung Music Failed to Play Track
1. Have the Updated Version of the App- Check for the latest version of the app. Go to your Google Play Store and see if there is an available new version of the app and acquire it.
2. Reinstall the App- Uninstall and then re-download the Samsung Music app. This, too, will enable you to replace the corrupted data or caches.
3. Free up the Device's Space- Transferring some of your files to your external storage will help you create free available space, causing your app to perform well.
4. Convert the Unsuitable Format- If the format is not compatible with the app, you may want to convert the songs to the supported ones. To do so, you will need a powerful converter tool to do the job.
For this reason, we highly recommend you use this Video Converter Ultimate. Yes, you read it right. It is a video converter that will let you convert audio files using its ultrafast technology. That means all your audio files can be converted in bulk at a 70 times fast speed rate. Furthermore, it supports all the audio formats that Samsung Music supports, plus the other 500 different, making you cater to your other music players for Samsung. Moreover, many video and audio editing tools are present such as a volume booster, audio sync, trimmer, compressor, and many more.
Key Features:
● Convert and edit video and audio easily.
● Bulk conversion for audio and video files.
● Advanced technologies like Artificial intelligence, ultrafast, and GPU acceleration.
● More than 500 various formats are available for output.
Step 1
Grab the tool on your computer by using the Download buttons above for faster transactions. Open the tool once done, then click the Plus icon at the center to import all the music you want to convert.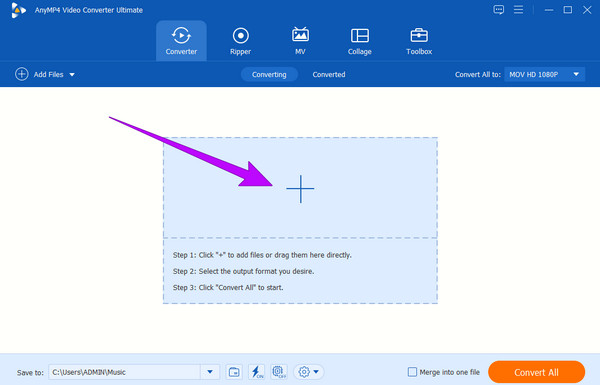 Step 2
Next is to reach the Arrow button of the Convert All To section for you to see the audio format selection. From there, choose the format supported by the Samsung Music app.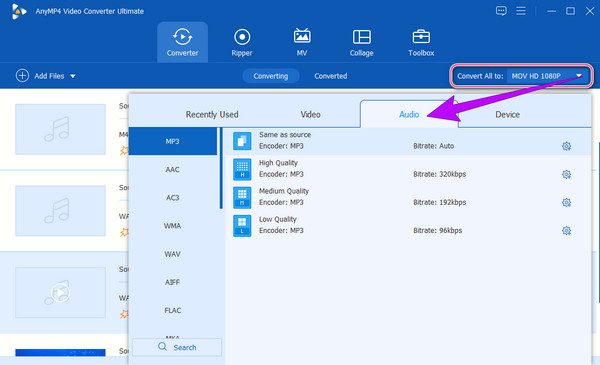 Step 3
As simple as that, you can now hit the Convert All button to begin the fast conversion process. Then, check for the converted files after.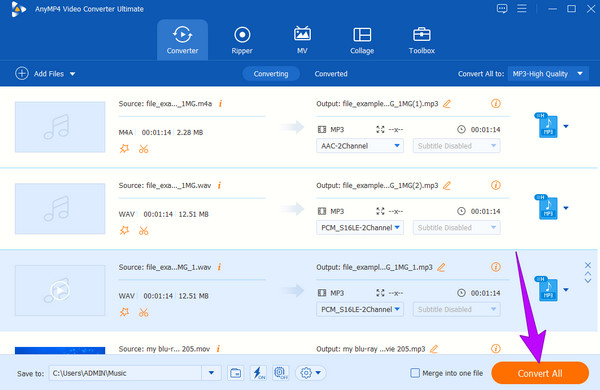 Further Reading:
Top 3 Samsung Screen Recorder to Record on Your Phone & Tablet
Top 8 Free Samsung HD Video Player Apps for Samsung Galaxy
Part 4. FAQs about Samsung Music App
Why is my Samsung phone playing music by itself?
This mainly happens when there is a command you are permitted to continuously play music. Otherwise, you may want to check for a malfunction or stuck button, making you play the music alone.
Does the Samsung Music app stream online music?
The app is primarily used for playing local music. However, it can have an integration into the streaming services that will allow you to access online music.
Does Samsung Music have a lyrics display?
Yes. The music app contains a lyrics feature synchronized to the currently playing song.
Conclusion
The Samsung Music Player is a nice app that you can enjoy when listening to your favorite music. Furthermore, adding music to it has been easier due to the steps presented in this article. If you are experiencing any error in playing, such as a sudden stop or failure in the playback, assess the reasons and solutions provided in part 3 of this post. Then, for your file conversion needs, we have presented you with the best software you can trust: the Video Converter Ultimate.