Top 6 iPhone/Android Video Player Apps to Play Videos on Smartphones or Tablets
What are the best mobile video players to playback high-resolution videos on an iPhone and Android phone? If you have captured videos with the built-in camera, you should select an advanced and multifunctional video player for iPhone or Android phone. The article shares the 6 best apps with advanced features, you can read on the review and choose the desired one according to your requirement.

Part 1: Top 3 iPhone Video Players
You can simply use the built-in video player or Photos to play videos within iPhone. But there are many restrictions, such as the multi-tasking facility, gesture control, and more. Here are the top 3-iPhone video players for your reference.
Top 1: Infuse 6
Infuse 6 is an iPhone video player that supports almost all popular media file formats that you don't need to waste time on conversion. It also offers high-resolution smooth playback for 4K videos. Moreover, it also provides an amazing viewing experience. This video player for iPhone is the best choice for those who have large local media libraries.
Pros
1. Use for free with its quality feature.
2. Support drag and drop type transfers.
3. Offer a native multitasking facility.
4. Provide an impressive subtitle with gesture control.
Cons
1. Occasional flubs with metadata will occur sometimes.
2. Require a monthly or yearly subscription for more functions.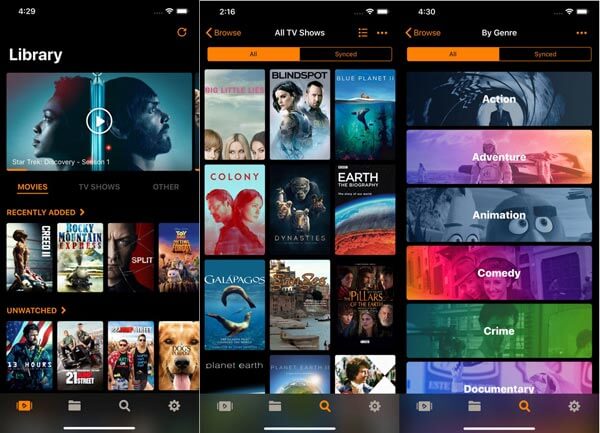 Top 2: PlayerXtreme Media Player
PlayerXtreme Media player is another feature-rich iPhone video player. It also supports multiple videos and audio formats. It also works flawlessly with the Chromecast, Airplay, and Roku. Moreover, the user interface of the iPhone video player should be easy enough to browse the different videos on your Android devices.
Pros
1. Play videos on a wide range of network devices without conversion.
2. Support casting by AirPlay and Google Chromecast.
3. Offer gesture controls to make some volume adjustments.
4. Provide high-speed scrubbing easily by sliding across your video.
Cons
1. Skipping and frame dropping sometimes occur.
2. Lacks any kind of external display support at present.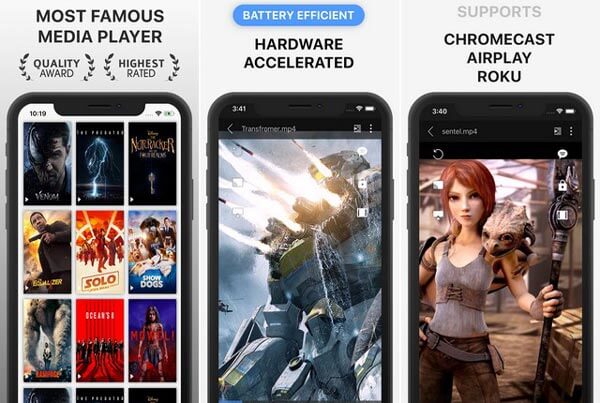 Top 3: KMPlayer
KMPlayer is your ideal choice if you are looking for a video player for iPhone that can also be a 4K UHD video player. Similar to the other media players, you do not need to worry about the formats and encoding of video since it supports a great number of formats. Also, you can play videos from cloud storage and network services.
Pros
1. Offer gesture functions for video playback and volume control.
2. Support network services, such as Google Drive, Dropbox, etc.
3. Provide multiple codec formats, such as H.265, VP9, etc.
4. Use the normalization function to correct the sound quality problem.
Cons
1. Take lots of sources when playing videos.
2. There is no way to remove boring ads.
Part 2: 3 Best Android Video Players
With more and more HD content available, many Android phones can shoot 4K-videos. So, it is very necessary to have a good video player for Android, which can turn your Android phone into a portable theater. The part just lists the top 3 Android video players.
Top 1: MX Player
MX Player is not only an Android video player offers powerful feature, but also easy to use. Its uncluttered viewer can do various swipe gestures, as well as pinch to zoom. The app can decode for many file formats. Moreover, it is the first video player for Android devices that can support multi-core decoding functions.
Pros
1. Offer a flowing playback experience with its hardware acceleration.
2. Re-watch favorite movies with pan finger gestures function.
3. Offer many customization functions for video playback.
4. Option to trim video if you want to watch your favorite part only.
Cons
1. Skip long HD videos sometimes.
2. Appear annoying ads when the video playback stops.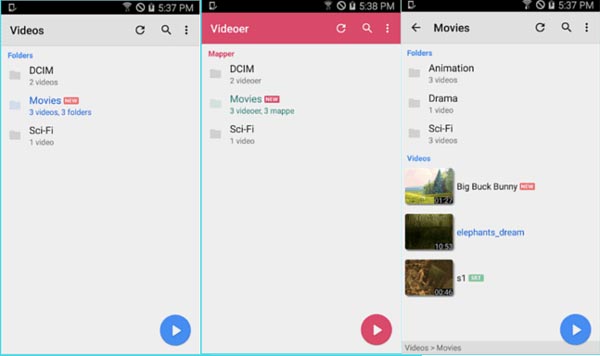 Top 2: Plex
Plex is another video player for Android that turns your Android phone into a streaming powerhouse. It can sort your media files into a library where you can stream them into your phone. You can combine your desktop and Android device into the Plex server. Thus, this video player for Android can bring all the media files for you together.
Pros
1. Remove playback limitation with unlocking version.
2. Cast videos from the camera on your phone without limitation.
3. Watch videos offline after upgraded to a full Plex Pass subscription.
Cons
1. Setup procedure is painful.
2. Exceptionally dependent on connection speed.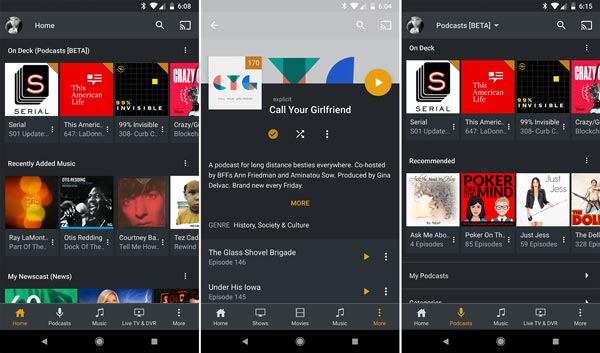 Top 3: Video Player All Format
The video player for Android is also known as Xplayer. It has many advanced features, such as broad format support, UltraHD and 4K-playback ability, as well as hardware and software decoding options. You can always use the Android video player for all file formats.
Pros
1. Offer multiple functions, include gesture controls, playback speed, etc.
2. Watch a video in a pop-up window or even in the background.
3. Remove ads after you bought the in-app purchase.
Cons
1. Require extra charges for more functions.
2. Many buttons for the same function make it very annoying.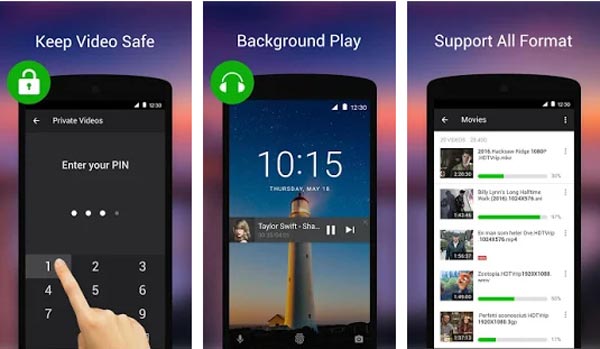 Part 3: FAQs on Videos Not Playing on Mobile Video Player
Why are the Videos Not Playing on an Android Phone?
Of course, you should choose an iPhone/Android video player that supports the file format. Make sure the video files are not corrupted and downloaded completely. Clear the cache on the Android phone and have another check. You can also transfer the videos to a video player on a PC to find whether it works.
Does iPhone Video Player Support MKV and AVI?
VLC Media Player for iOS and some of VLC alternatives enable you to play videos in MKV and AVI. You can also choose another iPhone video players that support the video formats. But if the MKV and AVI files are large in size, you can convert and compress the videos beforehand.
Is There a Method to Choose Subtitle on iPhone Video Player?
When you need to choose the desired subtitle, a powerful iPhone video player is not enough. You should go to the Settings app and enable the Subtitles & Captioning with the Accessibility option. Moreover, you can also choose special subtitles for the deaf and hard of hearing (SDH).
Recommend: Best Free Video Player for PC/Mac
Whether you need to check the videos on your computer, or playback the DVD and Blu-ray disc for free, Free Blu-ray Player is an all-rounded video player that supports most of the popular video formats, as well as HD videos. It has an intuitive user interface that enables you to have a good audio-visual experience.
1. Play any Blu-ray and DVD on your computer.
2. Support almost all the popular video formats.
3. Provide menu navigation to choose the desired chapter.
4. Offer personalized functions, which is very convenient.
Conclusion
The article shares the 6 best iPhone/Android video players with advanced features. Just read the article and choose a suitable one accordingly. If you have any problem related to the mobile video player, you can also transfer the videos to Free Blu-ray Player to enjoy them on your PC/Mac.